Calling all pirates and mermaids! You're invited to a fun-filled weekend celebrating all the pirate superstitions and mysterious aquatic oasis that you can handle. Yep, it's once again time for Downtown Boynton Beach to be transformed into everyone's favorite maritime event: the 10th Annual Boynton Beach Haunted Pirate Fest & Mermaid Splash.
Held Saturday, October 30 and Sunday, October 31 from 11 a.m. to 8 p.m., this family-friendly and fun-filled event boasts more entertainment and attractions than you can shake a pirate hook or mermaid tail at. Visitors are encouraged to don their best pirate, mermaid, or other maritime-themed attire, in order to fully be immersed into the theme of the festival as they interact with a variety of roaming actors, street performers and musicians.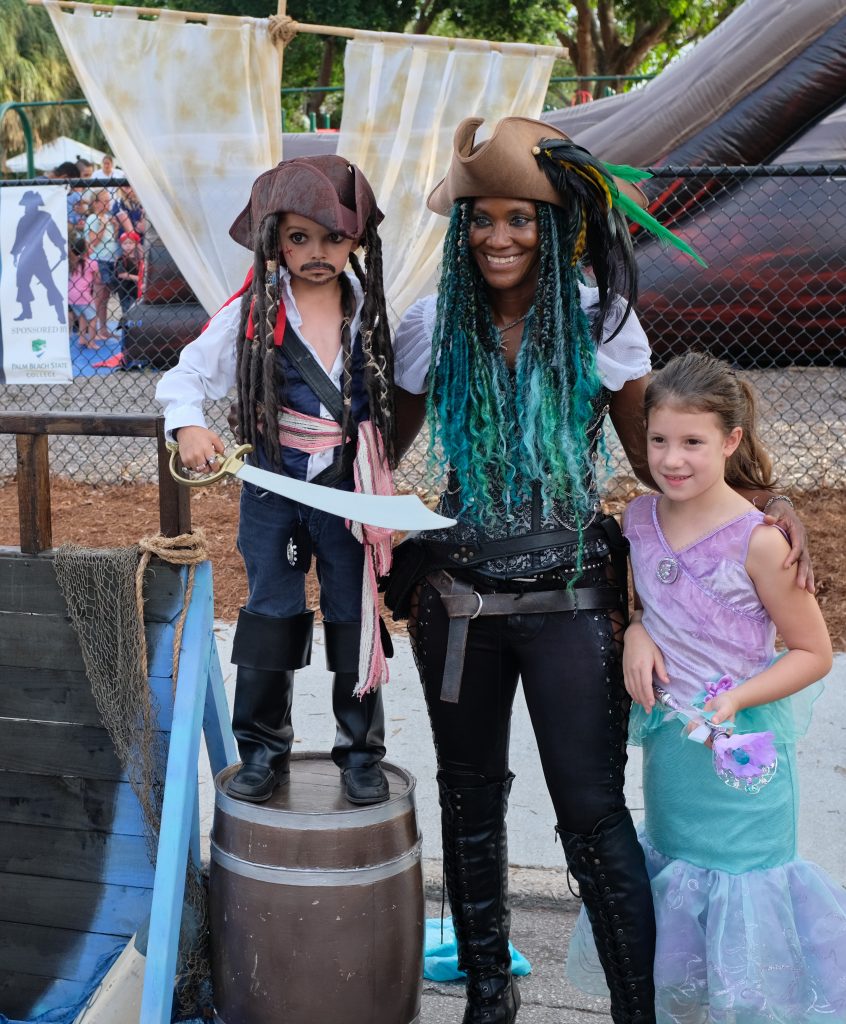 The free event, located at along East Ocean Avenue between Seacrest Boulevard and Federal Highway, will be transformed into a bustling port reminiscent of the Renaissance era. Guests will be able to venture betweenHobb's Cove, a buzzing old world port brimming with pirate superstitions of the shipwrecks off the coast of Boynton Beach, and Merlandia, a mysterious oasis where the sirens of the sea lure you into the depths with their captivating songs.
In addition to continuous live music all day and night, there are points of interested around every corner as the streets come alive with multiple areas of live entertainment, pirate reenactments and authentic pirate encampments, magic shows and interactive mermaid tanks. There's even a treasure hunt, mermaid pageant, an epic pirate invasion, adult and children costume contests, crafts, games and much more, so make sure you're up for the challenge, argh!
During the day, you can expect to enjoy performances including Sky Pirates Aerial Trapeze, Mermaid Swim & Splash Show, Blackbeard The Pirate, Magic & Mayhem, Shakespearean Comedy, LED Mermaid Night Swim, among others, but be sure to stay until 8 p.m. so you can catch the amazing Royal Artillery: Cannon Barrage.
Make sure to also take advantage of the Seven Seas Restaurant Row, which features tasty treats from local Boynton Beach restaurants, as well as enjoying a pint or two of the event-specific Pirate's Rebellion! The Boynton Beach Haunted Pirate Fest & Mermaid Splash has partnered with Due South Brewing Company to create this exclusive beer for the event, which will be available in cans and on tap during the event!
So perfect your mermaid or merman outfits, and get your pirate booty in order, because we guaranteed you'll be hooked!