Bringing Art Large Scale
By Darien Davies
Picture a teenager in school making pages of fish doodles during class instead of actually taking notes. Teacher yells, kid scoffs, notebook closes, opens back up, kid finishes detailed snapper scales. Repeat. That kid is Peter Agardy. Fourth generation Floridian and son of an artist, Agardy always knew he wanted to be an artist but didn't realize it until just before college.
Being a Floridian, he drowned himself in all things aquatic, including surfing, boating and fishing. So, when pencil hit paper, he drew fish after fish after fish. When he came home from high school one day and his mom saw spray paint and a sketchbook in his backpack, she gave him the back concrete wall behind their garage so he could paint larger scale (pun intended). "I didn't really think I was going to be an artist at that point, but I knew I loved to draw," said Agardy, 34. He eventually put those drawings onto walls, canvases, and surfboards, and his career started to take off a little bit. He decided to hone in on his skills around 2004 when he attended Florida Atlantic University and went into graphic design thinking he would get a head start in commercializing his existing art and could subsidize his painting career.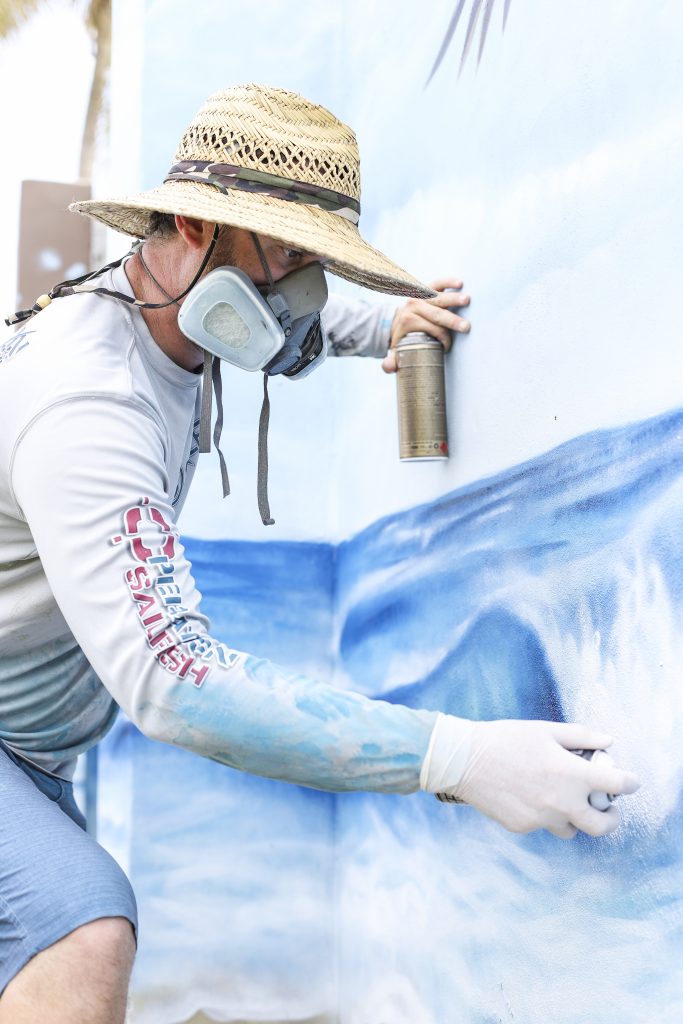 He worked through college as an artist and worked with some local surfboard shapers and shops, as well as capitalizing on his network of friends and friends of friends who wanted murals in their backyard or business. He graduated in 2008 and did a lot of specialty work in screen printing, which brings us to now. His laundry list of accomplishments includes designs on surfboards for Nomad Surf Shop, early concert posters for "The Black Keys," signing on with a couple of shirt manufacturers and apparel brands with his marine art, three projects in Boynton Beach, two murals in Boca Raton, a mural at the Delray Beach Tennis Center, and, cough, cough, the logo and the five original paintings on the five initially-launched beer brands for Saltwater Brewery.
His next achievement, drum roll please, will be painting a large mural at the Fort Lauderdale International Airport. "I am considering this as a milestone in my career as an artist," Agardy said. "I have worked in three cities in South Florida painting murals for the public arts program, but this will be the largest public art project to date for me!"
His artwork consists of about 40 percent commercial work for businesses in the fishing and hunting industry (he's also an avid hunter and spends time with his dad in Montana) and Saltwater Brewery, and about 60 percent private commission paintings, murals, custom work on swordfish bills, and more.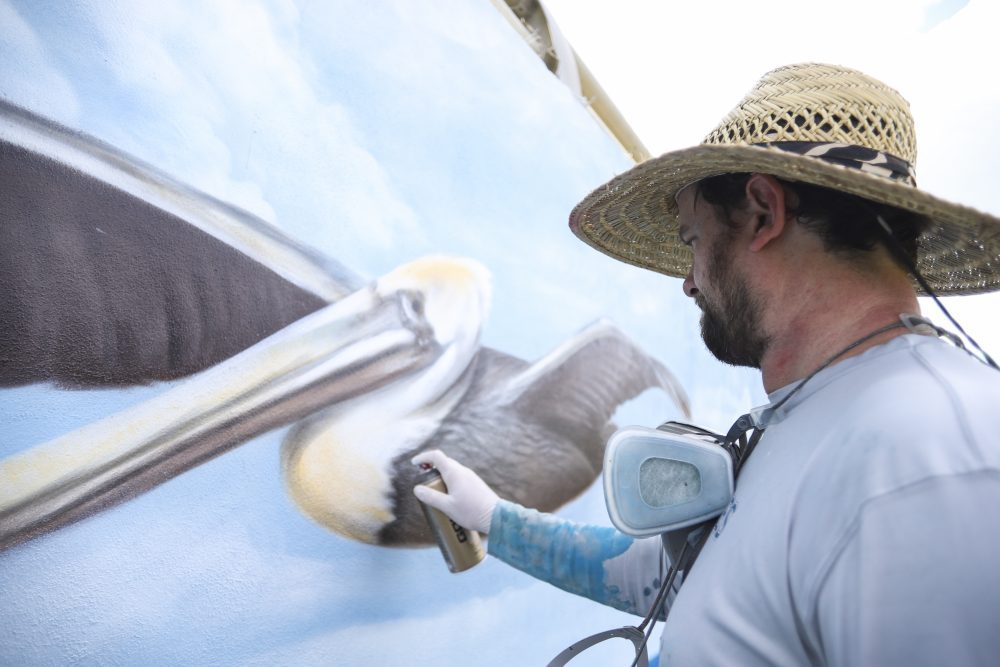 When he's not painting fish, he's studying fish via boating and diving, using "his" favorite boat, "My Friend's Boat." A lot of his reference comes from memory, but when it comes down to the real details and forms of fish, he refers to photos and videos that he and his friends have gathered over the years for reference. He's also never afraid to get up close and personal with yellowfin tuna, his favorite fish to paint and catch, or wahoo, "all it needs is a little bit of soy sauce and a sharp knife, fresh-from-the-ocean wahoo sushi doesn't get any better!"
As a true ocean lover, he also makes sure to keep conservation key. "Personally through my artwork I work hand-in-hand with CCA Florida (Coastal Conservation Association), which has a few programs targeting single-use plastic," Agardy said. "With my relationship and involvement in Saltwater Brewery with my artwork being the face of the brand, I have found myself in a position of heavily being involved in promoting the reduction of plastics, especially through our new eco six-pack rings, which we are using on all of our canned products at Saltwater." While he worked with his local friends from 2012 to 2017 to create and build Saltwater, he now is a full-time artist, and enjoys making brush strokes in his two-car garage studio, just like his mom did when he was young.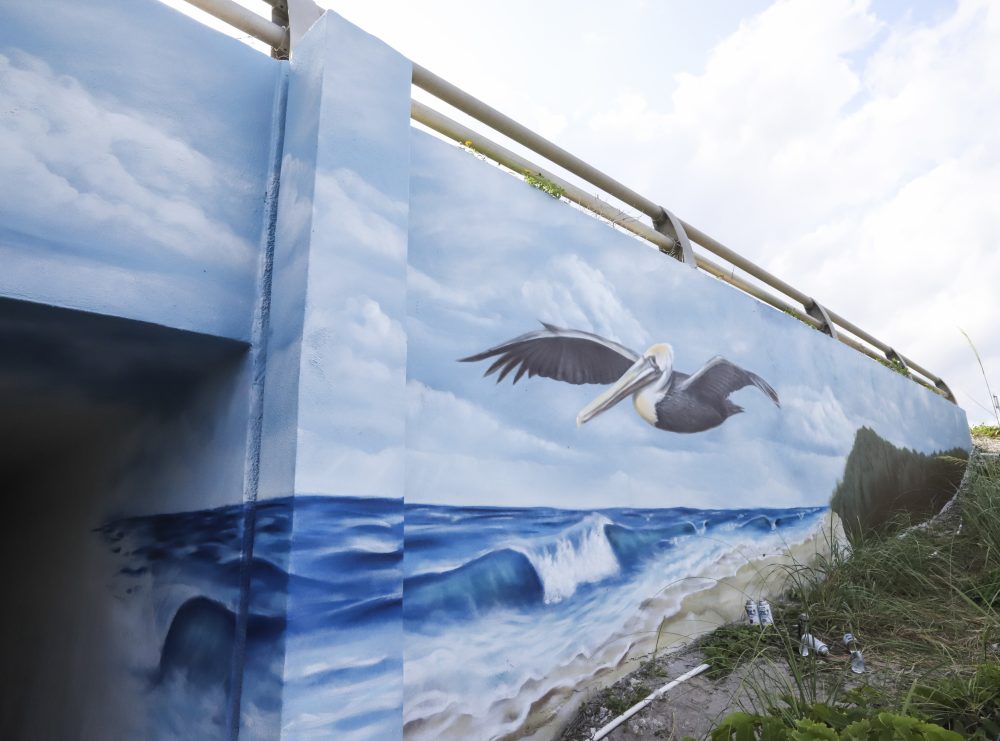 If you can't find him on the water or in the garage, there's a good chance you'll find him palling around with the love of his life, wife Lauren, Labrador mix Wesson (a lazy good boy), and German shorthair pointer mix Isla (a lovable psycho). For this nature lover and artist extraordinaire, it's anchor up and paintbrush down, one large-scale project at a time.