EAT YOUR HEART OUT
by Darien Davies
VALENTINE'S DAY: where dreams come true, depending on how good you played your dinner card. If you don't have access to Boyz II Men and a romantic gondola ride, you'll need to really wow your significant other with witty conversation and a delicious meal. The latter is covered for you (you're welcome) so hopefully it goes well and you earned the ROI you were dreaming about.
THE BLUE
Deluxe American
WHEN: February 14, bar opens at 5 p.m., dining room from 6 to 10 p.m.
WHERE: Boca Raton Resort & Club, 501 E. Camino Real, Boca Raton, FL 33432. Call (561) 447-3000 or visit www.bocaresort.com for reservations.
COST: Moderate with regal flair.
WHAT: A cozy menu but still meets all wants. The Resort will wow your date and really hit the "luxury" button sans the gold-plated lion statues and diamond-studded doorknobs.
MENU: Grilled octopus; mussels; pork belly; The Blue Caesar; Asian pear salad; fried, grilled, baked or Rockefeller oysters; The Claw Bar with king claw, shrimp, and chef's seafood tower; grilled Maine lobster; homemade squid ink tagliatelle; tenderloin filet; NY strip; cider bone-in pork chop; creamed spinach; crispy cauliflower; and chocolate espresso cake.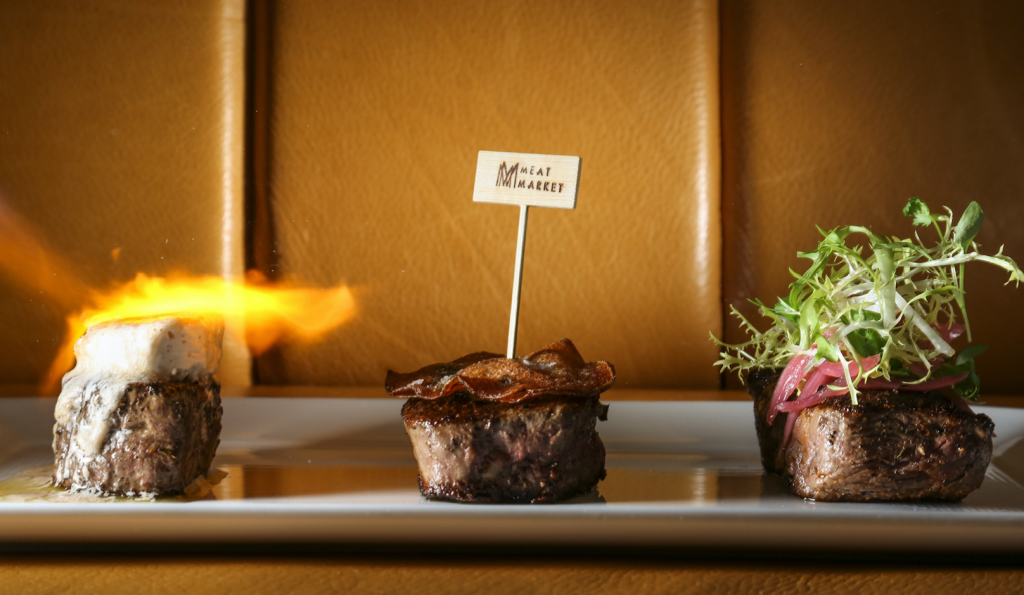 MEAT MARKET
A Refined Mouth Party
WHEN: February 14, 5 to 10 p.m.
WHERE: 191 Bradley Place, Palm Beach, FL 33480. Call (561) 354-9800 or visit www.meatmarket.net for reservations.
COST: Seductively lavish and exactly what you want.
WHAT: The red silk lingerie version of a steakhouse. The dimly-lighted ambiance invites close conversations, indulgent food and an extra cocktail, with a hint of naughty. The only downside is that you'll be drooling over more than just your date.
MENU: Asian BBQ lamb ribs; prime roasted bone marrow; roasted escargot; grilled kale Caesar salad; mango wedge salad; octopus carpaccio; beer poached shrimp cocktail; white truffle "American style Kobe" tartare; 30 oz. wagyu beef tomahawk ribeye; 7 oz. AA5 filet mignon; buffalo tenderloin; umami duck half; prime short rib and lobster risotto; "American style Kobe" meatloaf; salt crusted baked potato; truffle cream corn; gouda tater-tots; wood-grilled broccolini; gratinee of mac and cheese; and rich steak butters and sauces that you can't live without.
13 AMERICAN TABLE
Feel Good Fare
WHEN: February 14, 5 to 10 p.m.
WHERE: 451 E. Palmetto Park Road, Boca Raton, FL 33486. Call (561) 409-2061 or visit www.13americantable.com for reservations.
COST: Deliciously, down-home casual.
WHAT: Casual environment with a delightful and healthy menu that will make sure you're not too stuffed for post-dinner action. Order several dishes to share so you can enjoy more of the menu, and bonus points if you are same side sitters and look cute while feeding each other.
MENU: Seared foie gras; cobia poke; avocado toast; grilled broccolini; roasted carrots; corn off the cob; seared scallops; red curry bowl; crispy pork belly; grilled octopus; grilled pork chop; butcher's cut; the braise (what's in the oven); 8 oz. burger; and cinnamon apple quinoa.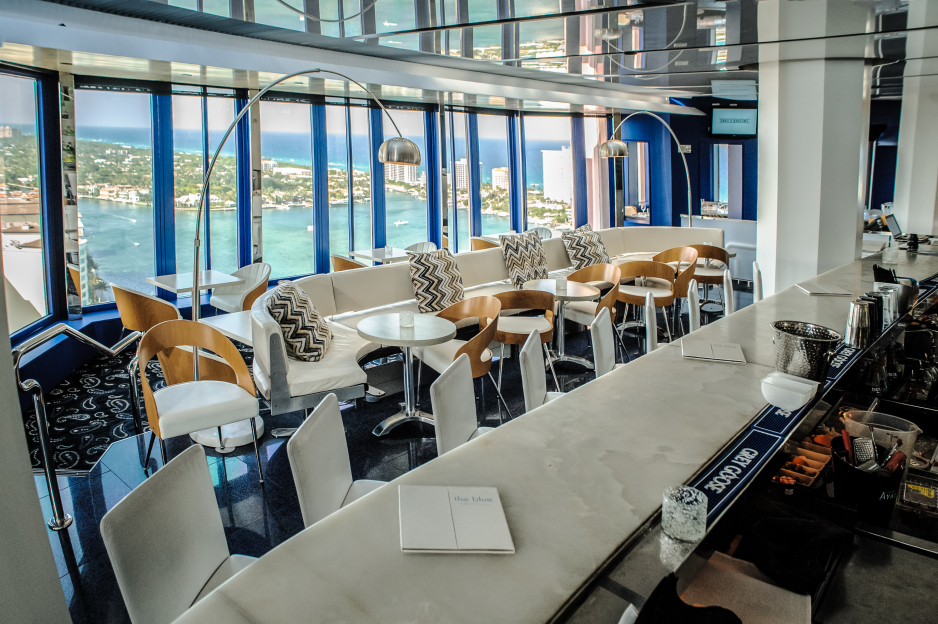 STEAK 954
Sexy Steakhouse
WHEN: February 14, 5:30 to 10 p.m.
WHERE: W Fort Lauderdale, 401 N Lauderdale Florida, Fort Lauderdale, FL 33304. Call (954) 414-8333 or visit http://www.starr-restaurant.com/steak954.com for reservations.
COST: Pricey, but worth it.
WHAT: A sophisticated steakhouse with an a la carte menu set up for success. There's also outside seating with a view of the beach, which makes for a perfect location for a post-dinner stroll.
MENU: Seafood platter for two; Alaskan king crab; yellowfin tuna tartare; lobster bisque; Caesar salad; pan seared scallops; beef tartare; 32 oz. prime 40-day dry aged porterhouse for two; 12 oz. filet mignon; 12 oz. American wagyu skirt steak; 22 oz. prime 40 day dry aged bone-in ribeye; butter-poached lobster; 954 cheesesteak; truffle potato gratin; smoked cauliflower and kale; mushrooms and onions; chocolate layer cake; and freshly baked cookies to go (wink).