Dixie Divers Spearheads World's Largest Underwater Cleanup at Deerfield Beach Pier
633 Divers Removed More Than 2,500 Pounds of Trash in 2 Hours
By David Rolland
Photos: Snap Photography and Cinema
When asked how he got the idea for a world record trash removal, Arilton Pavan, the owner of the Deerfield Beach dive shop, Dixie Divers, was a bit taken aback. "Trash removal?" he asked with a laugh. "That makes us sound like a janitorial service. This was an underwater cleanup." After organizing 633 divers to pick up more than 2,500 pounds of trash this past June, Pavan certainly earned the good karma to call his yearly activity whatever he likes.
Pavan has been organizing underwater cleanups around the Deerfield Beach piers for the last 15 years. Three years ago he had a promotional brainstorm on how he could attract more people to clean up the Atlantic. "I decided if I called [Guinness World Records], I could attract more people as volunteers. So three years ago we broke the record for the longest underwater chain. A couple months later, a group in Australia beat us. Last year we did the chain again and beat Australia with 386 divers. Afterward we did the cleanup."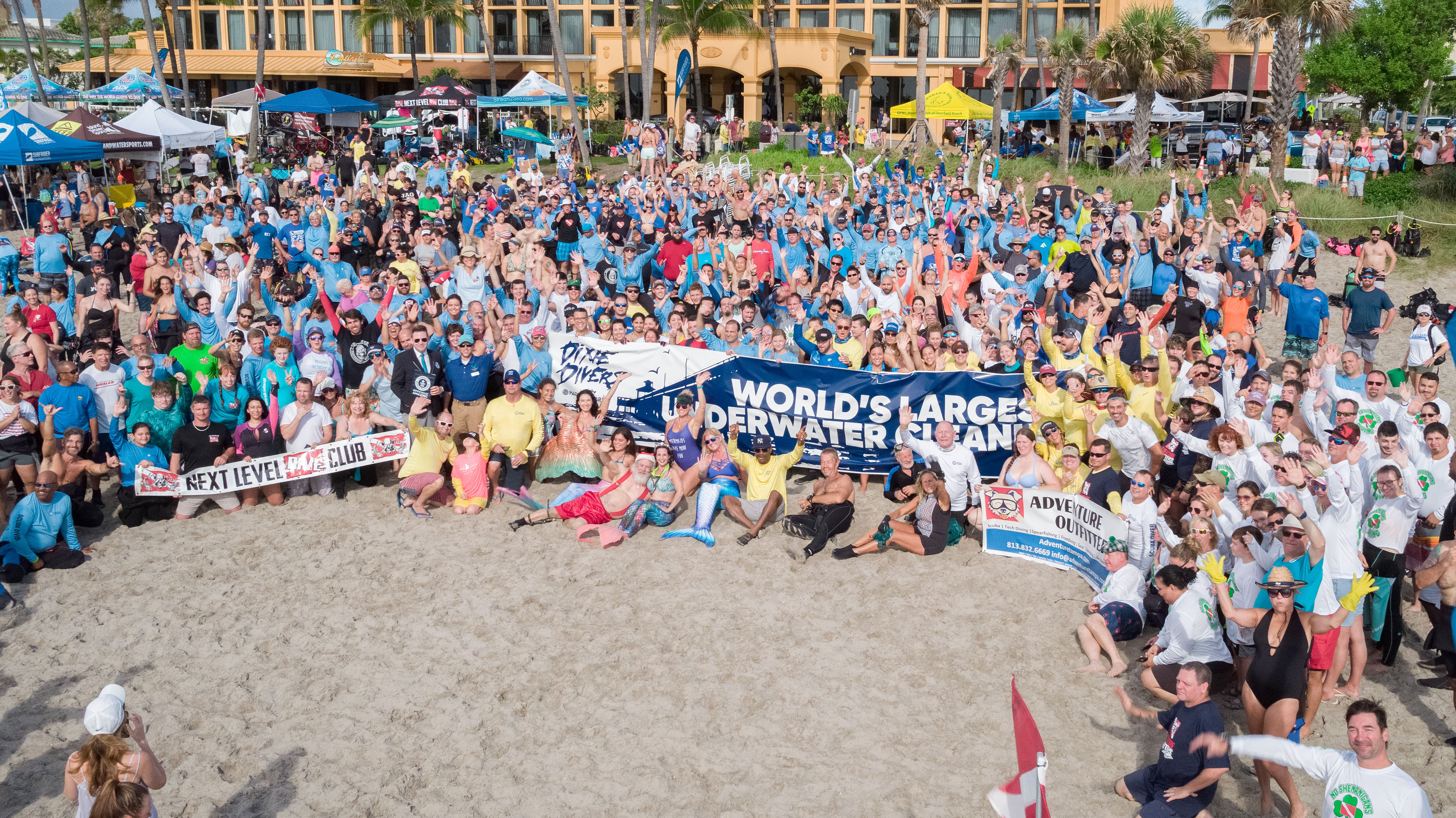 For the 2019 cleanup, Pavan decided to make the cleanup the record. He would break the record of the most undersea divers to take part in a cleanup, which was set by a group of 614 divers in Egypt, which took 24 hours to set. Pavan was able to corral 633 divers to beautify the ocean of Deerfield Beach in only two hours, while another 250 volunteers helped with the beach cleanup. "We picked up plastic, wood, steel, a dumbbell weight. Somebody used that to sink a body, I guess," he said with a laugh before getting more serious of the damage done to our water. "We picked up so many pounds of lead that all the sinkers from fishing accumulates. We picked up miles and miles of fishing line that are real hazards to sea turtles." According to the City of Deerfield Beach, the total weigh-in included 1,826 pounds of lead, 102 pounds of fishing line, and 645 pounds of miscellaneous items including fishing poles, knives, wood, metal fragments and more.
Seeing all the litter coming from fishing, Pavan would love to see a day when piers were shared evenly with divers. "There should be days for fishing and days for diving. There's so much marine life under the pier."
Pavan is proud of the global media attention the world record has brought to the cleanup. "There's so much negativity about global warming, pollution, red tide. We need to do something positive," he said. "The main goal of this is the environment. It's like how a musical show raises money for a charity like AIDS. We use the world record to get more people to come out and clean up."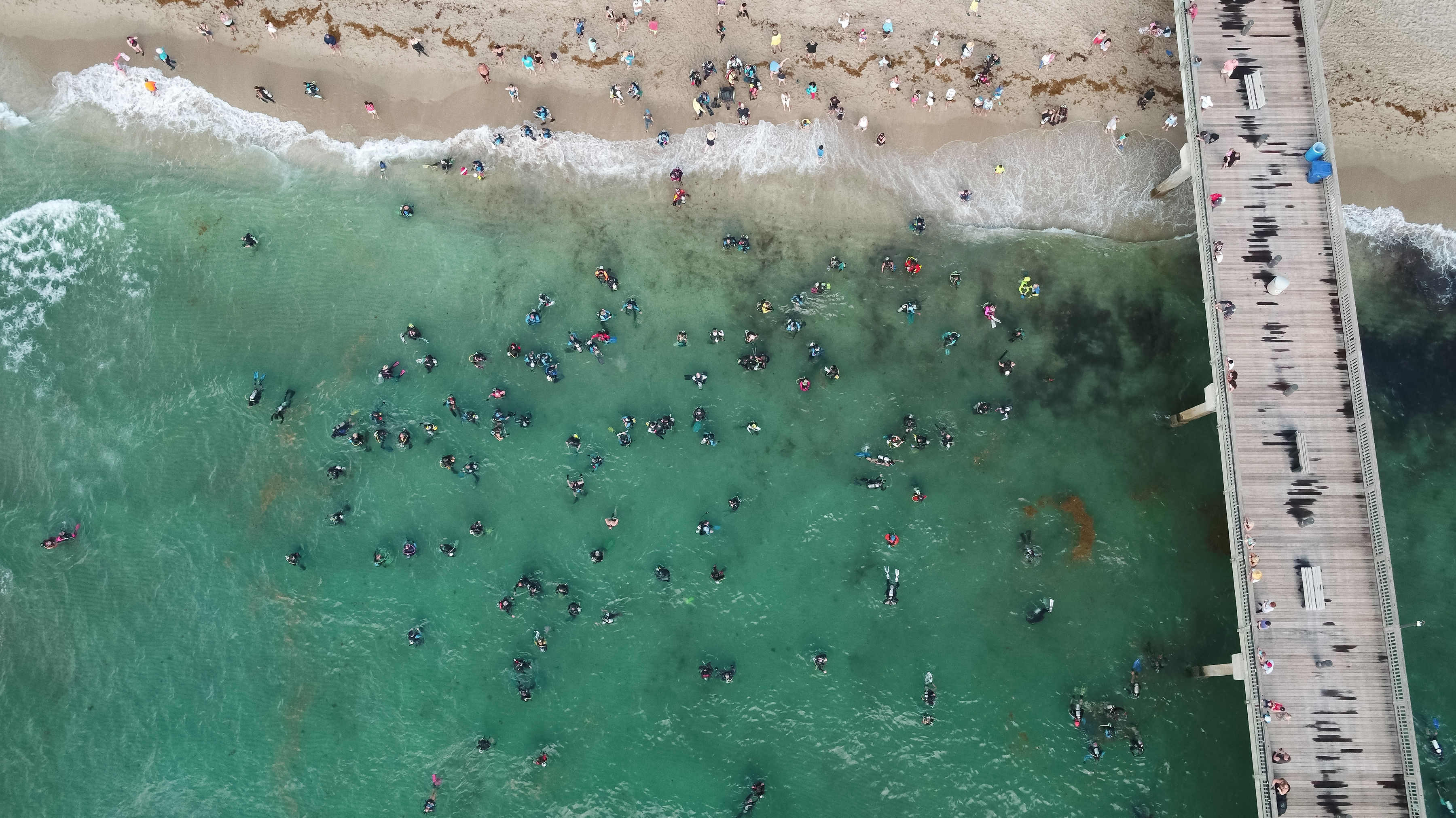 It took a lot of organizational prowess along with help from the diving community to get 633 divers in the water on that Saturday morning. "It's not easy to do. You have to pay Guinness $15,000. People think you get money from Guinness to break a record, but you have to pay them to use their name and to fly down a judge to verify the record," he said. To spread the word over the six months preceding the event, Pavan depended on his rival dive shops and local university dive clubs at Nova and FAU, along with the nonprofit ocean cleanup organization, Project AWARE. Together, sponsors and participants helped pay the hefty fee.
All the publicity brought do-gooder divers from across the globe. "Only 20% were locals, while 80% came from out of the area. Lots from Tampa and Orlando, a big group from Miami. Groups from Georgia, North Carolina, New Jersey, and Texas. We had one guy from Brazil, another from Colombia. Canada and Europe, too," he said. The attention from the event had Pavan even field calls from other areas looking to hold their own similar ocean cleanups.
Beyond leaving the ocean a more pristine place, Pavan was pleased the event brought a more diverse population to put on scuba gear. "This was very positive for scuba diving. We attracted lots of young divers, which is a big thing," he said. "Diving shows are usually all old people. This event brought lots of teenagers, people in their 20s, and families with kids looking to get certified for next year's event."
Next year? Does this mean they will try to get more than 633 divers to clean up Deerfield Beach's pier in 2020? "Every year we try to do something new. I don't think it makes sense to break the same record," he said. "I'm looking at some other ideas. We want to do something special for next year. We want to keep pushing to get more people involved."