CF Survivor Scott Johnson Recounts His Experience
By David Rolland
Photos: David Scarola
Paddleboarding the 80 miles between the Bahamas and the Florida mainland sounds like an insane thing to do. For Travis Suit, it seemed like a walk in the park compared to what his daughter was going through. At 4 years old, young Piper was diagnosed with cystic fibrosis, an often terminal lung disease. Inspired by his daughter, Suit decided to form the Piper's Angels Foundation to support and improve the lives of people in the cystic fibrosis community by raising awareness through education, offering life expanding activities, providing urgent financial support, and funding critical research. The Foundation's main fundraiser each year is The Crossing For Cystic Fibrosis, where a bunch of seemingly superhuman athletes make the 15-and-a-half-hour paddle across the Gulf Stream.
Over the years since the first Crossing in 2013, the event has mushroomed from four paddlers to more than 200 in 2019. When Scott Johnson of Wilmington, North Carolina met Travis Suit, he knew he needed to be one of the participants. Johnson also thought he could provide some hope for Piper and her family. Because Johnson, at 49 years old, has not just survived cystic fibrosis, but is now thriving so much he thought he'd give the crossing a go himself.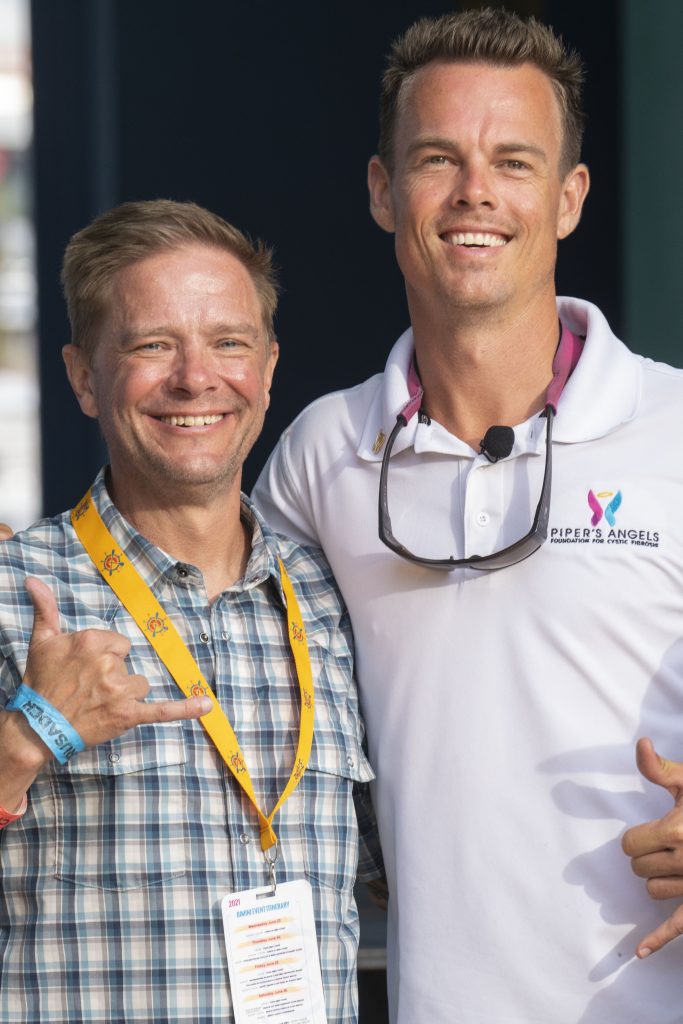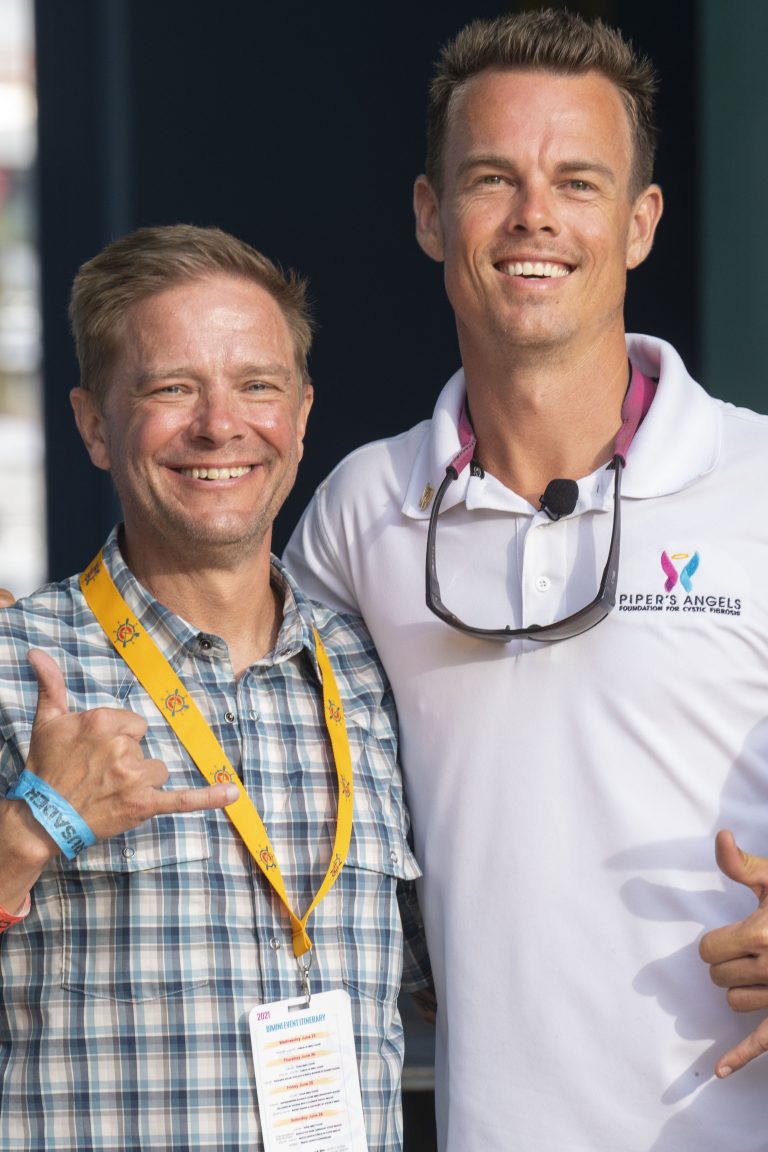 "I grew up playing soccer, baseball, and surfing," Johnson told Atlantic Current days before he was to make the crossing. "Cystic fibrosis is gradual. I couldn't hold my breath for too long, but I didn't have it bad until I got older."
When he was 29 was when it got really bad. "It was in 2001 when I had to go to the hospital because they couldn't give me the oxygen I needed at home. Luckily I was on the donor list, because if I didn't get a double lung transplant I wouldn't be here to talk about this," Johnson said.
While he was waiting and hoping for a future, Johnson made a list of the things he would do once he got better. Doing a triathlon was at the top of the agenda. But it wasn't so easy for him to get better. He had the awful timing of being in the hospital during 9/11. "We had a pair of lungs but there were no flights allowed, so no doctor could come to do the transplant. It was a race of what would give out first between my lungs and my heart," Johnson said.
On September 15 Johnson was matched with lungs and a doctor who could fly to transplant them. "The doctor said they were the best lungs they'd ever seen," Johnson said.
After two months of being bedridden, Johnson was able to start his journey back to recovery. "Fortunately I had a physical therapist who was as nuts as me," Johnson said. "On the first day he asked me my goals. I said I wanted to do a triathlon. Mind you, at the time I couldn't walk 20 feet."
The physical therapist paused for a second and without skipping another beat told Johnson, "Alright, let's get started."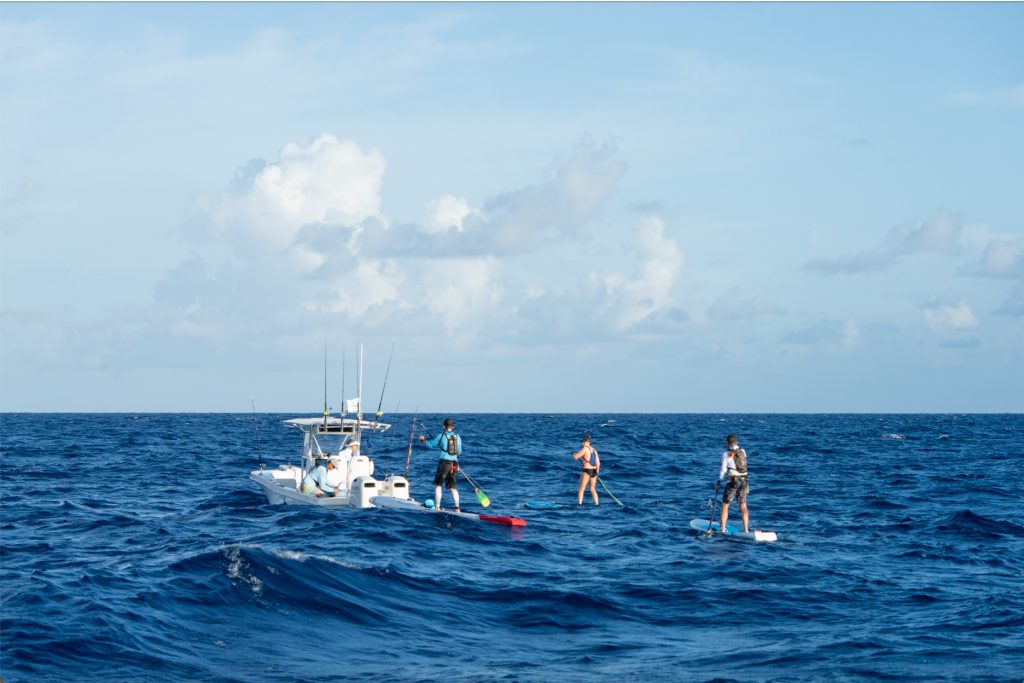 In 2006 Johnson accomplished the impossible. He became the first person with a double lung transplant to complete an Iron Man Triathlon. You might need to sit down before you read what that entails. It's a nearly two-and-a-half-mile swim, followed by a 112-mile bike ride and then you top it all off by running a marathon. It took years of train- ing and some unsuccessful stabs, but in Panama City, Fla., Johnson was able to do the impossible.
When Suit heard this story, he thought if anyone was meant to do the crossing it was Johnson. "Travis tried to get me in it 2019, but that was too soon for me," Johnson said. "We'd already committed to a 100-mile bike ride in Ireland." After a down year due to the pandemic in 2020, 2021 was the year Johnson was set to make the crossing.
Speaking the night before he was to travel from Fort Lauderdale to Bimini, Johnson was both excited and a little apprehensive. "The unknown is always the biggest challenge," Johnson said. "You can't control the weather or the sea conditions."
Johnson and his wife, who was also going to paddle, had put a lot of time on the water, but 15 miles was the most they had ever paddled at one time. This was going to be a relay event where each participant would only paddle 20 miles each, but it still held immense challenges. "Your mental state is the hardest. But I'm really looking forward to being on the board at dawn and not being able to see anything but the water," Johnson said.
Unfortunately this year was not the year where Johnson could see the sun rising from his paddleboard. For the first time the weather really did not cooperate. "We left Bimini at midnight and for the first two or three miles everything was great. But then the sea went up to four to six feet with the occasional eight footer," Johnson said. "But what we really didn't expect was the wind blowing the engine fumes off the boat toward the passengers. We were all getting sea sick. We pulled the plug after 15 miles because it was too dangerous."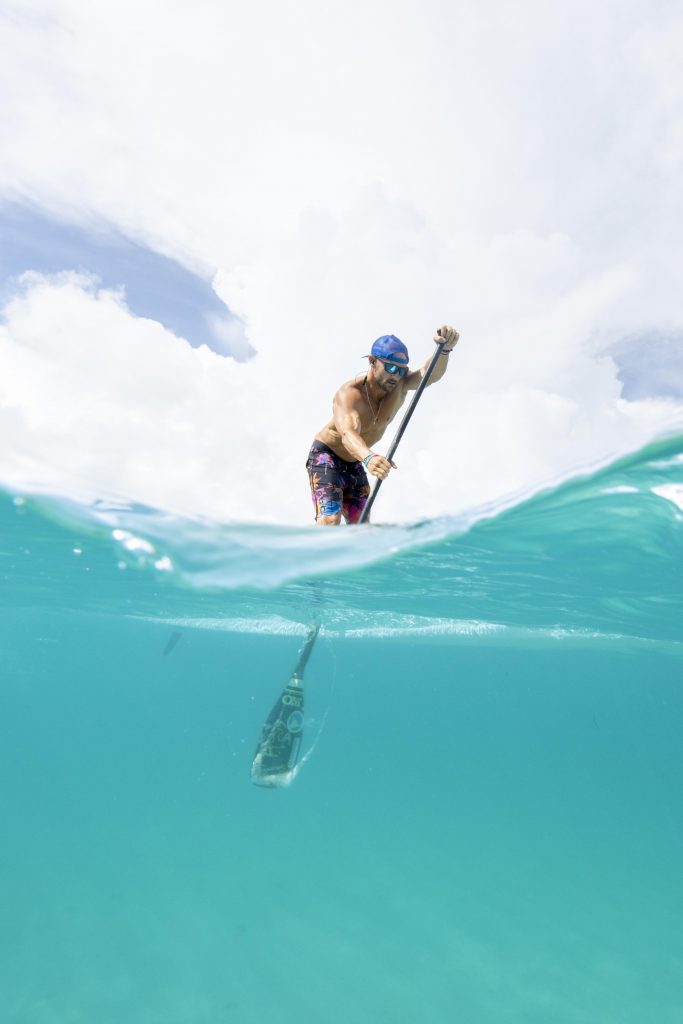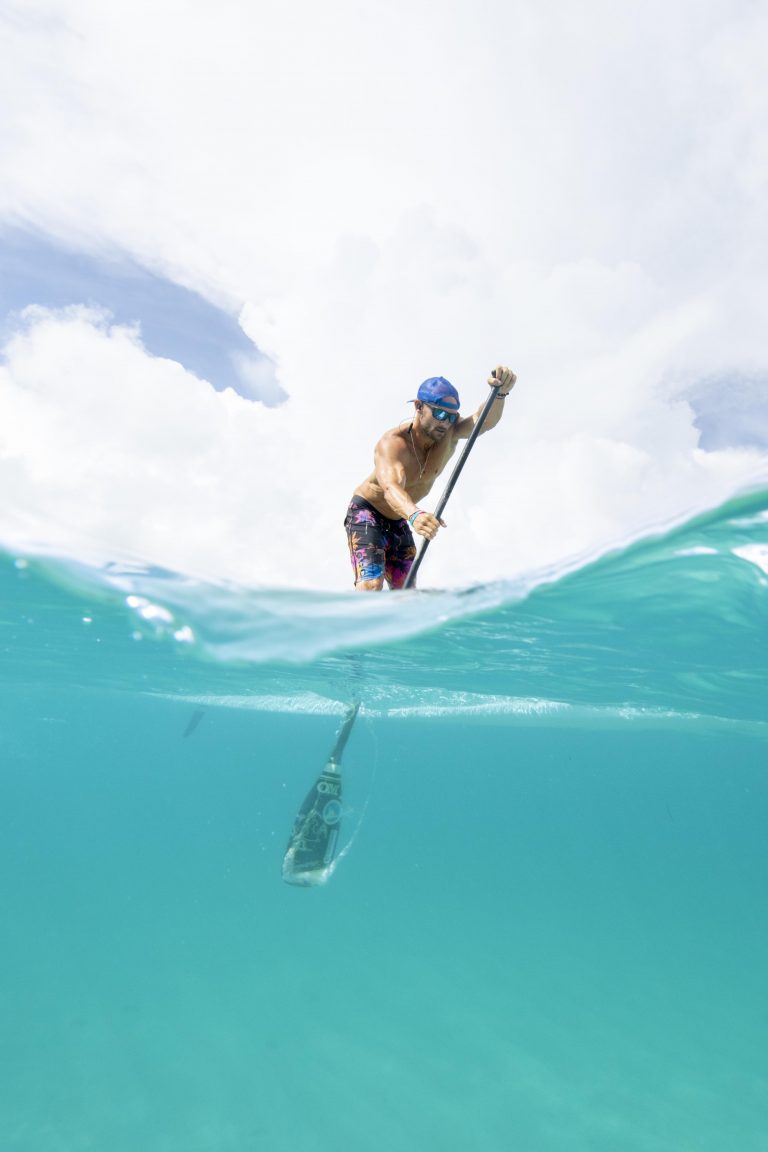 But even though Johnson and many other participants couldn't finish the crossing, he sees it as anything but a failure. It did, after all, take him seven times to complete an Iron Man Triathlon. "I know it's a cheesy bumper sticker, but the journey is more important that the destination," Johnson said. "The race is a good comparison to life. Sometimes you succeed, sometimes you don't. The spark is in trying. We tried and we were able to raise $650,000."
Johnson will have another opportunity to make the crossing, if he so chooses, as Suit is already organizing the 2022 event.
I had one last question for Johnson before he resumed his day-to- day life in North Carolina. Does he know whose lungs helped him survive? "Everyone wants to know about their donor. But it's a bit of a Pandora's box," Johnson said. "You can write a letter to the family, it's up to the family whether they respond. It took me a year to write it, but I never heard back. I have learned that they know who I am and what I'm doing. So as long as they know I'm not wasting this gift, that's good enough for me."