Does it help playing this close to your hometown of Deerfield Beach?
I wouldn't say it helps, but it is a good thing. You know, I have a lot of family support right up the road so, I wouldn't say it helps, but it's good to have.
How did the nickname Motor come about?
It came about from my dad. He had it first. It was passed down. As I started playing football and whatnot, they saw how fast I was, so it kind of stuck with me.
What is your favorite pregame music?
That's tough. I got a few. I like to listen to Kodak. Probably like Lil Herb or something like that. Those guys.
What running backs did you look up to the most growing up?
It's a lot. I definitely looked at Frank Gore growing up. LeSean McCoy. Definitely Reggie Bush. The list can go on. There are just so many, but to name a few.
Last year you lead the entire country with 32 rushing touchdowns. What were the keys to this great accomplishment?
Hard work that we put in. I had great teammates willing to do whatever, so that played a big part. Mainly it was the preparation.
What record are you most proud of during your time at FAU?
That's tough. I guess all of them honestly.
What is it like having someone like Lane Kiffin as a head coach?
You know, it's great. Someone to come from where he comes from. Been through what he's been through. Just to be able to soak up the game from him, whatever it may be. So it's great having him around. You can use him as a tool to learn new things every day.
Besides FAU, what has been your favorite stadium to play in?
My favorite stadium to play in, I don't really have one besides FAU.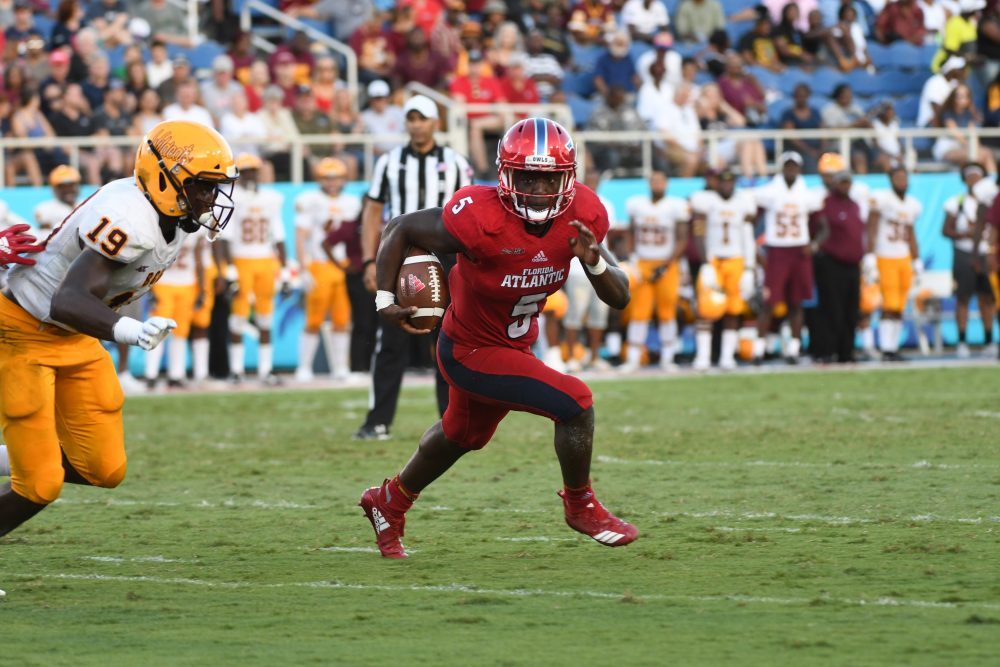 We've witnessed your great long runs all the way down the field and then go right into a hurry up offense. This pace throughout the course of the game is hard to keep. What do you attribute your insane cardio to?
Preparation. The way we practice. We're always flying to the ball. Even if we don't got the ball, we are running to the ball. So that plays a big part in the way that we prepare.
What are your personal and team goals for the rest of the season?
Finish off strong. Definitely having no more losses. Personally, just keep being me. I feel that's what got me here and see what happens.
Tell us about Wilson Love, the team's strength and conditioning coach. Is he as intense and crazy as he looks on the sideline?
Definitely. He's a good dude, but he's definitely intense. I really wouldn't have it any other way. I'm pretty sure the guys feel the same.
At what age did you first believe that you could play football at a high level?
Honestly, probably when I was like three. To be honest, I've been ready to play since then, so yeah, three years old.
Do you have any pre game rituals or superstitions?
Nah not really. I just try to be locked in. I like to say my prayers before the game. Mainly just try to stay locked in. Stay focused.
Off the field, what are some of your favorite things to do?
I'm a relaxed, cool kind of guy so I might like to hit the movies or something. Go to the beach. Little things like that.
Any favorite post game meals?
Chipotle, when we get the burritos. That would be good. Steak burrito.
Will you be an owl next season?
We have to see honestly. Still got a long time, so we'll see what happens.