DADA EXECUTIVE CHEF CUT HIS CHOPS AMONG DELRAY BEACH'S FINEST
By Nicole Danna
Jessie Steele is the new face behind one of Delray Beach's most beloved restaurants, Dada, but there's more to the inked-up chef than meets the eye.
Steele, 39, is laid-back cool with tattooed arms and a calm, stoic gaze. Over the years, he's worn many hats in addition to chef: a bass player for several bands, building swimming pools for his father's company, poker dealer, bus boy, bartender — even potato peeler.
While most 13-year-old's spent summer vacation finding their way in and out of trouble, Steele was working at his neighbor's restaurant, content with one of the kitchen's most tedious tasks. "My first job was peeling potatoes and making French fries at Doc's All American," said Steele. "And I loved it."
Before that, his earliest memories in the kitchen were cooking with his two grandmothers – rolling out cookie dough with the Italian one, or making pasteles with his Brazilian one. As he got older, a natural talent with a knife meant helping his mother in the kitchen on holidays, or manning the grill beside his father.
Steele won't hesitate to tell you he also spent a good amount of free time watching the Cooking Channel as a teenager. "Other kids would be outside," Steele said. "I was home watching Emeril. My friends and I would chug beers and watch him cook. Then I'd write down the recipes and try to recreate them. But I never thought I'd be a chef." Delray Beach born and raised, Steele recalls his hometown before restaurants like 32 East and Dada brought fine and innovative dining to the seaside village.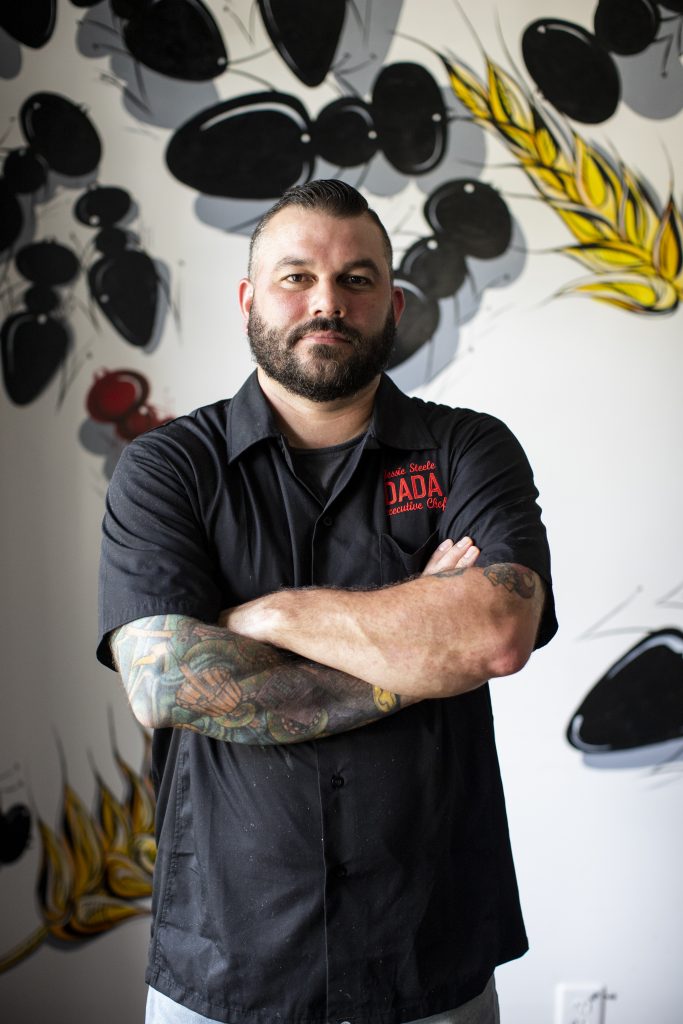 "I remember when Atlantic Avenue didn't have anything but a gas station. No restaurants. No bars," Steele said. "At the time, I didn't know anything about food. I grew up eating Brazilian food, rice and beans, meat and French fries. It took touring with bands and seeing different food to open my eyes."
A move to Orlando in 2002 prompted him to consider a new career path. When his girlfriend suggested he go to culinary school, he took her advice, driving 90 miles each way, five days a week, to the nearest culinary program in Lakeland, Fla. He'd later graduate from Florida Culinary Institute. Although Steele has worked with several Delray Beach establishments over the years — from Caffe Luna Rosa and Sundy House to 3rd & 3rd and Death or Glory Bar — his big break came from working under the tutelage of uber-disciplined 32 East chef Nick Morfogen. "That job taught me finesse," Steele said. "It was a great learning experience."
Today, Steele credits three South Florida chefs for their influence. From former Green Gourmet chef Joey Giannuzzi he learned to "see everything." This piece of advice he's used to keep on top of not only what's going on in the kitchen, but the restaurant itself. From Morfogen he learned to work clean, but also how to taste and season properly. From former 3rd & 3rd executive chef Ellis Cooley, he learned the new-school flare of molecular gastronomy.
Part of Steele's success is due to the fact that he never stops learning. Every day is an opportunity to try something new. A copy of Bon Appétit is never far away. His mornings are spent researching some exotic dish and creating a recipe that will do it justice. "I remember when Atlantic Avenue didn't have anything but a gas station. No restaurants. No bars."
That's most evident with the chef's vegan following. After cleaning and butchering fish and meat all day, coming home covered in blood, he decided to go vegan. It was a chance to teach himself a new way of cooking – but also a new perspective. "I went vegan for an entire year as an experiment," said Steele, who now offers several vegan dishes on the Dada menu. "I didn't know anything about vegan cooking, so I figured the best way to master it was to throw myself into it."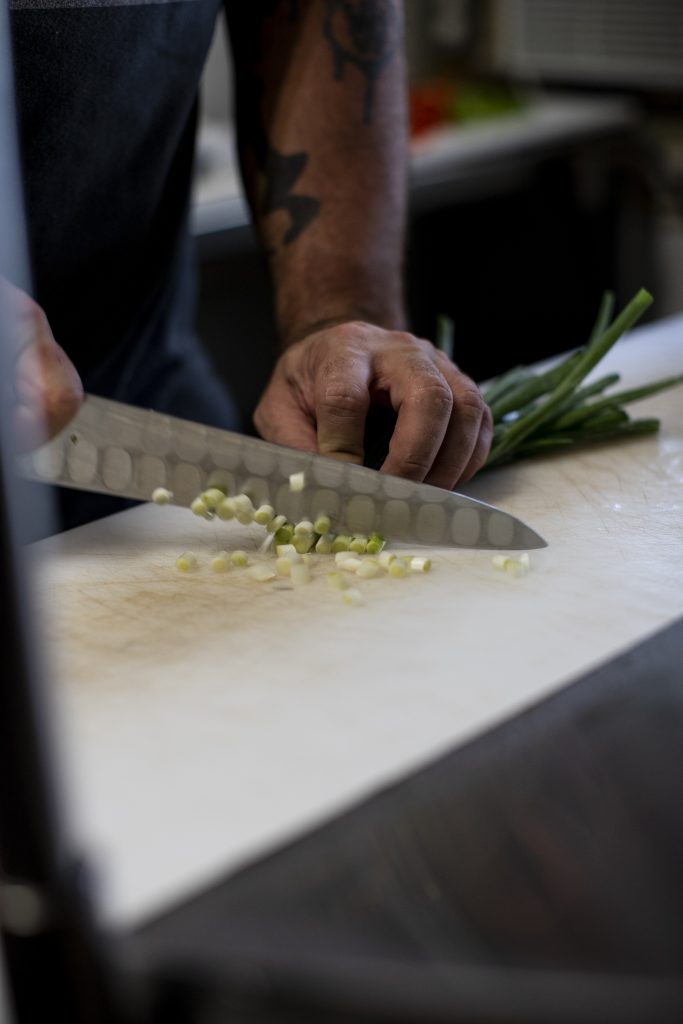 That same curiosity translates to the chef's signature style, which is best defined as global comfort food — one inspired by his love of variety coupled with the simplicity of home-cooked fare.
"That's my way of traveling. Recreating something from a global perspective. I don't hesitate to throw something like that on my menu without having made it before," Steele said. "It's always a hit."
Today, Dada is all the better for it."Coming here after [chef-owner Bruce Feingold], I had humongous shoes to fill," Steele said. "Here's a guy who's done so much for the Delray food scene, it was hard to come in with the idea of putting my own stamp on it, but at the same time keep the menu true to his original vision."
For longtime Dada alums, much of the menu may seem unfamiliar. Nearly 80 percent is new, and changes occur every few months. Steele tires from static menus, preferring to highlight locally-sourced, seasonally-expressive ingredients. His biggest change: breaking down whole fresh fish purchased daily.
While much has changed, some menu items have remained largely untouched. Dada's famous bacon-wrapped dates are still on the menu, only now you'll find a new chorizo, and a sherry gastrique has replaced the tomato confit. This summer, the salmon will change for the first time after 19 years, but don't worry, it has been elevated to the next level for a delightful change.
"I'm still amazed with how much food we put out of this kitchen on a daily basis," Steele said. "It's a testament to how consistent Dada has managed to stay, and I'm glad I can help be a part of that legacy."
Visit Chef Jesse Steele at Dada located at 52 N Swinton Ave, Delray Beach, FL 33444