South Florida Sunshine Soul
By Adam Sheetz
Local musician, Jakob Takos, has been bringing good vibes across South Florida with his particular sound of sunshine soul. Bright and beachy, with a tinge of soul and blues and an undertone of folk, Takos has created a unique sound of melodic instrumentation and tight rhythms.
Takos has been playing guitar since the fifth grade. His childhood best friend, Nate Behl, sold him his first guitar, taught him some chords, and the rest is history. "I was hooked," says Takos, adding, "I saw the ability for creative freedom and self-expression. I remember, at the age of 10, sitting in my room for hours playing the only chords I knew, having so much fun. I knew I'd never be bored again."
His introduction to different music was from a less traditional source than most: video games – specifically, Tony Hawk's Underground 2. He then went on to discover the works of other artists from Johnny Cash to The Doors. He has since taken this variety of influences to create a sound all his own, fueled by a passion only a fellow musician could understand.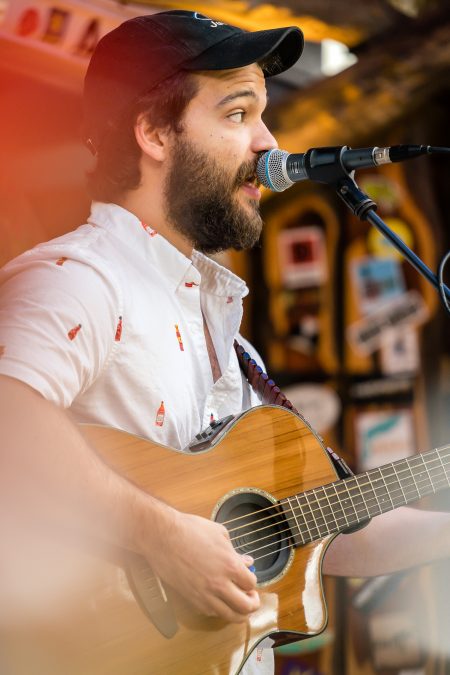 When asked what drives him to play music, Takos stated, "Creating and connecting. Those are the two things that inspire me to keep going. The ability to form something from nothing and have that resonate with anyone is an incredible feeling. Creating and connecting is what I love, so I funnel all of that into my passion, which is music." He first got a taste of this at the age of 16, where he began playing publicly for churches and various freelance gigs. It wasn't until his senior year of high school that Takos joined his first official band.
He soon found himself immersed in the incredibly supportive music scene of South Florida, which seems to be ever-growing and ever-evolving. This has afforded him the opportunities to take his craft from locally and regionally to around the country.
He is currently working on his inaugural release, a five-song album complete with a music video for each track, all of which will soon be available for your listening pleasure (so be on the lookout). Takos graciously states, "I've been very blessed and fortunate enough to work with some of the best musicians in South Florida on my record, and I am so excited to have it soon to be released."
If you think he has any plans of stopping there, you'd be sorely mistaken. Keeping a number of irons in the fire, Takos has taken his passion for music and extended it beyond the stage and studio. He also hosts a music page called MusiciansDaily. This endeavor has provided him with incredible opportunities like attending the NAMM (National Association of Music Merchants) Conference in California, speaking at a digital music conference, and meeting or collaborating with some incredible colleagues and people. And no, he doesn't stop there either. Takos is also a co-host of a podcast exploring South Florida music, called Dank Coalition. He runs the podcast alongside another local talent and hardworking musician, Markis Hernandez.
With no signs of this train slowing down, you can be sure to catch some of that Jakob Takos "Sunshine Soul" all around South Florida.