Dishes for Snowbirds to Try — and Locals Should Already Know
By Jessica Tzikas
Florida may be known for things like key lime pie, stone crabs and orange juice, but here in Palm Beach County, locals know that the true must-have dishes span a much larger palette. Whether you are a snowbird who spends the winter in Jupiter, or you vacation further south in Boca Raton, there are a few places you can't miss when spending time in the sunshine state. Beyond the mainstays, here's what should be on your South Florida must-try list for visitors and locals alike.
Sweet Potato Crusted Fish @ Food Shack
The ever-changing handwritten menu is enough to bring people from all over into Food Shack, a tiny restaurant in Jupiter. But, it's one dish in particular that keeps people coming back again and again. Fish is, of course, a staple here in South Florida, but finding a fresh, well-prepared catch isn't as easy as you may think. If you do want fresh fish, Food Shack is the place to go. Whether you prefer grouper, swordfish, or salmon, always choose to get it crusted in their signature sweet potato coating. Plus, it is served over a bed of greens mixed in their key lime garlic dressing, making it the ultimate Florida dish to indulge in.

Crunchy Tuna Roll @ Hog Snappers
As the quintessential just-off-the-boat restaurant, Hog Snappers offers a laid-back atmosphere with food that is sure to delight. The fish-centric menu is full of local favorites like fish tacos, oysters, and whole hogfish. But if you ask any Tequesta local, you'll quickly realize that the go-to dish here is the crunchy tuna roll. Filled with tuna, avocado, and scallions, the roll is only made more delicious by adding wasabi cream and kimchi sauce to the top. Pair it with an order of edamame for the ultimate lunch.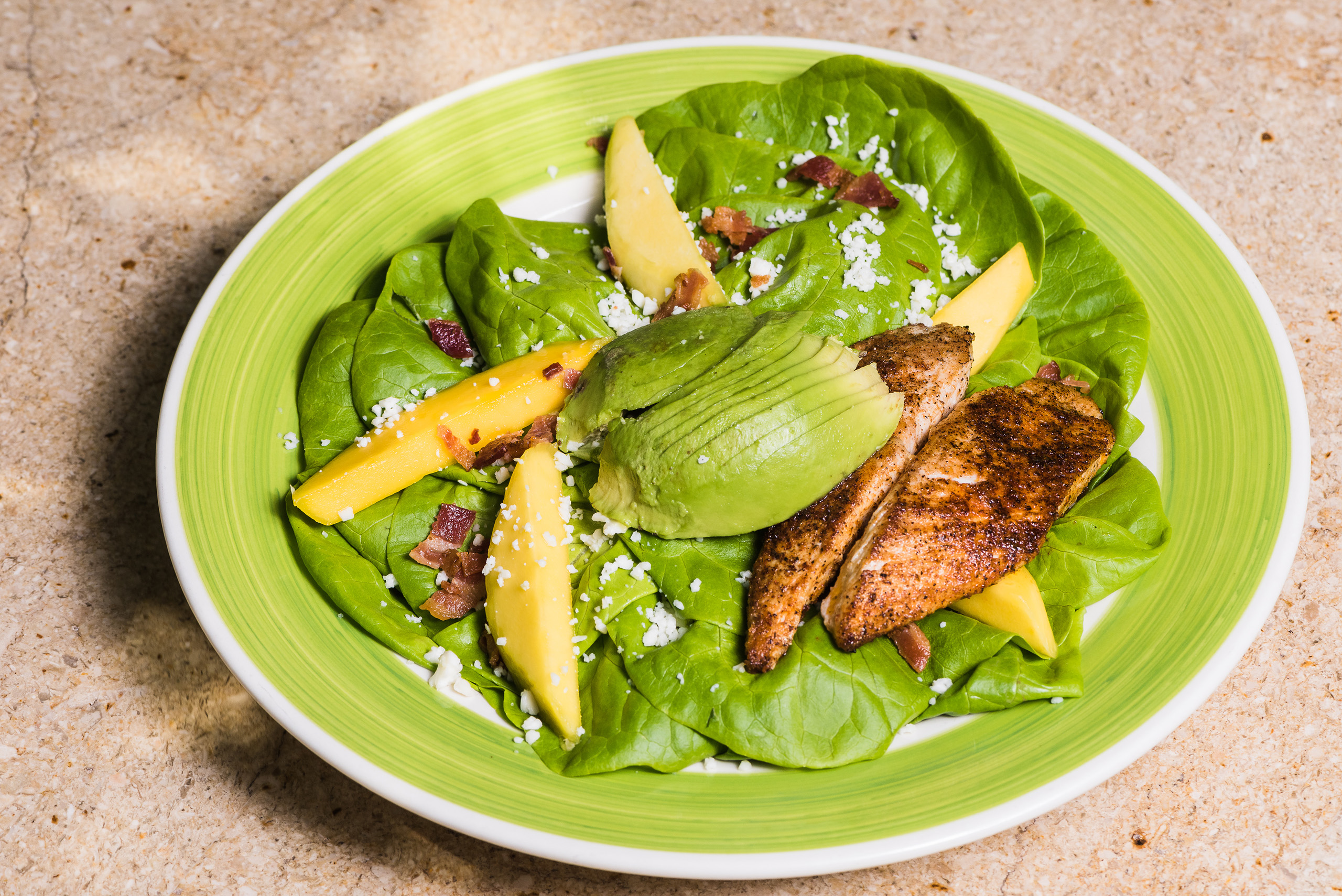 Avocado Bacon Mango Salad @ Guanabanas
If you've ever been to Jupiter, you've likely stopped into Guanabanas. The waterfront restaurant is everything Florida locals and visitors hope for — a relaxed atmosphere along the water with live music, a margarita bar, and delicious food. Along with your tropical margarita, though, you can't visit Guanabanas without ordering the Avocado Bacon Mango Salad. Hearty yet refreshing, this salad is made with bibb lettuce, avocado, bacon, mango and queso blanco, plus their extra special ingredient: queso anejo dressing. Top it with their macadamia coconut fresh catch or sauteed blackened shrimp for the perfect lunch or dinner entree.

Chicken Meatballs @ Brule Bistro
Brule Bistro sits alongside a ton of great local restaurants in Pineapple Grove in Delray Beach. But what makes it stand out amongst the rest is its curated menu and cocktail list, all created by Chef Suzanne Perrotto and Sommelier Elizabeth Vazquez. Brule has a ton of great entrees, like the braised short rib and the jumbo shrimp paella, but if you really want to do it right, stick to the sharing plates instead. Specifically, the chicken meatballs. Chef Perrotto makes this appetizer with ginger, coconut broth, almonds and chili oil, crafting a flavor explosion in each bite. Plus, since locals love these meatballs so much, you can find them on the brunch and lunch menu (breakfast if you haggle — though we haven't tried), so you can order them no matter what time you go.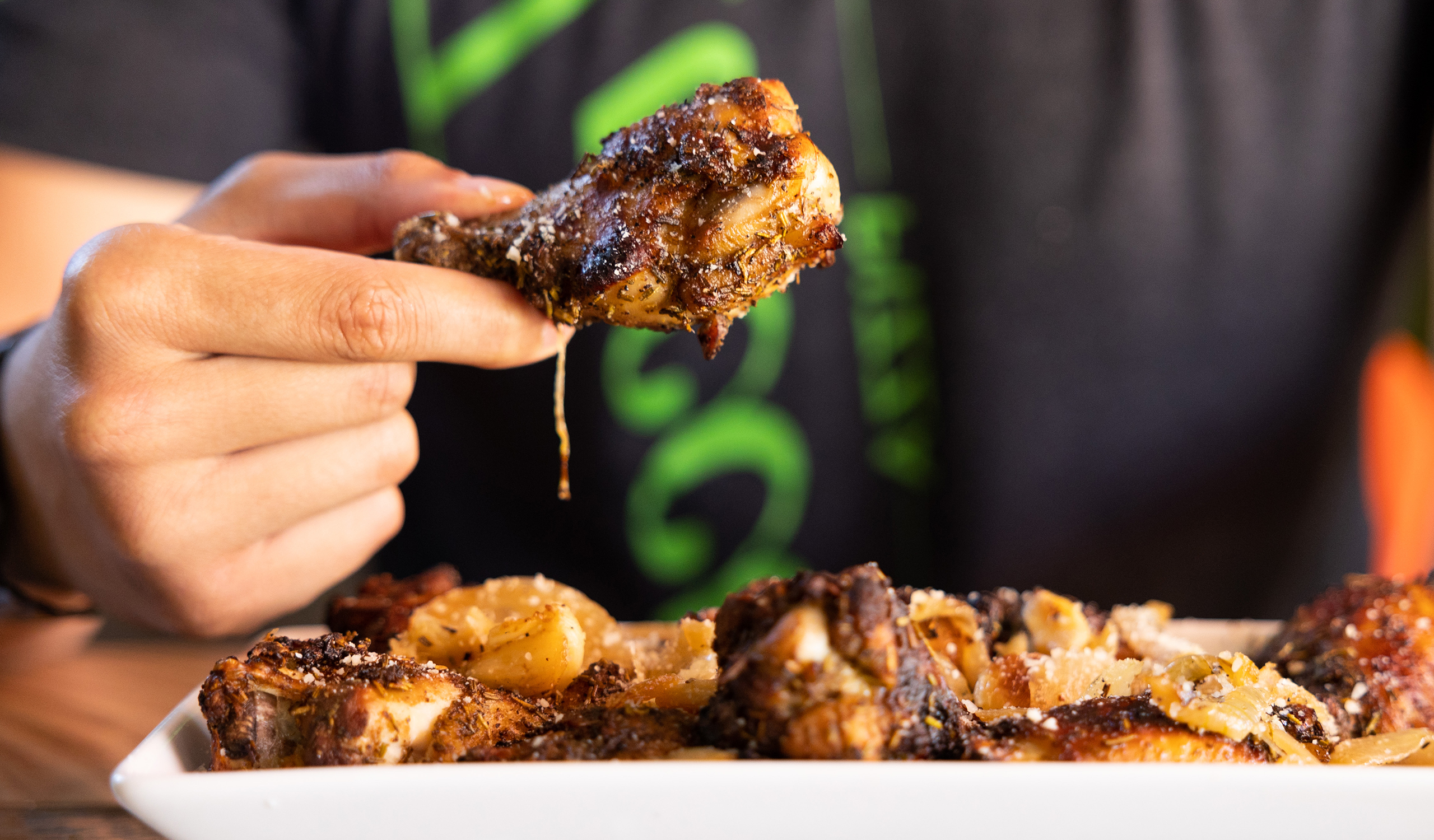 Wings @ Tucci's Pizza
Just because you are in Florida, doesn't mean you have to consume an all-seafood diet. In fact, many locals prefer meat to fish and those that do, head to Tucci's Pizza in Boca Raton. They are best known for their wood-fired pizza, specifically the 1st Ave pie with spicy sausage and red peppers, but locals know the true reason to head to Tucci's is for the wings. They are oven-roasted and topped with roasted garlic, parmesan, caramelized onions and rosemary for a flavor explosion in every bite. Trust us when we say it's best to get two orders — they disappear faster than you expect.