Troy Ganter of Papa's Raw Bar: Humbled but Hopeful
By Darien Davies
It's basically a fact that COVID-19 has shaken up every industry, job and person under the sun. In what seems like only a few moments, to what feels like an eternity, the normalcy of day-to-day life has been flipped upside down, forcing business owners and employees to reinvent and adapt. The goal is not to close doors, to not lose jobs or get fired, and continue to be able to serve a loyal customer or client base. But how?
If you're the team at Papa's Raw Bar, you focus on safety, take care of everyone you can, and streamline efforts, one day at a time.
"We slowly started with a little bit of takeout, running everything out of Seafood World as a market," said Troy Ganter, third generation owner and operator of Seafood World and founder of Papa's Raw Bar in Lighthouse Point, Fla. While they made the tough decision to close their restaurant doors about 10 days prior to the state mandate, feeling that it was the right decision to protect their team and their clients, they continued to stay open as a carryout market in Seafood World. "I would have bet you millions of dollars you were out of your mind if you told me two months ago this was going to be our business model. By the grace of God, it worked. Safety first."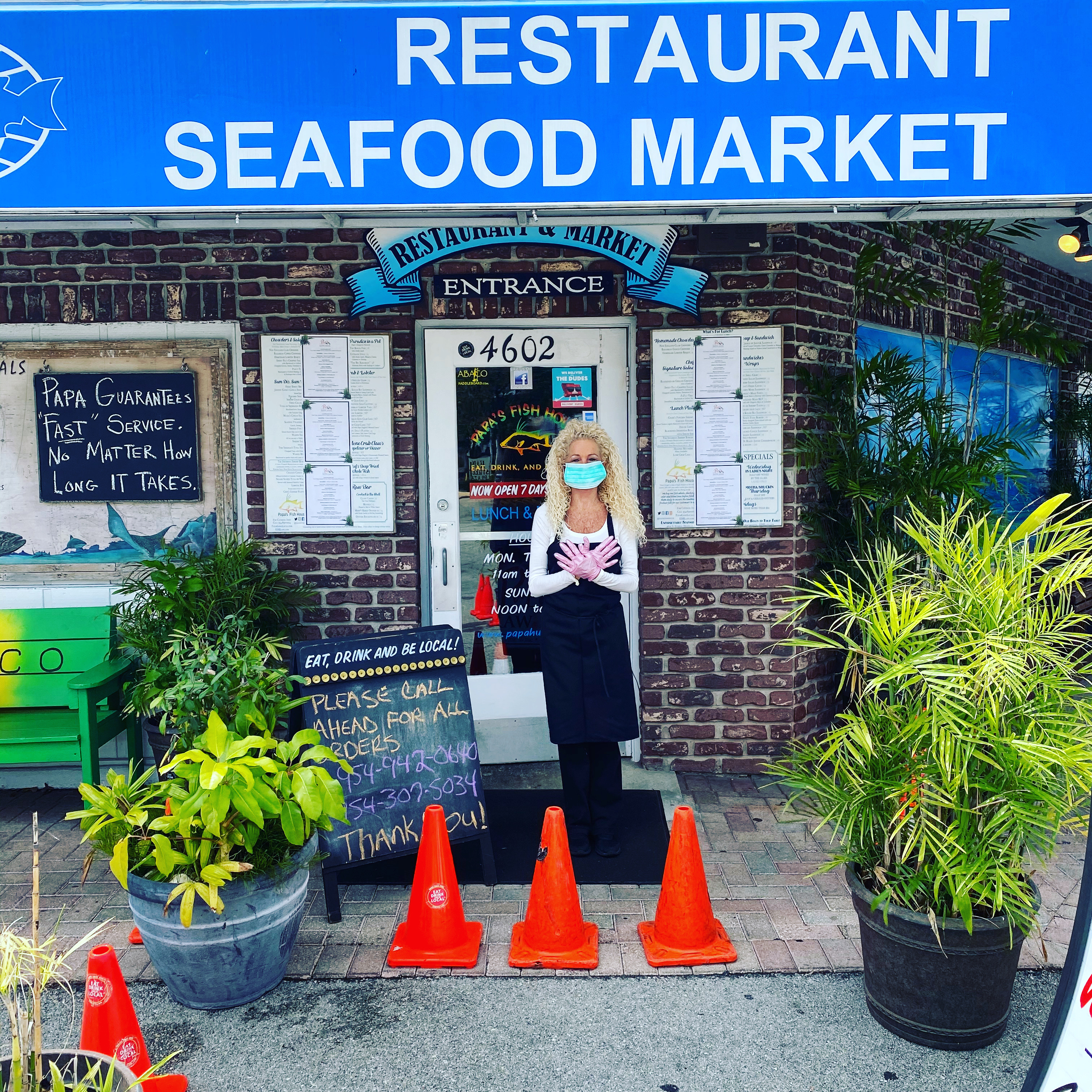 One of the most difficult aspects of this entire hospitality shutdown has been the effect on his family of employees. Between Seafood World, Papa's Raw Bar and the catering business, the team was made up of 115 employees, most of whom had been with the company for 30 years or more. He and his family made the tough decision to go down to a team of 15 employees who were adaptable and willing to help them work through this new restaurant scene organically, but still buy their entire team of employees' food for free. "I started having nightmares about what we were going to do," Ganter said. "How do you not pay your family anymore?"
Especially considering that this scene is the polar opposite from what it was prior to the coronavirus moving into town. Papa's Raw Bar was on an hour and a half wait every night of the week; the catering company was pumping and busy with corporate lunches, weddings, yacht parties; fun brunches every weekend; live music; and the bustling Market business. The entire team was running full steam ahead and focusing on expansion and growth, setting their sights on the profitable open seas. Then COVID.
"It's kind of ironic coming into this year because we've always been about revenue and jamming in 15 pounds of shit into a 10 pound bag. But if you take a step back, it doesn't look great, so we really wanted to focus on getting lean," Ganter said. They had the opportunity to work with an investor to open five more raw bars, and were even given the creative license to stick to their tried-and-true branding and marketing. With this eye-opening and "profound" option of taking a step back, they're going to instead focus on their two core companies. "It's all about your DNA, culture, story, and impact on locals and your team. You're only as strong as your system, whether that's family or work. We needed to focus on the systems more, get lean and be more streamlined. We got too big and got involved in doing too much because it's hard saying no to people. We kind of joke about it but this whole pandemic forced change. It put a gun to our head."
Now the 15-person team has the Seafood World doors open from 12 to 8 p.m. daily for take-out orders only. Instead of their standard two menus with 700+ ingredients, they're dishing out the freshest, leanest and cleanest seafood in town from a small fresh market menu and a small fresh kitchen menu. Expect to enjoy the same delicious soups, salads, dips, shellfish, fresh catch (right off the boat, per usual), crab cakes, stone crab claws, tacos, fried rice, quesadillas and more, just now on your sofa instead of at a Papa's table. They're also running their own delivery orders (if outside the Delivery Dudes zones) to die-hard locals in surrounding communities, as well as offering curbside carryout.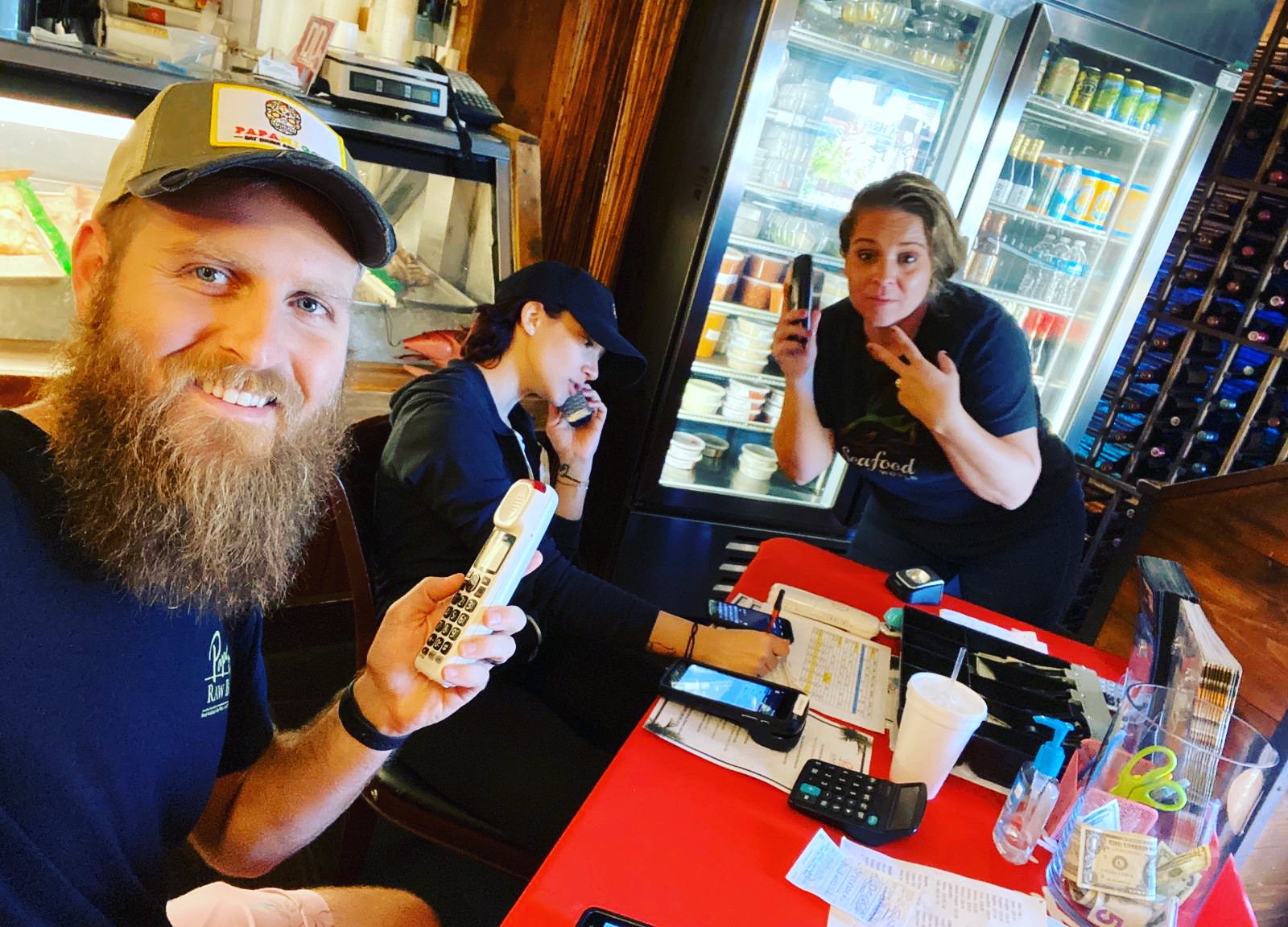 "We're reinventing ourselves, and the support has been tremendous. We don't know what every day will face but we have a team of leaders who started working for nothing, but are now making more than they ever made. We've also been able to give back and help our first responders," said Ganter, who, even through all of this, says their business continues to set records and grow. "Now we're coming with a whole new plan to reopen. Our story is getting better and growing."
He and the team are trying to find a silver lining in all of this, and accept that things happen for a reason. Once they're allowed to open back up, they're still going to move forward with their goal of being more lean and streamlined, and are going to take it nice and slow and see what happens organically. Ganter said that their Serve Safe efforts will be "next level," and that the future of the restaurant industry is going to be different and life-changing for everyone involved.
"Our house is built on relationships. I would hope for humanity that that's how this goes: nice and slow and steady," said Ganter, who isn't sure whether to attribute this shift to God or Karma. "Religious or not, there's a lot of good coming-out of this. We spend too much and live too fast. The Earth is cleaning up a little bit. I hope we don't go back to racing through life again, that we slow down. It's not all about the money."
As a way to continue the lean approach, Ganter explains that "Our 'Eat, Drink and Be Local' family will be stronger than ever as we look to bring all brands into one." So in short, Papa's Raw Bar will become the sole brand with Seafood World now being dubbed 'Papa's Fresh Market,' merging all of the aspects of the business we know and love under one 'Papa's' brand.
While the entire Papa's team might be sailing through uncharted territory, there's hope on the horizon, and the entire team is reeling it in.
Visit Papa's Raw Bar at 4610 N Federal Hwy, Lighthouse Point, Florida
Call 754-307-5034 to place your restaurant pickup order and call 954-942-0740 for the Fresh Market