Photography by Ben Hicks
Papa's Raw Bar is a local spot through and through. Their motto, "Eat, Drink, and Be Local" says it all. And if you don't want to do all three of those things, you're probably in the wrong spot. They just hit their one year anniversary, and things are booming. Being under the same ownership as Papa Hughie's Seafood World, open since 1976, doesn't hurt the cause either.
On why they opened Papa's Raw Bar, owner Troy Ganter explained "Some of the locals don't come (to Papa Hughie's Seafood World) until the summer time, because it's too busy in season. The touristy people don't want to wait. So they would come and see a 45 minute wait and would leave. So we thought 'Let's open up a hangout'. It was supposed to be a wine and oyster bar and a big catering room, which is the Bimini Room. And then we went on to open up and…it just caught fire. At first everyone wanted to see the same menu as next door, then we threw out some different stuff from fried rice to sushi, grilled oysters, wings, quesadillas — we have everything here. That's when it really distinguished itself as its own restaurant."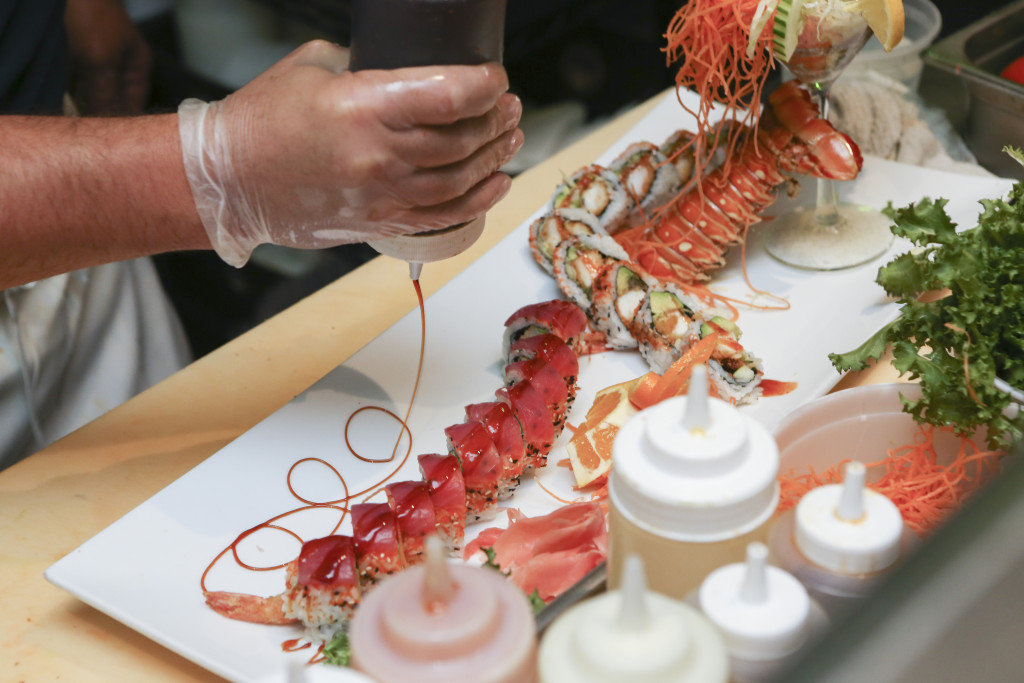 As for where their food is sourced, Troy told us that they in fact have their "own stone crab and conch production that's mainly coming out of the Bahamas and the Florida Keys. We buy only whole fish. We want to see the eye color and the bloodline. We don't buy anything filleted, and most of it's all local fish."
One of the first things you'll notice at Papa's is the decor along the walls that puts off the perfect coastal South Florida vibe. From the "Live Bait" sign to the Custom Rod and Reel dartboard, it's all there to make you feel right at home. If that doesn't make you cozy, hopefully 110+ craft beers, outstanding seafood, great wine selection and friendly staff will do the trick.
Slinging a cornucopia of excellent beer and wine behind the bar is Pat O'Connor. Back in the kitchen you'll find Matt Mecca, who's making everything from Lobster Fried Rice to Fish Tacos made with today's fresh catch. Stroll out to the sushi bar and you're likely to see Chef Tabo, who is working side by side with his son Hugo, crafting delicious and unique rolls and platters that truly allow the quality of the fish to shine.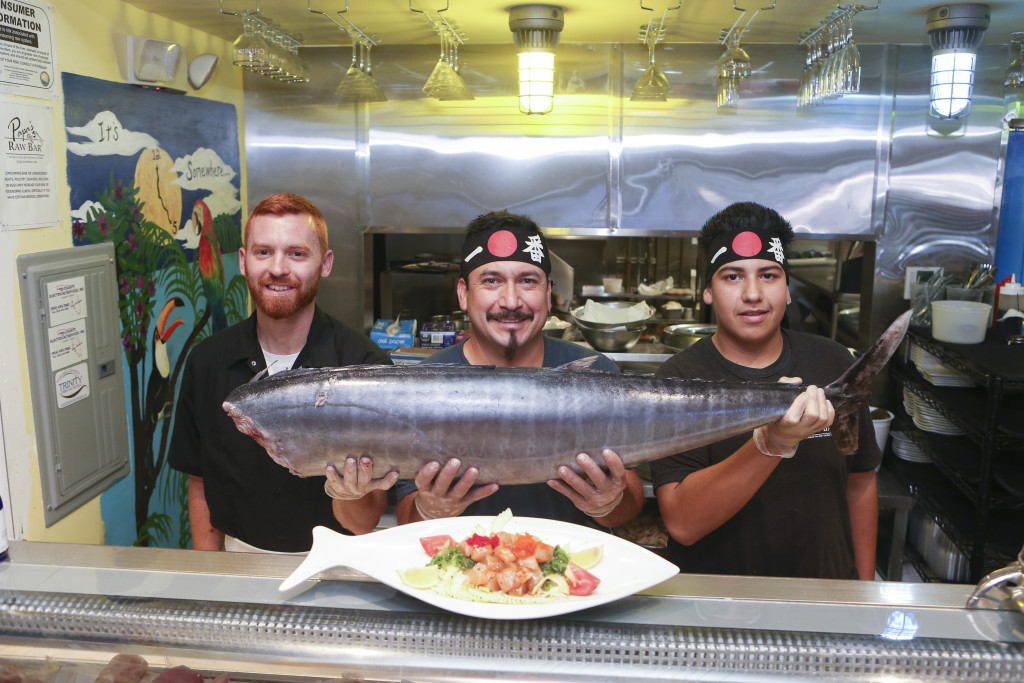 Being served first are the self dubbed "Most Interesting" tacos — two with blackened shrimp and one with panko crusted fresh fish. They're all topped with Georgia peach salsa, shredded cab-bage and chipotle mayo. After a quick bite of those it was time for Chef Tabo's ala carte Sashimi Platter which came with salmon and ahi served on ice — awesome presentation and tasted as good as it looked.
Next came the #1 seller, Skip's Wahoo Style Ceviche. After one bite it's easy to understand what the fuss is about. The fish is super fresh, and comes with a Japanese dressing, sirachi, and choice of kimchee or seaweed salad.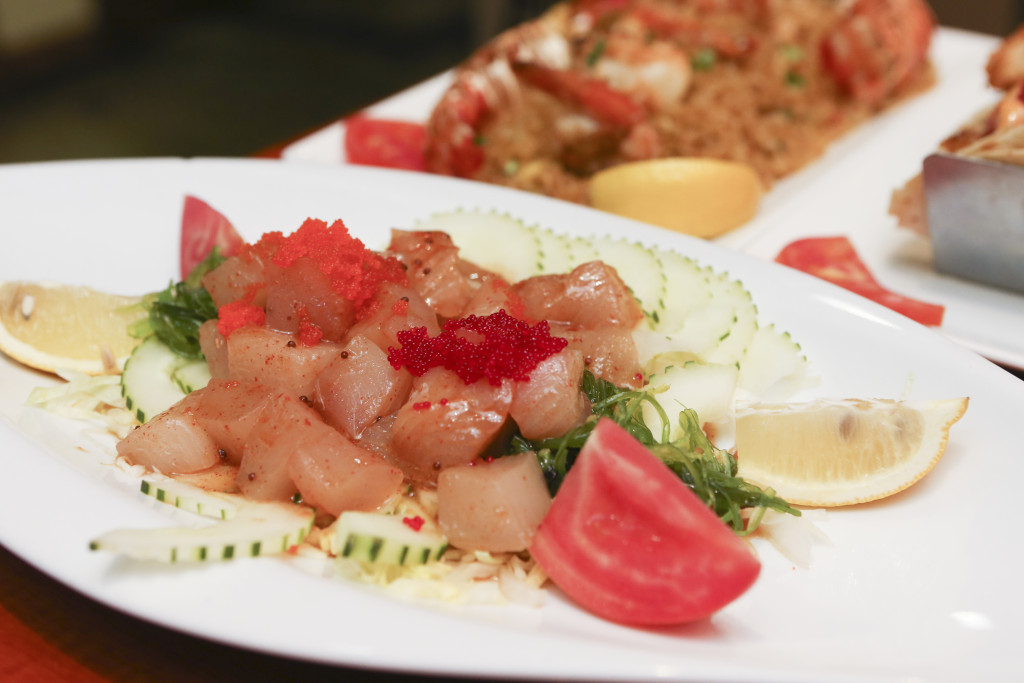 Last was the grand finale — a platter that consisted of Lenny's Lobster Bomb served with two of AK's Red Dragon rolls, one topped with ahi. The roll comes with shrimp tempura, cream cheese, avocado, asparagus, and crispy flakes. What is sure to turn heads is the Lobster Bomb. Served in a martini glass comes lobster tempura, lettuce, cucumber, avocado, topped with "bomb sauces" with the shell from which it came alongside.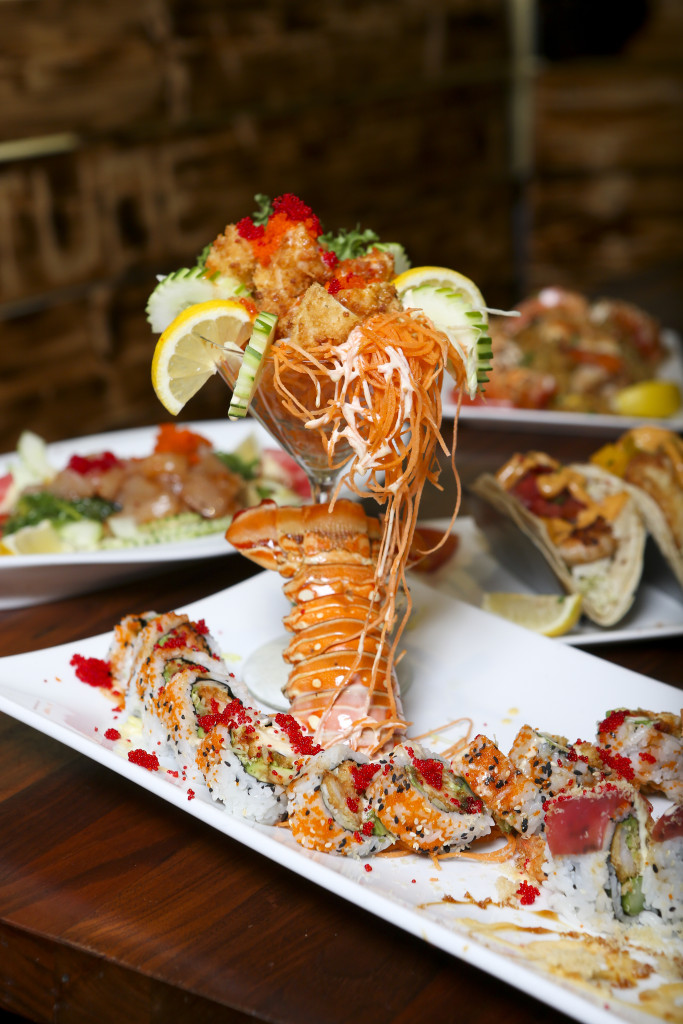 South Florida can be very seasonal, and some businesses live and die by the tourist dollar. That said, it's always great to see a bar and restaurant come around that's 100% catered to locals. And whether you're in that category or not, we guarantee you'll love this place.
Visit Papa's Raw Bar at 4610 N Federal Hwy, Lighthouse Point, FL 33064