Photos: Jack Bates
If you have been to Leftovers, you've probably been to Food Shack, Mike Moir's first establish-ment. Mike had no problem rattling off the exact date of Food Shack's opening, January 24, 2002. About five years later, it was time for Leftovers. A chef first, Mike said "It was a dream, and I was working my way towards that my whole career. That's all I ever dreamed of — owning my own place."
We arrived at Leftovers just before noon, and the place was already packed. Not long after, a guitar wielding singer walked in for a lunchtime set. The atmosphere was great. Friendly and inviting. One of the first things that got my attention was the great selection of craft beer on tap. But that's not what we're here for. We came to Leftovers for one thing: the seafood. Chef Drew Shimkus greeted us at the bar, and we discussed a few of his favorite items currently on the menu. He ended up settling on the Pad Thai with shrimp, Grilled Calamari Steak Gyro, and the Doctor's Orders Salad with Tandoori Swordfish.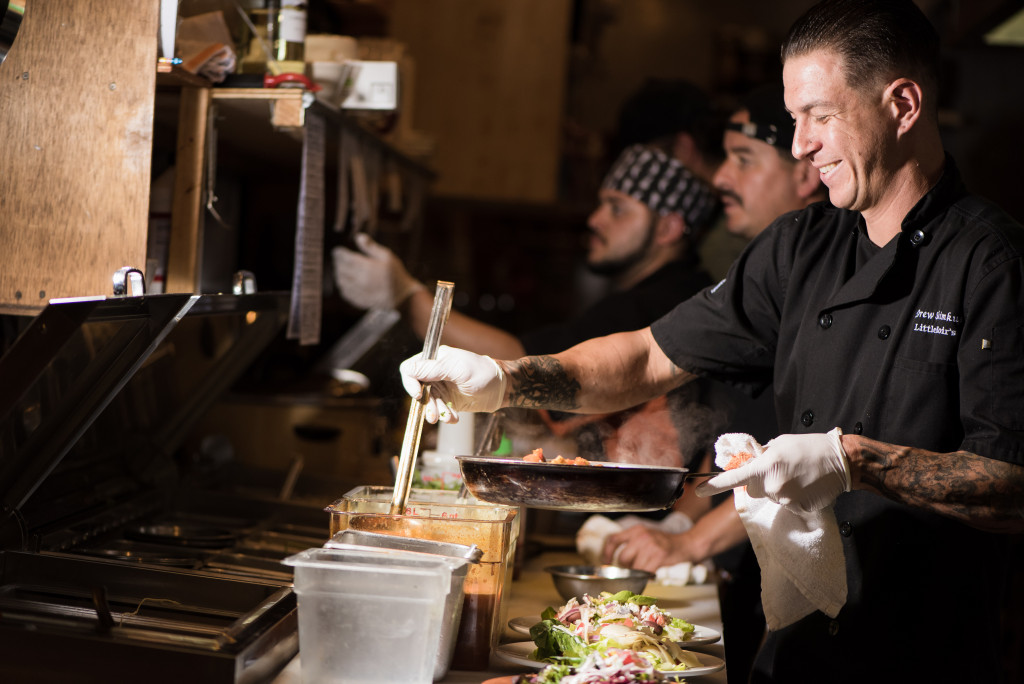 While this was being prepped, I sat down with Mike to chat. My first question was "What can first timers expect coming to Leftovers? Any recommendations?" With no hesitation, Mike said "Good service — friendly, prompt, and casual right out the gate. We do a lot of live music here with all local artists. They can expect fresh food, prepared simply. I would definitely recommend the tuna roll, sweet potato encrusted fish for any first timers and go for a creme brûlée cheesecake or our raspberry key lime pie for dessert. That's kind of like a standard meal. That would be a 'Welcome to Little Moir's, this is what we are'. That's a good start, then you can go down the chain from there."
As for the menu,  it "gets written by two different kitchen teams. The morning and the night guys come in, grab a clipboard, they see what they have started, write down a list of ingredients we have here to use, then start banging out a menu. I don't make any of the menus, whoever is working those shifts will. Drew and I have been working together 18 years, and we inspire these guys to come up with it. A lot of the guys and girls in the kitchen — we have deep roots with them — 15 years plus. So we all know each other, we all jive off each other. It's just simple. It's easy. Because they're all fully creative and submerged in the menu." Mike explains.
This style of creating a menu makes things a little more dynamic than usual. Each chef's name is written on the top, to show you who's working that shift. "There are customers that eat here 5, 6, 7 times a week, and they can tell you who's cooking and what to order" according to Mike.
Before I knew it, it was time to indulge in the three items prepared by Chef Drew. Bartender George Raboni paired each dish with a specific craft beer, and one with a white wine.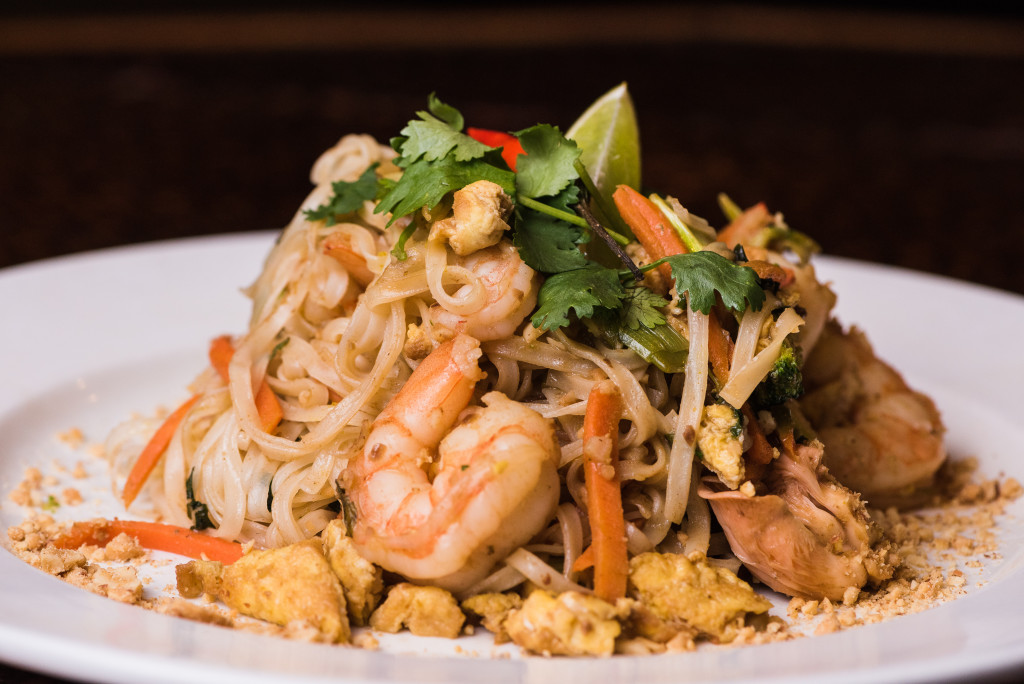 First up was the Pad Thai with shrimp, Chef Drew's favorite thing on the menu right now, paired with a Mohua Sauvignon Blanc. Made from scratch, the Pad Thai is served with scallions, carrots, mushrooms, peanuts and broccoli topped with a fried egg in a tamarind ginger sauce. Everything blended together perfectly and you could tell all of the ingredients were super fresh — probably the best pad thai I've ever had.
Next up was the Grilled Calamari Steak Gyro paired with a Cigar City Jai Alai. Grilled squid in a gyro? Not going to lie, I thought the only way to have good tasting squid was if it was deep fried — rookie mistake. It was delicious. The calamari wasn't too chewy at all, but still had a nice snap when biting into it. Other ingredients included roasted peppers, feta, cucumber, red onion, pepperoncini, and a fire roasted tomato-lemon sauce. Whether you like calamari or not, you'll love this.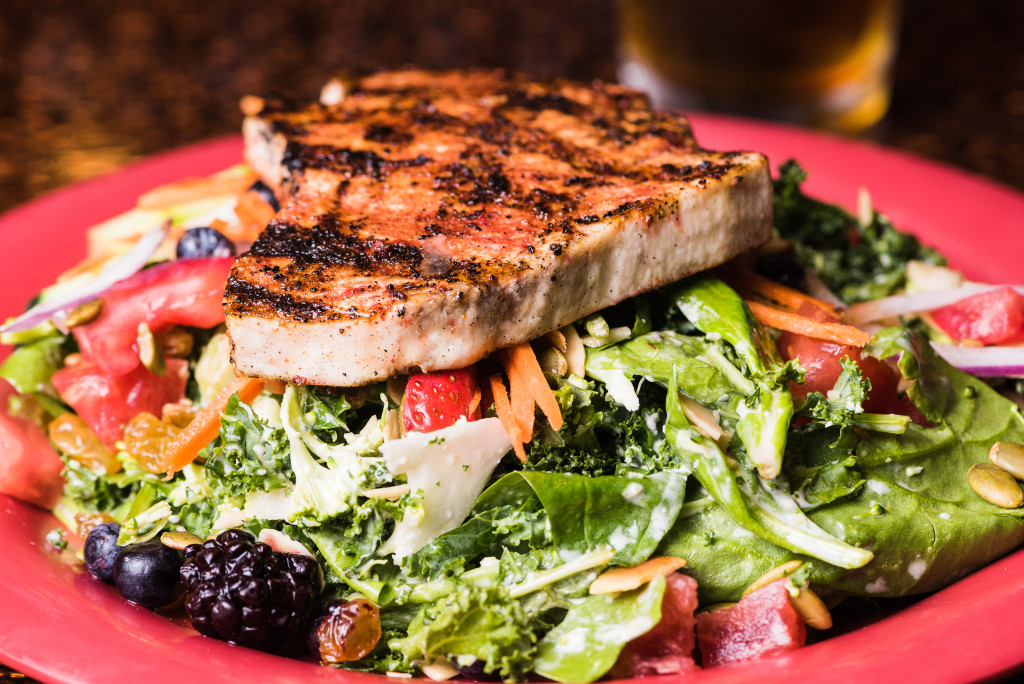 The third dish was the Doctor's Orders Salad, one of the more popular items on the menu. This version was served with Tandoori Swordfish, with other ingredients including spinach, kale, shaved broccoli, toasted almonds, pumpkin seeds, golden raisins, red onions, tomato, berries, carrots and a cucumber roasted shallot dressing. Paired with a Wynwood Magic City Pale Ale on Nitro, and it was indeed just what the doctor ordered.
Mike Moir has cooked in all kinds of restaurants throughout his career. When discussing some higher end places he worked in, Mike put it simply that he wanted to implement the "same edu-cated food, but in t-shirts." That concept, along with a creative staff, fully embodies Leftovers as a restaurant, and of course their original spot, Food Shack.