Photo: Jack Bates
Guanabanas is in a league of its own when it comes to South Florida restaurants. It's one thing to serve 100% locally sourced seafood, but it's a whole other ballgame when serving a restaurant that can seat approximately 300 people and is six tenths of an acre in size. Top that off with the fact that all fish are purchased whole, and filleted on site. It's "beautiful, organized chaos" as Chef Vinny put it.
Before we got to the three dishes that were served, we took a step next door to where the behind the scenes magic happens. What owner Jon Sullivan referred to as "The Ant Colony" is a full on production starting at 7am every day— getting whole fish ready to cook. Jon then walks me over to "the board," which is the math behind getting fresh, local fish in daily and serving them as close to the time they left the water as possible. Even after some explanation, I still couldn't understand it. That doesn't matter. What does matter is these guys have their operation down to a science.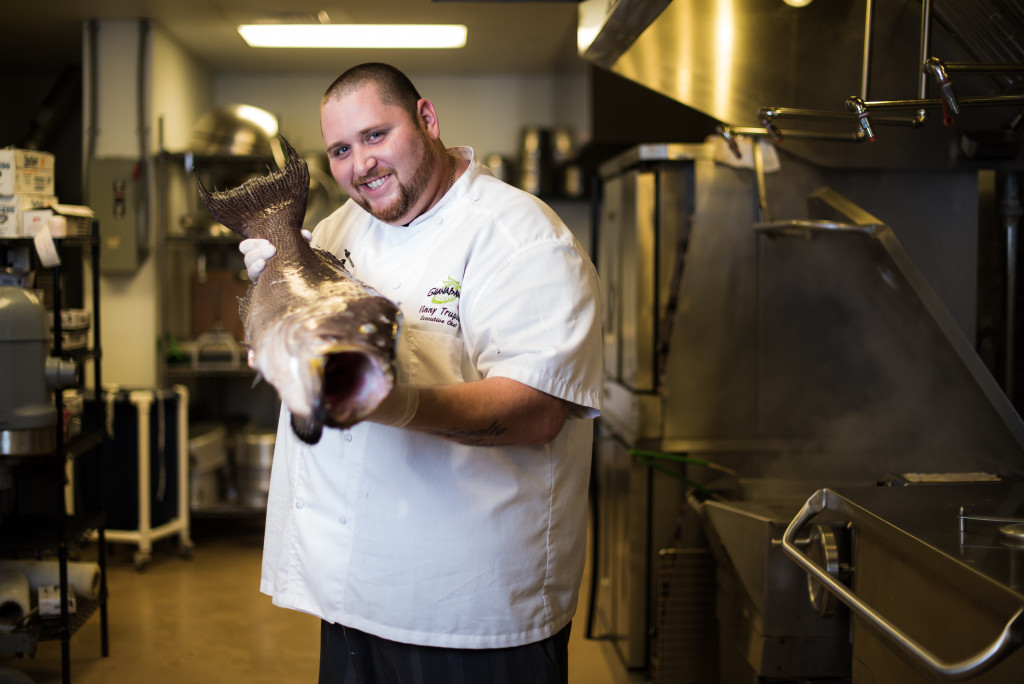 We start to chat about how some other seafood restaurants go about their biz. Jon and Vinny explained to me how seafood comes in from other countries, which translates into several days from when the fish comes out of the water. With travel time, customs, etc. this can result in fish that's being served almost twenty days after it's caught. I was told that it's very common for fish to come to Florida from South America, and fish from Florida to go up north. It seemed obvious to Jon to put a stop to that trend, and source 100% of their seafood from Florida, resulting in fish being served that's only three or so days out of the water, sometimes even hours. This is an extremely difficult task given the size of their restaurant and the amount of seafood they go through. Chef Vinny said they're currently going through "about two tons of seafood per week." To source all of this from the state of Florida can be insane for some, but for Jon and his team, is standard.
As we walked back to our table, I asked Chef Vinny about his favorite things to eat at Guanabanas. He said "I have a couple that I float, but the one that I always come back to is the Classic Fried Shrimp. Because when it comes down to it, it's the simplicity of food that I've always loved. There's nothing fancy to it, no special sauces, lightly deep fried — so you're getting the flavor and the taste of the shrimp, and that's what really draws me back to it. I love everything here, but if I'm in here having dinner, every other time I'm getting that." Enough said. That's the first one we tried, and Vinny nailed it. Their take on a Southern Classic, lightly fried, with fresh Florida Atlantic shrimp.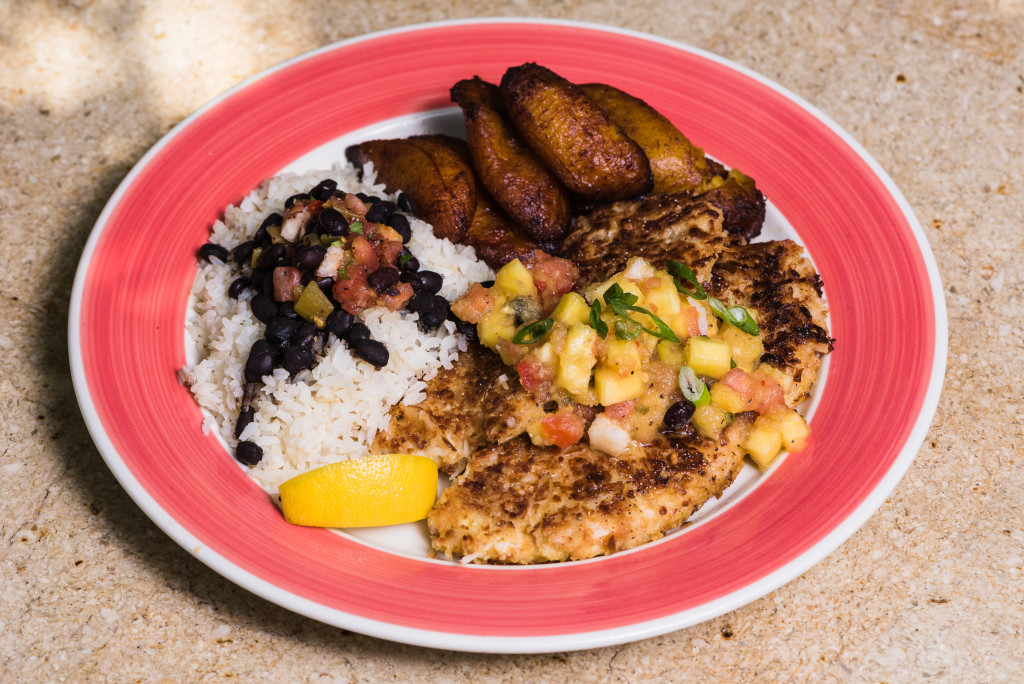 Second was the Macadamia & Coconut Encrusted Yellowtail. According to Vinny, "It's a nice blend of toasted macadamia and coconut, lightly sautéed. Served with a mango pineapple salsa. Nice, fresh, made every single day. We get yellowtail sourced out of Miami — just came out of the water about a day ago. And that's a local favorite."
Last but certainly not least was the "Avocado Bacon Mango Salad. This is our signature salad, and you can add anything you want to it. It is the best selling, one of the most vibrant and delicious salads we have. Hydroponic Boston Bib — it's layered with Casa Blanca cheese, little bit of crumbled bacon, fresh sliced mangos, avocado, and we topped it today with blackened yellowtail snapper. Then it's served with Queso Anejo dressing" Vinny said.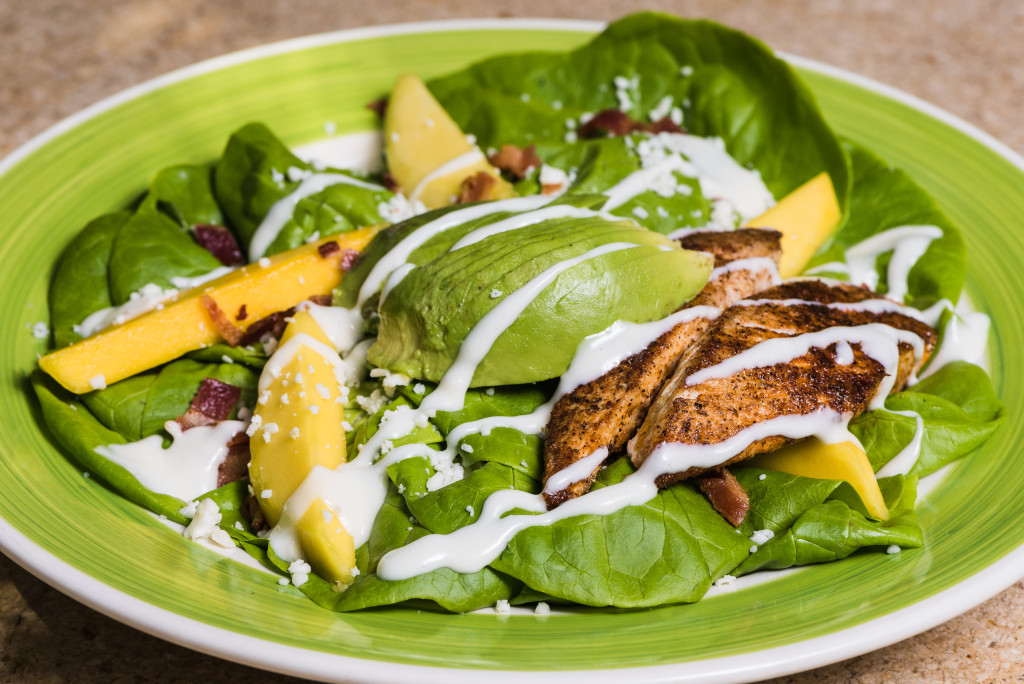 Before we left, I wanted to get Vinny's take on what sets them apart from other seafood establishments. "The fact that we source 100% from Florida. There isn't another restaurant that I know of that does what we do. We're part of a 1%, especially on a larger scale — the volume that we produce here. People aren't doing that. People cut corners. They're buying frozen product, product that's imported, because it's easy. The fact that we source this stuff locally, the fact that I talk to fisherman every single day — before I come here and after I leave. We have locations to source from right here locally, up in the Cape, Jacksonville, Miami, Keys, around to Naples, Fort Myers, Sanibel Island, all the way up to Tampa and Tarpon Springs. So if there's a storm on the east coast of Florida, I can call the west coast, and vice versa. It's just a beautiful, organized chaos that all comes together every single week. I'm fortunate to be a part of it. I've got an absolutely, 100% badass crew. My staff is diehard, and without them I wouldn't be half as good as I am. We get to do fun stuff like this (interview and photoshoot) but without these guys in the window and the people surrounding me, it just wouldn't work."