Can't fake that Just Baked.
By Darien Davies
Whether you're freshly baked or in the mood for freshly baked desserts, Just Baked Boca in Boca Raton is the sweetest spot in town.
Established in late 2017 as a small, specialized bakery, Just Baked quickly developed into a popular late-night spot for everyone who needs a sugar fix in their daily mix.
Sink Your Teeth In
The Just Baked team prides itself on offering a customer-friendly experience with a family-like feel. Fun fact: All dough is made fresh in the store. Not only does this make it the highest quality, but it provides consistently ooey, gooey, crispy, crunchy results.
"Our dough is made in-house and our cookies are baked fresh every day, throughout the day," said co-owner Christopher Conti, whose favorite smell is fresh brownies being pulled from the oven. "We take pride in every batch we mix and every tray we bake."
Just Baked is a build-your-own dessert shop offering hungry customers the option to personalize cookies, shakes, sandwiches and waffles with their favorite cereals, drizzles and icing toppings. This gives you the perfect opportunity to never taste the same combo twice, or to enjoy the never-ending quest for the perfect dream-worthy dessert.
The not-your-average homemade cookies include chocolate chip, strawberry shortcake, M&M, red velvet white chocolate, and more. As for toppings, choose from white chocolate chips, marshmallow fluff, Nutella, peanut butter, Fruity Pebbles, Lucky Charms—the list goes on.
In the Sweet of the Night
If you're old enough to vote, you can also check yes for the CBD additive option. You can choose from hemp joint, hemp oil, CBD gummies, or as liquid "topping" for any item. Due to its popular demand, Conti said they offer the CBD for its health benefits.
"Our most popular item is our shakes," Conti said. "Customers love being able to add anything they'd like into them, especially cookies and brownies. My personal favorite is a vanilla shake with half brownie and Oreos."
What really makes the sugar emporium twinkle is how it serves its "dessert experience" seven nights a week. Just Baked is open until 1 a.m. on Sundays and 1:30 a.m. every other night. It might seem bizarre to serve desserts until the wee hours of night, but there's no debating it just works.
"The best part about my job is the reactions," Conti said. "Being able to satisfy our customers with a warm cookie or a cold shake blended with their favorite cereal makes it all worth it."
Good Things Come to Those Who Bake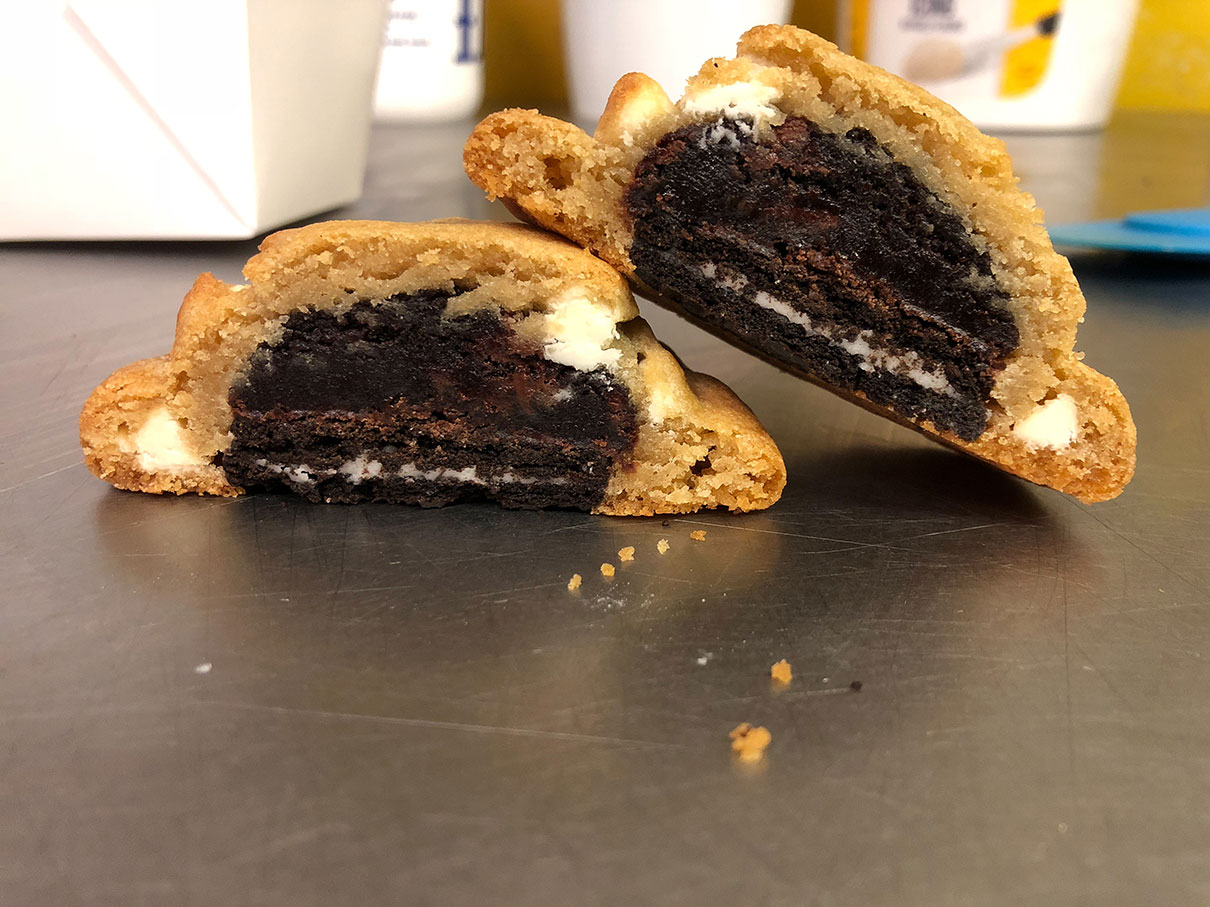 Years ago, Conti and co-owner Alex were unhappy with their day jobs and could smell the sweetness of running their own gig. When they decided to open a dessert shop, they thought that making it "late-night" was a perfect idea. They could continue working during the day, allowing them to pay bills and invest in the business as it grew. Now, they're looking forward to a sweet future.
"We will slowly expand and continue to provide the best product we can while improving our process and learning from our mistakes," Conti said.
On behalf of the Just Baked team, Conti would like to thank every customer for the continued support over the years. The store's success wouldn't be possible without every one of them.
So slide on by when your mouth is dry and your eyes are sly and get yourself a Waffle Pop, Slutty Oreo Cookie or a Homemade Jumbo Brownie and revel in all that is good in dessert life.
Photos courtesy of Just Baked Boca
Just Baked Boca, 80 N. Federal Highway, Boca Raton; 561-409-8247; justbakedboca.com; @justbakedboca