Sorry, we're clothed.
By Kayla Ziadie
Featured in the Digital Edition
There's no doubt COVID-19 had a dastardly impact on the economy, especially on local brick-and-mortar businesses that rely on in-person purchases. When the national emergency was announced March 13, most small business owners throughout South Florida had to act fast to make decisions for both the short- and long-term success of their business.
Before heading to Amazon or Fortune 500 companies, call your favorite shop, check out their online store, or mask up and head in-person to see if you can find what you're searching for. At the end of the day, few things can't be solved by community support and locals showing up for small businesses impacted by coronavirus.
By pairing grit and determination with a loyal community support system, four local businesses we know and love are starting to make a comeback post-COVID. But getting back to a new "normal" hasn't come without several months worth of patience, diligence and sacrifice.
At Custom Rod & Reel in Lighthouse Point, owner Jordan Smith wasted no time in taking the necessary precautions for his business. The one-stop-shop for locals' saltwater offshore and inshore fishing needs closed without hesitation.
"When COVID began to spread throughout the state and the country, we quickly made the decision to lock our front doors and do curbside pickup, local delivery, and ship orders," Smith said. "This slowed down sales for us as we are in the process of building our online store…[we] only have a retail location that we were not allowing people in to shop."
To Smith's surprise, business was busier than expected. He took this as an opportunity to get things in order around the shop, like launching Bait Drop, a local bait delivery service.
"We are a business that was around for 43 years before we purchased it in June 2019," Smith said. "It allowed us to re-merchandise the store and clean up our inventory."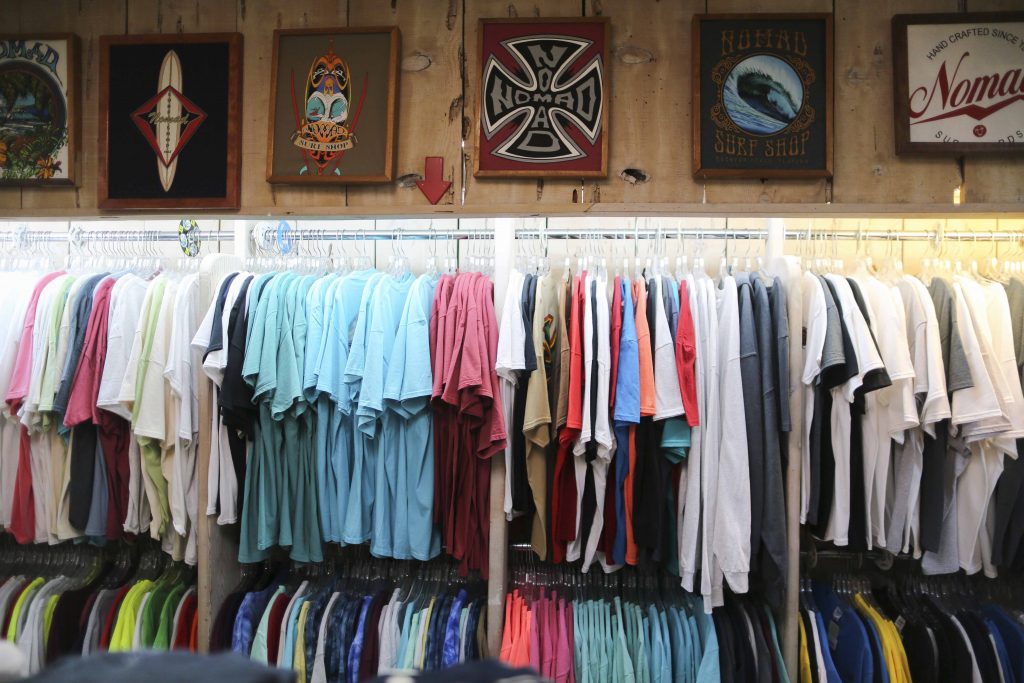 Just one county north, Ryan Heavyside of Nomad Surf Shop was also able to be proactive in the early stages of the shutdown. The family-run business in Boynton Beach has been the local go-to for custom surfboards, boardshorts, T-shirts and other apparel since 1968.
"Our first approach was restricting walk-in customers for their safety as well as the safety of our staff, and their families," Heavyside said. "We cut down on browsing and people just walking around killing time."
The staple surf shop usually has a spike in sales during the months of March and April thanks to spring breakers and tourists visiting during peak season. However, COVID-19's impact coupled with statewide closures for non-essential businesses unfortunately created more hardships than profit.
"If this happened in the summertime it wouldn't be as big of a hit; you'd take a loss, but it wouldn't be an 80% loss," Heavyside said. "It couldn't have come at a worse time for Florida. It's really the worst time possible for it to hit here."
Twenty-five minutes south at Mora Surf Boutique in Deerfield Beach, sister-owners Romi Tavola and Claudia Moline held down the fort alone when COVID-19 struck.
"When COVID first happened, we told our employees it would be better if they didn't come in because it would be safer," Tavola said. "But we couldn't close our business just yet."
That changed when the government declared the COVID-19 a national emergency in March, and Tavola and Moline then decided they needed to close down and move their store online. But the threat of coronavirus for Mora's future created another challenge for the sisters. Alongside needing to get creative with business tactics, they also take care of their 85-year-old mother, Mirta, who usually helps out in the store. Protecting her livelihood during the chaos was crucial.
"It was scary," Tavola said. "My sister and I were scared for our mother's safety because she works with us."
Further north in Delray Beach is fellow chic boutique, Sunday State Style. Owner Shannon Sipperley closed its doors on March 14. Whether shoppers came in to window shop or to pick up a new 'fit, there was always catching up to do.
"Our store is like, 95% therapy and 5% retail," Sipperley said. "Everybody comes in because they want to talk to you; we know all the customers…we know everything going on with everyone."
ONLINE OR BUST
When Custom Rod & Reel turned to curbside pickup, Smith's initial thought was that business would be slower and he'd be able to accomplish some projects. But the success of offering curbside pickup meant he had to amp up his online store.
"Curbside seemed to make every transaction take double the amount of time because we had to take the order, then shop for the customer," Smith said. "This quickly put our online project [at] full speed ahead and forced us to get our e-commerce site up faster."
After all non-essential businesses were forced to close, Heavyside and his team took time to get creative and find ways to keep business flowing while the doors were closed.
"We're really working on our online presence, over the years it's been there, but not as strong as it should be," Heavyside said. "Now we're focusing on adding our Nomad brand products to the online store and upping our Instagram shopping links on our page. We've also been doing video messages and updates to our followers to keep up that interaction."
Thanks to the growth of their online store, Nomad was able to begin free curbside pickup at the shop for orders made online or over the phone. "Curbside pickup has been great," Heavyside said. "And there's been a lot of connecting with customers via text or calls to coordinate sales and pickups."
Over at Mora, even with COVID-19 leaving its future on rocky ground, the boutique's customers made sure to show up for their favorite shop. More online customers meant that the website needed daily updates more than ever.
Tavola and Moline have experienced success on Mora's website that they never did before being shut down. With the newfound site traffic, they also instated curbside pickup for online orders. It was more than a business opportunity—it was a new way to keep Mora's culture and spirit alive despite the uncertainty of the world.
"When we closed the business I thought it would be almost dead," Tavola said. "But the community we have is so helpful. Everyone started to shop online to support us."
Sunday State Style also has an active online store people can order from as well as the option of curbside pickup, but it's not the main source of business or focus. At the same time, Sipperley didn't want customers in financially tight situations feeling pressured into spending money at her store. So it went radio silent online while COVID-19 ran its course.
"Many people had lost their jobs, so they didn't need to be bombarded with 'hey, buy this dress' when they were trying to figure out how to pay for groceries," Sipperley said. "So we kind of went dark and laid low to be respectful of everybody's time."
Instead, she started offering free one-on-one personal styling after receiving messages from customers wanting to switch up their "quarantine wardrobe." So whether they had a driveway BBQ with neighbors or a socially-distanced first date, Sipperley was ready and available for anyone needing fashion advice or wanting to privately shop.
"It became a personal shopping service," Sipperley said. "The world was hurting, and everyone needed to take a break and figure out what they were going to do with themselves."
THE COMEBACK
Luckily for Custom Rod & Reel, business barely changed besides the month Smith had to close the front doors. Business before COVID closures was on the uptick due to the local tackle industry entering its season. Even with the brick and mortar reopening, he intends to continue growing its online presence.
"In the future, we see the importance of the online business and intend to focus and grow that portion," Smith said. "In [Custom Rod & Reel], we have made a better effort to keep everything clean…[to give] our customers the best experience possible in our store."
On the flip side, the team at Nomad had concerns with bigger companies that they buy from offering discounts on the same products they sell in-store.
"It's becoming difficult to keep up with larger brands who offer these massive online discounts for the same products of theirs that we sell, so we're focusing on promoting the Nomad brand instead," Heavyside said. "The big brands slashing prices has really hurt the small businesses who support them and sell their products in the shops."
But even though business has changed, Nomad has found ways to adapt to the new normal. The store has more than 50 years of success under its belt, and it won't stop during these uncertain times. Nomad plans to continue offering its loyal customers the tried-and-true, top-of-the-line surfboards, clothing and apparel its reputation was built on. And since reopening for walk-in customers, they have been slammed busy.
For Mora, its June 4 reopening also came with new rules. The boutique has implemented several protocols to keep the store as clean and safe as possible while cases rise in Florida, such as mandatory face masks and using hand sanitizer offered at the front. Tavola says these small measures add up to minimize the risk of customers and employees getting sick.
"We want [our customers] to understand that we are very concerned, and that's why we ask them to wear their face masks and to use the hand sanitizer as much as they can," Tavola said.
Despite the trials and tribulations of COVID-19, Tavola is grateful for her tight-knit group of employees and her store's supportive customers. "We live in a good place, a good community where people really understand," Tavola said. "When something bad happens, they all come together to help each other and [give] support; you feel it, and it just feels good."
Similarly, Sunday State Style took the safe route with its reopening in late June. Protecting anyone who enters the store is the main priority. Alongside keeping the store in pristine condition, hand sanitizer is available at the front and maskless shoppers can ask for face masks.
At the end of the day, Sipperley says that if anyone wants to help her business, they should show up for Delray Beach as a whole.
"The best way to support me is to support Delray, just support the downtown so everybody can make it back together," Sipperley said. "It's all energy; you put good energy out with good purpose and you get it back."
MORA'S MASKS
The demand for face masks (and toilet paper, of course) skyrocketed when COVID-19 made its South Florida debut. Soon after, Tavola was bombarded with messages from customers saying to make extra masks to sell on Mora's website, so that's what they did.
"The demand for face masks helped us a lot," Tavola said. "People would go to the site to buy them, but they would end up buying other items, too. It also helped pass time because there wasn't much business at the beginning [of COVID-19]."