The Steak Bomb
Photos: Nathan Hamler
Known for their amazing pizza, Boca's Best has been a household name in SoFlo for quite some time. If you haven't had a slice, it's well worth the trip, especially since they are open until 2am – and serve some tasty craft beers to boot. But the pizza isn't what brought us into Boca's Best for the 1st Annual Food Issue. This time, we ventured in for the five pound "Steak-Bomb". What may or may not have originated as a hangover cure (you'll have to ask the owner), this Philly Cheese Steak turned Stromboli definitely packs a punch, and your gut. Inside you'll discover steak, mushrooms, green peppers, onions, yellow American cheese, cheddar cheese, and French fries. Top all that off with a delicious spicy ranch dipping sauce and you're good to go.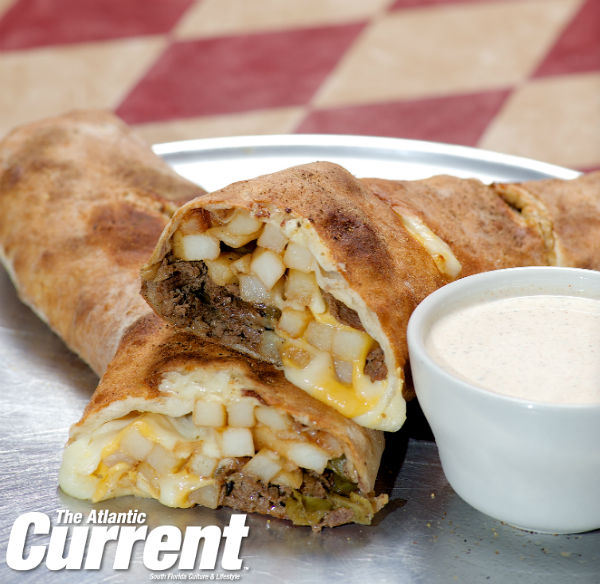 Being a fan of "Man vs. Food," owner John Magnetta didn't want to settle for just a delicious food item. He knew that a challenge to devour this beast was in store. If you eat this bad boy in forty minutes or less, you get your meal on the house ($19.95 value), a Boca's Best t-shirt, and your picture on their Wall of Fame.
Not up for the challenge? The Steak Bomb is plenty of food to split.
Also be sure to check out their $5 craft beers and excellent slices including the BBQ Chicken!
Visit Boca's Best Pizza Bar at 119 W. Palmetto Park Rd in Boca Raton or call 561-367-7227