The Dark Knight Artist: History Gets a Splash of Comic Culture
By Nile Fortner
For years, comic art has crossed boundaries to enter multiple forms of mediums. Fans watch comic book adaptions from the big to the small screen and may see comic art on the walls of local museums, venues, and yearly conventions. Comic art is very visual, but the text is just as important.
"It's inspiring seeing that stuff as a kid," Erik said. "The cool art, the colorful stuff, the meaningful stories, all of that superhero stuff and pop art really inspired me from a young age."
Since he was 5 years old, illustrator, designer and comic book enthusiast, Erik—better known as The Dark Knight Artist and J. Brisbee; has had attentiveness for art. His mother was an artist who'd give him art lessons. From as early as kindergarten, Erik wasn't drawing stick figures like most kids. He learned how to draw the human form in a 3D model with accurate details.
"My mother would draw figures of people from her art classes," Erik said. "I thought that was kind of boring and as someone who's into comic books, I started drawing Superman and Batman and I love the culture."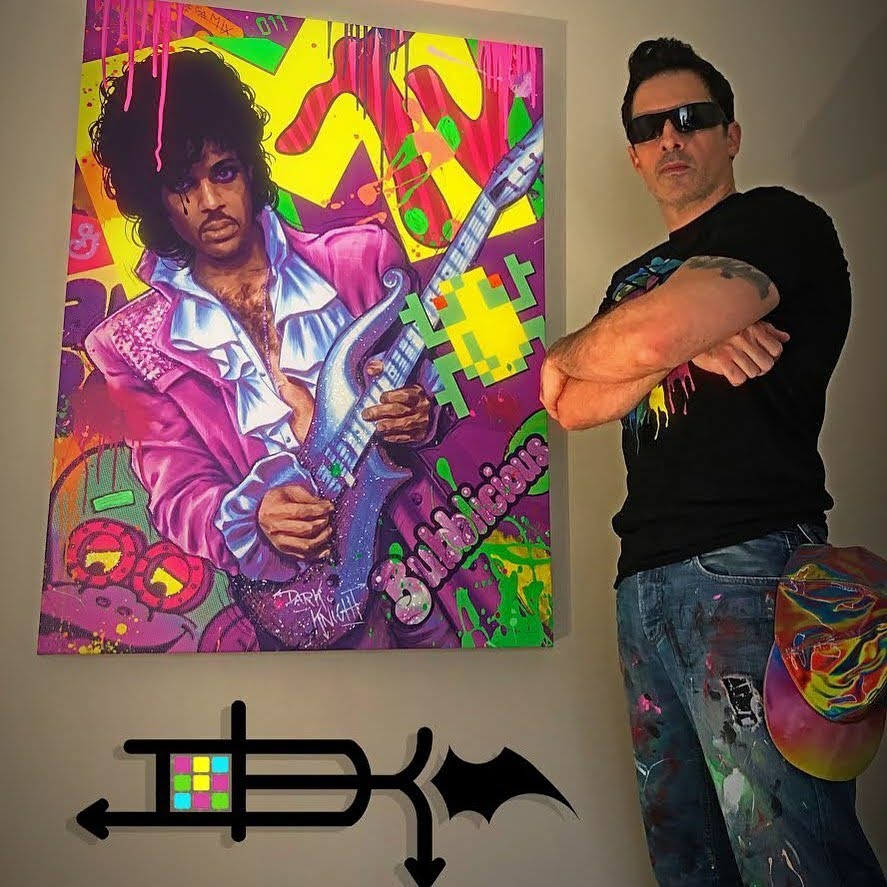 Like a majority of superheroes, Erik remains anonymous and uses his artist alter-ego, The Dark Knight Artist. It's a name that's familiar with Batman and by the Frank Miller 1986 comic series, '"The Dark Knight Returns." Erik's second identity, J. Brisbee. is a play off Jonathan Brisby, a mouse character from the animated dark fantasy film "The Secret NIMH."
"It's a cool concept and a way to have fun," Erik. "It's an alter-ego, but it's expression and it's freedom, and that's what the art represents."
Through art, Erik's creativity would bring dreams to life. He found inspiration from films, comics, music, history and mixed media that he painted on vibrant canvases. 
Erik's artwork consists of Pop Art that revisits childhood memories and nostalgia. The collection of Erik's art is an amalgam of all kinds of pop culture images, icons, brands, and personalities being represented as canvases of mixed media. Some examples of this include his "Bubblicious" canvas of Prince, classic video games mixed with an old school hip-hop Star Wars Stormtrooper, Disney, and a lot more.
Erik believes that our society has become too obsessed with greed and consumerism. Because of this, Erik is attempting to take control of those negative impulses and revisit positive emotions he experienced as a kid in New York City.
"I was also influenced by a lot of pop artists from the '70s and '80s," Erik said. "Specific imagery that sits in your mind, like a scene from a movie or an album cover…I'll play around with [what] still fits and resonates with that particular thing or timeline."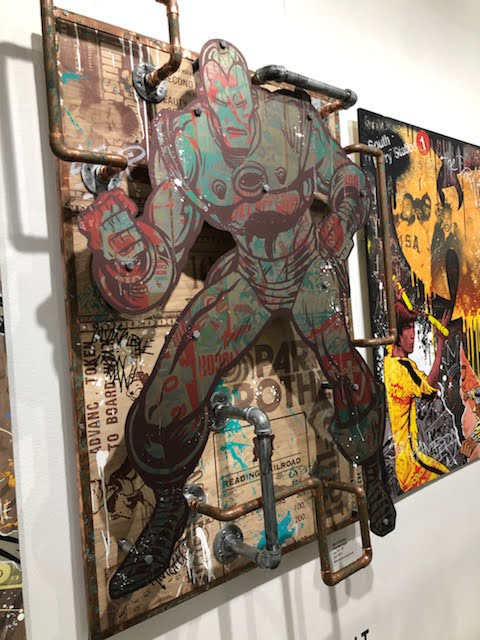 Over the years, Erik has painted hundreds of murals over the tri-state area and New York City. He has also studied comic illustration, worked at ToyBiz designing toys for Marvel Comics Group, and for the past 15 years, Erik has done licensing and design projects for many companies, including a lighter design for BIC USA. 
Originally from Staten Island, Erik has also had the pleasure of working with Wu-Tang Clan member Raekwon. In 1994, Erik did a logo for the hip-hop group, and Raekwon even visited Erik's old New York apartment.
"I even did a piece for [Raekwon] a few months back," Erik said. "He's friends with my cousin and we went to the same high school. I have some other ideas for the Wu-Tang members too because I was also inspired by their Hulu show."
Erik continues to find inspiration and he has also taken his artistic talents to Boca, Fort Lauderdale, the Wynwood Arts District, and other spots in Miami. He hopes that schools continue to teach art or offer art programs because he knows how art can especially be influential for young kids.
"From when I was a kid, art and comics inspired me, and art shows us the possibilities within ourselves," Erik said. "It's all the art that's around us that makes us realize life is worth living. Every community needs to embrace that the best is yet to come; the possibilities are endless, and I'm just happy to see that all kinds of art is just moving forward."
Photos courtesy of The Dark Knight Artist/J.Brisbee
To contact Erik, email [email protected], or visit his Instagram account: @darkknight_artist