By Nicole Danna
Since opening in 2017, Prosperity Brewers in Boca Raton prides itself on creating small-batch beer with creative uniqueness. It's no wonder why, then, why picking three of their "best" beers can be such a difficult task.
These days, head brewer Joel Kodner — formerly of Due South Brewing Co. and West Palm Brewery & Wine House — is helping to keep that mission strong. He began brewing at Prosperity in June.
In the short time since arriving, he's already been hard at work upgrading from the nanobrewery's original 1-barrel setup to a 3.5-barrel system. This adds up to a total of three 3-barrel fermenters and three 7-barrel fermenters.
The new setup will allow Prosperity to increase production of its core offerings, while also getting increasingly experimental with plenty of room to incorporate one-off treatments and new recipes.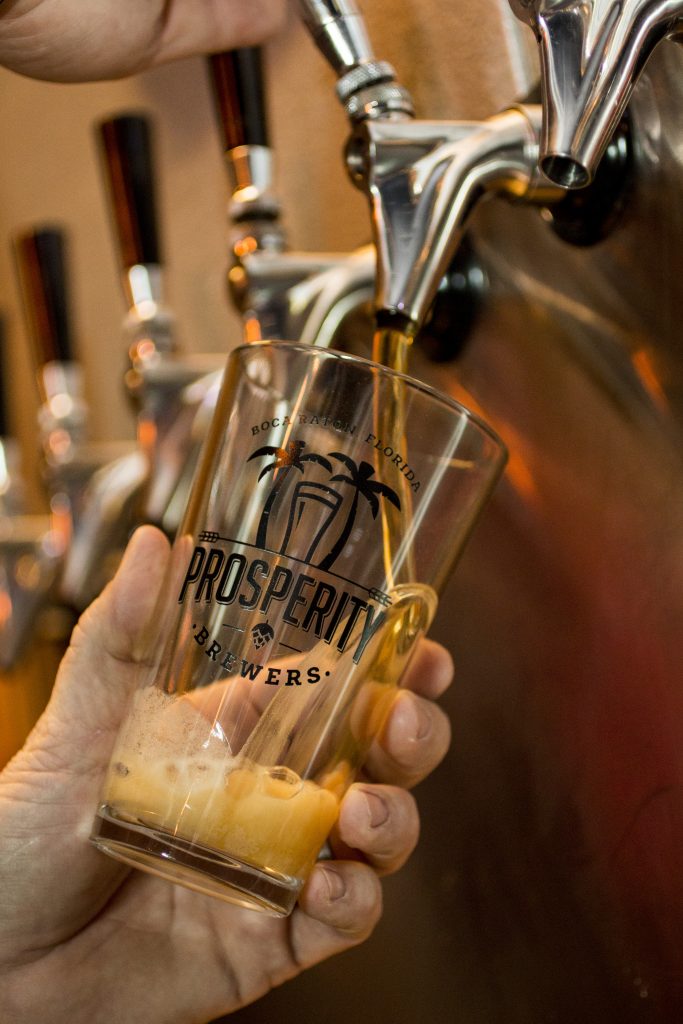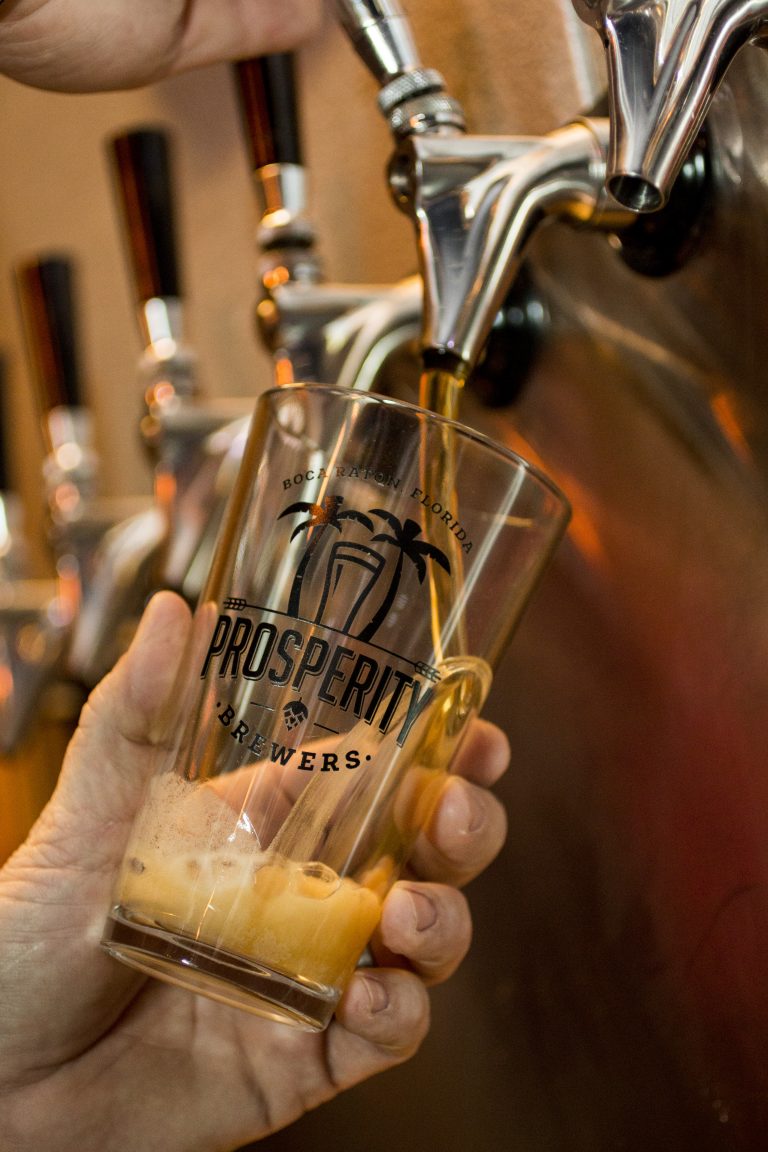 "At Prosperity, [the idea is] to have something for everyone with our wide variety of house-made beers," Kodner said.
Propserity is located in the heart of Boca Raton's up-and-coming warehouse district at ROC Urban off Spanish River Boulevard. The brewery's intimate industrial space is the perfect place to enjoy a cold pint, kick back, and relax.
"The taproom is rustic and communal, and always full of bright, positive energy where everyone is treated like family," said Kodner. "You can throw darts, play arcades, or chill on the couches in the lounge."
And — more recently — order snacks and food prepared in-house.
Brews 'n Bites
Behind the scenes, both the brewhouse and taproom used the downtime from COVID-19 closures and restrictions to make minor improvements. The back-of-house took the time to clean, brew and get creative.
Meanwhile, the front-of-house got to work making the necessary renovations to meet the requirements for a food service license—one they now hold— to allow on-premise consumption.
The food menu officially launched in late July with several items. It will soon feature a full lineup with shareable portions of smoked fish dip, hummus, four types of empanadas, hot pretzels, and cheese and charcuterie boards.
COVID-19 closures also prompted the need to upgrade the Prosperity website for online ordering for curbside pickup. Part of that move included a new partnership with Brew Theory, an Orlando-based contract brewer planning to can some of the brewery's best beers.
That means there's all the more reason to stop by during operating hours Tuesday through Sunday. This, or you can grab a four-pack to-go, so you can sample the brewery's top three flagship beers.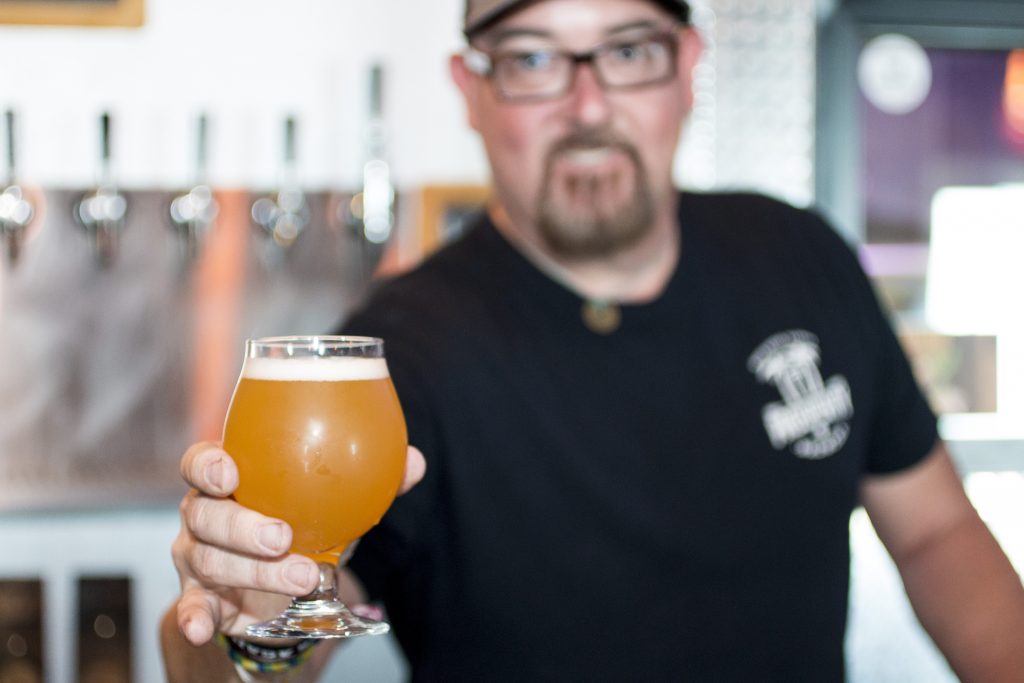 Intra-Kolsch-tal — Kolsch (4.8% ABV)
A light, crisp, refreshing golden ale brewed with Pilsner malt and Saaz hops. It's not a Kolsch by technicality, since it must be brewed in Cologne to be branded as such. The Intra-Kolsch-tal leans more toward blonde ale and is the lightest and most popular beer on tap.
Clutch Plate — American IPA (7.0% ABV)
Brewed with a combination of Columbus, Mosaic, and Citra hops, Clutch Plate walks the line between East and West Coast IPAs. You get the tropical fruitiness of a typical East Coast style, but you're also anchored by solid malt character and the appropriate bitterness you'd find with a West Coast take.
Publand — Dark English Mild (4.8% ABV)
Joel's favorite out of the Prosperity beers. Publand proves dark beers don't have to be high alcohol or heavy in body. This dark English mild has a light mouthfeel but packs a ton of flavor with notes of biscuit, caramel and toffee.