Colorful Postgraffisim
By David Rolland
Surge, born Sergio J. Quinonez, calls his brand of art postgraffisim. His colorful, pop-culture inspired artwork has flourished all over South Florida from the skate park in Dania Beach to the Wynwood Arts District. Born in Los Angeles and raised in Miami, Surge's artwork displays a bright disposition one would expect from someone who grew up with plenty of sunshine. The pep in his artistic step has been attractive to many sports teams. The Miami Dolphins, Manchester United and the NBA have all commissioned his work. He also enjoys doing live art where he creates in the midst of a party. Surge spoke to Atlantic Current to tell us a little about his inspiration and artistic process.
Atlantic Current: When did you fall in love with creating art?
Surge: I was born creating, and I believe everyone is. Some just nourish the craft and never grow up.
AC: What kind of training did you have?
The only training I remember ever having was when I was 12 and 13 years old, my family knew an art professor at the University of Miami and he invited me to join his graphic design class. I remember learning all sorts of graphic design techniques which back then you did manually as there were no computers.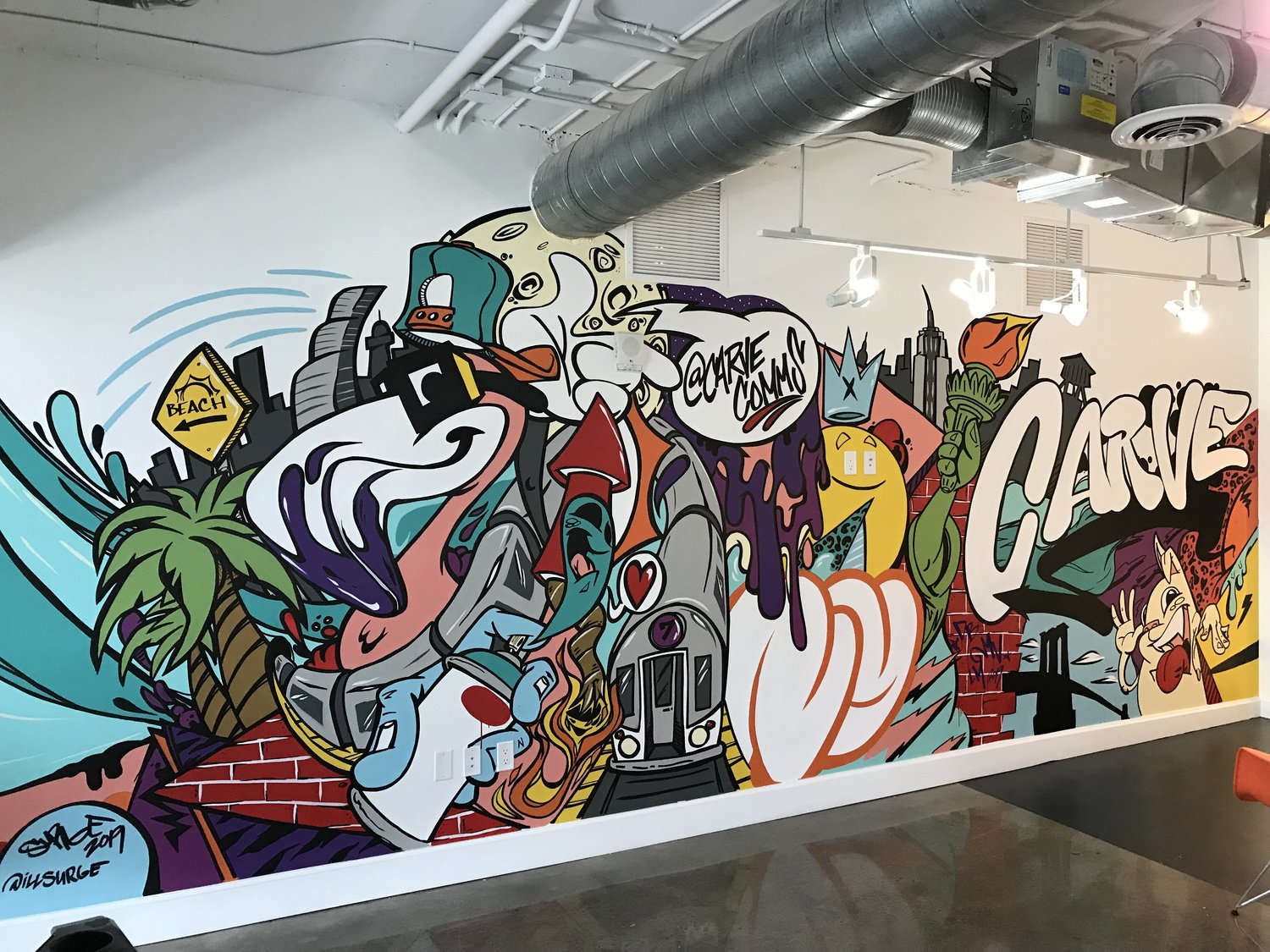 AC: Why do you call your art postgraffisim?
Postgraffisim was a term created by fellow South Florida Artist, Ruben Ubiera – where you're inspired by the graffiti culture, techniques and overall flow. You're not a graffiti artist, influenced by it.
AC: How has living in Florida shaped your artwork?
Living and growing up in South Florida has mainly influenced my work in the use of a bright bold color palette.
AC: Can you walk me through the process of creating one of your works?
Yeah, that's simple. I simply sketch and doodle all day on my iPad or any piece of paper (no matter what's going on) and if I like what I see, it becomes a painting and/or mural.
AC: Where can people see your art?
The easiest place to see my latest work is always on my Instagram account.
AC: What are your plans for the rest of 2023?
We're in the last quarter of the year and that means my focus is on prepping for Art Basel, and everything that brings. From the Wynwood Mural festival, to gallery shows at Wyn317 Gallery.