Written By: Nicole Danna
Photos: Aaron Lurie
Guanabanas first opened in 2004, originally nothing more than a surfer hangout where you could grab a sandwich on-the-go. Four years later, operating owners Jon Sullivan and Chad Van Boven have transformed Guanabanas into one of Jupiter's most coveted restaurants. No longer a place to grab simple meals on the run, today the menu offers an abundance of dishes made with fresh, locally-sourced ingredients, and delivers one of the best dining experiences in Palm Beach County.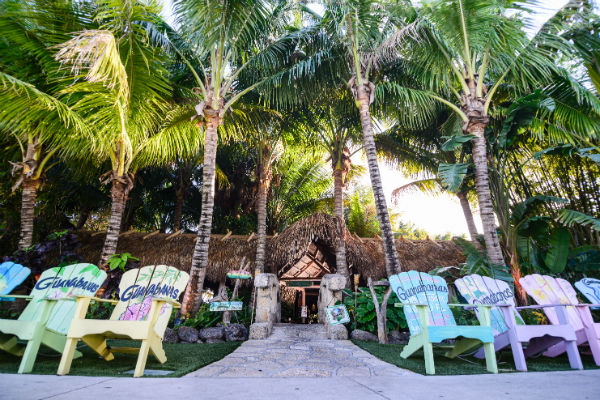 If you're looking for an escape, Guanabanas is a place you'll have to see to believe. The restaurant's outdoor, tiki-style seating has been carved into a jungle-like grotto overlooking an inlet waterway just west of A1A. Here, meandering hand-chiseled coquina stone pathways weave through intimate seating areas. During the day, it's open and bright. At night, the outdoor seating turns romantic, hanging lights throwing shadows from curving banyan branches and swaying palms. Despite its remote location, such a dreamy layout draws a crowd of tourists and locals alike, who travel in droves for a taste of paradise.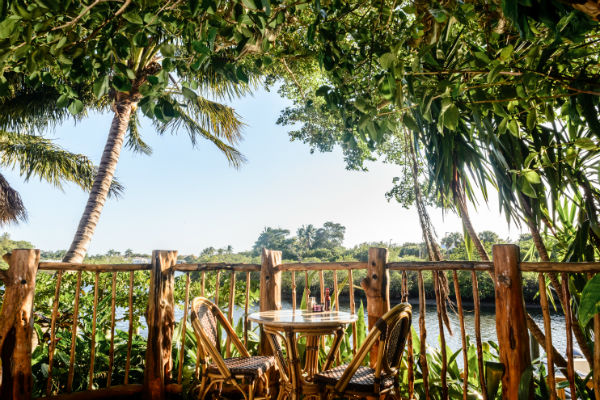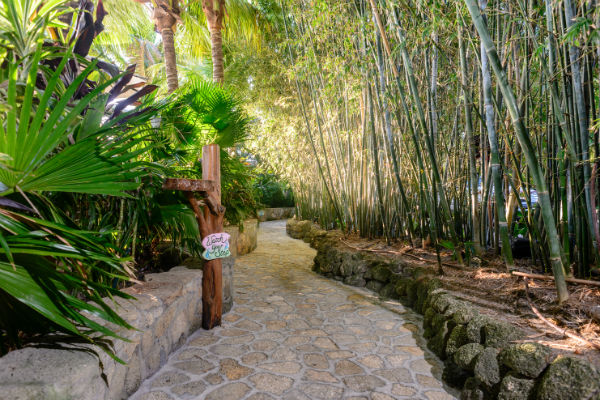 Here, a stellar Caribbean and Latin inspired menu is executed by Executive Chef Vinny Trupia, who has mastered sourcing Florida seafood and produce to make each dish sing with flavor and color. "We can proudly say we are one of very few restaurants that only serve Florida-sourced seafood, everything from the shrimp coming from Cape Canaveral, clams and crab from Pine Island near Sanibel Island, and fish from all around Florida," said Trupia. "It's what sets us apart from anyone else in the area, nothing is imported."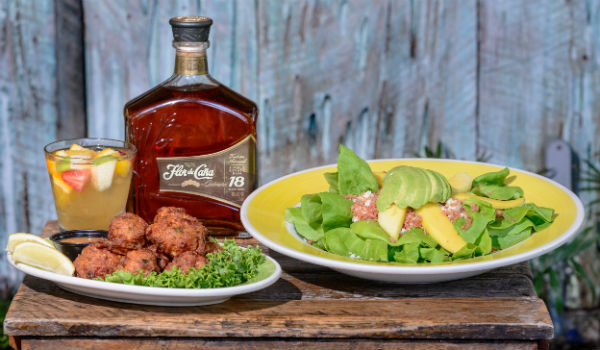 That includes menu favorites like Floridian fritters, the restaurant's sustainable take on the conch fritter. As conch becomes increasingly endangered — and hard to come by the team decided to use local seafood to create a fritter made with Florida shrimp and crab. Served with a sweet jalapeño mustard sauce, it's become one of the most popular dishes on the menu. Another treat: the avocado bacon mango salad. "To me, it puts you in the tropical state of mind," said Trupia, who combines crisp hydroponic Boston bib lettuce with fresh, local mangoes, house-made cured ham bacon bits, and crumbled queso blanco cheese.
Your trip to Guanabanas wouldn't be complete without a tropical drink or cocktail from a bar that reflects a similarly exotic theme. The bar offers a wide array of Florida beers, as well as a rotating selection of specialty craft brews. There's also more than 30 rums from around the world, and a section devoted to unique tequilas. Guanabanas even selects wines produced in an Earth-friendly manner, "saving the planet, one glass at a time." Don't leave without sampling the 18 Year Sangria, made from scratch with fresh fruit juices, and kicked up a notch thanks to a shot or two of aged Flor De Cana Rum.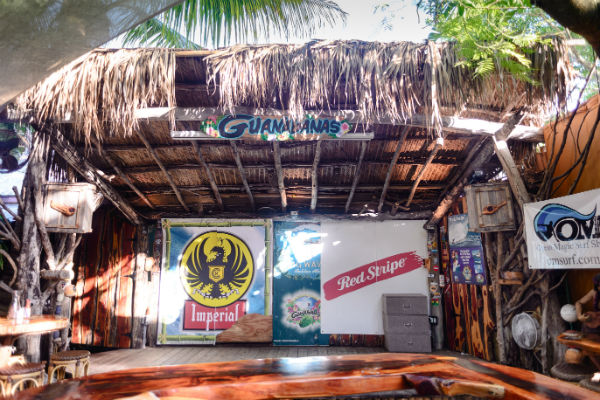 While the food and drink is unparalleled, nothing rivals the establishment's live music program, which is offered free on Wednesday, Friday and Saturday nights, and during happy hour on Saturday. Again, the focus is on local and regional up-and-coming bands (Roots Shakedown, The Hip Abduction, and Zach Deputy), while national big-name artists (think Julian Marley, Michael Franti and Matchbox 20) make regular appearances.
Crowd pleasing live music, a breath-taking atmosphere, top-notch tiki bar, and five-star fare. They're all elements that make Guanabanas in Jupiter one of South Florida's most in-demand restaurants. You could even say they have the perfect recipe — for success.