The Dudes Abide
The South Florida crusade to change delivery forever
By Dana Krangel
Photos: Ben Hicks
Imagine today is your lazy day. The type of weekly ritual that keeps your body happily attached to the couch and your mind eternally occupied by a the hand-held screen of your choosing. Alas, it's time to eat but certainly not to the demise of physical expenditure. The old you would have dialed up the local pizza joint but the new you knows much better. The new you knows Delivery Dudes.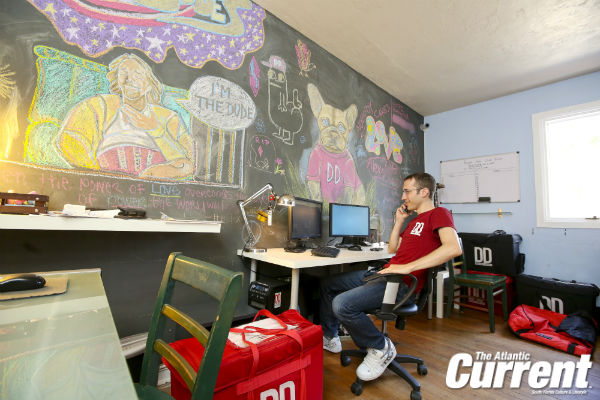 The brainchild of Jayson Koss, Delivery Dudes is far from your average food distribution source. The company, now employing over 100 dudes and dudettes, originally spawned from an average situation you have likely been a part of: the desire to order food for delivery that isn't cheap Chinese or pizza. The only difference is that this time. it happened to Koss. And he's not the type to stand for that blatant injustice to society.
Koss is the type of guy who is down to do some good. After this Florida boy spent some time in New York City and then returned to the sunny motherland, he couldn't help but notice a difference. In the Big Apple, you can get anything delivered to your doorstep. In Florida, all you could do is dream. This sparked the inception of Delivery Dudes in Delray Beach four and a half years ago. The focus has always been to bring a delivery service to the type of restaurants that don't fit the stereotype. No big box restaurant chains, just real, good food. The concept is strong and while everyone loves a good alliteration, especially when it involves food, the 'double D' crew really didn't come into its own until a couple years ago.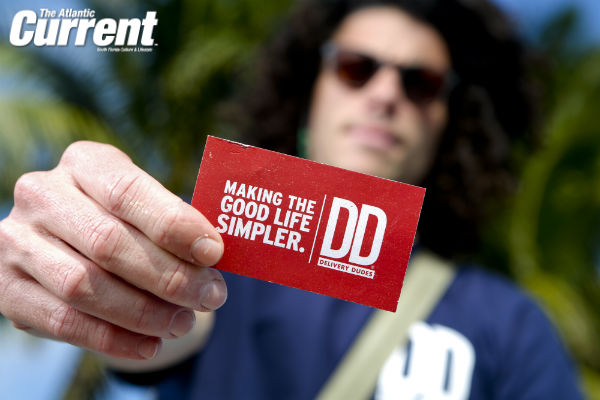 That's when Koss moved back to town and realized that the company was totally functional without him. What type of waves could be made if he put his heart into this winning idea?
"We didn't really have any idea what we were doing" said Koss, a fresh 28 year old with a namaste outlook in a 'hit it and quit it' consumer world. Almost immediately after Koss started focusing some real efforts on Delivery Dudes, he saw something he had been searching for: success. The moment turned out to be a business breakthrough, one that us customers get to enjoy just as much as the man with the idea.
"I was, like a lot of other young people, trying to figure out what would make me successful" said Koss. "And at the same time, trying to figure out what the definition of success really is. And I thought that the corporate world or the clothing industry with bigger numbers and more zeros was the definition of success for a while. And then I thought that living in California on a farm was the definition of success for a while. After all of it, I kind of realized that in all the businesses I have been involved in, no one cares about the consumer. It's always margins and negotiations and nickle and diming and employees just being employees."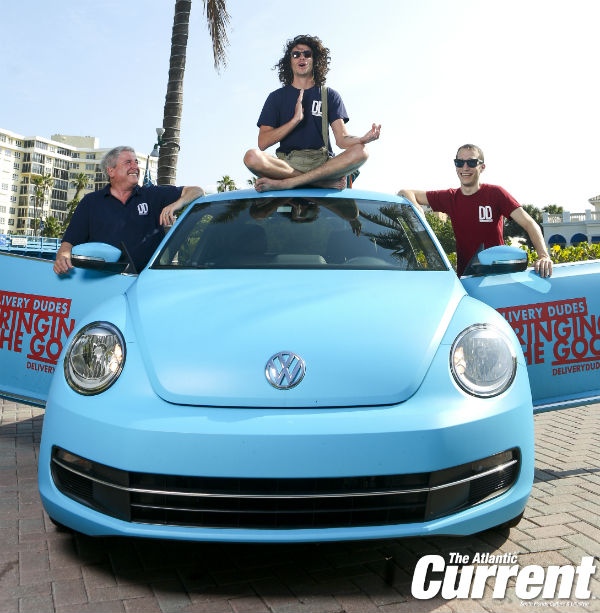 Thus, a company culture was born. An emphasis on customer service was established and soon, a friendly and helpful, local brand followed. Koss calls Delivery Dudes "the perfect situation" because it pleases everyone across the board. "The restaurants love us because we are bringing more business to them. The consumers love us because we are bringing them food while they sit on their couch. And the drivers are like a family." These factors clearly lead into the success of the business but restaurants and consumers would agree, it's really the drivers that turn Delivery Dudes from an idea into a winning concept.
Koss says "In order to become a Dude, you have to be a dude" but he doesn't mean a Spicoli knockoff that knows how to surf. A company doesn't become renowned for their customer service for having a staff full of watersport enthusiasts. "You have to be a good person," says Koss. To be a dude, "you have to be willing to do something that is a little bit selfless."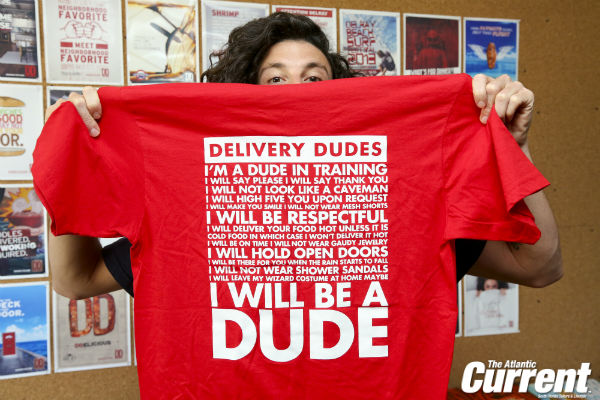 With a working business model, killer staff and wide client base, what's next for a company to do? Expand, expand, expand. And that's exactly what the Dudes are doing. Delivery Dude territories are successfully up and running throughout Florida, including Deerfield Beach, Boynton Beach, Fort Lauderdale, Coral Springs, etc. A big push will be made to go north and even further down south this year with Miami on the brain but the real excitement comes in the expansion outside of the state. The growth has been all organic, by referrals, and wildly exponential. Dudes are already delivering in Rankling, TN and Portland, OR. Each territory is operated independently, has their own phone number and restaurants available, but maintains the crucial dude mentality.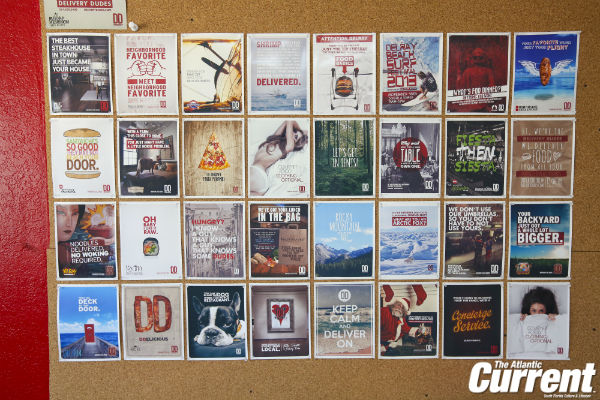 When you have the craving, you can give Delivery Dudes and call or log on to their killer website for easy ordering. Koss knows that he isn't the only guy in town, but as for other, similar companies that deliver, they might bring you food but not happiness. "I don't really believe we have competition" says Koss. "We are different and how we are different is we have created a brand for ourselves."
That brand is more than just a catchy name or a fun vibe. It's a totally new level of customer service all to missed in an online world where face-to-face is normally the last option. Want a couple sandwiches delivered to your secret spot on the beach? Deliver Dudes will do it. Need some emergency toilet paper along with that sushi order? Done. Forgot to pick up a birthday card for a big night? You really screwed up, but don't worry because a dude will come to your rescue. It starts with food but it ends with an insatiable need to help the consumer in any way possible. It starts with 'do' and it ends with 'dude.'
Fact is, Koss confesses that Delivery Dudes is the "best thing he has come up with as far as doing good and having fun and at the same time making money." And all we have to do to contribute to such an exciting and inspiring entrepreneurial company is sit back and eat. Time for everyone to dig in.
Visit deliverydudes.com for a location near you