Jacuzzi Boys to Men
The rise of Miami's chillest crew
By Dana Krangel
Oh, South Florida and your eternal summer weather. You give us glory and you give us pit stains. It may never dip down cold enough for actual hot tub weather, but it's always the right temperature for the Jacuzzi Boys.
You are either a raging fan or you've never seen them live; those are the only two options. The Jacuzzi Boys' fresh brand of beach rock oozes South Florida influence from every pore. Their catchy tunes and distinct fuzzy, mellow vibes hypnotize the audience in the best way possible. As for their namesake, it turns out the Boys don't have that much of a vested interest in hot tubs, regardless of their ability to dual as a time machine or not. Bassist Danny Gonzalez told The Atlantic Current about the origin of their soggy name: "All the other band names were taken. It was the only one left!" They may have been scrapping the bottom of the barrel to find a decent band name, but the Jacuzzi Boys quickly caught their footing and have clinched a significant place in our live music scene.
Danny, along with lead vocalist and guitarist Gabriel Alcala and drummer Diego Monasterios, are deeply proud of their Miami upbringing. So entrenched in their South Florida roots, their special mix of laid-back tunes and high energy performance has come to represent the live music scene currently bustling in the MIA. As for the location-based recognition, Danny explains that it isn't on purpose: "We never set out to establish some sort of beach sound or anything like that. I guess geography plays a big part in a band's sound, so that sort of thing can happen without us really being aware of it."
As South Floridians, we all know that Miami is so remarkably….Miami-esque. There just aren't enough words to describe the esoteric lifestyle of our flagship city. It has become its own unmistakable ball of sound and scene. And even though the Jacuzzi Boys have toured every corner of the country and beyond, you can take the Boys out of Miami, but you can't take the Miami out of the Boys. We asked Danny what about Miami influences the Jacuzzi Boys' sound, look, and even brand. He said, "Everything about Miami. The girls, the thugs, the animals, the heat, the nightlife, the landscape, the mix of cultures-all of it. It's a wild place and we like it that way."
We like it too! With such a massive local music scene in our South Florida bubble, it's amazing to watch the Jacuzzi Boys actually be successful on a larger geographic setting. So what makes the Jacuzzi Boys so special? The influence of Florida bands like The Crumbs and Against All Authority coupled with the desire to produce their own sound have come together to form an aura around the Jacuzzi Boys. We aren't quite sure if that aura is robin's egg blue or neon green, but it exists and the word is getting out.
As the Jacuzzi Boys continue annihilating stages and recording fresh music, they are catching the ear of some major music purveyors like FILTER Magazine and Rolling Stone. The press is helping propel them to a bigger audience, one that is chock full of wild fans that crowd their shows. Even with the onset of press and the fandom, Danny keeps a cool head about their place in the music industry. "I don't think we've 'made it at all. Sure, our name has appeared in some publications. We've played with some cool bands. We've been able to put out some records and tour a bit. But there are hundreds of bands in this very same position. I don't think it's that special, really."
Solid point, Danny. We hear you. There are a lot of bands out there. But hey, you guys are playing for the home team so we are always rooting for you. If that's how you really feel, then what level of fame do the Jacuzzi Boys wish to reach? Danny has a specific goal in mind: "Motley Crue, circa 1983." How appropriate, considering the Jacuzzi Boys are basically always down for a good time. We asked Danny if the JBs like to vibe with their fans off stage or prefer to keep them at arm's length. He said "We might have to call it some nights due to other circumstances, but if there's a party, we're 99% down to check it out." The odds are good that if you want to party with the Jacuzzi Boys, all you have to do is ask. The odds are even better that it will be one of your finest memories you never tell your parents about.
But in reality, it looks like Danny's humble attitude about their level of on stage awesomeness could be getting more vulnerable. They might not be as famous as Motley Crue in the 80's, but they are getting there. The Boys have been hitching their star to major, established bands on their way to the middle. They opened for Metric August 1st at the Filmore in Miami-a huge deal for everyone involved. "It always feels nice to play legendary rooms, and South Florida doesn't really have too many of them," said Danny about their stellar performance on the big stage. "I thought everyone was going to show up closer to Metric's set time, but there was actually a pretty decent crowd by the time we went on."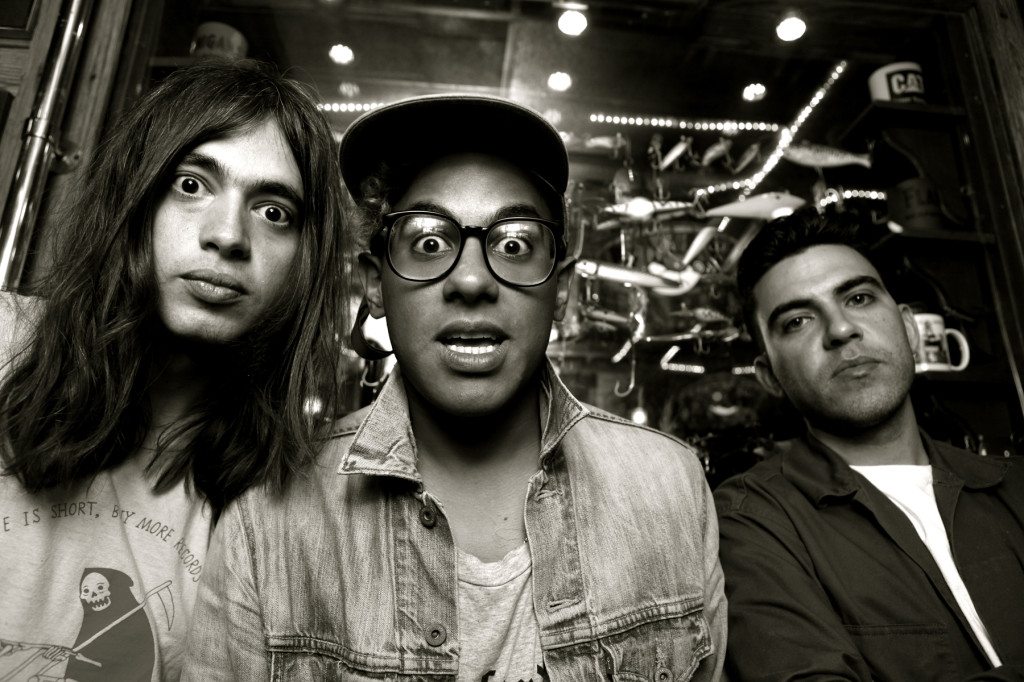 They've got love for their home city, even when on the road, but Danny makes it clear that their Miami home is permanent. "I think this is where the band needs to be. We're happy to call Miami home." They are also happy to live out of a suitcase. Keeping the momentum going after the Metric show, the JBs are about to take it up a notch, opening for well-established San Diego surf rockers Wavves on a national tour along with buddies King Tuff. What does this mean for the band? Danny told us "It means a whole lot of fun! We've actually never been on tour with two bands before and it's a super sick bill. Nobody should miss it. The circus is coming to town!"
It's safe to say the Jacuzzi Boys are in a good place. Solid press and big touring buddies have helped them get on deck for total domination. Their opportunity to hit one out of the park is this September when their self-titled, full length album will be released to passionate listeners and newbies alike. The release is slated to give the band the extra push they need to go from Jacuzzi Boys to Jacuzzi Full-On Rock Stars.
The ball is already rolling towards Tommy Lee level stardom with two lead singles introduced to the world along with enticing official music videos. 'Double Vision' and 'Domino Moon' are out in the open and getting people juiced up to get their ears around the new album. The video for 'Double Vision' takes the viewer on a wild ride of adolescent destruction. The entire three minute and fourteen seconds don't show even one Jacuzzi Boy. Instead, it's a mini-movie where the premise revolves around a rag tag crew of four chicks out on what can only be described as a wild journey that includes, of course, stealing a car. It's so Miami. It's so Jacuzzi Boys. If actually watching them play their instruments is more of your thing, check out the share-worthy vid for 'Domino Moon.' It looks how the JBs sound. The lights, the colors, it's trippy party for your eyes and a giant hug for your ears.
We asked Danny what eager fans have to look forward to with the new release of the new album, and he said "More of the same, which means something entirely different." We wouldn't expect anything less from these ambassadors of Miami while they are out taking the world by storm. We love you Boys, never change.