Did your favorite South Florida pizza shop make the One Bite cut?
By Darien Davies
If there's one certainty in the world, it's that when you're in the mood for a slice of pizza, only a great, gooey, and glorified piece will work. No one ever has a mediocre and mundane piece of pie and says, "Yes, please, may I have another?"
Dave "El Presidente" Portnoy of Barstool Sports felt the need to review pizza places all across the nation just to save your precious palate from lackluster pizza. He has created a cult following of people giving "one bite" pizza reviews by the common man, for the common man. Lucky for us, he made a pizza pit stop in South Florida and sunk his teeth into a few cheese-only pleasing pies. Enjoy Portnoy's picks from several local pizza parlors in South Florida, and never have a bad slice again.
Renzo's Cafe & Pizzeria: 7.5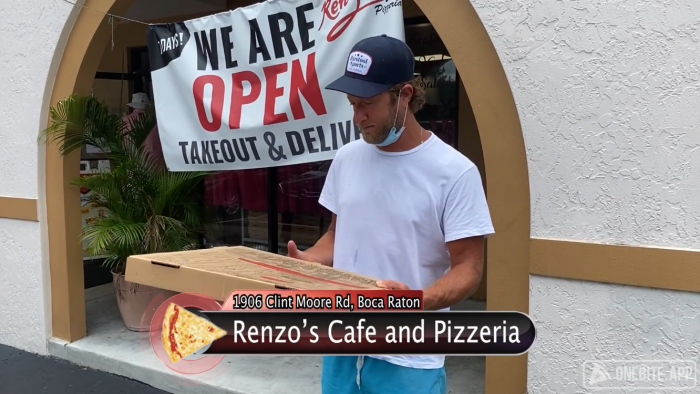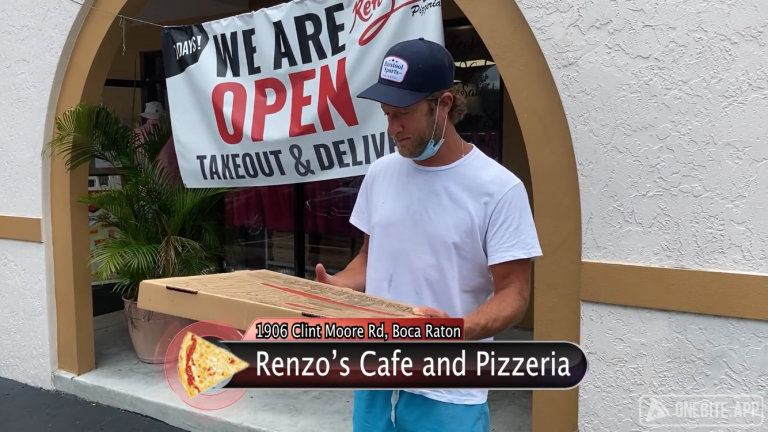 "If this was just a beauty pageant, Renzo's would have already won," Portnoy said in his video review. Located in Boca Raton, Renzo's is dishing out some of the area's best pizza, pasta, salad and more, and Portnoy raves that the pizza was as close to NY-style pizza that you can get in Florida. The slice proved to have a very good crust, very good taste, and was greasy but good.
1906 Clint Moore Road Ste. 2, Boca Raton; 561-994-0170; renzoscafepizzeria.com
Goodfella's Pizza: 7.5
Just a few doors down from Robert Kraft's infamous stomping grounds is Goodfella's Pizza, a franchise with 7 locations — all family owned — throughout Florida. They're familiar with Dave's tastes and kept his pie in the oven for a couple extra seconds to avoid that dreaded flopping of a slice. Dave ranked it a 7.5 and said that while he liked the owner and the pizza, it was the sauce that didn't punch enough for him. All in all, a solid spot for a quality pie.
103 US-1, Jupiter; (561) 748-3454; goodfellaspizza.ez-chow.com
Dominic's II Pizza & Pasta: 7.5
Dave was recruited from across the street to try Dominic's II. He was impressed with the energy of the employees at the shop and equally as impressed with the indifference to his fame by the gentleman flipping the dough. He was satisfied enough to award it a high score of 7.5, saying that it could even be a 7.6 and that he'd "never get tired of this pizza."
9834 Glades Rd, Boca Raton; (561) 487-6325; dominicspizzapasta.com
Mamma Mia's on the Beach: 7.6
At Mamma Mia's on the Beach in Lake Worth you get great pizza and a great view with the ocean just across the street. Dave was pleasantly surprised by the "boardwalk pizza" as he called it. They have a variety of specialty pizzas such as lasagna pizza, chicken bacon ranch, and even a focaccia pie. It's a great spot to stop in for a bite after a day in the sand or as the base for an evening beach picnic.
10 S Ocean Blvd, Lake Worth Beach; (561) 588-2322; mammamiasotb.com
Nick's New Haven Style Pizzeria & Bar: 7.7
Portnoy isn't shy about his love for New Haven pizza as he considers New Haven, CT the pizza capital of the U.S. So, needless to say, he was expecting perfection and got pretty close to it. "Charred around the crust, the smell came out a little burned. This is exactly what a New Haven-style pizza looks like," he said. It was cooked just right on the back, and he liked the pizza overall, even though it was a little floppy on the delivery. He agreed that pizza should always be "well done," as it is made at Nick's, which provides a delicious New Haven-style slice. So, well done, Nick's.
2240 NW 19th Street Ste. #904, Boca Raton; 561-368-2900; nickspizzeriabar.com
Luigi's Coal Oven Pizza: 7.8
Luigi's boasts that they are firing up the original pizza from Naples, Italy. Its ingredients include the best flour, mozzarella cheese, and tomatoes from the Naples and San Marzano regions of Italy, and Portnoy was impressed. After his first bite, he says that it's "pretty f-ing good. Good undercarriage. This is really good pizza for Florida. Wow." So the next time you're sauntering down Las Olas, grab a pizza slice as your wingman. Nothing looks better—or goes better with a night of drinking—than a slice of f-ing good pizza.
1415 E. Las Olas Blvd., Fort Lauderdale; 954-522-8888; luigiscoalovenpizza.com
How Ya Dough'n: 7.8
This review was heavy on the topic of char. It seems that when Dave walks into a spot, owners are sure to keep a pizza in the oven a few seconds longer. In this case, Dave thought it was a bit overdone. The second slice he grabbed was more moderately charred, so maybe it's more a conversation about consistency. The 7.8 score came after a long deliberation during which Dave said his "brain is fighting."
4251 N Federal Hwy, Boca Raton; (561) 617-1579; howyadoughn.com
Sicilian Oven: 7.9
If having one pizza location means that you're doing it right, then what do six locations throughout South Florida mean? The pro pizza slingers at the Oven only use freshly made dough, imported Italian tomatoes, Grande Mozzarella and EVOO, but leave out all the additives, "just like they did in the old country." Portnoy was highly impressed with the "good crisp" of the slice and was pleased with the cheese, too. All in all, how can you go wrong with wood-fired pizza? False, you can't.
Sicilian Oven, 21170 St. Andrews Blvd., Boca Raton; 561-750-9772; sicilianoven.com
Tucci's Fire N' Coal Pizza: 8.1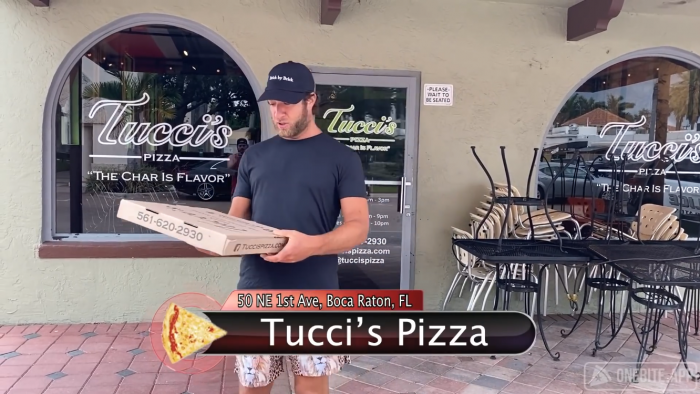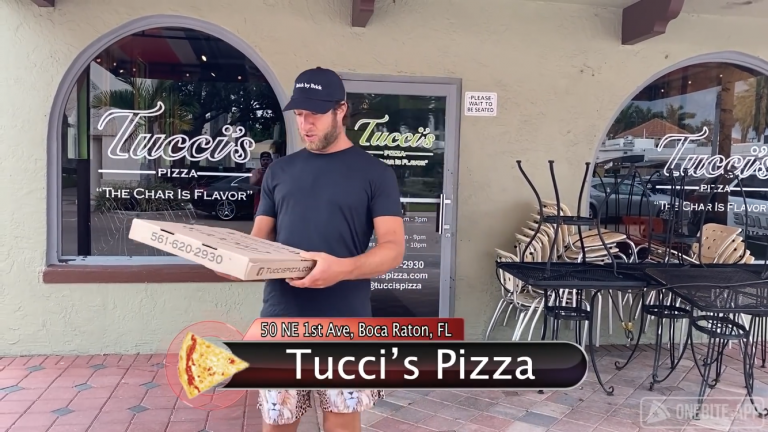 After receiving tons of recommendations to visit Tucci's, Portnoy took the 45-minute drive from Fort Lauderdale just to see what all the charred fuss was about. Good news for him, it was well worth the drive. "Anytime I'm in South Florida. Anytime I'm in Miami or Fort Lauderdale, I hear, 'Tucci's, Tucci's, Tucci's.'"
After just one bite—as everyone knows "the rules"—he deemed it "just very good pizza" with distinctive taste. After a few seconds and some approving head nods later, he quickly declares it "in the 8s," making it the highest-rated pizza shop in our area. Not like we didn't know this already, but it's always great to have a professional pizza lover confirm our fav neighborhood slice. Tucci's for president!
Tucci's Fire N' Coal Pizza, 50 NE First Ave., Boca Raton; 561-620-2930; tuccispizza.com
Willie's New York Style Pizza: 8.1
We recently did a feature on Willie's highlighting Dave's review. We won't spoil too much of the camaraderie that ensued, but there was an unlikely friendship formed. With specially filtered water and homemade garlic sauce, it's no surprise Willie earned an 8.1. Dave said, "I know when I have a home run pizza review. This guy Willie in here is the real f*cking deal." We're a little biased but this was definitely one of the more entertaining reviews and it ended with a high score; all the better.
14731 US Hwy 1, Juno Beach; (561) 201-9242; Willie's Pizza Juno Beach
Ah-Beetz New Haven Pizza: 8.4
Dave loves his New Haven pizza. Imagine his disappointment when he called Ah-Beetz only to find out they were closed after he scheduled a trip around visiting this spot. Thankfully that disappointment was short lived and he was able to get a pizza after they opened early for him. The 8.4 score was worth it. Dave said, "I wanted it to be great, and it is great. It does New Haven justice." Mic drop.
15200 Jog Rd, Delray Beach; (561) 908-2466; ah-beetz.com