BARTENDER AND CO-OWNER OF SWEETWATER BAR & GRILL AND SAXON IS MAD ABOUT SLINGIN' DRINKS AND CRAFTING A GOOD TIME
By Darien Davies
Photos: Ben Hicks
This self-described hospitality "lifer" loves what he does. Whether that means designing the unique drink menu at Sweetwater, helping to make a memorable experience for a diner, or creating a hand-crafted cocktail to encourage diners to try something new, he's all in. Sean's family has been in the Delray area since the 1930s, originally for polo and then real estate development, so he is about as local as it gets. He has a great grasp on the pulse of the city and is always working to stay ahead of the trend curve, which basically means not following the trend.
For him and his team, it's all about offering funky drinks for adventurers, esoteric varietals for wine drinkers, a wild selection of beers for beer drinkers, and classics done with a twist (pun intended). "We didn't want to be boring with our names, like Dill Collins," said Sean, 34. "Instead, we wanted our guests to order with their eyes even if they don't understand all the ingredients. There is a little method to the madness!"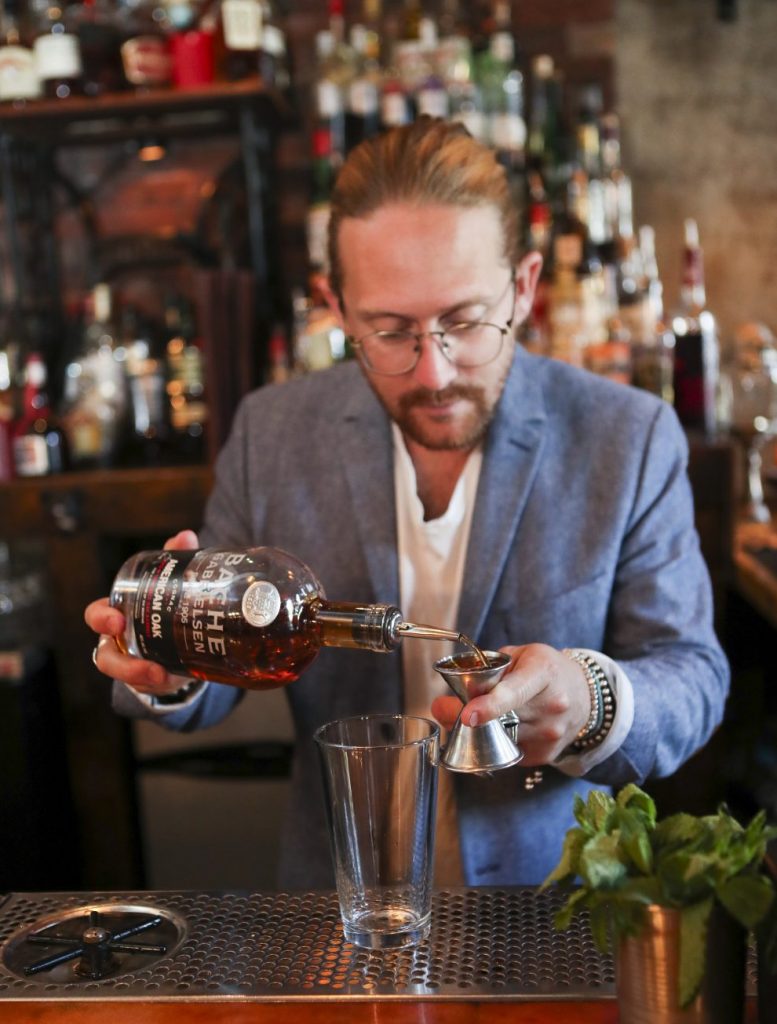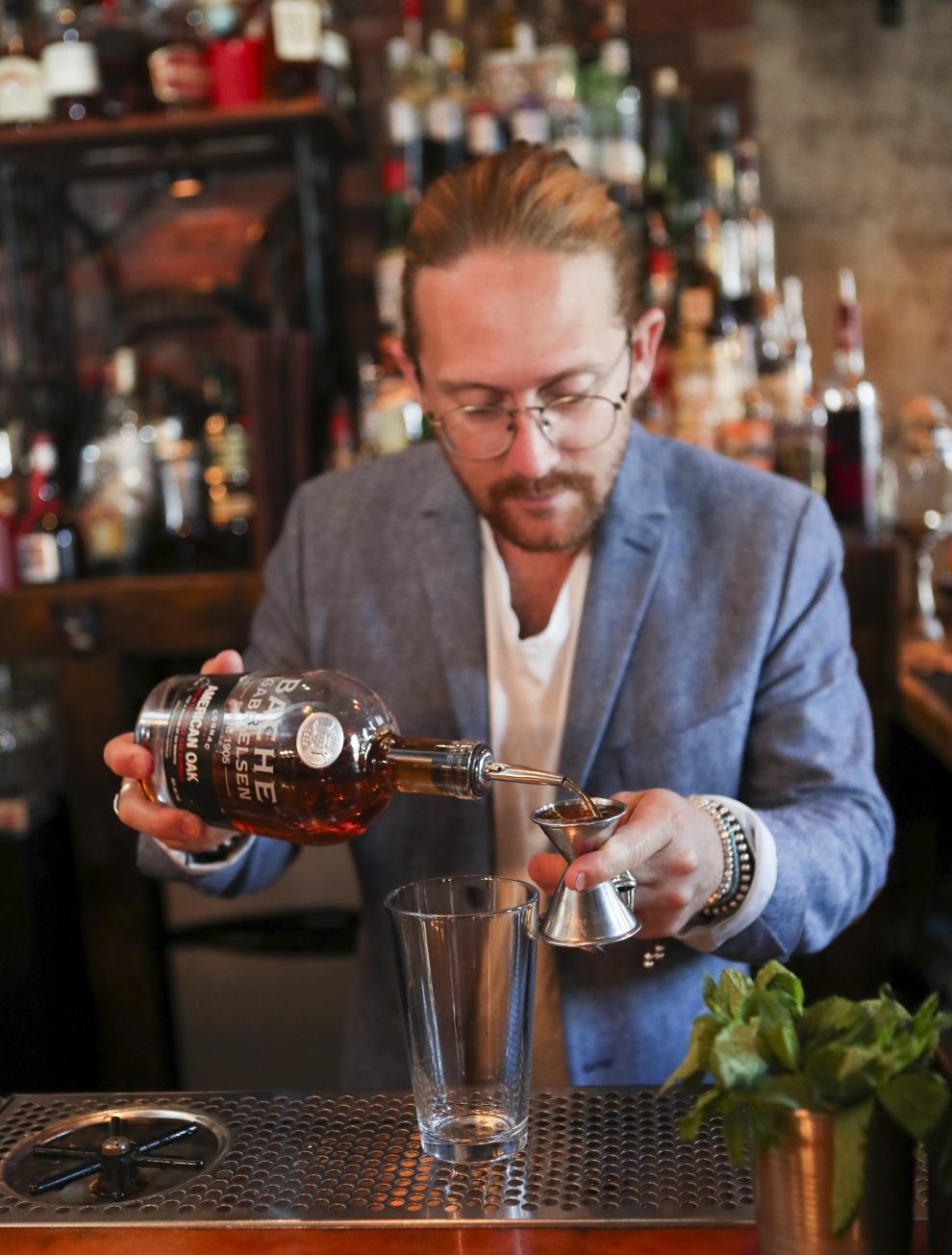 The madness is delicious, no doubt. If you're up for something worlds more advanced than a whiskey neat (which they will gladly serve you), try the Cherry Poppins with single-malt scotch, maraschino, Amaro, fennel bitters and thyme, or the Breakfast @ Tiffany's, with barrel-aged Old Tom gin, aquavit, cucumber, WWhouse grenadine, lime and celery bitters. If you still have your wits about you, the Mexican Cockfight (Reposado tequila, mezcal, house grenadine, lime, Tabasco and black pepper) will put a little hair on your chest, but not too much so you'll still be Delta Tango Foxtrot (rye whiskey, pear brandy, honest, lemon, fig and cinnamon bitters).
As you can tell, Sweetwater isn't your average bar. Since the doors opened in 2011, the team (many of who are still with the company) has worked to give patrons exactly what they didn't know they wanted or liked. "We were one of the first true cocktail-driven bars in the county. We hold the largest spirit selection in the Southeast and are also the first and largest whiskey bar in the state" with roughly 1,175 whiskeys on hand, Sean said. "Most of our team has been at Sweetwater for five plus years. We are constantly changing menus, exhausting trends and pushing the envelope in our industry every day!" He likes to treat their space as a creative incubator for cocktails, and that is sweet, sweet liquid magic for all who enter.
For Sean, his greatest bartending joy is the gratification of serving his guests well. Whether that be the entire service, or making them a bespoke cocktail that they love, it's all happiness for this bottle slinger. You'll find him working at Sweetwater six days a week and behind the bar one of those days so he can "keep the finger on the pulse." You can tell that he's a mover and a shaker, and is legit thirsty for new concoctions and methods with an end goal to surprise and delight his guests. "Over the years, my regulars that helped launch the place have been absorbed by the rest of my team," Sean said. "I believe it's really important for a bartender to have a following. People in hospitality are one of the most important assets an operation can have."
Knowing that, he is driven to make sure his guests are amazed and excited with their experience at Sweetwater, one outside-the-box drink at a time. Even though he says he's too old for shots now ("I'm a bit older now and the hangovers hurt"), you'll find him enjoying a light beer or glass of wine when he's not working. Or, he's always up for trying any acidic/sweet/bitter concoctions to get some inspiration for the next menu change. If you haven't been yet, or haven't been in a while, the time is now so call your bros, ready your taste buds, and go see Sean. He's waiting for you and knows exactly what you're thirsty for, even though you may not know.
1507 S Federal Hwy, Boynton Beach, FL 33435