Oceano Kitchen in Lantana Delivers Big Taste From a Small Space
Words by Darien Davies / Photos by Dustin Wright
Tomato and watermelon gazpacho with cucumber, jumbo crab, avocado and olive oil. Date Night Pizza with mortadella, blue cheese, date, pistachio, mozzarella and Parmesan. Wood-fired Japanese A5 wagyu, Robuchon potato, crispy shallot and bordelaise. Salted caramel ice cream sundae, fudge sauce, peanut and popcorn brittle. While these could be menu items from DB Bistro Moderne or Gotham Bar and Grill in New York City or L'Atelier de Joël Robuchon in Las Vegas, they are from the daily menu at Lantana's Oceano Kitchen.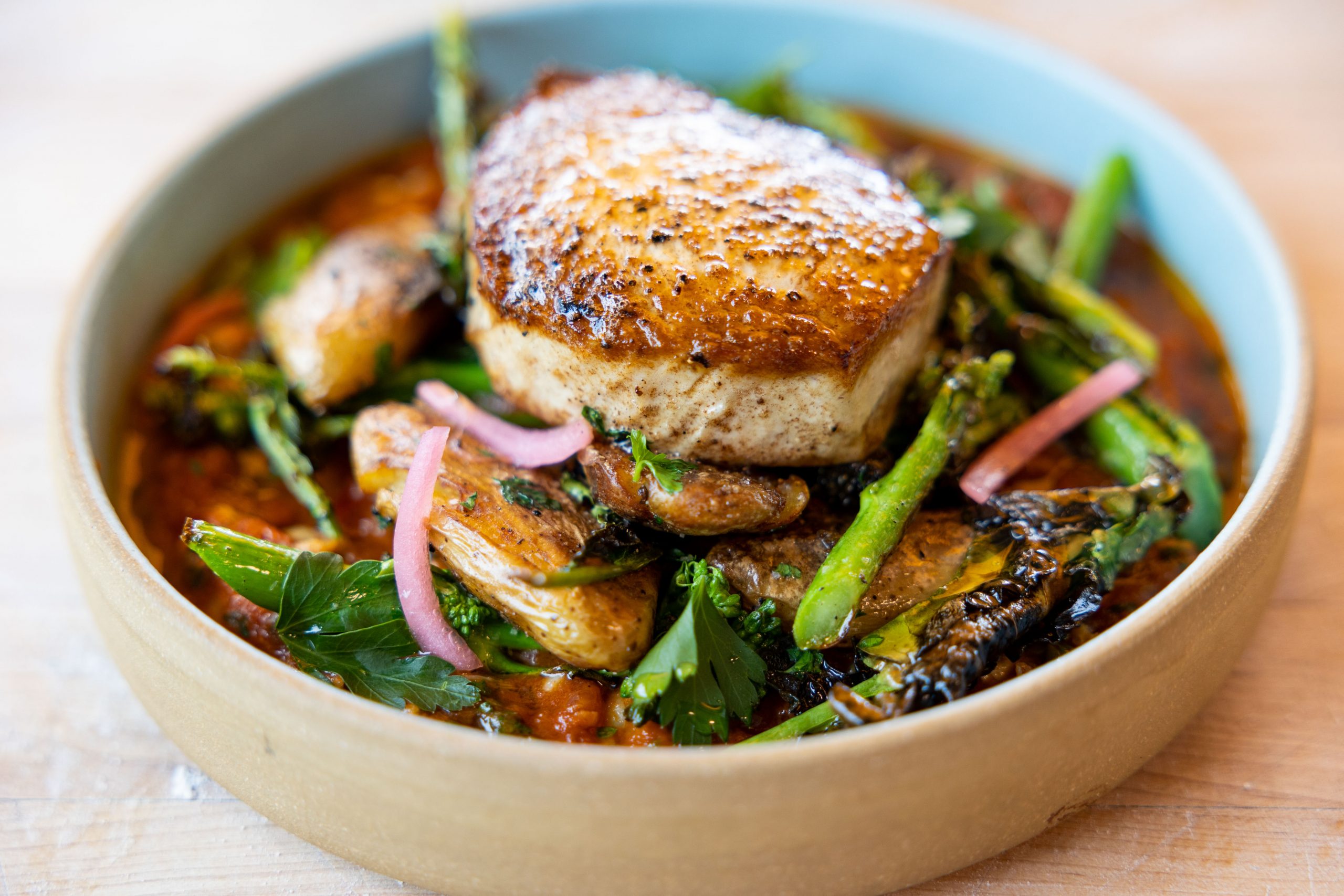 The 1,000-square-foot space was originally a hard no for restauranteur husband and wife team, Jeremy and Cindy Bearman, but there was just something about it that pulled them back. Maybe it was the wood-fired oven and no hood fans, limited seating for six at a small chef's counter, or a deck with no awning. Or, it was the funky character and the promise of a future where two chefs could create their craft one locally-inspired, wood-fired dish at a time.
"After working in the industry for many years opening restaurants for other people, we knew we wanted to build our own restaurant together. We weren't 100% sure of what the concept would be, as that is sometimes determined by other factors such as location and space," said the Bearmans, who source from local farms as much as possible. "We knew we wanted it to be a more casual restaurant with approachable-yet-refined food and we both share a passion for cooking seasonally with locally-sourced products. We are a chef-driven restaurant so having an open kitchen where we could connect with our guests was important to us. We spent enough time in NYC basement kitchens cooking amazing food, but never being able to interact with the people who ate our food. One of the best parts of Oceano Kitchen is being able to do both!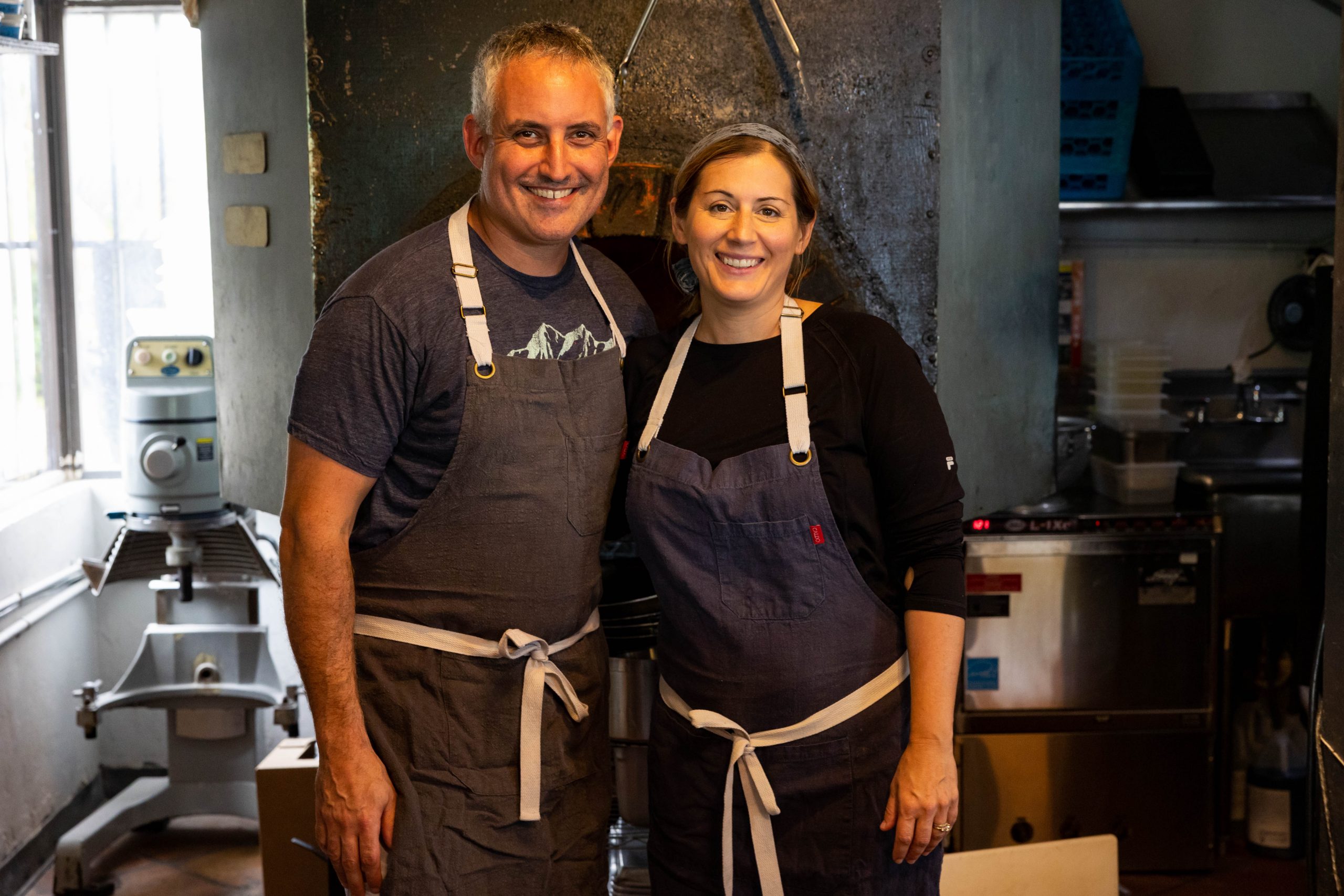 The delicious union that brings us daydream-worthy and ever-changing savory and sweet sharing plates formed, not surprisingly, in a kitchen in 2002. They lived together for a year in New York City, traveled to Las Vegas together, and got married in 2005. Their passion for food drew them together, and their passion for food continues to ignite the fire in their wood oven and smoker.
Jeremy began his career in the suburbs of NY working at the Citrus Grille near his hometown. In 1997 he moved into the city and worked at a couple of smaller, less know restaurants before taking a cook job at DB Bistro Moderne in 2001 where he worked his way up to the executive sous chef position. In 2007, after five years working in Las Vegas and San Francisco, he returned to begin working on a new restaurant, Rouge Tomate, which opened in 2008 on the bottom of Central Park and where he earned his first Michelin star in 2009. The restaurant held that star for five years before he left in 2014.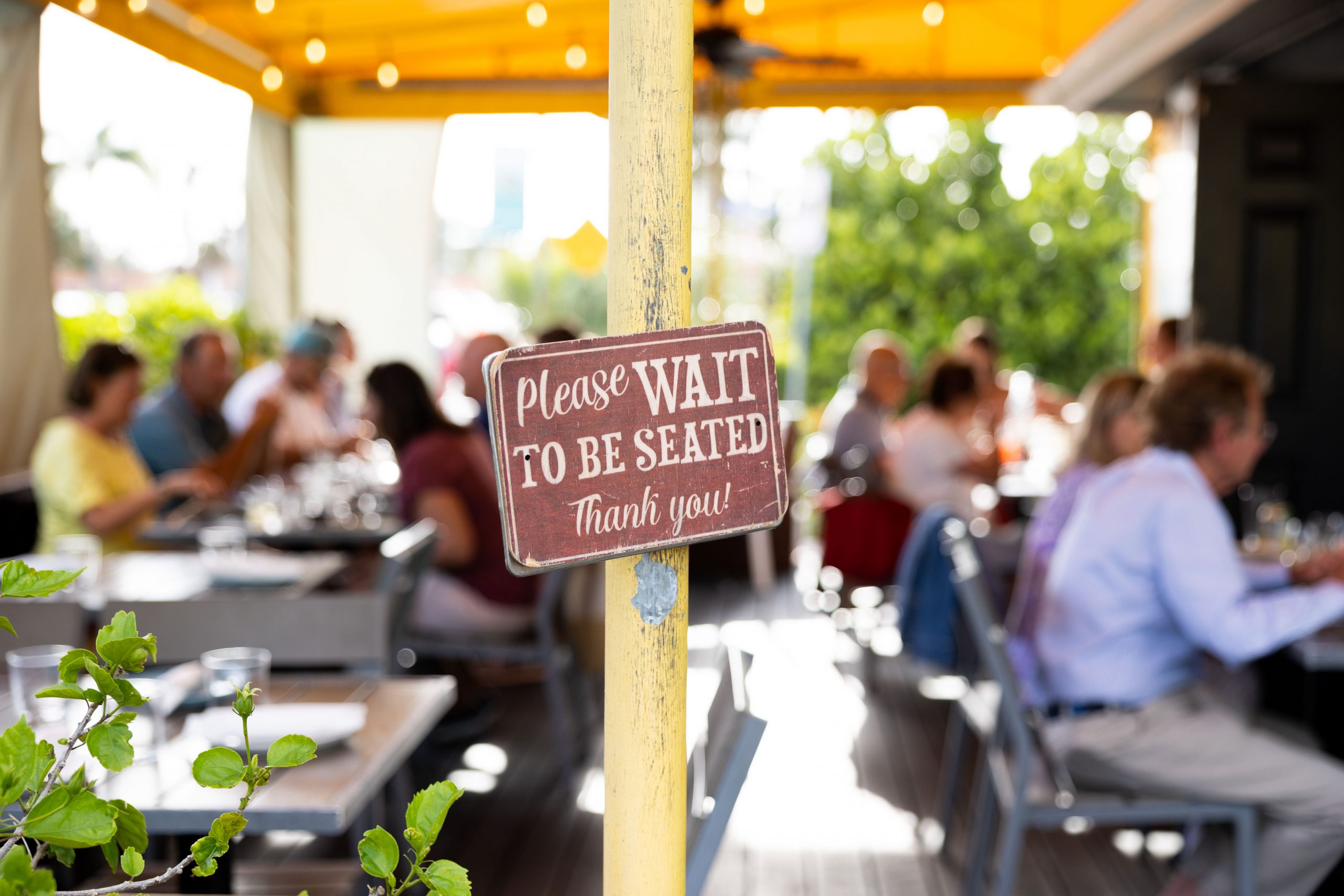 Cindy attended The French Culinary Institute in SoHo and interned at many notable restaurants including Gotham Bar and Grill and Café Boulud. Upon graduation she accepted a position at DB Bistro Moderne. She also worked at Le Cirque 2000 before moving to Las Vegas. After some time working in Las Vegas and San Francisco she went back to work in the City. She was the opening pastry chef for Jean-Gorges' ABC Kitchen, which won the James Beard Award for best new restaurant under her tenure. After a decade of working in hotels and restaurants she wanted to try something different and started working as a food editor/recipe developer for Martha Stewart magazine.
So, yeah, they've definitely sharpened their knives in the culinary world and have the palatable prowess to continue pushing the gastronomic envelope. Using only their smoker, wood-fired oven and a couple induction burners, they are able to curate a daily menu that includes seven to eight savory items and two to three desserts, and dishing these items out to about 140 guests with only 40 seats.
Who the heck would go through the intense process of creating a brand new menu each and every day? Crazy people. Well, crazy people who are crazy about food.
"My Chef, Eric Sheremeta and I sit down (really we are standing up) each night and decide the menu for the next day. Each week, we get lists from our selected purveyors, farms and fisherman. We purchase product based on what inspires us, what is freshest, unique and available locally when possible," said Jeremy, who, with his team, make everything by hand. "The interesting part of that is that we don't usually have any idea what we are going to do with the product when we order it. That part of the creative process is decided once the ingredients are in house. We talk during the day about ideas and then decide at night and order anything extra we might need for that specific menu. We post the menu on our website each day around noon, but up to that point…and sometimes even during that day, changes are made due to product availability or creative inspiration. Hence our 'menus are subject to change.' Changing the menu each day is not easy, but for us it allows us to do something new each day and really put a lot of love into the food."
Same goes for Cindy. The salted caramel chocolate chip cookies remain a constant on the menu, but she creates one chocolate-based dessert and one fruit-based dessert every day.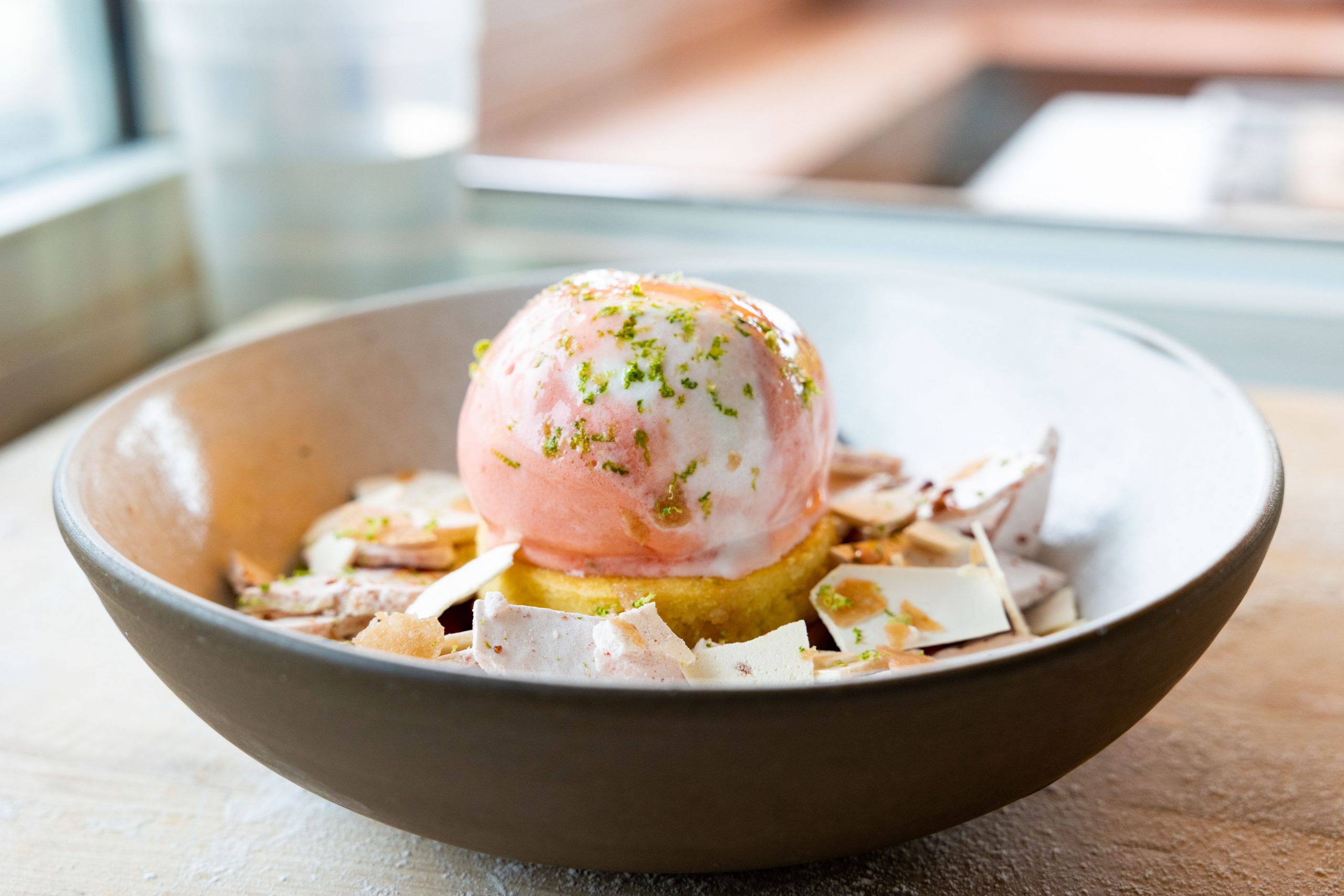 "I love changing the menu everyday because my favorite part of being a pastry chef is the creative process. It's a labor of love, but it keeps it fun and interesting for me and the guests," Cindy said. "My approach to creating desserts is to not overcomplicate a dish, but to highlight great ingredients that are prepared well and with a bit of whimsy. I like to put my own modern twist on the classics."
You'll notice "modifications politely declined" on the menu, and for good reason. "A lot of thought and work goes into each and every detail of the dishes on our menu. Sometimes when you change one detail it changes the entire dish. We want our guests to experience the flavors and textures of our food the way it was intended," the Bearmans said.
This dedication to the craft has earned the team exponential growth year after year, ever since they opened in February 2017. This is a success that they don't take lightly, and for which they appreciate the community immensely, and their team. Eric has been with the pair for the past three years, and Susan, their general manager, has been at Oceano since day one.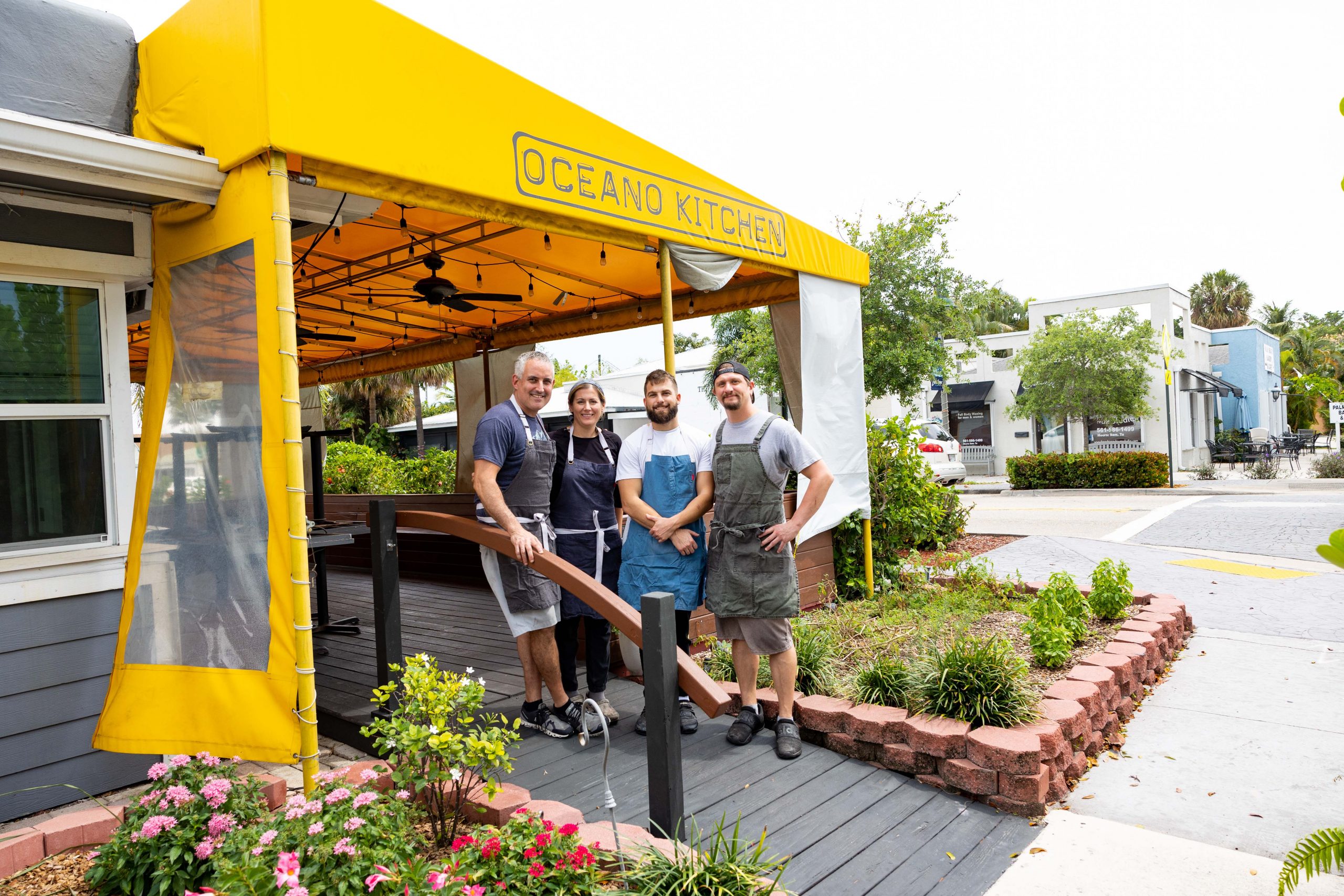 "Success in business is defined in so many ways. Each year, we do more business out of this small 1,000-square- foot space than the previous year. We always say we can't possibly do any more but end up somehow…doing more. It is amazing to have a restaurant that is five years old with a majority of the staff being there for more than 75% of that time," said the Bearmans, who categorize their fare as modern new American cuisine that is approachable yet refined. "We are incredibly lucky to have such great employees and to have built this small family over the years. For us that is one of the aspects of Oceano that makes it truly successful. Lastly, the support of our regulars and community has been unimaginable. It shows all the time, but during the pandemic, it was really amazing to see how many people came to support us through take out, dining in and the purchase of gift cards. We would not be here and this successful without our amazing staff and guests."
In the future, they'd love to have a bigger kitchen space that still captures the soul of what Oceano Kitchen is, of which an open kitchen will always be at the heart. Connecting with the guests is as important for the culinary team as being a part of the dinner service is for those who were lucky enough to be able to snag seats.
Every day the team works hard to make the ordinary extraordinary, all by treating food well and welcoming their guests to take a seat at their table. Oceano Kitchen is a neighborhood restaurant that offers a unique experience at each visit, and one that leaves stomachs and hearts full, but always hungry for more.