By Savannah Sheehan
I arrived at the Irishmen — a Boca staple bar that I had never before visited. It was fifteen past 5 when I approached the doors. Feeling a slight tinge of nervousness, I fanned my hands to ward away any clamminess. The sun was just now setting as I opened the bar door, I entered the black abyss, feeling a bit like being in a mole hole, until the door shut behind me and then I was able to adjust to the warmly lit, rustic, pub setting. Cautiously, I walked to the bar, scanning the room for my editor, Dustin Wright. Turning the corner, Dustin's familiar face relieves my awkward at sea disposition. I nestle into a booth and anticipated the guest of honor, Brian Trew- Fiddler and singer of the South Florida born band, Uproot Hootenanny.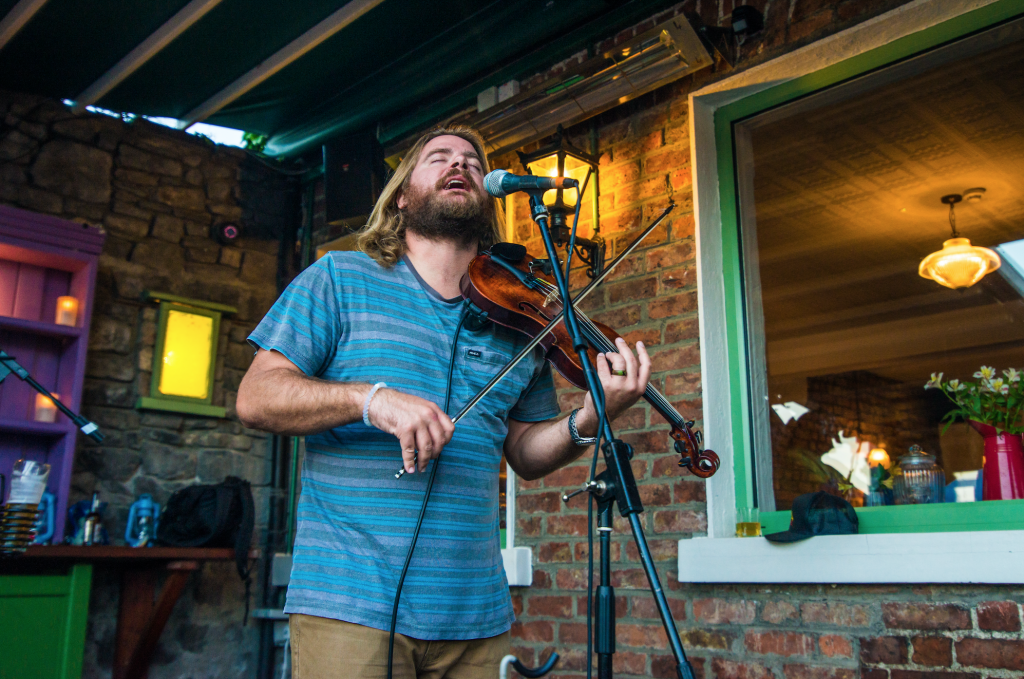 Having been told Uproot's members bear livers of steel and an affinity for alcohol, a typical interview didn't seem like an appropriate approach to get to know the real Brian Trew. He approached the table sporting a Sticky Bun hat — a locally renowned breakfast and lunch restaurant, an apparent denotation of his communal support. These two have known each other for years, so I observed their natural interaction as they caught up briefly. Brian greeted the bartender, a friend of his, of course. With no hesitation he ordered himself a Guinness. Dustin followed suit and I ordered a Yuengling. After a few sips of liquid courage, I began to relax and let go of what pseudo formality I felt compelled to uphold. Parallel to me, Brian seemed to have felt similarly as the conversation adopted a natural fluidity.
As we were jabbering, Brian made mention to the location of our booth which used to be the Irishmen's stage. Was it ironic or absolutely apropos? I thought the latter considering the initiation of Brian's involvement with the band had happened in the very same bar. The conversation trailed sporadically as we touched upon the Presidential Inauguration juxtaposed to our whiskey preference, then to Brian's daily gig of teaching children music, once again changing topics to the acquisition of their band van through crowdfunding and then how Trew landed himself as a cartoon on his very own brew named 'Fiddler on the roof'.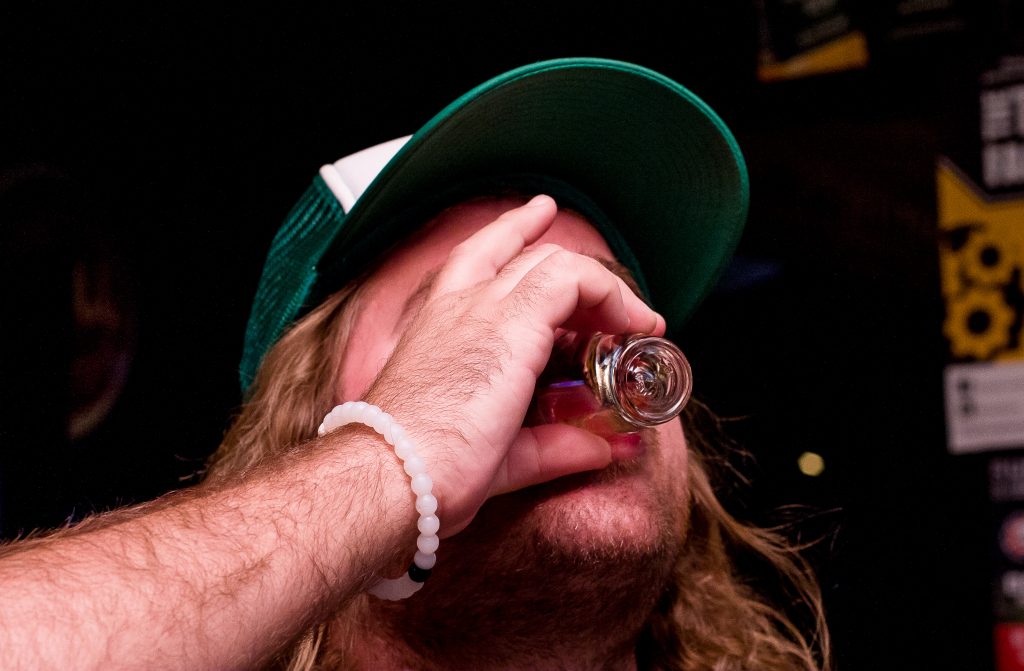 A half a beer down, we housed our first shot — Jameson, the bands' favorite whiskey. He maintained an almost bashful countenance; however, in the same direction, his demeanor spoke confidence and ease; a very relatable person to say the least. Brian set the scene of his inaugural day with Uproot. He had sustained injuries from a Rugby match (He is currently the President of the Boca Rugby team) that rendered him with his jaw wired shut. As he continued, without the slightest denotation that these events would be considered out of the ordinary, I was growing more in awe at how wild this guy really was, and possibly still is. I could hardly imagine hanging out with the entire group. Fun would simply not fit the bill as a descriptor. So on this night, Brian shows up to the Irishmen equipped with wire cutters around his neck in case he tossed back a few too many, and well, had to throw up. His timing was oddly opportune. The band's fiddler had left the set early that evening. Trew walked up and spoke through forcefully clenched teeth disclaiming, "I have a fiddle in the car." The rest is history. They are now in their 10th year as a band.
It was nearing 6 o'clock as we welcomed our second shot of Jameson….the energy level at the table increasing with every fluid ounce. Trew indulged me in his background with the violin. Further convincing me of his locality, he shared his experience of studying music with the violin at Florida Atlantic University. His classical roots were challenged positively when he joined forces with what is now Uproot Hootenanny. They taught him how to jam, which has brought them local acclaim as well as international. The stories of the bands escapades in America are captivating, but the band members taking on Ireland with beer in their bellies, instruments on their backs, and a fortitude for music, seems to me, a tale for a different time.
In only a short hour and a half, I felt inspired, tipsy, and excited to see this band that Trew dubs, "AmeriCeltic Pub Grass."
For a list of upcoming shows, visit www.uproothootenanny.com