Our go-to stops for the best burgers in Delray Beach.
By Kayla Ziadie
Whether you like your burgers double-stacked, vegan, lettuce-wrapped or with extra cheese, there's no wrong way to order one. Aside from what toppings to dress it with, the biggest struggle when a burger craving hits is finding the best place to order from.
Considering Palm Beach County has too many quality burger joints to count, narrowing down your options can seem like an impossible feat. Sure, you can always opt for a quick fix with a Big Mac or Whopper, but the satisfaction from digging into an artisanal, from-scratch burger is hard to pass up.
Cravings hit yet? Then it's time to mask up and head out the door (or grab your phones for some delivery action) to try our picks for the five best burgers in Delray Beach.
Dada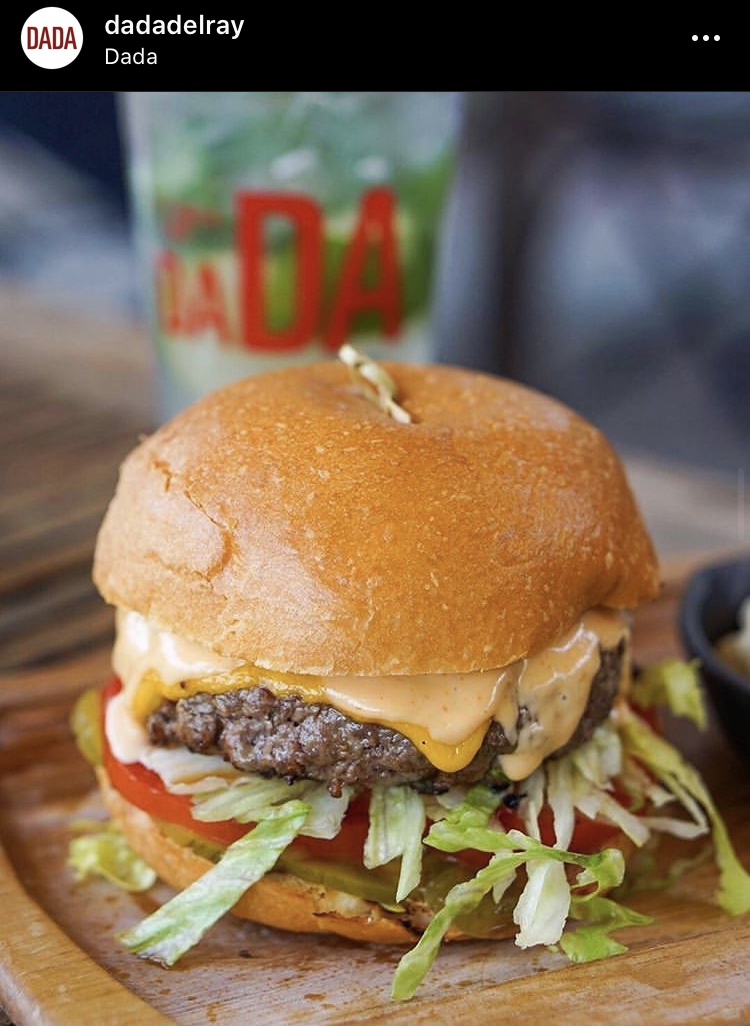 The Sub-Culture Restaurant Group award-winning restaurant, Dada, is our next stop on the quest for the best burgers in Delray Beach. Its eccentric presence, new-American cuisine and extensive drink menu have graced South County in the historic Tarrimore House since 2000. While appetizers like the Pork Belly Burnt Ends and Crispy Cauliflower get the party started, the eponymous Dada Burger keeps it going all night long.
A juicy beef patty makes itself at home on a brioche bun, then is topped with American cheese, lettuce, thick-sliced tomatoes, onions and pickles (LTOP). Does it sound like the general cheeseburger lineup? Sure, but Dada's special sauce throws all prior notions of what a burger should be out the window. Go all in and add avocado and bacon, then sub the hand-cut french fries for truffle fries. This delicious twist on a classic burger proves that simple, while often undermined, can still be iconic.
Dada, 52 N. Swinton Ave., Delray Beach; 561-330-3232; sub-culture.org/dada, @dadadelray
Death or Glory Bar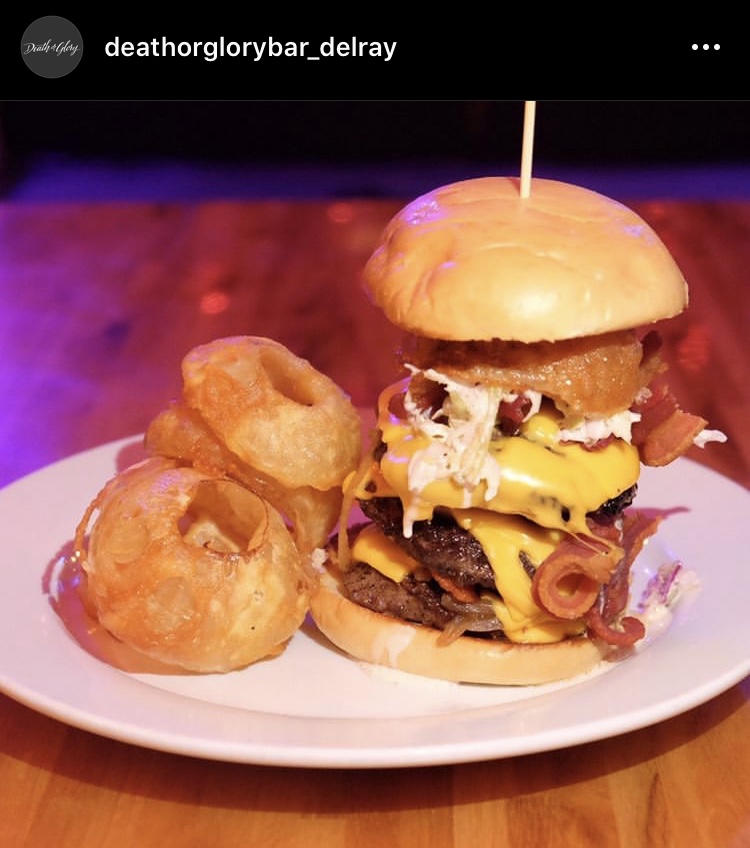 Delray locals head to Death or Glory Bar to imbibe to their heart's desire, whether it's for a casual Friday or its Halloween pop-up bar, Death or Gory. But the unsung hero of this local haunt is its burger and sandwich selection. It runs the gamut from vegetarian perfection (like the Black Bean Burger with avocado aioli and LTOP) to build-your-own masterpieces.
Sometimes though, you need a burger that can hold its own weight, one that will make you tap out mid-bite and pack the rest for tomorrow's lunch. Read: Death or Glory's Triple DoG Dare You burger. Piled high with three times the beef, cheese and bacon, this triple-stacked vertical beast has extra layers of coleslaw and onion rings. So the next time your cravings call for a burger that basic fast-food chains tremble at the mention of, race over to Death or Glory.
Death or Glory Bar, 116 NE Sixth Ave., Delray Beach; 561-808-8814; deathorglorybar.com, @deathorglorybar_delray
3rd & 3rd
Anyone who's brunched in South County knows that brunch at neighborhood hotspot 3rd & 3rd is a mandatory must-try. (Seriously, order the eggs Benedict with smoked salmon.) Few things compare to rolling out of bed and into the arms of an 11:30 a.m. Blood Orange Old Fashioned. But a menu item that deserves just as much recognition, if not more, is 3rd & 3rd's Seared Angus Burger. 
Angus beef seared to your preference lays atop lettuce, tomatoes and onions, cave-aged cheddar, a sunny-side-up egg, crispy Applewood bacon and balsamic onion jam, all nestled on a brioche bun. Paired with parmesan truffle fries and your signature cocktail of choice, the otherworldly collision of flavors will transcend you into the next dimension.
3rd & 3rd, 301 NE Third Ave., Delray Beach; 561-303-1939; 3rdand3rd.com, @3rdand3rd
Deck 84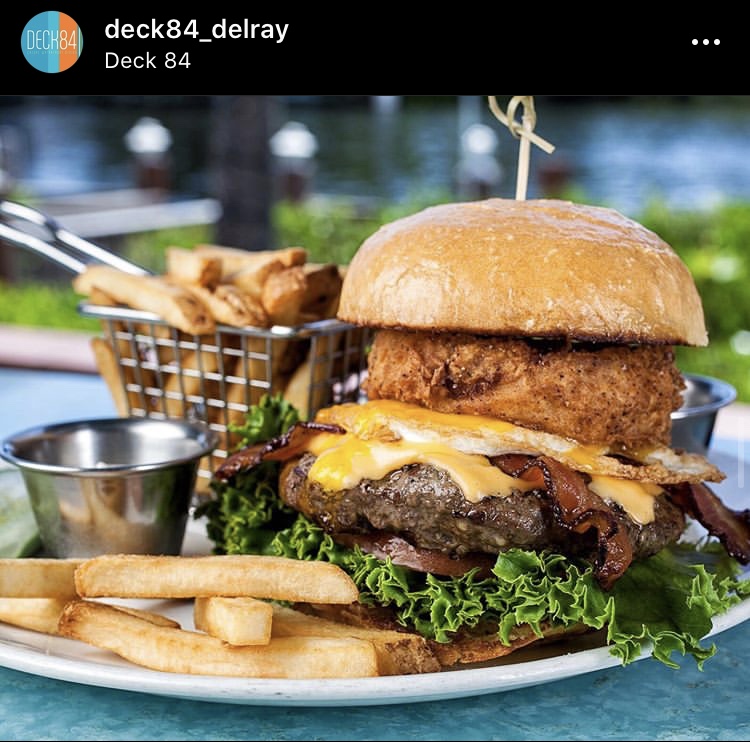 Alfresco waterfront dining awaits at Deck 84—and so do one of the tastiest burgers in Palm Beach County. Thanks to its ideal location by the Intracoastal, this chic eatery is known for its fresh catches. What many don't know is that the signature Prime Deck Burger should be the reason for their next (or first) visit.
A Deck 84 special blend burger meets lettuce, vine ripe tomato, a fried egg, Applewood bacon, American cheese, crispy onion and savory asiago aioli. With side options of french fries or creamy coleslaw, the odds of making it to that point in your meal are slim. So whether you visit Deck 84 for the views or for the booze, you'll stay for Prime Deck burger.
Deck 84, 840 E. Atlantic Ave., Delray Beach; 561-665-8484; deck84.com, @deck84_delray
Park Tavern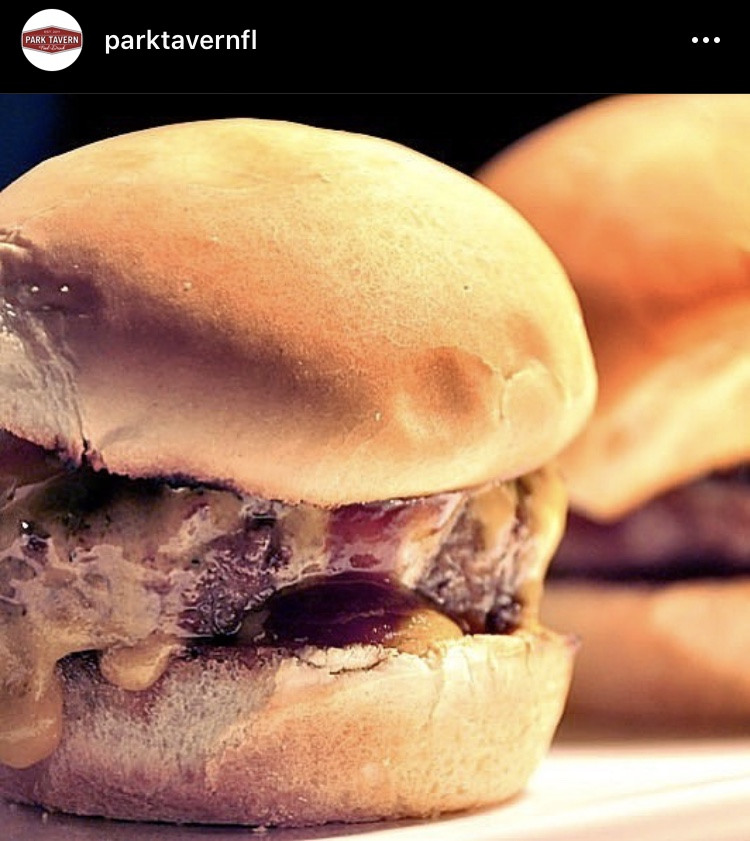 Crack open a cold one and kick back at Park Tavern. The Atlantic Avenue joint is a local favorite with its menu made entirely in-house. Yes, even the bread and condiments are made in the Park Tavern kitchen, meaning the handcrafted burgers quite literally speak for themselves. 
The vast flavor profiles of Park Tavern's burgers (and $5 Burger Mondays) keep customers coming back for more (i.e. the Veggie Burger with tomato-onion jam, wild arugula and aged Vermont cheddar). However, make the bite-sized, tangy Cut 432 Mini Burgers your No. 1 pick next time you visit. Topped with steak sauce, caramelized onions and Black Diamond cheddar, these glorious meaty morsels feature five-star steakhouse quality at a pub price. Paired with a draft beer and thick hand-cut fries, your burger expectations for the future are set.
Park Tavern, 32 SE Second Ave., Delray Beach; 561-265-5093; parktaverndelray.com, @parktavernfl