Death or Glory, Not Just Another Story
By Adam Sheetz
Photos: Libbyvision
If you don't know about Death or Glory, you should, and I'm about to tell you why. It's one of the hippest haunts in town and sits just off the beaten path in Delray Beach, making it a little hidden, a little mysterious, and very rewarding.
Their moniker essentially says, "Go big or go home," which is exactly what they're doing. The owners got the name from a 1979 Clash song, which was written about the previous generation of rock stars who swore they would die before getting old. They live by the same motto, which is to never give up, never grow old, and always support the people you serve. It's not only their livelihood, but also their life. "Plus, we're all old punk rock kids at heart," said Annie Blake, a Death or Glory partner.
Given that it is a quaint, little old house, it's rather unassuming from the street. But just on the other side of their charming entryway lies an experience not soon to be forgotten. "Our major inspiration for the vibe was the house itself. The historic Falcon house was built in 1925. There are a lot of little nooks and crannies, and it has a ton of charm," Blake said. "We decorated it in such a way that the details are nuanced but pleasantly surprising. We filled the house with family photos from that era, as well as some prohibition-era memorabilia, as south Florida was a big part of the rum running trade."
You can get a big sense of the rum-influenced space when you head outside to the canopied bar that features a rum-focused menu that pays homage to the rum runners of the Florida 1920s, and tips its hat to the whimsy of Tiki, which made its way through South Florida some 30 years later. The authentic tiki bar is the brainchild of partner, Ayme Harrison, who previously owned Kreepy Tiki in Fort Lauderdale.
In addition to their funky sense of space, they also feature a killer cocktail and food menu. "Most restaurants will tell you to come for the food and stay for the drinks. We know you'll come to Death or Glory for the drinks and be pleasantly surprised when you stay for the food," Blake said. "One of the most integral keys to a successful cocktail program is the use of quality spirits and fresh ingredients. Beyond that, we also like to invest in our staff, their knowledge, and our respect as a team for the product that we provide our guests. We place a lot of importance on the knowledge of classic cocktails, balance, and the proper use of tools to achieve consistency." This attention to detail can be tasted with every sip of every unique drink on the menu. Just try for yourself with a signature cocktail like the Trader Vic's 1944 Mai Tai, made with their own Death or Glory House Rum. And if you and your crew are feeling adventurous, they offer communal cocktail bowls for four to six people.
All of these elements are at the forefront of their operation, and they do not go unnoticed by guests. It's not hard to see that their main passion lies in their drinks, and they are fortunate to have expert, David Bouchard, as their beverage director. Now, running the kitchen is their executive chef, Johnny Martini – or, more formally known as Chef John P. Demartini. The food can be described as New American, focusing on fresh, seasonal, and locally-sourced ingredients. The discerning selection of ingredients shines through in dishes like their Rock Shrimp Ceviche Lettuce Wraps or their Mushroom Enfrijoladas. The entire menu is based on local ingredients so not only does it change every few months, you're almost always guaranteed to enjoy the freshest flavors around.
Now, if you've been paying attention at all to the bar and craft cocktail scene, you may have heard of a little thing called Bar Brawls. Death or Glory just so happens to be the host establishment for the weekly bartender competition that spans over two months, and it's quite the scene. Chock full of movers and shakers (or stirrers), industry experts and leaders, foodies, media, and spectators, this spectacle of spirits is, at heart, a gathering of friends and family among the community, peppered with a bit of friendly competition. "We always wanted DoG to be a hub for the industry, and for education," Blake said. "My partners and I are very involved both in the national cocktail community and with the local chapter of the United States Bartender's Guild."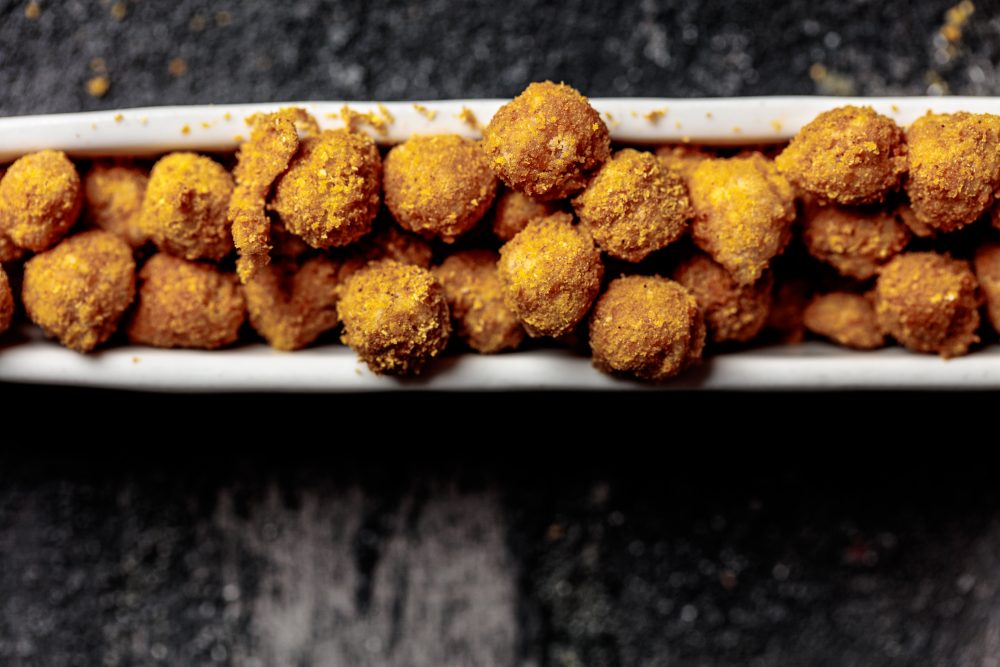 So what do these "old punk kids at heart" turned bastions of their craft envision for the future of Death or Glory? Blake and her partners' hope is "to keep growing and pushing the envelope to maintain our home as a welcoming and exciting place for our guests while remaining fun and approachable. Cocktails should be seriously executed but I don't think cocktail bars need to be serious."
The neon sign in their tiki bar that reads "Stop Making Sense" – yet another nod to a great piece of rock history – is nothing if not an indication of that goal. They're well on their way to achieving their vision, all while shaking things up for Delray Beach and being a haven for locals who want to keep it weird. Take them up on their invitation to go big or go home, you won't regret it.
116 NE 6th Ave, Delray Beach