The month of September is South Florida's slowest tourism month. It's a real downer, we know. You can actually find beach parking, seasonal rental prices go down and wait times at restaurants are way down. While the snowbirds are away, local restaurants see less business. That's great news for locals who don't want a wait time, but the implications for the restaurants are not as ideal. Flavor Palm Beach was established in 2007 to curb that downturn of business in the off-season. For the whole month of September, participating local restaurants have prix fixe menus (fixed prices and multiple course offerings) so that locals can take advantage of as many good eats as possible. We're sharing a few of our favorite restaurants participating in Flavor Palm Beach 2023 so you can get the most bang for your local buck.
Kapow Noodle Bar
Go for the karaoke and stay for the food. At least that's our motto. It's especially worth it to stay for the food when you're getting a three-course dining extravaganza for only $45. At Kapow you can expect Asian inspired dishes that will tickle your creative cravings. Both the West Palm Beach and Boca Raton locations are participating in Flavor Palm Beach 2023.
The prix fixe first course includes a pick of Miso Black Cod Lettuce Cups, Grilled Shiseido Peppers, and Pork Belly Lollipops. The fun continues in the second course with choices of Wild Mushroom Chow Fun, Chinatown Chicken Caesar, and the Wagyu Smash Burger. To round it all out, you have dessert options of Thai Donuts, Ube Bae Cake, and the House Matcha Soft Serve.
519 Clematis St, West Palm Beach
402 Plaza Real, Boca Raton
Aqua Grille
A relatively new restaurant on the Palm Beach County dining scene, Aqua Grille has certainly left a good impression on our palates. The food is described as coastal American and is as delicious as it is Instagramable. The Juno Beach location makes it a perfect option for a post beach dinner when you're still a little giddy from the sunshine and salt water.
Their prix fixe menu for Flavor Palm Beach 2023 includes a three-course $48 dollar option and the $69 option that includes a wine pairing for the first two courses. Options for the first course include the Key Lime Caesar, Local Jupiter Farms Greens, the Bahamian Clam Chowder, and a few others for an additional small fee. The second course is a choice between Bell and Evans Caribbean Chicken, Asian Miso Salmon, Blackened Mahi Creole, Tom Kha Vegetable Curry, and New York Strip 'Steak Frites.' Finish off with Key Lime Pie or an Aquajoy Sundae and we'd say you're good to go.
14121 U.S. Highway 1, Juno Beach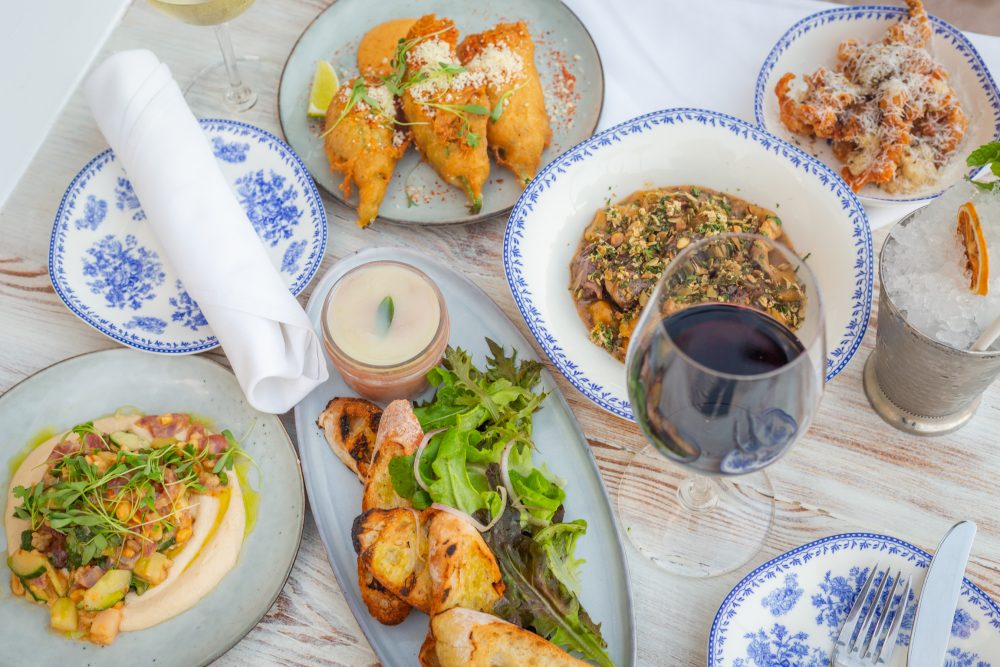 Sassafras
It's Southern comfort food with a chic twist. Sassafras, a part of the Subculture Group, is known for their iterations of classic dishes typically found down in the bayou. You can expect staples like Chicken and Dumplings, Fried Green Tomatoes, and Shrimp and Grits. That "chic twist" we mentioned earlier? The dishes come out looking like art — but they're not so stuffy that the portions are laughably tiny. They're still Southern, after all.
Their Flavor Palm Beach 2023 prix fixe menu is a complementary assortment of dishes to be paired at your whim all for $50. Your first course is a choice of Little Gems Wedge Salad, Local Arugula and Roasted Mushroom Salad, Black Truffle Gnocchi, and Just Made Cheddar Biscuits. The second course offerings are Key West Pink Shrimp and Grits, Sassafras Gumbo, the Double Cheeseburger, the Crispy Chicken Sandwich, and their Famous Fried Chicken. Finally, you'll finish off with a dessert choice of Mini Ice Cream Cones or Nick's Cream Cheese Donuts.
105 S Narcissus Ave #130, West Palm Beach
La Masseria
We know you've been waiting for an Italian option, and we wouldn't want to disappoint. In steps La Masseria's authentic Italian cuisine. You can find La Masseria tucked on PGA next to Salute. It may not be the flashiest of locations, but the food more than makes up for it — especially considering the $45 prix fixe menu for Flavor Palm Beach 2023.
The prix fixe menu begins with a choice between Burrata and Prosciutto, Stuffed Fried Zucchini, and the Masseria Salad. The entrée options are Pesto Risotto, Branzino, Ossobuco Ravioli, or Chicken Piemontese. Finally, desserts are a a tough call to make with options of Tiramisu al Caffe, Corstatina di Mele (a warm apple tart with raspberry sauce and vanilla ice cream), and the Gelato of the day.
5520 PGA Boulevard #104, Palm Beach Gardens