Photo: Dana Drolet
Spred The Vibes
Local favorites Spred The Dub are poised to take over the world
Words By Dana Krangel
Looking for a good time? How about a band that wants to serve one to you on a silver platter spilling over with whiskey and sweet reggae tunes? The fine, upstanding gentleman of Spred the Dub are your providers and we, the good people of South Florida, are just along for the ride.
This 6-piece band was raised and sculpted in Palm Beach County but the guys are bursting at the seams, growing too fast to stay stagnant. Spred The Dub was founded on a mission to deliver nothing but great live music and irie vibes to every corner of South Florida and now, their eyes are set on spoiling the rest of the country.
For over seven years, these polished musicians have perfected 'Good Time Reggae' – their own special blend of reggae, rocksteady, funk, soul and ska. But it's the essence of the band, their attitude and stage presence, that have separated them from the throngs of South Florida reggae bands and propelled Spred The Dub to become one of the most important local bands of all time. They truly care about every person in the crowd leaving with a smile on their face (not just because of the heavy drinking). It's the stage banter and devilishly entertaining original songs that turn a Spred The Dub gig into the perfect night.
There are more reggae bands than you can count in South Florida, so it's a phenomenal accomplishment to be one of the biggest and best. But fact is, we need Spred The Dub just as much as they need us. We need a vacation from real life or as lead singer Mick Swigert puts it "folks sometimes take things too seriously and we like to think of ourselves as an escape from the doldrums of work and drama they might be dealing with."
A tight band with lots of moving parts and polished originals doesn't happen without hard work. The journey that is Spred The Dub started forever ago, especially if you ask Mick's mom Jacqueline. She recounts his love for all things music from an early age, insisting on being Elvis Presley for Halloween when he was only three years old. But the band's story really starts at the Funky Buddha Lounge and Brewery in Boca Raton where an open jam sparked a future. People came in and out and the jam picked up speed but its greatest accomplishment was bringing Swigert and drummer John Leonard together.
It wasn't too long until bassist Kevin Johnson came along and like that, Spred The Dub was born and they hit the ground running. Over the next few years, the lineup would be tweaked until perfected and it has now reached its peak in talent and performance. Having the core band members involved since the beginning means their message of 'Good Time Reggae' comes through and the live performance is always on point. It means that, undoubtedly, the shows are a blast, the tunes will make you shake it and the whiskey goes down smooth.
Swigert's deliciously raspy vocals and show-stealing mustache lead the band through their notoriously fun sets but reggae wouldn't be reggae without a steady foundation– drum and bass. With Kevin 'KJo' Johnson on bass and John 'Fresh' Leonard on percussion, these skillful musicians play to style, ensuring music worth dancing along to. Hunter Hutchings delivers huge on lead guitar with precise jamming and sweeping solos, bringing with him years of live music experience and a literal lifetime of West Palm Beach know-how. Sam Szpendyk on trombone provides the ska glory and high energy that take the Spred The Dub sound to heights worth touring over. It's Szpendyk's stage banter and brass attack that turn a gig into a performance. Rounding out the sound on keys is the newest member of the band, Eric Cohen-Greenberg, who brings in the dub and completes the band's signature show.
So where did these undeniable party vibes come from? Swigert and Leonard used to always say 'good times' back in the early days when something went their way and it stuck. Now the good times are a way of life. Johnson says that 'Good Time Reggae' means "when you come to our shows, leave all your shit at the door and come and have a good time" and that's exactly what the party people do, especially on Mondays.
Monday Night Reggae with Spred The Dub is legendary. The weekly party started at Reef Road, back when Hutchings used to take breaks from playing in Roots Shakedown to be a fan who made occasional on-stage cameos. Since Reef closed, the Clematis party has found a new home at E.R. Bradley's and the Monday festivities have become a permanent staple in Downtown West Palm. It doesn't matter that most of the population has to wake up early for work the next day, the Monday night shows are packed week after week. An early morning alarm cannot compete with the the feelings that radiate at a Spred The Dub show and the Monday Night Reggae fan support is massive.
Band photographer Dana Drolet nails it on the head when she says that "Spred The Dub's music is so carefree that it relates with everyone and puts people in a really good mood." With South Florida completely saturated in Spred The Dub vibes, the boys knew I was time to hit the road and share their message with a wider audience. So they did just that, touring as far as New Orleans, Colorado and California supporting The Bastard Suns and introducing their style to people who had no idea who Spred The Dub was. Tour couldn't have gone better. "We play so much around here and it is great seeing our friends and fans coming to shows and knowing the words to the songs," says Hutchings. "But the greatest experience is bringing our stuff to new people. It's scary, but then everyone has a smile on their face when we play."
Tour not only brings the band to more people, but it brings the band closer together. Leonard thinks back the experience saying "It was awesome, but next time we will definitely do it in a bigger van." The fellas couldn't get enough of the road and their next big step is to hopefully hit the Northeast on a summer tour before recording a new, long awaited album.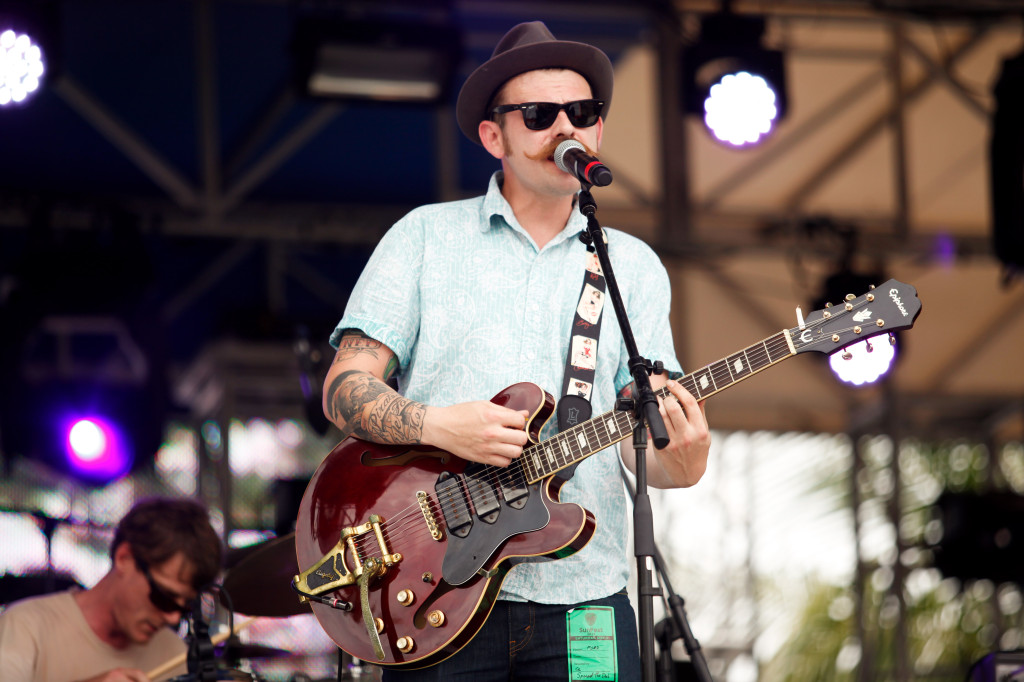 But in the meantime, Spred The Dub can't help but dominate the local scene, including a primo slot opening up for Dirty Heads and Rebelution at this year's SunFest. Thousands of new fans and old friends made for a massive crowd and the set was on point. Right after their set, you could feel the excitement. Johnson said "We just took a step up today. Big boy status." While a massive milestone along the way, we have a feeling that the guys will see gigs bigger than SunFest in the near future.
Local favorites and national up-and-comers, Spred The Dub are an their way to full reggae domination. But along that journey, they just want to have a good time. Throw on your party pants and be a part of the ride or you are left living a life with a severe lack in good times.