By Jessica Tzikas
Photos by Ava Bourbeau
Nothing puts a wrench in your beach day quite like being interrupted by garbage. Not only does litter on our beaches break our tranquility, it can also cause great harm to sea life, ruin habitats, and hurt the environment. Ensuring we keep our own spaces clean during a day at the beach is great, but unfortunately, it isn't enough to keep our water litter free. Luckily, a few great organizations have been formed to help battle the pollution problem. One organization is the Beach Bucket Foundation, a local group that works to preserve our beaches and oceans.
At the helm of the Beach Bucket Foundation is Andrew Abbott, who created the organization back in 2020. Andy was an avid diver and during his time getting re-certified, he found himself retrieving trash from the ocean. He was also spending time cleaning up the beaches while volunteering at Jonathan Dickinson State Park. After attending a beach cleanup with Surfrider Foundation at Carlin Park, Andy realized how much more litter could be collected simply by providing volunteers with a bucket. "We ended up picking up somewhere close to 200 pounds [of trash]," Andy said. "I wondered why we didn't offer buckets at our beaches on a constant basis."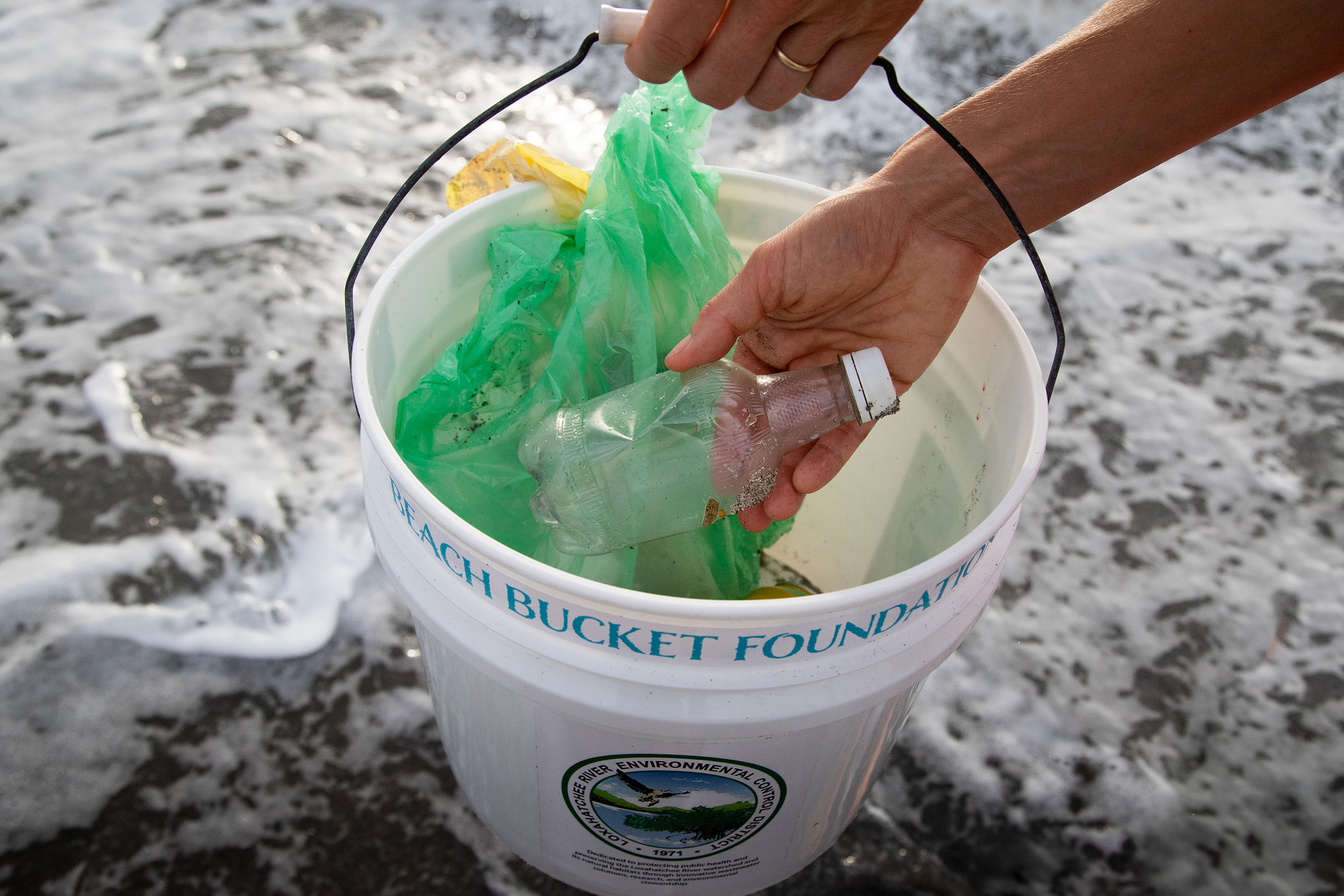 Andy consulted with the county about his idea in 2019. After a pilot run with the buckets that was extremely well received, the county gave Andy the go ahead to install the stations in all the parks and the success gave him the push to start the Foundation. Since then, the Beach Bucket Foundation has been providing Box O' Buckets® cleanup stations at local beaches throughout the East Coast of Florida. There are now 25 stations across 15 Palm Beach County beach parks, with even more at public beaches.
The stations are self-serve, so it's impossible to measure the amount of trash that the Foundation is responsible for collecting. But, The Nature Conservancy's Blowing Rocks Preserve on Jupiter Island hopes to start collecting data using the buckets this year. These stats, along with the presence of the Box O' Buckets® cleanup stations, can encourage participation while also promoting the ideal of a clean beach to locals and tourists alike. The cleanup stations can be found at beach entrance crossovers at both public local beaches and oceanfront communities.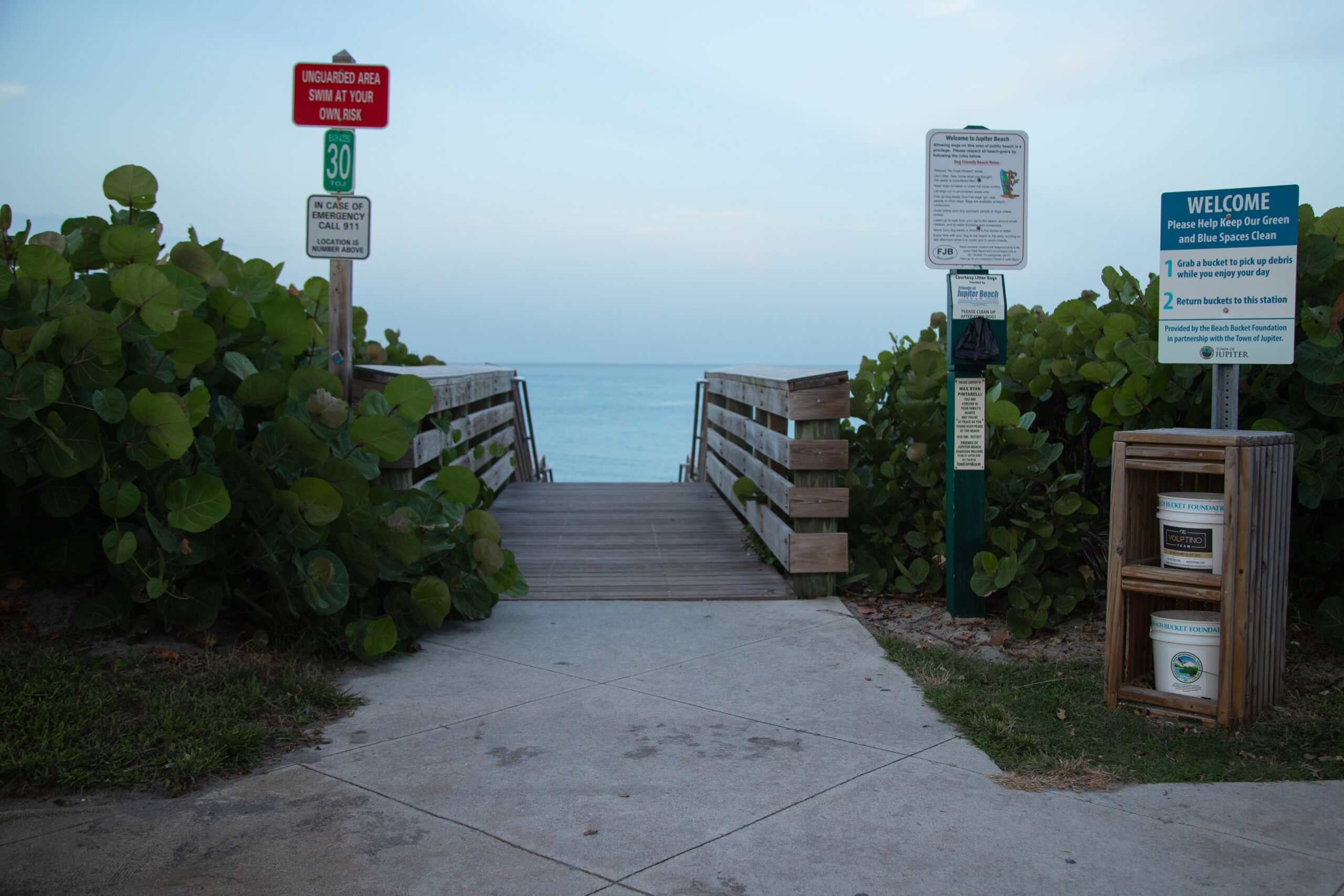 Volunteers can check the online map to find a station, grab a bucket, and start helping the environment. But beyond simply picking up trash, the Beach Bucket Foundation also spreads awareness about the dangers of pollution to our environment. They offer the buckets to local businesses and organizations in each community they are located to sponsor, not only as a means of funding the Foundation, but also as a way for businesses to show their commitment to their community, environment, and to create local buzz and a snowball effect of awareness.
"We as people need to be more respectful of our environment and need to be aware of the effects that littering pose," Andy said. "Get involved however you can, participate in cleanups and legislative policy making, get involved with local organizations, and just make a difference and spread awareness wherever possible."