by David Rolland
Other than peanut butter and jelly and maybe Simon & Garfunkel, there are few combinations that work together as cohesively as music and food. Whether it's because a grooving soundtrack can help ease your digestion or because you want to replenish the calories you burned off while on the dance floor, there are plenty of locales in South Florida where you can dine while enjoying live music. Here are nine establishments where you can simultaneously please both your palates and your eardrums.
Guanabanas Island Restaurant & Bar
This Jupiter landmark opened as a sandwich shop in 2004, but expanded in 2008 to take advantage of its waterfront location. They specialize in locally sourced seafood and create an ambience of woven tiki huts, banyan trees, and hand-chiseled coquina stone. They're just as insistent on bringing live music specializing on spotlighting local musicians like Juke, Moska Project and Bobby Lee Rodgers along with the occasional national touring acts like Mishka. Concerts they already have booked for 2018 include The Firewater Tent Revival from Atlantic Beach on January 31st and Roots of Rebellion from Nashville on February 9th.
960 N Highway A1A, Jupiter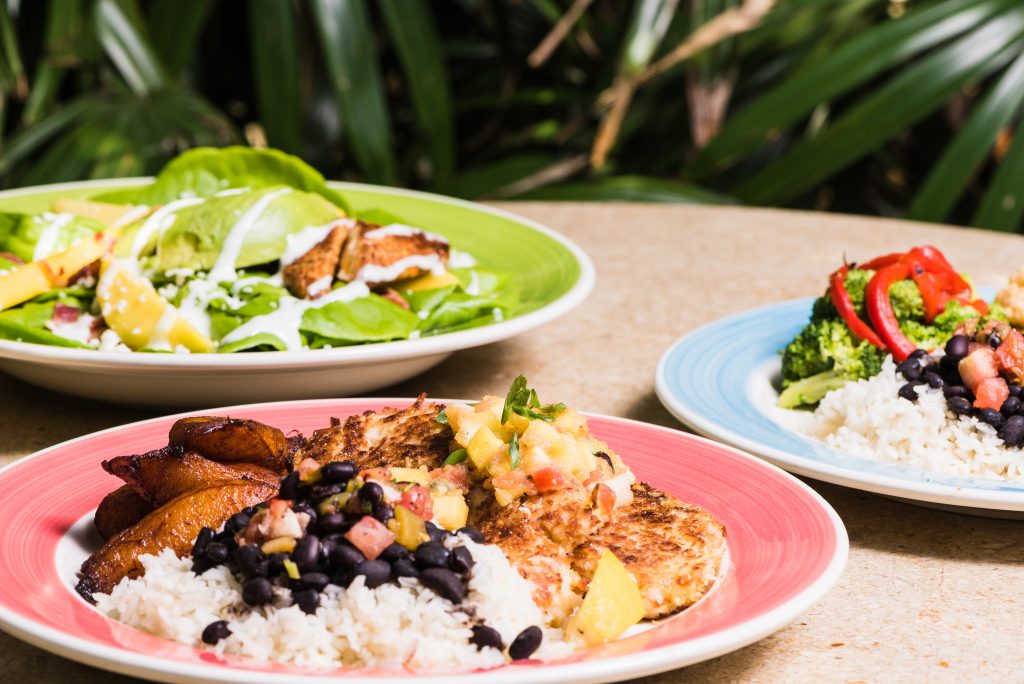 Copper Blues Rock Pub

& Kitchen
Right from their name you can tell this West Palm establishment is dedicated to melding food and drinks with rock n' roll. Their website advertises that they cater to "rock stars, foodies, beer geeks and cocktail connoisseurs." Since 2014, they've been providing free live music to enjoy along with a choice of sixty draft beers and a food menu that features everything from salads and pizzas to sandwiches and steaks.
550 S Rosemary Ave, West Palm Beach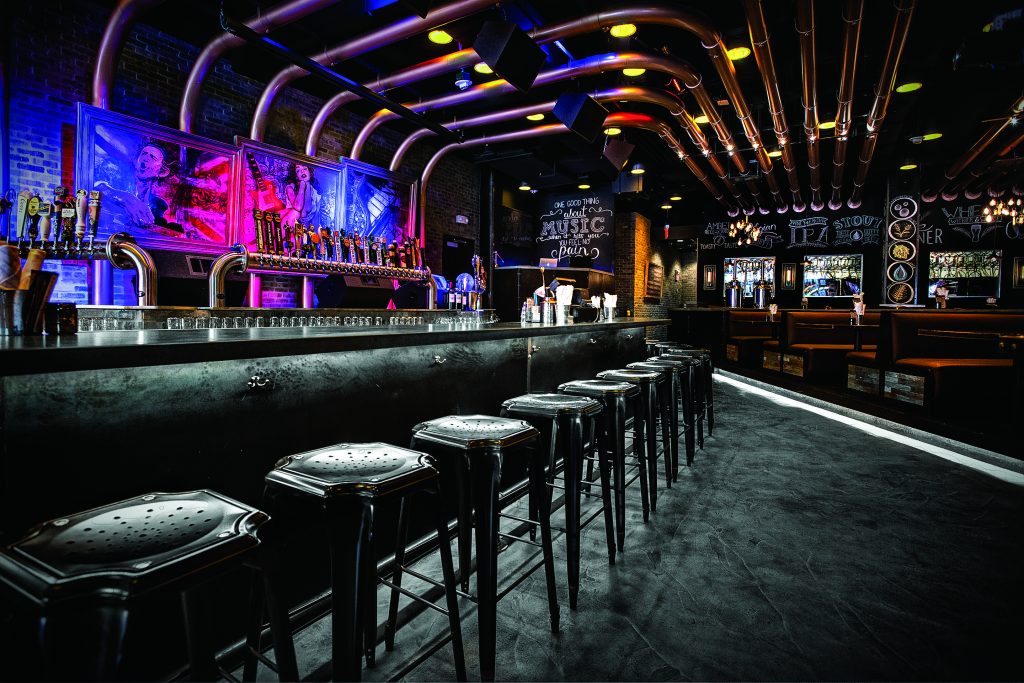 Little Moir's Food Shack & Maxi's Lineup
Nestled in a Jupiter shopping plaza you can find live music just about every night of the week. The daily food specials are handwritten along with the names of the chefs. Some of the recent featured food items include an Indonesian noodle bowl, BBQ Bacon Burger sliders, and peanut pecan crusted fish served over greens. The musical menu is heavy on local singer-songwriters and cover bands which are constantly being announced on the venue's Facebook event page.
103 S US-1, #D3, Jupiter
The Funky Biscuit
This Boca Raton landmark is famed for bringing in heavy hitter musicians. Over the last six years they've brought in blues and rock legends like Gregg Allman, Johnny Winter, Leon Russell, and Derek Trucks, but in a recent interview with The Atlantic Current, owner Al Poliak wanted to get the word out they take their menu as seriously as their music. "We didn't have a kitchen at first. We were recognized as a live music venue and not necessarily a restaurant. The struggle has been to let people know they can come to eat even when there's no live music." Like many of the artists they bring in, their menu has a New Orleans vibe featuring Po' Boy sandwiches and gumbo. Touring musicians they have coming include Jethro Tull's Martin Barre on February 9 & 10 and the stripped down roots rock of BoDeans on March 10th.
303 SE Mizner Blvd, Royal Palm Place, Boca Raton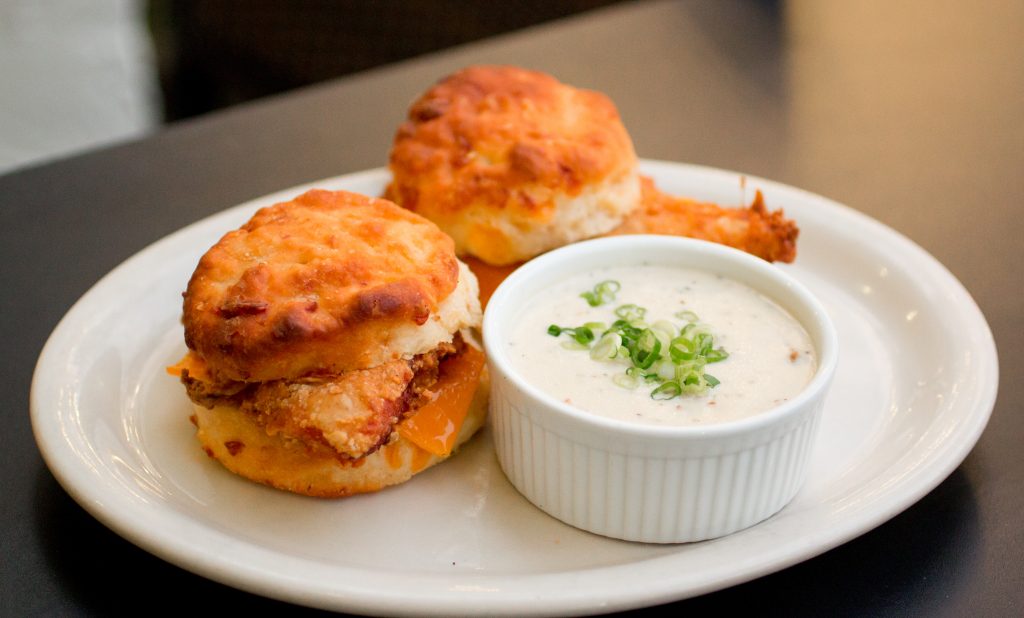 Boston's on the Beach
This Delray Beach staple has been offering seafood at a beachfront location for the past 35 years. They serve breakfast, lunch, and dinner, but nighttime is when you will get some tunes with your grub. They offer live bands five nights a week including Blue Tuesdays and Monday's Reggae Night which the venue and locals describe as "world famous".
40 S Ocean Blvd, Delray Beach
Deck 84
This Delray Beach restaurant aims to cater to both locals and tourists with a menu featuring something for everyone, even going as far as to mark which items are vegetarian or gluten free. They showcase live music every Saturday and Sunday afternoon from 1:30 to 5:30 and offer dock space if you prefer to arrive by boat rather than automobile.
840 E Atlantic Ave, Delray Beach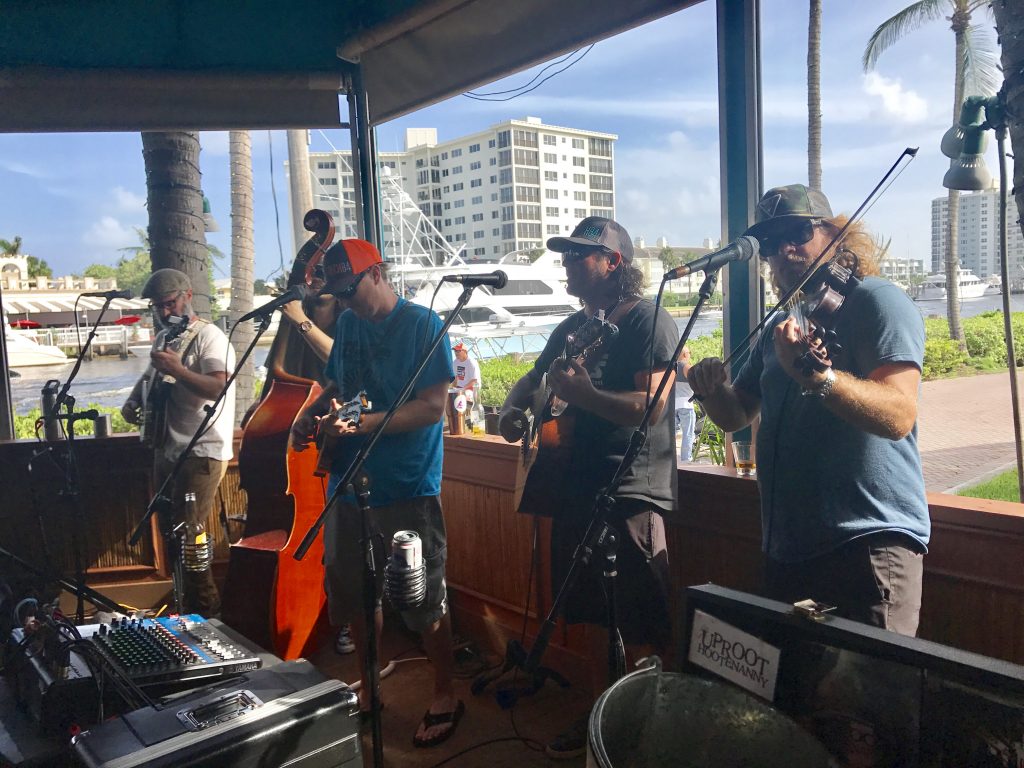 JB's on the Beach
This is the restaurant to hit on Deerfield Beach if you want music with your dinner. On weekends they even offer live acts during earlier lunch hours. Recent featured bands include the rhythm & blues of Cat sh Hunter and the roots rock Americana of Mitch Herrick. Their menu focuses on seafood with items including paella, coconut shrimp, volcano crabcake, and even a "sea-zer salad" topped with mahi, salmon, or swordfish.
300 N Ocean Blvd, Deer eld Beach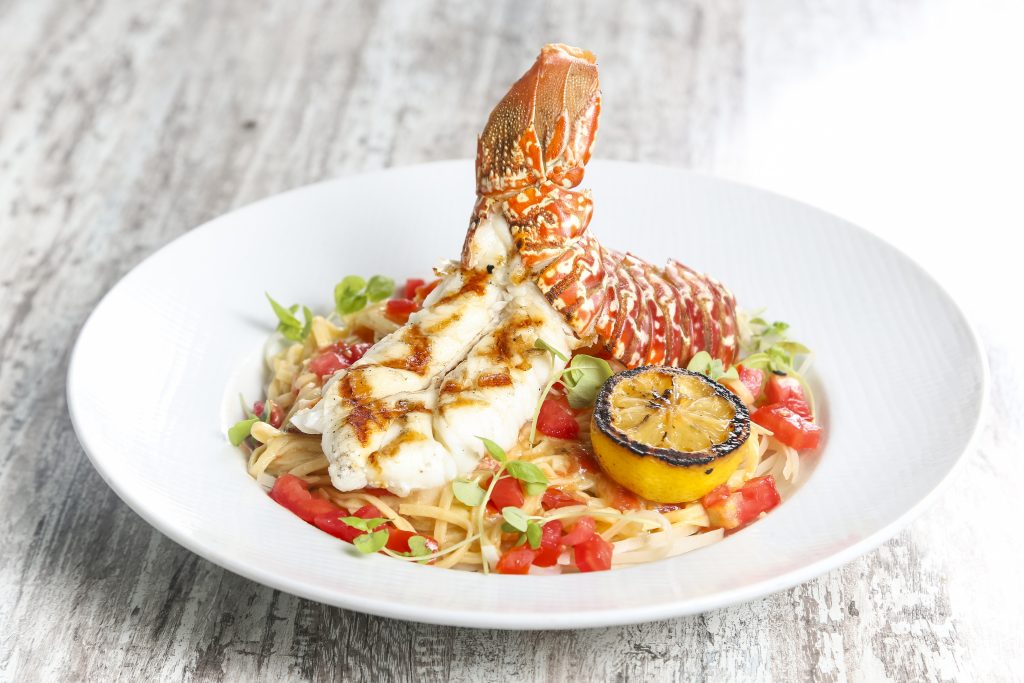 Dada
This Delray spot features an eclectic menu offering entrees from roasted duck to butternut ravioli to an India Vegan plate. Located in a renovated antique home since its opening in 2000, Dada has a tradition of featuring South Florida's favorite indie rock bands. A recent opportunity for such an experience was January 19th where night owls saw Holy Dances play a show scheduled for 11 pm.
52 W Swinton Ave, Delray Beach
Fish Depot Bar & Grill
This outdoor hideaway in Boynton Beach was opened by the owners of Fish Depot seafood market, so the fish is sure to be fresh. Fish Depot Bar & Grill has two bars, a kitchen made from an old airstream trailer and a stage for live music right in the middle of it all. You can catch local live music nightly, with larger acts gracing the stage on the weekends.
511 NE 4th Street, Boynton Beach