By Cash W. Lambert
Photography by ISLANDEYE Photography
After months of surfing in Indonesia, South Florida's pro Nathan Behl is finally home. He brought back with him a barrage of publicity in the surf media, an inspiring perspective on the surf industry, and an ingrained work ethic that will pay for his next surf trip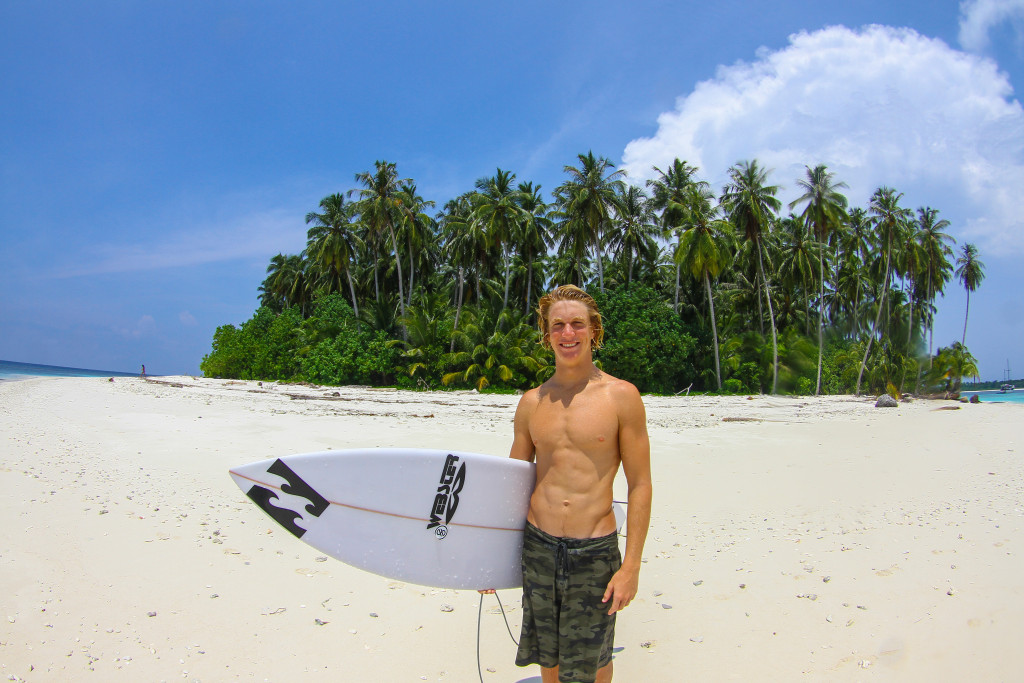 The wave was empty. No one wanted a piece of it. Not even Nathan Behl, it seemed, who was sitting in a perfect take-off spot.  As the blue wave flawlessly peeled towards him, he didn't move. He just watched. Moments before the clean section clamped shut with whitewash though, Nathan swung around and gator crawled his way into the wave, standing up and free falling, but remaining centered on the board, like a crashing elevator somehow under control. For a split second, his entire 5'10" figure stood below sea level. Less than a second later, he pumped and pulled back into a blue Indonesian barrel that looked so big that you could drive a truck through it.
Figuratively, that is. But if you were thinking of literally attempting to fit a truck through an Indonesian barrel just to see if it would work – which it would, in terms of size – I wouldn't recommend using Nathan's truck. Chances are he wouldn't either. An hour and half past the time when we planned to meet at his family's house, his white 2003 Toyota Tundra finally and surprisingly roars back from the dead. At least enough to get him home.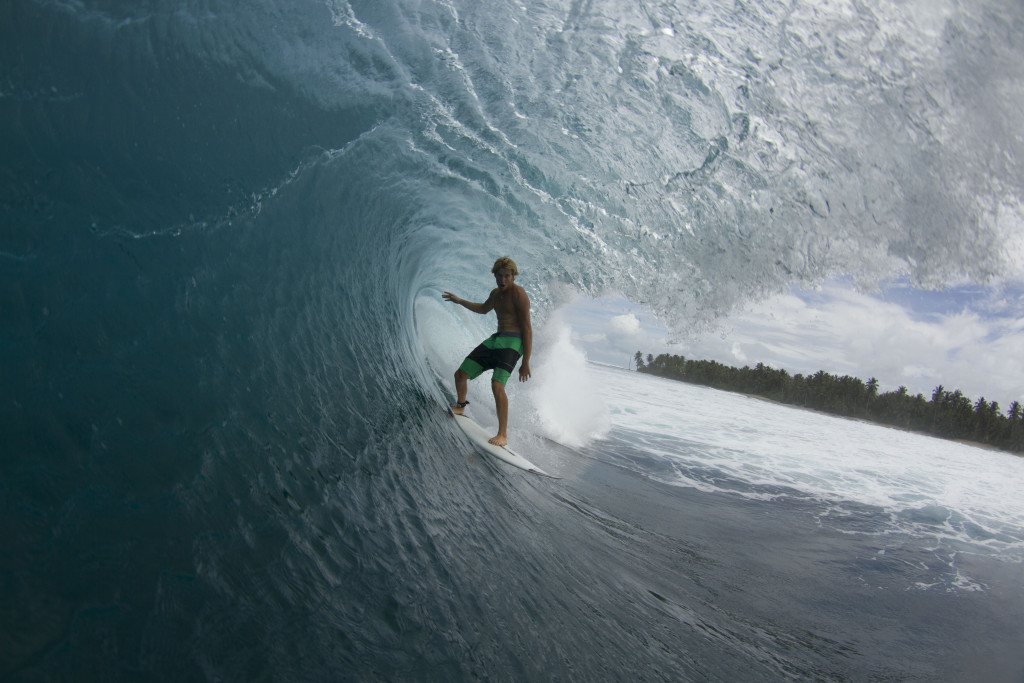 It's 9:30 p.m., Friday night. We're standing in the Behl family garage in Tequesta, surrounded by a beautiful neighborhood. The air is damp from the night rain, and Nathan's wearing black boardshorts and a gray and black long sleeve shirt. His light hair is messy, and you can see in his eyes that he's tired – a combination of work and car trouble, perhaps. He looks up, and I do the same: there sits his quiver, lying in wood holsters, hanging from the ceiling.  He pulls out a 5'9" Webster shape, and the first thing I notice is the Billabong sponsor sticker on the board's nose.  "This is one I rode in Indonesia," he says, while examining it for any wear or tear. "Well, one of the few that I didn't break. I snapped so many boards there."
This isn't surprising, I think to myself, considering his elevator drop wave, seen on a released video entitled 2 Hours, which features his exploits. The wave stacked well overhead, and broke over a reef of knives. The drop, the stance, everything was second nature to Nathan. The 20-year-old Floridian first surfed on the nose of his father's surfboard as a child, and it's been muscle memory ever since. I watched him compete in regional Eastern Surf Association (ESA) contests years ago, where he seemed to spend more time above the wave than on it. Since then, he's added contests from Hawaii to Florida to his resume. He traveled, scored, traveled, scored…But in early 2014, the Behl camp was quiet. Rumor was that he moved to Indonesia, tired of Florida's lackluster surf season. But then a flurry of film edits began dropping, and he was ripping. Nearly every surf media outlet picked up on it. Nathan Behl was back, and better than ever.
"I remember that wave in particular," he says, "because everyone was just screaming at me to get it."
"How big was your board?" I ask, expecting him to say something above a 6'0".
"My 5'9", he replies, nonchalantly. "Catching it on shortboard isn't a problem. The waves in Indo are so perfect, so catchable. They have power, but they hold back for you. Most of the drops are pretty manageable."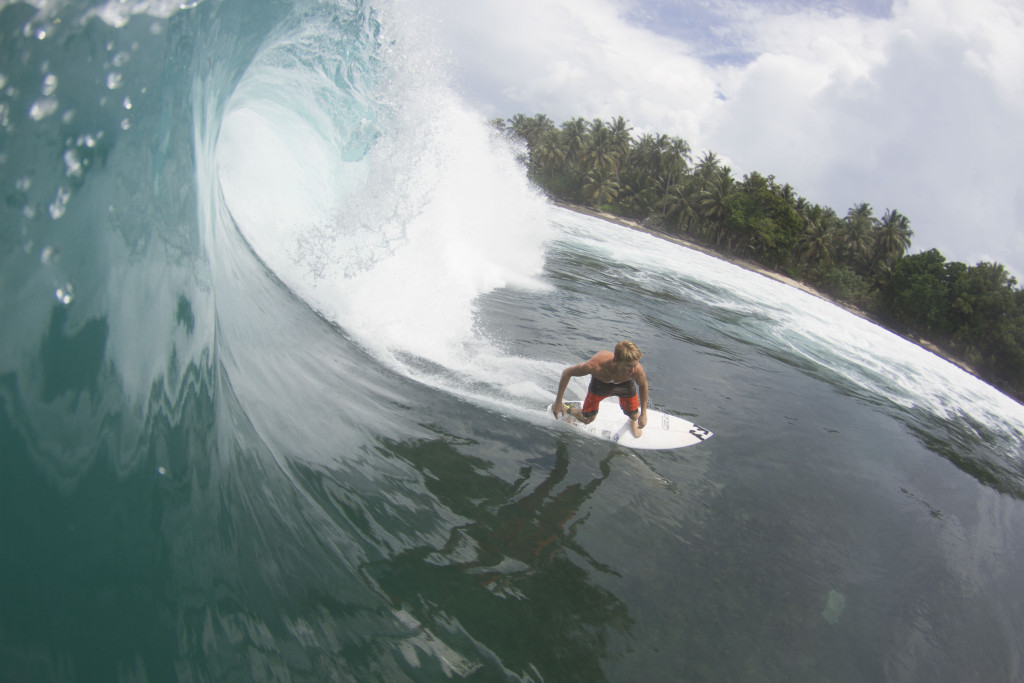 I'm surprised that the screams of the locals pushed him to go on that wave, albeit late. He doesn't seem fazed by any pressure. Nathan walks tall and confident, speaks slowly and makes every word count – all mannerisms that look entirely decided by him, not adapted from others. Whether that's because of his family's faith, or his innate nature, it's noticeable.
Dinner consistes of chicken, salad, fruit, and homemade mac and cheese. The rain continues to pour outside in the darkness. Nathan's quietly eating beside me, so I ask his parents, facing me, first. "How did you let your son live in Indonesia?"
"He raised all the money by himself," Greg Behl answers. It seems like the sun that turned his skin dark through decades of surfing meshed in with his personality – he's full of warm smiles. "We didn't have a choice. We couldn't say no."
I look at Nathan. He grins.
"Did you see the short article Surfing Magazine did on Nate?" Greg asks. He's referencing a weekly photo blog that the internationally known Surfing Magazine posted on Nathan, which included a photo and about 75 words, mentioning his endeavors in Indo.
"I did actually," I say, enamored to speak on my personal passion: surf magazines. Since first impressions can last for hours though, I decide to play it cool.
"I follow the magazine somewhat closely."
"Did you look at the comments under the article? Someone mentioned something like 'well mom and dad must have paid for it'. I jumped on there quick, defending him against those guys. Because he saved all the money himself. He lives with us of course, but he pays for a lot of his own things."
I hear Nate's fork hit the plate. His turn for an explanation on the Indo trip: "A close friend, Justice St. John, has a filming company called FTR Films, and he's been helping out the Kandui Resort, promoting it. He told me if I came we could make some videos, surf the best waves in the world. So I worked and saved and went for it. It was a 20 day trip, but I kept extending it, and was even asked to be a surf guide."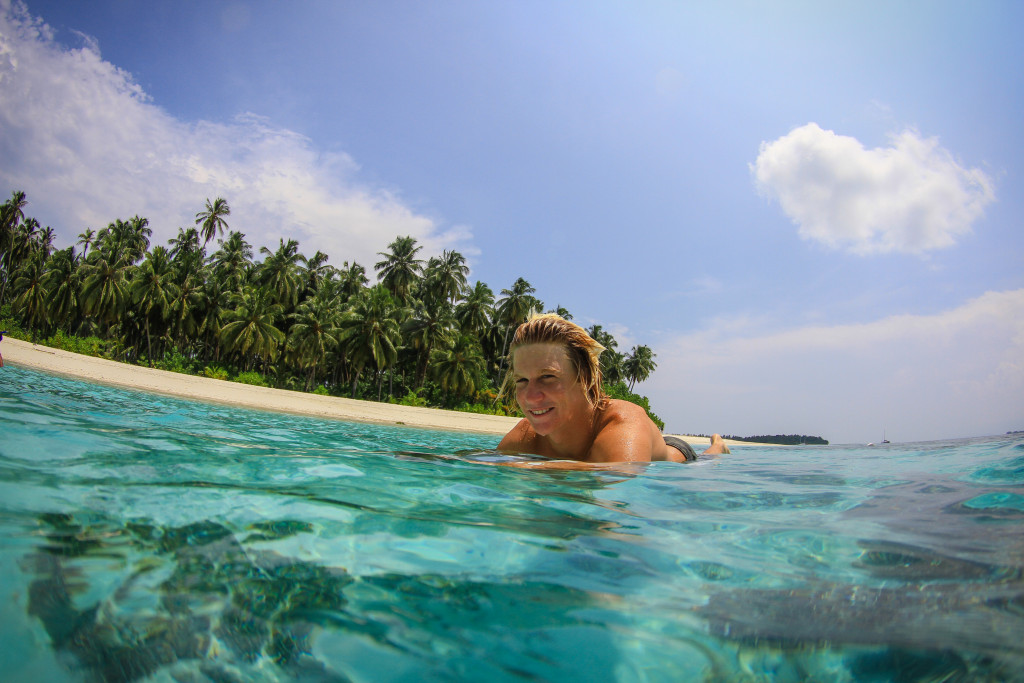 He spends the next few minutes animated. He talks about the waves (perfect), the food (don't try fast food upon returning to America after being out of the country) and the waves again (perfect).
But it's not just the trip to Indo that I came to talk about. He's spent his teenage years on the road, in airports. Instead of schoolbooks, roadmaps have been his lesson guides; safety has counted as his pass or fail grade. I want to know more.
He's now leaning back in the chair, full and content. He pauses. Then begins: "We're always so worried about material things, like what if I had no money, or if I could do this or that. By traveling, I've learned more and more to live in the moment but not be completely blind about what's going to happen in the future. So many things used to matter to me:  type of car, nice clothes. My view of what people thought of me, along with that materialistic view, left. I used to worry about that, but now it's all good. Seeing other cultures, appreciating them, that made me happy."
He continues: "I'll always have these vivid memories, like going on surf trips, seeing new places. Those memories are stronger than thoughts of the things I own. That's way cooler than having a nice car. But at the same time, there are still so many places I haven't seen. I have so much more to learn."
It grows quiet. He starts fidgeting with design markings on the dinner table. The rain seems to continue softly falling outside, and his parents have disappeared after cleaning up after dinner. My thoughts shift to the lackluster week of surf we had. "You've seen so many different places other than South Florida," I say. "We get waves, but not the best, and it has to be hard to practice without consistency. Why stay here?"
"It's home," he says, without a hesitation. "And it doesn't need to be a place that everyone makes it, or a place where everything is going for you. I'm not saying I'm one of these people who don't want to leave – I love leaving Florida but I love coming home at the same time."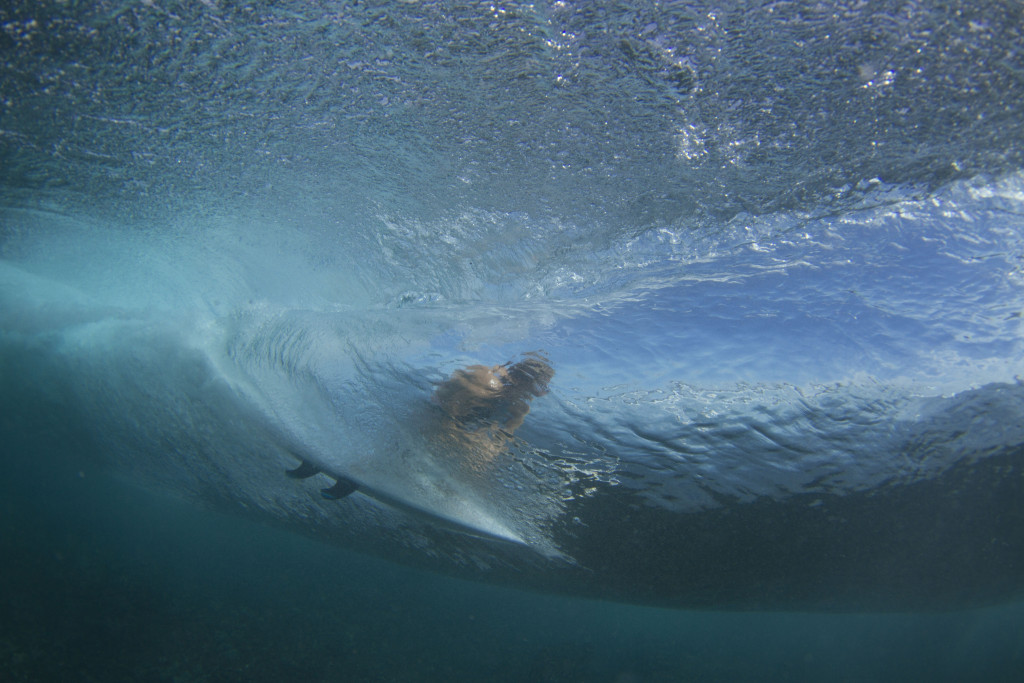 I make a quick mental connection. "Weren't you in California last year for the summer? I heard some noise that you were competing…."
"Yeah I was, staying with some friends and doing the contest deal. I lived in Newport, and worked at an Irish pub called Malarkey's bar." We both laugh.
"I lived there too," I say, "working with Surfing Magazine, like 10 minutes from you. It seems like everyone here is always talking about trying to get out there. Trying to make it out there, however you want to define it."
He nods. "I just had this tunnel vision last year, doing so many contests and I realized that all I wanted to do surf big waves. Get barreled. I used to think that I had to be pro. But now I know I'm going to surf no matter what, and I'm going to have fun no matter what, even if it's pushing a kid into a wave. It's a win win. If surfing is just a phase, I'll just look back on it as some of the best times of my life while growing up. I have no fear of not making it, but at the same time I want to make it. And to make it further, I just have to catch crazy waves and have fun."
I can't hear the rain anymore, because I'm wrestling over how Nathan, at only 20, has such a logical and calm outlook on the surf scene. Although you can make it, Florida isn't a path of choice for aspiring pros. Kelly Slater and CJ Hobgood, both world champion Floridians and still in, arguably, their prime are the outliers, but other than that, top tier pro contests are void of Floridian talent. The pro surfer's path is that of success and failure, with little gray area. But Nathan is walking his own direction, perhaps inspired by South Florida freesurfer Pete Mendia. An hour earlier, Greg showed me a framed photo of young, baby faced Nathan, standing with Florida born and bred pros Cory Lopez and Peter. Standing with them was a familiar face that's now etched in the hearts of the surf community: the late Andy Irons.
"When I was young, I was surfing Hobe Sound and Pete came up to me and asked if I had a sponsor. I said no, and he mentioned that I should ride for Billabong. Since then he's taken me under his wing and really guided me, and so has my uncle, Scott McCranels."
Then the sponsors flowed, I realize. I remember that on his 5'9" foam resume currently lies stickers for Billabong, D'Blanc, Webster Surfboards, and of course, Scott McCranels Orthodontics.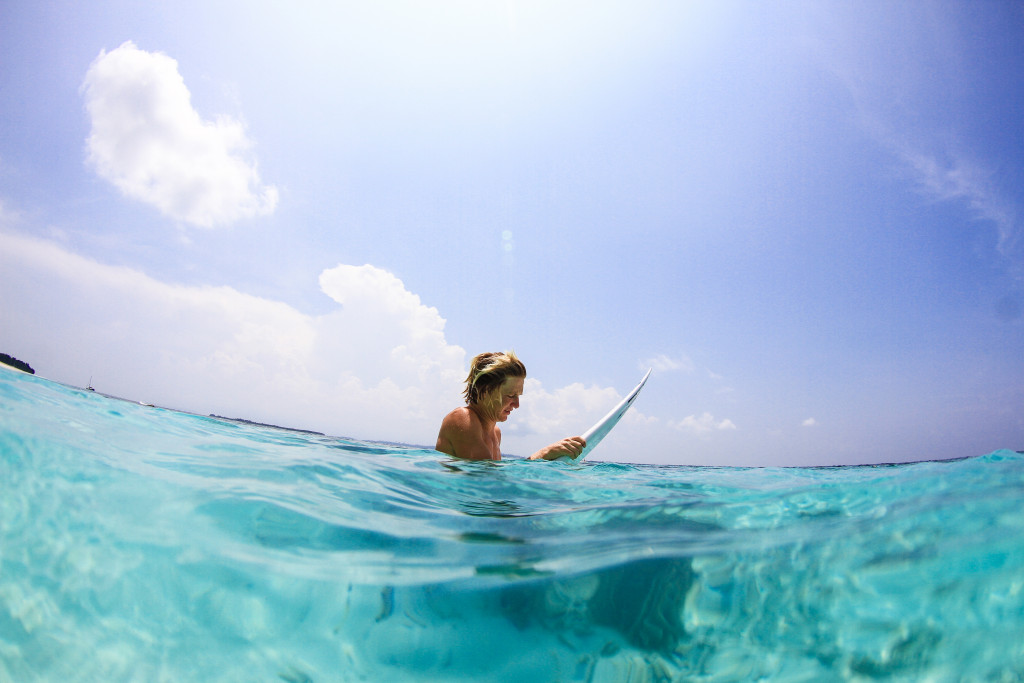 It's past 11 p.m. now, and there's no way Nathan's going to stay up much longer. I think he has to work in the morning. Same goes for me. "So, any surf trips in the works?" I ask.
"I really want to surf more in the Caribbean, even Micronesia. But I'm trying to set up a trip to Ireland in November," he says. I'm jealous.
We make chatter about surfing together in the future, and I leave shy of midnight. Outside of the Behl house, the concrete is still wet. Even slippery. Carrying my briefcase in my right hand, I carefully move towards my car. But I'm not paying attention to the slippery ground, because I realize a rare find: it doesn't matter if Nathan wakes up tomorrow in Ireland, Indonesia, or in Tequesta, it seems. Or if he surfs 2-foot slop at the Juno Pier, 4-foot clean at P-Pass in Micronesia, or 6-foot Pipeline in Hawaii. None of that matters to him. Tomorrow, he's waking up happy, waking up content. Evidence that his choice is not just a mind set, but a way of life.