Florida Based Brand with an Ocean-Minded Approach
Photos by Bajío
This New Smyrna company is gaining a reputation as the clearest fishing sunglasses on the market. We can vouch from testing them ourselves and you can test that theory at Blueline Surf & Paddle Co., but in the meantime, let us share some background into the brand and their values.
Founders Al Perkinson and Marguerite Meyer are building the brand against the current — doing things their way. Going against the grain. Taking the high road, if you will. The privately owned company assembles their product in the U.S., using sustainable materials and donating portions of profits to charities. And, of course, the sunglasses are crafted specifically to fit the needs of the niche they market to. As an angler himself— and after being CMO of Costa-Del-Mar Sunglasses for 12 years years — Al knows his audience and has honed their product.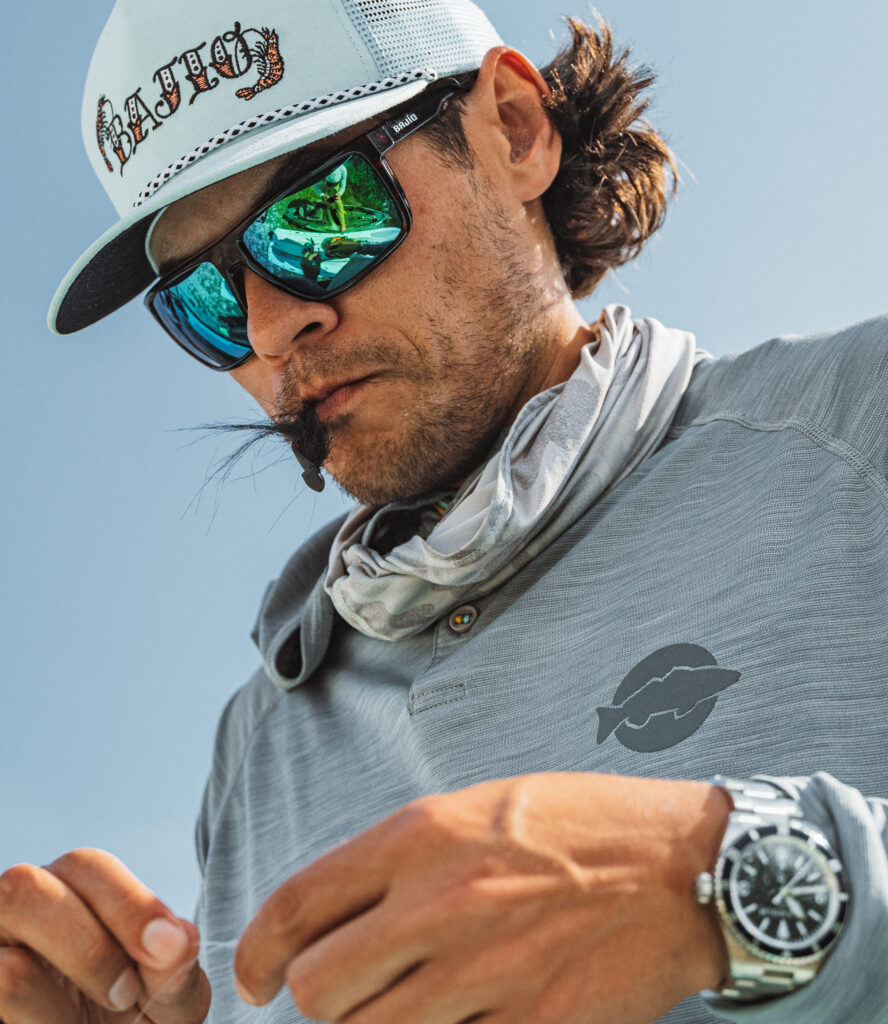 "When Marg and I decided to start Bajío, we made sure that the company's mission aligned with our own personal passions. We wanted to make sure that we were inspired to go to work each day. We love saltwater fly fishing, and we have a special passion for getting young people out fishing and into conservation," said Al. The company is carbon neutral, and they support multiple conservation groups such as Captains For Clean Water and Coastal Conservation Association (CCA) Florida. Both groups were created to bring awareness to coastal communities, keep lawmakers accountable and enact changes that will ensure cleaner water and sustainable habitats. Another of Bajío's efforts occurs in Xcalak, Mexico where the beaches experience a large buildup of seaweed. Bajío funds the cleanup and transportation of the seaweed, which is later turned into fertilizer.
When it comes to the products themselves, Bajío has just as high of standards. The sunglass frames are made from castor plant, rather than nylon. The castor-based resin is biodegradable and stronger than nylon-based frames. The lenses are crafted with their patented LAPIS technology. This technology blocks 95% of bad blue light while retaining the blue light that adds to color and clarity — all so you can spot more fish!
The styles are designed with the same intention and there's a story in every pair. The Vega, named for Alejandro Vega Cruz — or "Sandflea" — the grandfather of fly fishing in the Yucatan, are a tight lined design that hugs your face and blocks any stray light trying to bypass. The Stiltsville, named for a flat known for bonefishing, are crafted intentionally to go from behind the rod to in front of the bar. With vented nose pads, full-wrap frames and 21 color combinations to choose from, they're a great staple for your fishing bag.