To Inspire Every Breath for Those Who Suffer with Cystic Fibrosis
By Darien Davies
For Travis Suit, it's all about fighting for the cystic fibrosis community and families. He feels that he owes everything to all of the "CF Warriors" who have come and gone, fighting every day, for the future of cystic fibrosis. This path is something that he never thought he would be on, but if you're Travis, you think big change, big impact and big result.
In 2011 when his daughter Piper was 4 years old, she was diagnosed with cystic fibrosis after several bouts with chronic sickness, which eventually led to a case of walking pneumonia, which is what ultimately tipped off the doctors to test her for CF.
"When your child is diagnosed with a terminal disease, it can be very overwhelming, and really cast a dark shadow of doubt on life," said Suit, 35. "It took me two years to really get over the initial diagnosis and start to understand the CF community and figure out a way I could leverage my skillsets and experience to create something to help contribute to making a difference."
That he did. He and three other guys (one paddleboard coach, one eager community member, and one best friend who had never set foot on a board) paddled the first Crossing for a Cure in 2013 merely as an idea to not only create a means of promoting the health benefits of the ocean for people with CF, but also as a way to fundraise for the Cystic Fibrosis Foundation.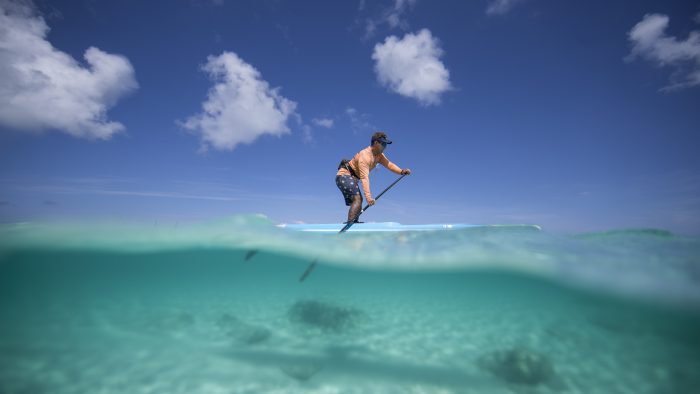 "When we did the Crossing the first year, I really had no intention of it becoming an annual event. However, after a few more years of our family and Piper going through some really challenging times with the disease, including three long-term hospitalizations where Piper ended up with a feeding tube and long term IV port, it dawned on me that there are so many other CF families out there going through the same thing," Suit said. "There is very little support for the families, which is why, in 2017 we relaunched the Crossing event and opened it up to the public to participate and fundraise. We also launched Piper's Angels Foundation that same year and have never looked back."
There is absolutely no need to look back when you consider the massive change that the Foundation and supporters are bringing to the CF community. The mission of the Piper's Angels Foundation is to support and improve the lives of people in the cystic fibrosis community by raising awareness through education, offering life expanding activities, providing urgent financial support, and funding critical research. The event, now called The Crossing for Cystic Fibrosis (X4CF), had four paddlers in 2013, 34 paddlers in 2017, 100 paddlers in 2018, 220 in 2019, and they're aiming for 400 paddlers in 2020. Together, they've gone from $15,000 in fundraising to more than $635,000 in just a few short years.
The event itself is a sight to see, too. All participants arrive in Bimini, mostly by boat, early in the week on Wednesday. There's a few days of fun in the sun with a structured itinerary that includes check-in, a pre-party on the beach, movie night, mandatory safety briefings, scavenger hunt, and socializing. They then prepare to leave at midnight on Friday night in the dark. A lot of participants take it easy not trying to over exert themselves before the big day, but others, including the captains and crew, go out fishing, diving, snorkeling, and paddling in the beautiful waters of Bimini.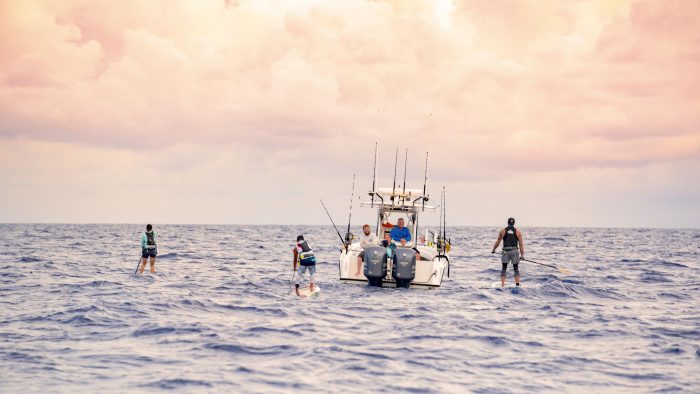 After what is likely to be the longest day of the participants' lives, out of sight of land, and on the open ocean paddling for 12 to 16 hours across 80 miles, the group is welcomed back home to Lake Worth Beach in Palm Beach County where there is a huge "Beach Landing" event that takes place. There is an epic finish line crossing, music, vendors, sponsors, and a lot of emotional friends and family waiting for their loved ones who have survived one of the toughest events in the world.
"There is a kaleidoscope of feelings you experience on the Crossing and it can be an emotional rollercoaster. At times you're feeling scared, excited, defeated, humble, grateful, and victorious, all in the same day," Suit said. "It's a major commitment of time, training, and resources to make this Crossing as a participant, and we want every single person involved to know how grateful we are they step up in such a big way to help us fight for our CF families."
For the 2020 Crossing, they'll be taking over the entire island of Bimini, filling every hotel room and boat dock, which, Suit says, provides a rare event opportunity where more people creates even more excitement and intimacy. They are also aiming to produce a full-length feature educational film documentary about the event and the benefits to the ocean for people with CF, and Suit is excited to have everyone be a part of that.
Piper, who is now 11 and hasn't had a long-term hospitalization in almost two years, joins the supporters every event at Bimini, and Suit says that it's a very proud experience they share in watching the event and community around the organization and mission grow. "As her father, I am deeply and sincerely proud of her maturity, patience, and spirit in how she handles her CF, and also being a mini celebrity to everyone involved. She takes it all in stride and is our guiding light," Suit said.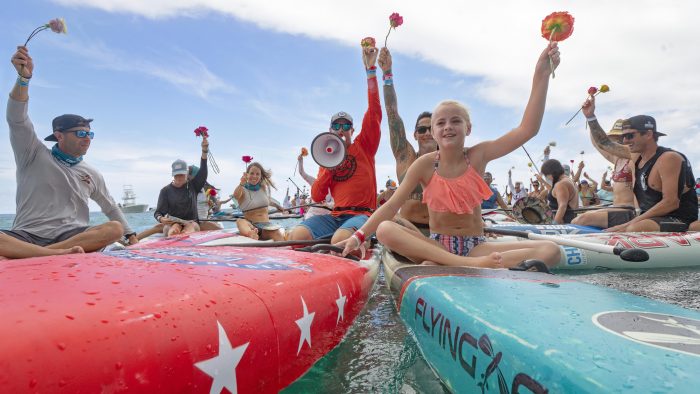 Suit hopes that the event becomes sustainable as a world class event that empowers people to improve their lives through a big challenge while creating further sustainability for the organization and programs as a platform of advocacy for the CF community.
"Cystic Fibrosis has taught us three valuable lessons: to be bold in the face of fear, cherish the good days, and inspire every breath. These are lessons we take to heart because we aren't just inspiring those in the CF community, we are leveraging the inspirational stories of these amazing CF Warriors to inspire everyone to live a fuller life," Suit said. "We are taking something that can be so incredibly difficult and heartbreaking, and doing our best to make the most of it, and that's not just a recipe for CF, that's a recipe for life. When your perceived problems become your gifts, you've transcended the suffering into success."
If you're able to get on board for those who can't, and make a change for those who need it, mark your calendars for Father's Day weekend, June 20, 2020, and be a part of the legacy.