Hurricane Party, Freakin' What They Feel
by Darien Davies
Photos by Roberto Badillo
If you can understand and fully decipher their music, you're missing the point. The lyrics just sort of happen, the shows are a product of the energy, and the beat never stops, which produces a sound that can't easily be duplicated and never fully imitated. Meet Hurricane Party.
Rick Colado, aka RickoLus, and Jacques Bruna, aka Bleubird, have been partying across the globe for about two decades but just recently collaborated to make some tunes together. In total, they've made one full record together and two limited edition cassette eps. "We've known each other for ages. We met through our mutual homie Astronautalis and would always hang with each other when visiting our towns on tour," said Colado, 39. "But we never had worked on anything together till a few years back. Jacques called me and was like, 'Yo, you wanna work on a song or two and just f*ck around?' That was how Hurricane Party started, just Bleubird and I f*ckin' around in my home studio in Jacksonville. After that it all came together so quickly, it seemed like we had always been a band."
Sure does. What started as an accident morphed into something entertaining that they both had a ton of fun doing. True to their form, they don't know really where they want to go, but are planning on getting back in the studio and seeing what happens. The goal is always to "keep the party going," but exactly what that looks like cannot be pinned down, much like their process of songwriting.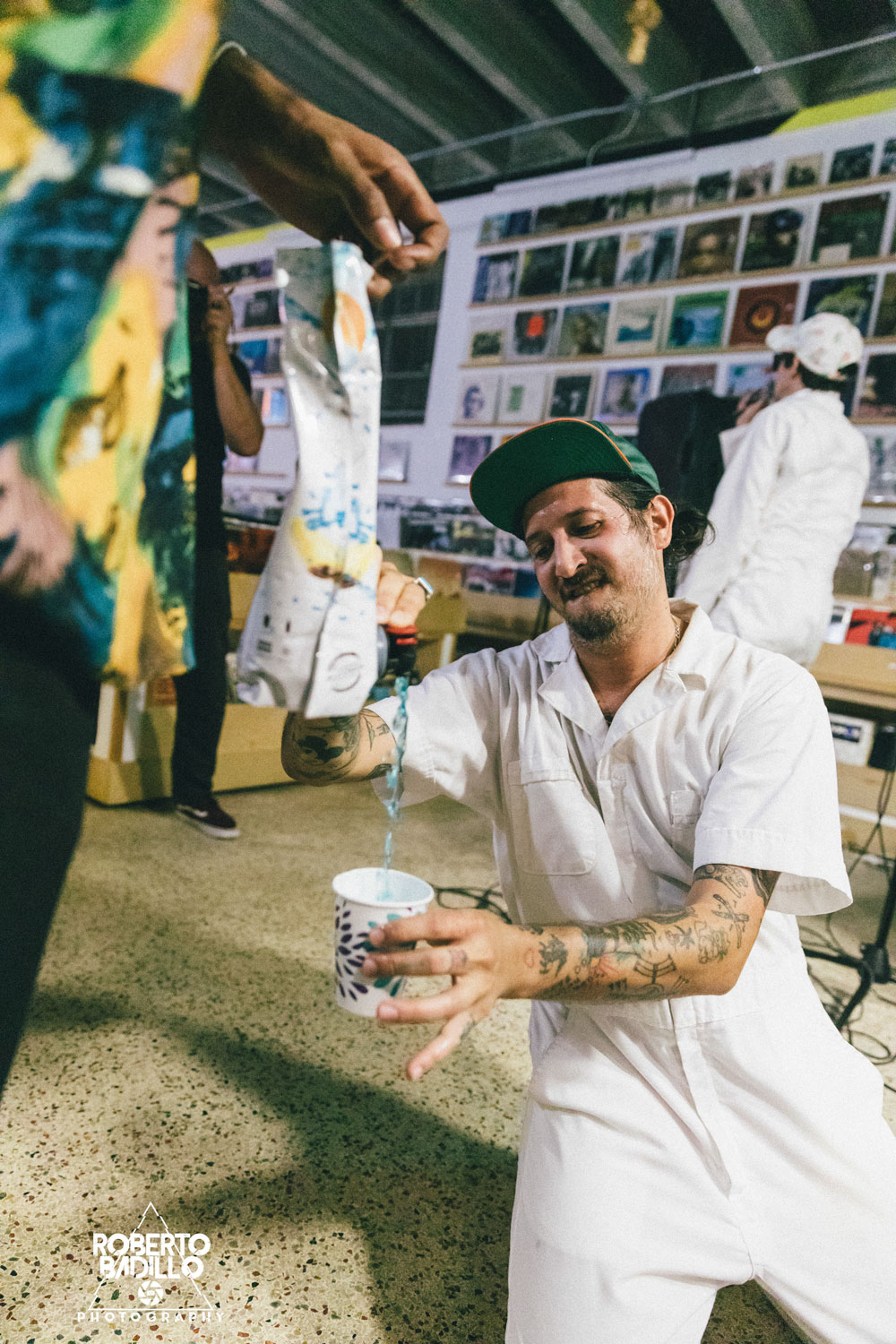 "It's always a surprise. Once we are working on something it doesn't take us long," said Colado, who says they don't try to do anything and just see what happens. "Like once we sit down and start, it's not a terribly long process. The ideas start owing and we hit it while the iron's hot."
Colado said one of their newest songs, Pamplemousse, was inspired by a sex fantasy he dreamed up while sitting in the Bach church (St. Thomas Church) in Leipzig, Germany on their first Euro tour. LIVN was inspired by getting high in the woods and the movie Bio-Dome with Pauly Shore. "I don't know, [the ideas for songs] just happens. That's a complex thing to try and break down," he said.
But don't let their jumpsuit-wearing, crazy ass videos or sometimes non-sensical lyrics fool you. They both have plenty of music credit under their white jumpsuit elastic waistlines. "We both learned our respective crafts on our own as a couple of street artists," Colado said. "Bleubird with the raps and me with the piano, guitar and drums. Put it together, and you get Hurricane Party."
So WTF is a Hurricane Party? If you're a Floridian who's felt the fear of an impending storm, you know all too well. While most people are gathering batteries, candles and water, the party-goers are stocking up on beer, glow-in-the-dark anything and more beer, and actually sweat it out on purpose creating all the kinky kinetic energy possible.
"We are both born and raised in Florida and have lived with hurricanes our whole life," Colado said. "Hurricane parties are just a part of our environment and our history, and seemed a fitting name for what we were doing and how we felt about what we were doing," which is "a party where you're sometimes up in your feelings."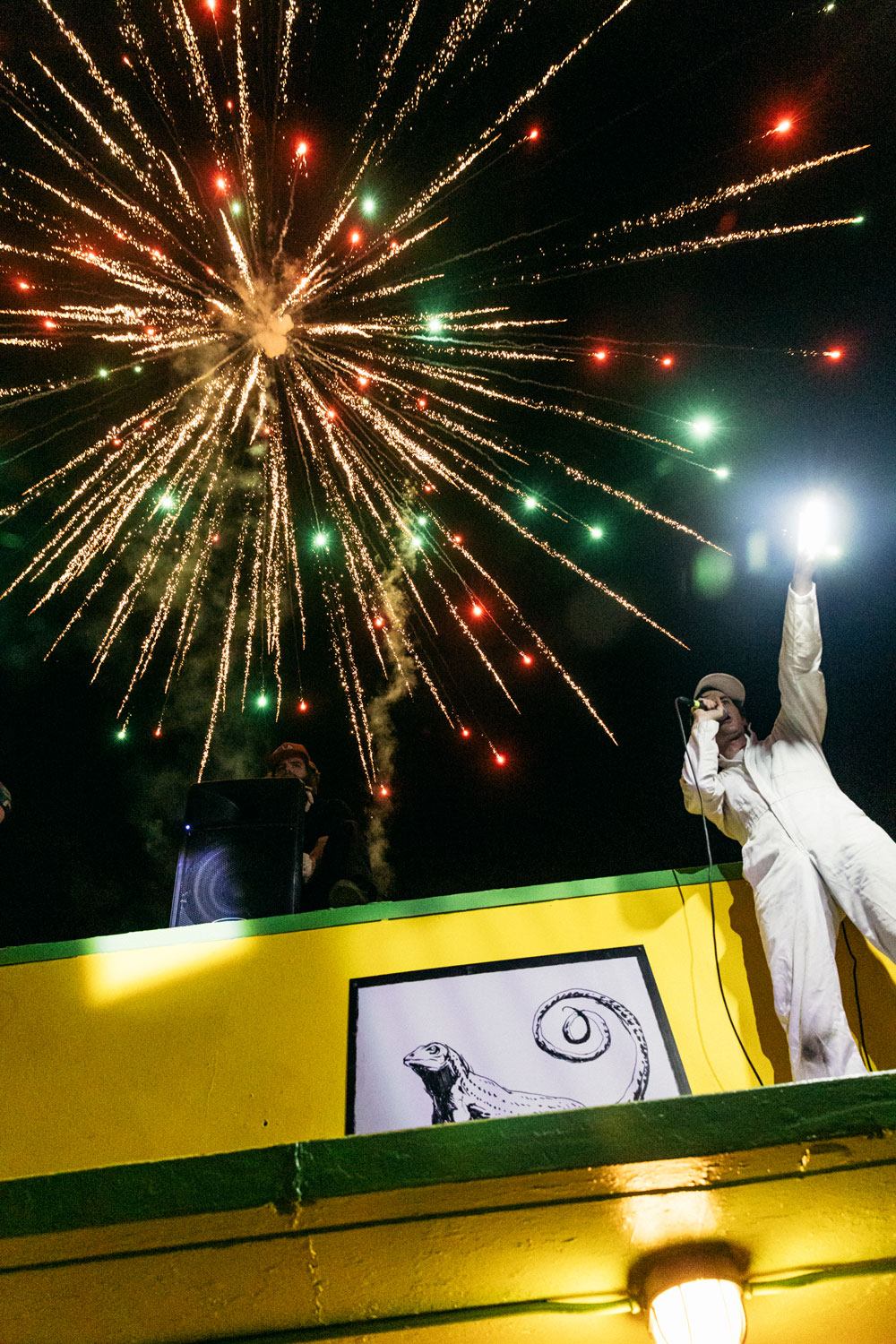 Their most memorable performance was their Florida tour for their "Juice" album release. "The crowds were wild, the energy was palpable, our crew was tons of fun and the finale in Fort Lauderdale was on the roof with the crowd pouring out into the street and we had big ol' reworks blowing up behind us. Just wild stuff, never been to shows like that, much less played one," Colado said. And for these characters to be impressed, you know it had to be one damn good time.
A damn good time they're planning on continuing. "Man, our days are never the same," said Colado, who says they both party full time and the band is the side party. "Between playing shows, touring, booking tours, promoting, working bar shifts and side hustles, it's a never ending grind/party. It can be exhausting but we love it."
They're hitting the road solo this spring but are planning to join forces again for a Hurricane Party tour of Florida in the summer. So keep your earbuds primed for some more musical madness from this dynamic duo, who can't stop, won't stop bringing you the fun.
"Hey, it's a Hurricane Party. Hey, go and tell everybody."