Hooking craft beer drinkers one pour at a time
By Nicole Danna
Photos: Chris Carter
Riverside Market founders Julian and Lisa Siegel had been looking for years for the perfect location to open their own brewery. When they finally found the old, baby blue building just off the train tracks at 280 S.W. Sixth St., there was no looking back.
The couple opened Tarpon River Brewing in February 2018, but the idea to bring the brewery to Fort Lauderdale began much earlier when they partnered with Native Brewing Company and Fresh Beer founder Adam Fine to manage Craft Beer Cartel. In addition to being a craft beer market and home brewing center, the trio used the space as a nano-brewing facility for test recipes that would later appear on Tarpon's tap lineup.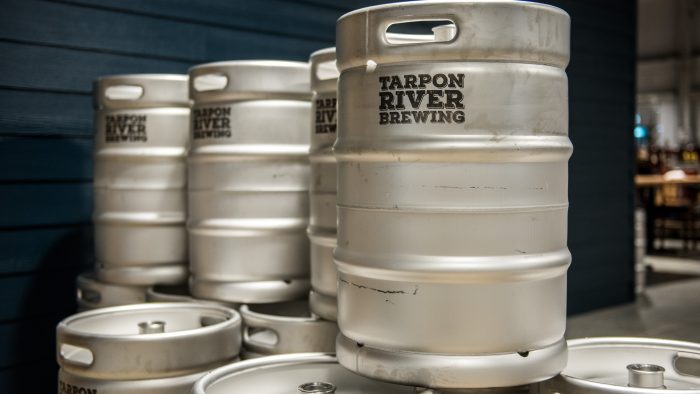 Some might recall Julian's original plan to name their project New River, which was an ode to the city's New River, a main artery that travels through Fort Lauderdale. It's also a name Fine used in 1999, but a previously trademarked New River Pale Ale prompted the change, which includes a marriage between The Restaurant People founder Tim Petrillo's Tarpon Bend brand and Julian's growing family of Riverside Market beer-themed eateries.
Today, Tarpon River Brewing head brewer Daniel Kastner is the star of the show. An avid home brewer and graduate of Miami's Master Brewery Academy, he provides a constantly rotating selection of brews for the brewery's Cracker House restaurant and tasting room.
"This brewery gives us the freedom to explore everything from barrel-aged ales to crisp, clean lagers and mixed-fermentation sour beers," said Fine, who is known as a godfather of South Florida craft beer not only because of his 20-year brewing history but also because he's the founder of the area's first craft beer distribution company, Fresh Beer, which later became Brown Distributing.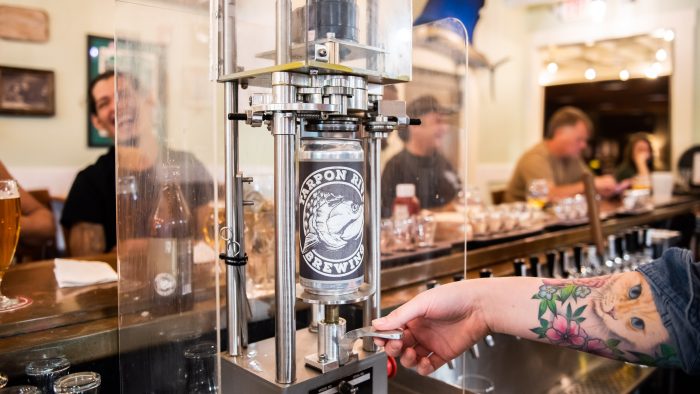 A total of 16 rotating taps offer guests a chance to taste everything from the Hopsta La Vista double IPA and Honey Love imperial cream ale to the Morning Express coffee stout and Fine's old-school Native lager.
One beer in particular has already earned accolades despite the brewery's short year-and-a-half existence: a 2019 gold medal from the Florida Brewer's Guild for Kastner's berliner-style Prickly Pear Zinger margarita-inspired sour.
Today, it's more than the beer that drives people in droves to Fort Lauderdale's fifth brewery.
"It's the epitome of what a South Florida brewery should be," Julian said. Each month a full calendar of daily events ranges from movie night and trivia to yoga and Zumba classes, even Taco Tuesday. An equally alluring live music lineup brings national, regional, and local acts to the brewery Friday through Sunday, featuring everything from a one-man-band to larger groups like the Coppertones, Deep Love, and Crazy Fingers.
Tarpon River's 11,000-square-foot warehouse was originally constructed as the Snyder Stables in the early 1920s, which was a historical space that once housed the horses used to help pave the roads that helped urbanize Fort Lauderdale. The result is a brewery with a distinctive Old Florida design that includes a 1,000-squarefoot house built with reclaimed and restored barn wood complete with a gift shop and a crowler-filling station, as well as a bar that serves a dizzying array of craft brews.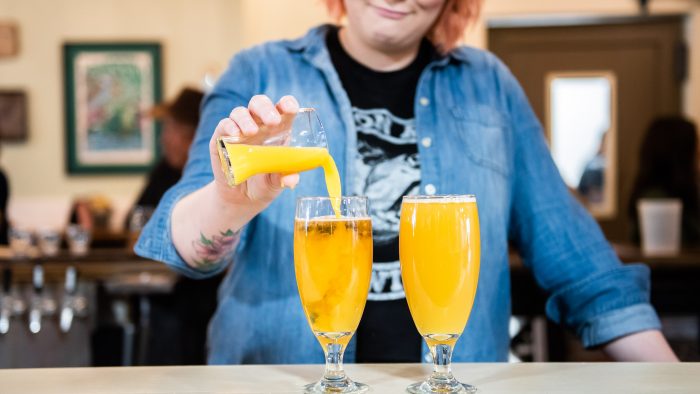 The in-house restaurant is one of a growing number of South Florida brewery's to offer its own brewpub-style menu of eats, yet stands alone as the one serving all three meals starting at 10am on weekdays and 8am on weekends, through lunch and dinner. Don't miss the brewery's Sunday brunch, served 10 am to 3 pm every Sunday, featuring unlimited mimosas (and beermosas) for $15 per person.
A few feet away, an outdoor patio exposes you to the tropical weather year-round, while a barrel-lined private event space is home to team brewing classes, weddings, anniversary and birthday parties, and pretty much any other celebration you can imagine at a brewery.
"Tarpon has a little bit of something for everyone," Julian said. "It's the ultimate South Florida brewery."
280 SW 6th St, Fort Lauderdale