Featuring Jeramie Vaine of Blueline Surf & Paddle Co.
By Darien Davies
Photos by Greg Panas
It looks cool (especially when you're balancing on your head), it's equally enjoyable as it is tough, and it gives you an opportunity to connect with water and nature. All you need is some balance, a board and a paddle, and you're well on your way to becoming part of the paddleboarding crew, which includes everyone from novices to professionals. If you're a longtime fan, or have only once stepped foot on — and quickly fallen off — a board, you know the appeal. So will the real SUP lovers please stand up!
"Stand-up paddleboarding is a full body workout, from our toes to our nose, literally. Most people think that paddling is an arm workout, when in fact it is core, legs and back. One of the first things that starts talking to us on a paddle is our feet. Our secondary muscles, smaller muscles, also receive a lot of attention on a paddle as the body is actively working to keep us balanced," said Jeramie Vaine, Stand Up Paddleboard Coach, Race Director and Blueline Surf & Paddle Co. Retail Store Manager. "The mental aspect can be the most rewarding as paddling helps us overcome fears, but it also provides a connection to the water resulting in a calming feeling."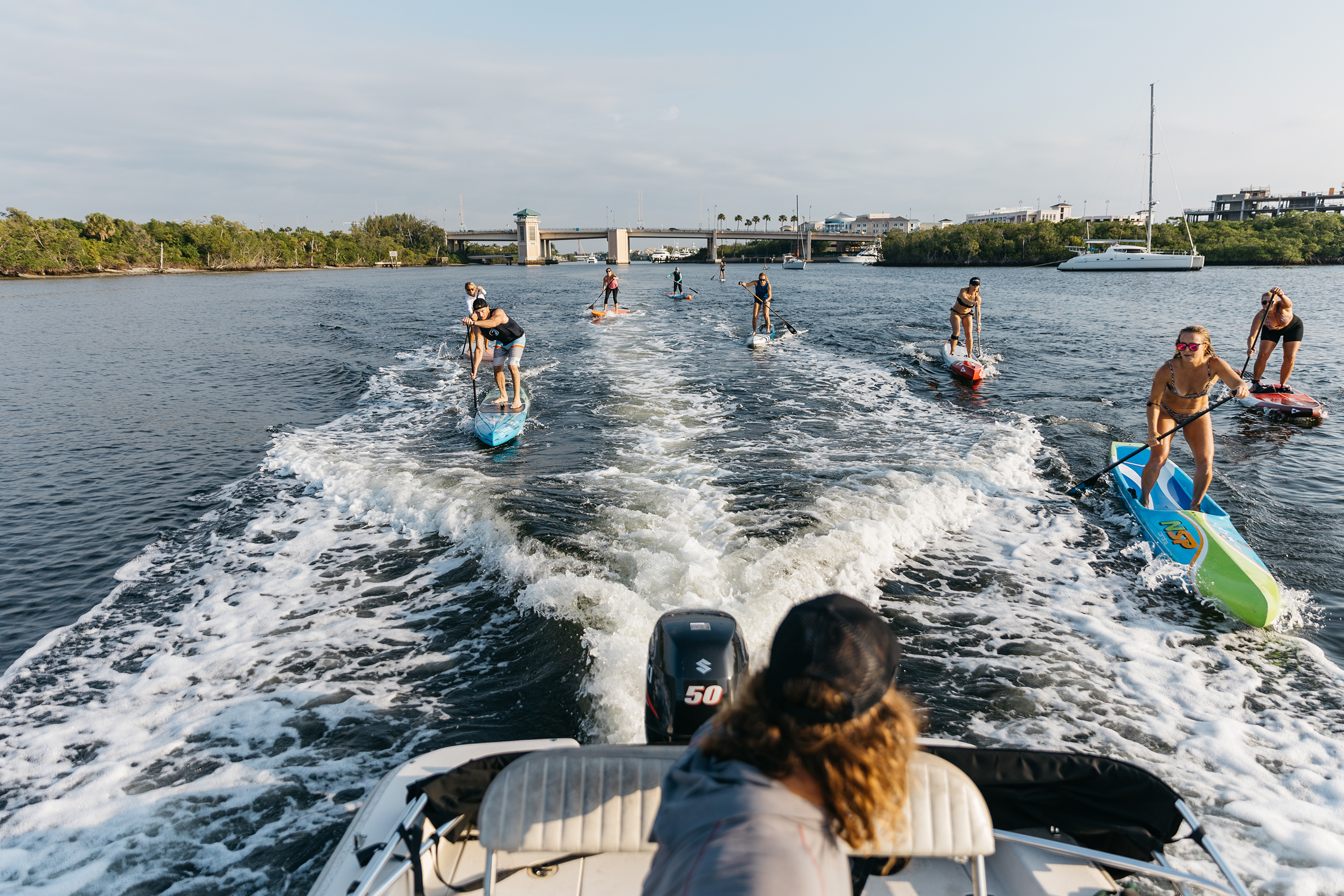 The beauty of paddleboarding is vast. Not only is it a great low impact and beginner friendly activity, but it can also be enjoyed as a party of one or with a party of paddlers. You can also set your own pace, zooming across the water or taking your sweet time — enjoying a purposeful or accidental dip at your leisure. Regardless, there's one guarantee, and that's that you'll have some fun while burning some serious calories and seriously working out your muscles.
For Jeramie, though, it's all about connecting with nature and helping others learn more about — and falling in love with — the sport.
"The paddle community here in Jupiter makes it easy to have fun at our community paddle events. Everyone paddles for themselves, some like to paddle fast and push the fitness, while others like to cruise to take it all in. By allowing everyone to share the water together a fun group experience is created, even if it is your first time paddling," Jeramie said. "One of my favorite reasons to paddle is being in nature and on the water. During a paddle wildlife may visit you providing a surreal experience."
If you want to kick it up a notch, Blueline offers a Tuesday Night Race League (TNRL) Community Paddle so that everyone can push their paddleboarding limits. Originally formed in 2013 after Blueline hosted a Summer Race Series, the TNRL now welcomes anywhere from 70 to 100 like-minded individuals to have fun while cruising along a 1-, 3- or 4- milecourse.
"There are plenty of people racing, but also a large amount of people just out for a cruise. Many bring their dogs and kids to ride along on the board with them," said Jeramie, who says the events helps to create new friendships in a fun setting. "We have seen many of our fun paddlers enjoy a few weeks of casual paddling and then join in on the competitive aspect, but by no means is this mandatory. All we ask is for you to have a fun time!"
The schedule changes depending on the season, so make sure you check Blueline's event page for the most up to date events. During the winter, November to March, Race League paddles take place once a month on a Saturday morning. Starting April 4, the regular Tuesday schedule (lucky for its namesake) resumes for the summer.
If you're not quite ready for the League, take the leap with the Eco Tours, which is offered as a way to connect with Jupiter's nature and waterways. The mellow-paced, Intracoastal-based tours take 90 minutes and cover two to three miles, with plenty of breaks to enjoy nature and some hidden gems. You can probably expect to see turtles, ospreys, snook, eagle rays and manatees along the tour, and possibly iguanas, dolphins and otters.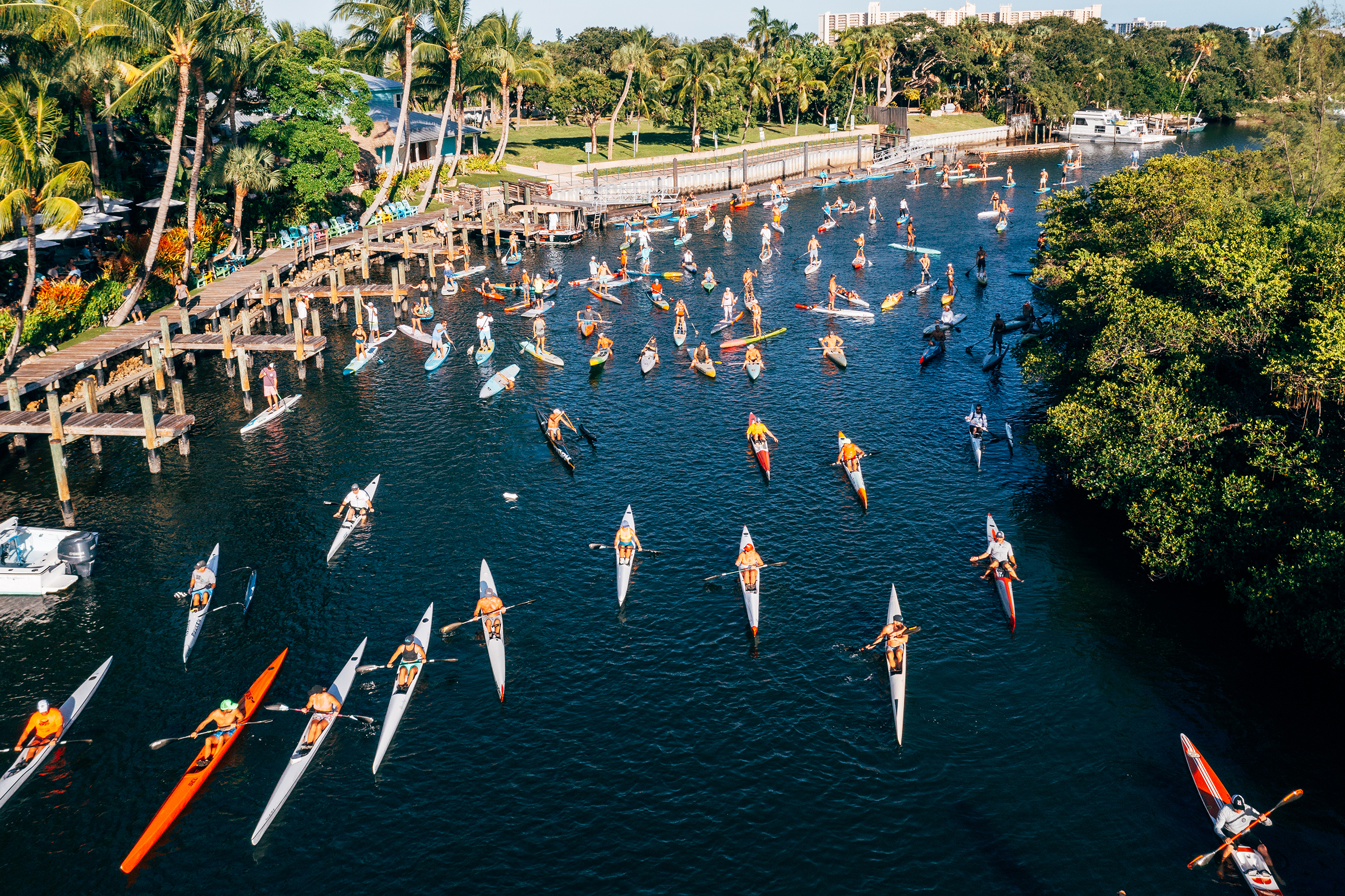 "Nature always keeps us on our toes with various creatures visiting on our paddle," Jeramie said. (See what he did there?) "Our guides all have unique backgrounds providing different experiences for our participants, but they all paddle often, keeping them 'in the know' for how nature is acting and what is happening in our waterways."
If you're still not feeling secure about taking the first step, Paddle Practice is what you're looking for. It's a great way to gain more experience and knowledge of paddling in a group setting that is very beginner friendly. Jeramie and his team go over paddle technique, turning, race strategy, how to read and understand the waters, and how to safely navigate around the Jupiter waterways.
"The hardest part is showing up. We often talk ourselves out of the experience thinking we may not be ready in a physical capacity. The reality is our group paddles have many beginners and we cater the experience to new paddlers as much to those with experience," Jeramie said. "One of the biggest things we work on is becoming comfortable on the Intracoastal so paddlers can venture beyond the flat water. The skills translate over to surfing, allowing people who always wanted to surf to catch their first waves."
Overall, Jeramie said that the paddle community is an "arms wide open" community, welcoming everyone to join in on the fun, whether a competitive racer, brand new paddler or someone new to the area.
The easiest way to join the fun is to call the Blueline shop at (561) 744-7474 or visit bluelinesurf.com. They'll make it easy to get started, get on the water and (most importantly) forget you're exercising.