Sweetwater in Boynton Beach navigates business amid COVID-19.
By Kayla Ziadie
Prior to the COVID-19 completely redefining normalcy as we know it, Palm Beach County locals knew exactly where to go for a stellar sip: Sweetwater Bar.
Sean Iglehart has owned Sweetwater in Boynton Beach since 2011, the area's first in craft cocktails. Nestled on Federal Highway, it features the largest whiskey and spirit selection in the Southeastern U.S., which means the sky's the limit (and one's tolerance) when it comes to creative concoctions. 
But the beloved bar's popularity didn't mean it was exempt from the struggles and shifts brought on by COVID-19.
Complicated Changes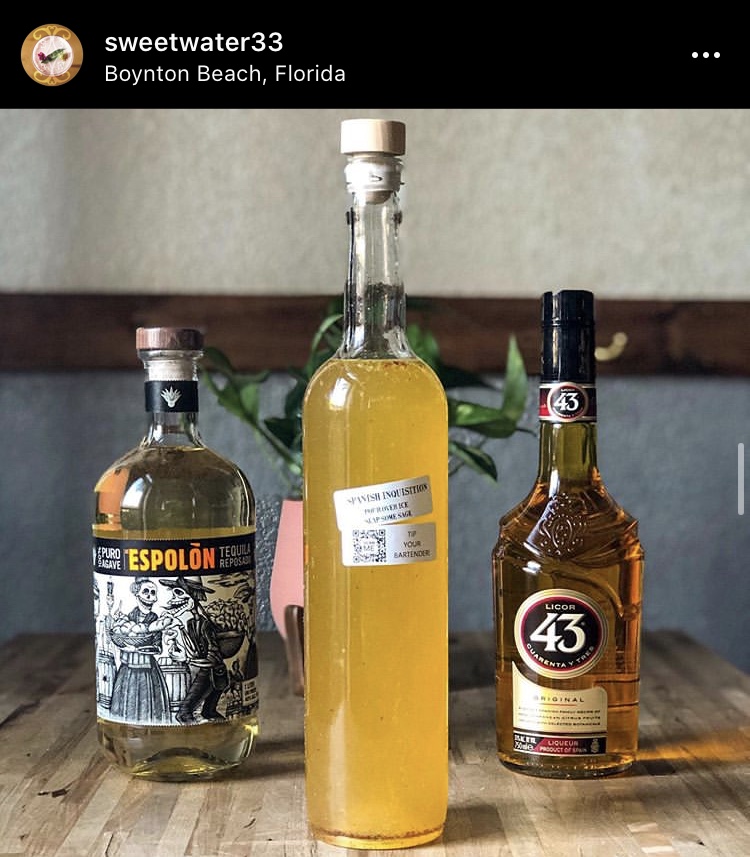 Sweetwater's long-standing presence meant Iglehart was working up to 80-hour weeks before COVID-19 hit, a genuine labor of love. The pandemic prompted the local haunt to do a full 180 with both current and future plans.
"It was definitely a drastic halt for me personally," Iglehart said. "We needed to pivot quickly, but we've always been extremely flexible at Sweetwater."
Before any other plans were made when Florida instated shutdowns, Iglehart's first move was creating a GoFundMe to assist his staff. After that was figuring out what to do with the seemingly endless supply of alcohol and food the team bought ahead of peak season in March. 
Always the best month for business, March signifies weeks worth of St. Patrick's Day festivities and hordes of spring breakers fiending to get their booze on. But with shutdowns in place, the Sweetwater team found themselves with a new challenge: an incessant amount of alcohol.
"We ordered accordingly, and we had an excess of product," Iglehart said. "Then I think it became real when the Delray St. Patty's Day parade got canceled. We were sitting on a ton of product…just gearing up for this parade." 
Bad and Boozy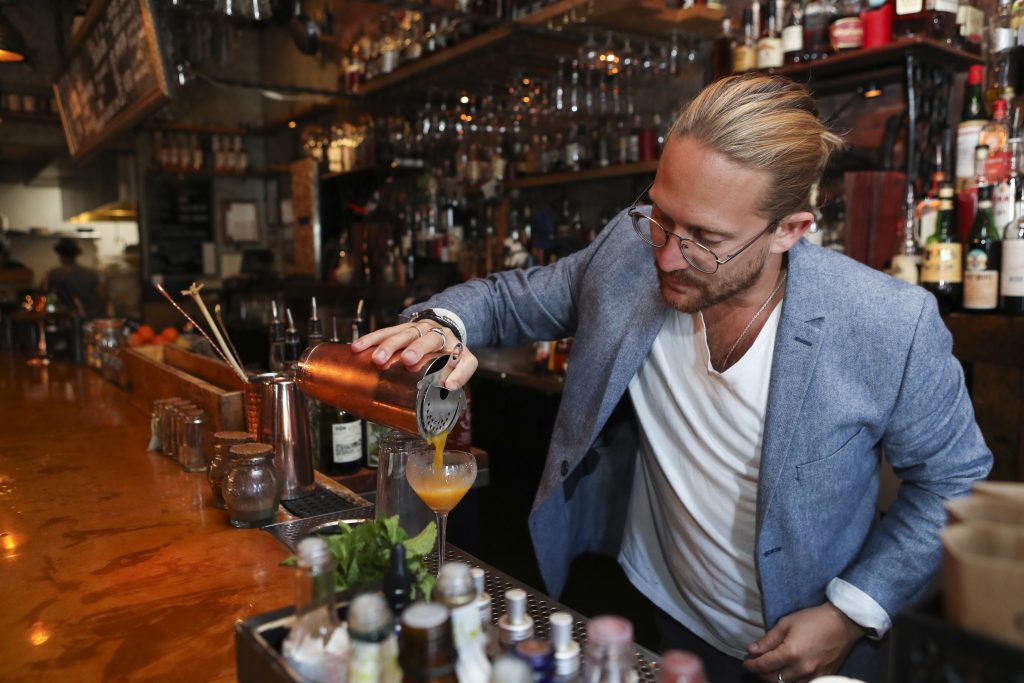 Iglehart implemented carry-out drinks around the end of March. Since alcohol stays fresh for a while, the St. Patty's stash meant it would easily sell online, but the same can't be said for food.
"Fortunately, we've had the ability to use a lot of that product throughout the carryout/take-out program," he said. "As far as food goes, the first thing we did was cook a lot of our food that we couldn't preserve. We just donated that to staff, friends and family, and other workers in the industry."
Thanks to Iglehart's degree in design, coming up with an online menu for Sweetwater's to-go drinks only took a couple of days to create. He crafted a pick-up menu on a Square platform, ordered bottles and created brand new to-go labels for pre-packaged cocktails and flights.
To keep the taste of Sweetwater's adored aperitifs as consistent and delicious as in-person pours, Iglehart goes as far as showing customers exactly how to shake or stir their drink.
"I'll give recipes on anything that I create, but I always tell people it's like a massage," he said. "It always tastes better when somebody else makes it, when somebody else does it."
High Hopes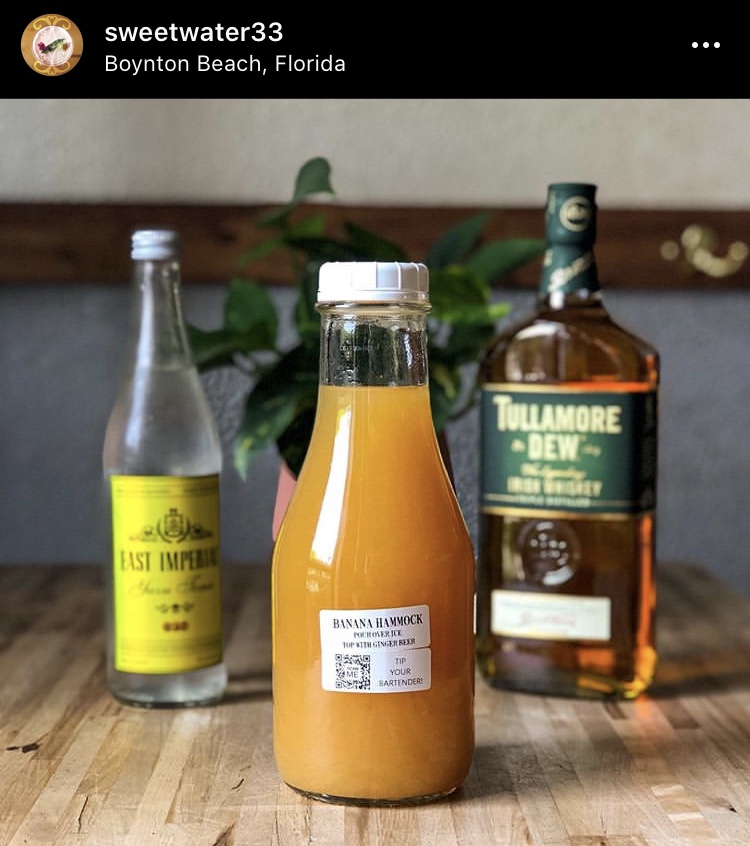 Its established reputation for luscious libations meant Sweetwater was one step ahead, thanks to its supportive customers and familiarity in the community.
Unfortunately, newer businesses in the area may not have had the same stroke of luck and support that graced Sweetwater. Shopping local and buying take-out from small businesses is important, Iglehart said.
"Buy [local businesses'] hats, shirts, cocktails to-go, gift certificates," he said. "At least try to go out at least twice a week; be safe and wear your mask. Support your favorite local spot, [and] maybe cook to save money for the other days."
Sweetwater's local marketability meant that when Phase One was announced and restaurants reopened, people beelined to the front door. Despite its limited menu, both drinks and business have consistently flowed.
"Right now, we're very close to normalization to our revenue from last year," Iglehart said. "And I don't know if it's because a lot of places are closed down, or if it's just people wanting to get out since they've been quarantined for months."
Even with Florida's coronavirus cases rising daily, some customers insist that Iglehart's employees take off their masks because it's hard to hear them. As frustrating as these encounters and the current state of the world may be, Sweetwater ensures safety measures are in place for the protection of both employees and patrons.
"I see a lot of cases of recklessness, like abandonment, of the regulations…people don't really care," Iglehart said. "We're just trying to do everything we can to protect ourselves."
Sweetwater Bar, 1507 Federal Highway, Boynton Beach; 561-509-9277; sweetwater33.com; @sweetwater33