SunFest with the Best
By Darien Davies
You know what summer smells like? SunFest. Well, to be specific, it's loud music, louder screams, glitter, sweat, beer, grass, suntan lotion and more beer, on repeat. SunFest is back, baby, so plan for music and plan for fun.
Regardless if this is your first go at being a SunFester, or have been so often you could be a tour guide, here are all the deets that you'll need to know so you can SunFest like a pro.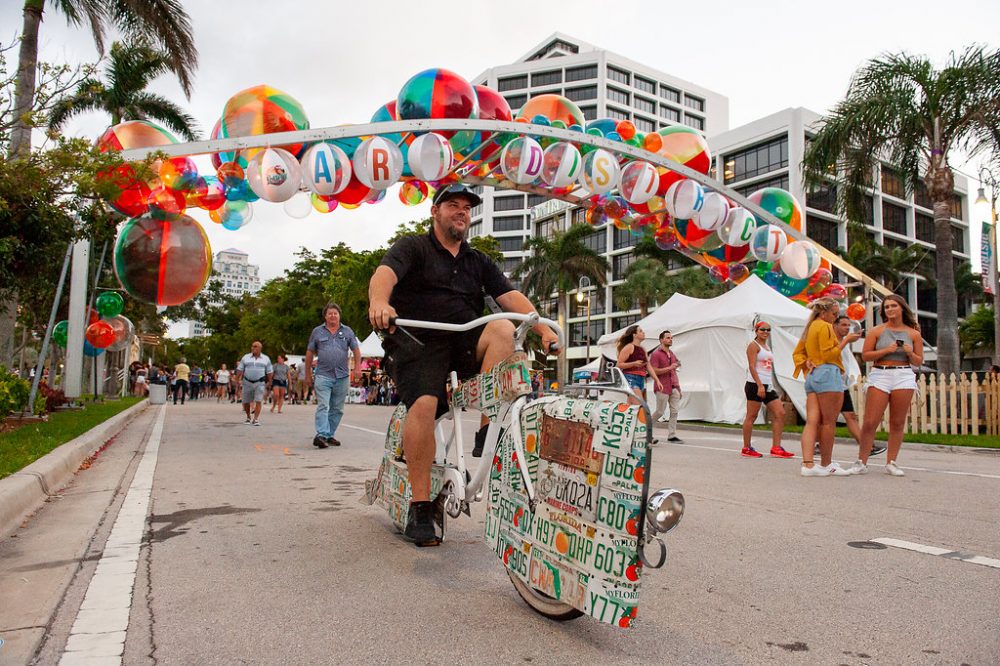 General info:
SunFest is a four-day music event held May 2 through 5, 2019 in downtown West Palm Beach along the Intracoastal Waterway. The festival grounds are on Flagler Drive at 100 Clematis St. Parking is a PIA but good news for you, there's a few options. If you plan ahead, try and arrive early to score a spot on the street or in a garage, or secure pre-paid parking through the SunFest site. If you prefer to travel without responsibility, the good people at Brightline are offering late-night trains from West Palm Beach to Fort Lauderdale and Miami, so check the train schedule for what works best for you. Or, if you're privy to a boat or know a friend who has one, you can drop anchor in the Intracoastal in front of the SunFest site and hop on the water taxi to the waterfront gate for a cool five-spot.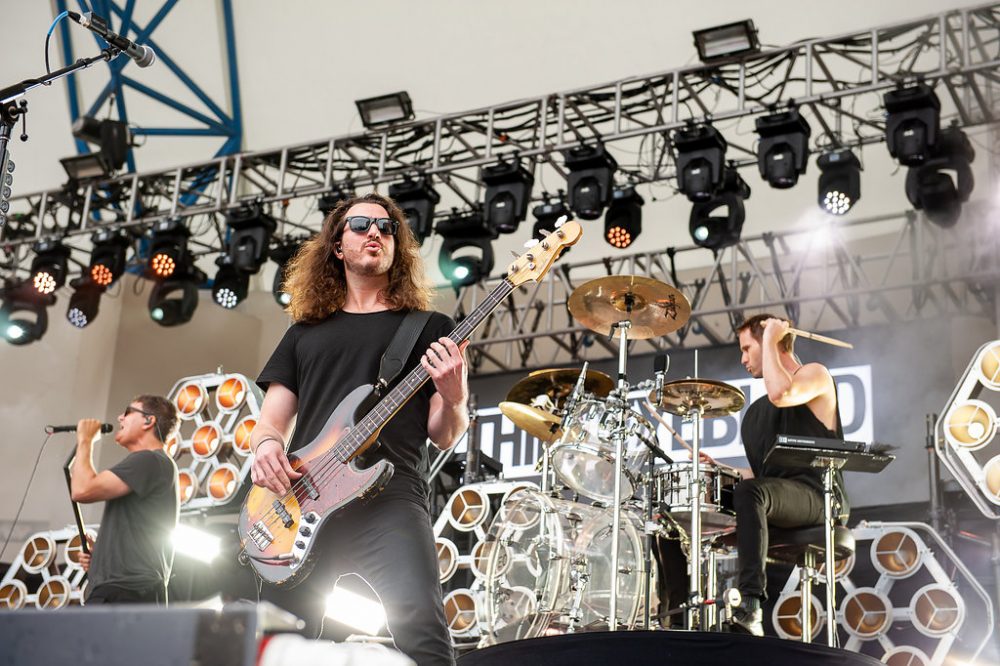 Money:
One word: bundle. A single weekday ticket will set you back $47 when purchased in advance, but a two-day pass is $73, and the four-day pass at $94 is an even better deal. Ticket prices increase on Sunday, April 28 so make sure you secure your tickets so you can save some green for the drink machine (your gullet).
The Festival is open Thursday, May 2 from 5 to 10 p.m.; Friday, May 3 from 5 to 11 p.m.; Saturday, May 4 from 12 to 11 p.m.; and Sunday, May 5 from 12 to 9 p.m. Make sure to stick around for the fireworks show at 9 p.m. on Sunday because there is no better way to round out a little Sunday Funday than with a good ol' fashioned fireworks display.
You can use major debit/credit cards (MasterCard, Visa, American Express and Discover) at all gates, barges, and drink and food locations. There are also ATM machines available but not only is there a $3.95 transaction fee, you'll also waste time in line instead of being in front of the stage.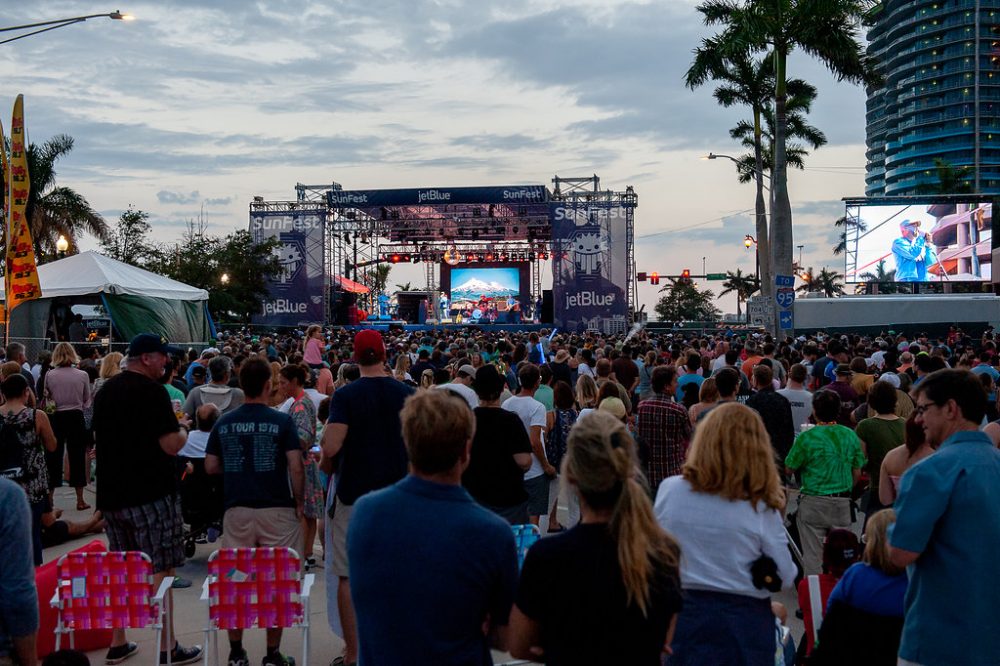 Map:
There are three stages, two floating bars, an Art District, food hot-spots and beer vendors located throughout the entire venue, so everything is right at your fingertips. While there is a bit of walking distance in between the three stages, you'll do fine if you plan your route so you don't miss any of your favorite bands. 
What to bring:
Let's just say that the list of what you can bring inside is shorter than what you can't. The basics you can bring in include blankets, small bags/backpacks, umbrellas, non-professional cameras, and the like. What you cannot bring in includes coolers, outside food or beverages, glow and laser products, water guns, weapons (duh), drones, Frisbees, etc. Use your head and you'll do fine. And, don't reference that guy on YouTube who buried vodka weeks before a concert and dug it up because that's just a recipe for disaster. I'm pretty sure shovels aren't on the "no" list, but will probably be once you show up with one.
Party On:
It's ain't a party until that first beer is opened, ya heard. If you want to sling back a few cold ones before heading into festival land, Clematis is calling your name. O'Sheas Irish Pub is always available for a good time, as well as Roxy's Pub, Lynora's, and Rocco's Tacos. They know that thousands of music lovers are heading into town so will be open pre- and post-show for your drinking and eating pleasure. Let's face it, ending the night at Grease Burger Bar with some bourbon and a burger might be one of your best decisions yet.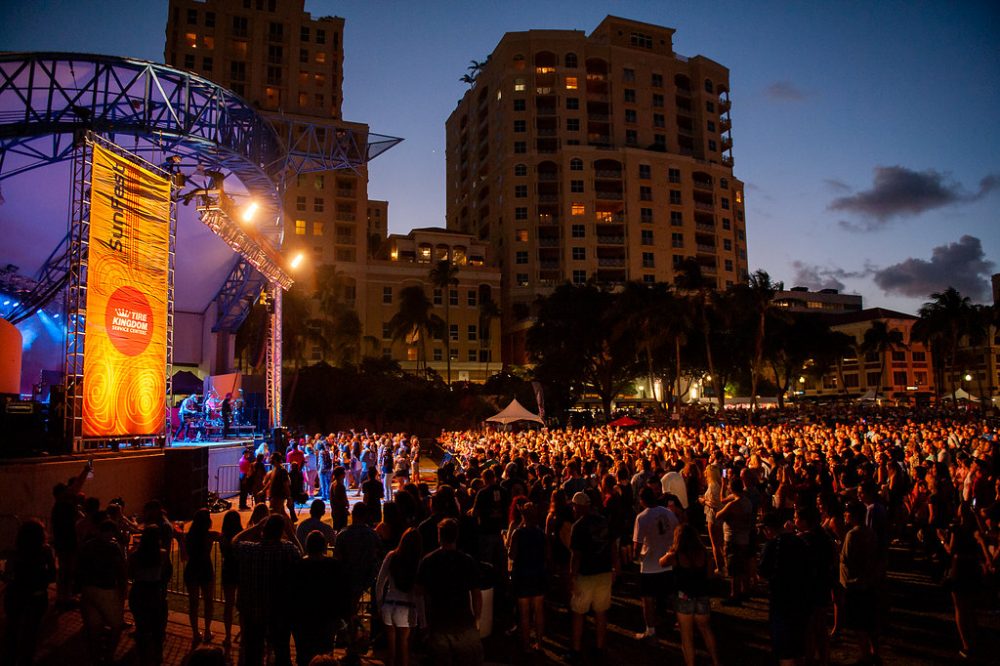 Stay To Play:
Hyatt Place is taking advantage of being the closest hotel location to SunFest and is offering partiers one- and two-night packages to maximize their fun. Rates are about $300 per night for two people and include tickets to SunFest and a shuttle to and from the venue. They are also offering rooms for about $250 per night, without tickets, which might be a good idea if you're going to party like it's SunFest 1999.
If you're not hungover yet:
If you're into exercise and saving some cash, grab your sneakers because you have a race to run. The TGI5K is Palm Beach County's only 5K that includes access to the biggest post-race party (aka SunFest). The race is held Friday at 5:30 p.m. and registration is $50, which gets you admission to SunFest Friday after the race ($55 value), access to post-race party on the floating barge with hot dogs and beer, discount SunFest ticket options for your fans, and a finisher's medal.
You're now ready to enjoy all that SunFest offers, so spread your musical wings, my little concert birdies, and fly high into musical nirvana.