What was it like growing up in Lake Worth?
It was pretty chill, kind of a beach vibe not a whole lot going on so everyone knows everyone. Its super-hot and humid in the summer so we never wanted to leave the house but we always ended up at the beach. There aren't too many parks out there but we made the best out of it. We would surf a lot in the winter because that's the only time that there were any waves. Overall though it was a good place to grow up and raise a family at.
How did you first start skating?
My dad was a Pro Jet Ski Rider, and we were at his mechanics house one day working on the jet skis. His son had a ramp and a board in the driveway and I thought I would test it out. I stepped on the board, went up the ramp slipped out and slammed. I was hooked on it ever since that moment.
With the skate industry and big time sponsorship dollars outside of Florida, when did you realize you had to leave your hometown in order to pursue professional skating?
I just moved to California like 2 years ago. I started riding for Red Bull in 2013 or 2014 and I was already traveling to Brazil, Australia, and all over Europe for contest before hand.
What was your first "big break" in the industry?
I had won the Am Pro Tec Pool Party and then people started to take me more seriously. It was crazy because it was the first year they had an am contest in the Pool Party.
How much does it help having other Florida boys like Jamie Foy and Zion Wright on the Red Bull team?
It's pretty crazy, as soon as they got on everything started to really blow up for us. We all have a place together in LA too and we all really push each other to go further.
Why do you think this many South Florida skaters have made it pro in such a short time frame?
I guess we are just super hungry, all the skating is on the west coast so we have to work harder to get onto the scene. We are all dreamers so we all put our head down and just learn everything we need to learn.
When's the last time you were back home?
I went back after the Park Series In Sao Paolo.
What's your favorite travel destination outside the U.S.?
Sydney Australia or Florianopolis Brazil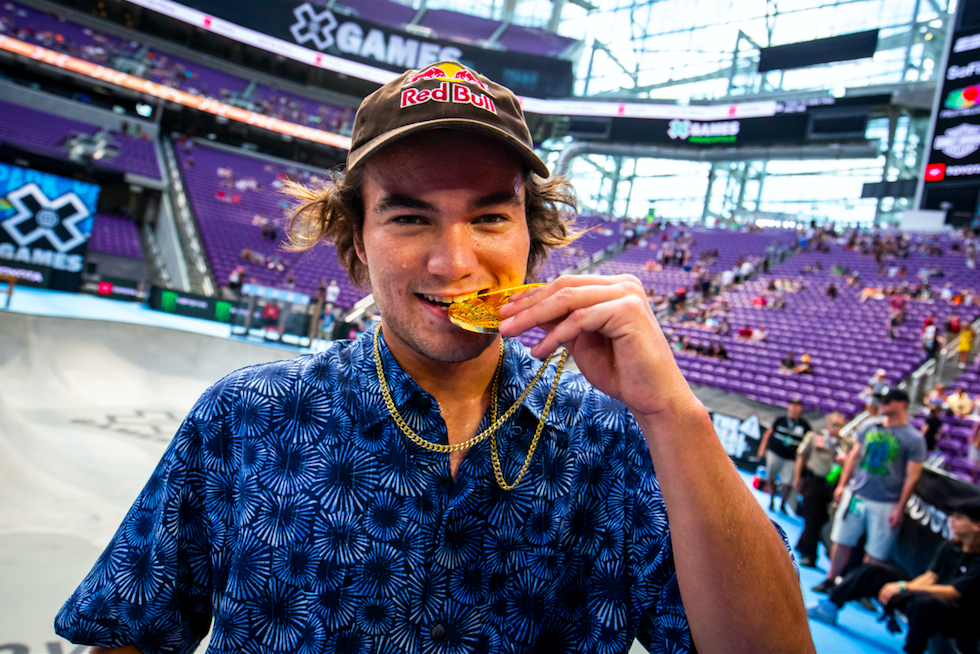 When you're back in town, what's on your to-do list?
I do a lot of skating when I'm back home. I grew up riding dirt bikes with my dad so we do that a bunch. Everyone in Florida is always at the beach so I surf, catch up with friends and eat some good seafood.
Who was a skate idol of yours when you were growing up?
Mike Rogers. He taught me how to skate and he's from Lake Worth too. He really brought me under his wing.
What's your favorite Red Bull flavor?
Hard decision between orange and yellow
If you weren't a pro skater, what would you be doing?
I really love surfing and motocross. I don't know if I'd be pro but I'd like to work in the industry. I know a lot about all of them so I think it would be interesting.
What's your favorite post-skate meal?
Big ass Cali burrito from Cilantro's
What's the best piece of advice you can give to young skaters looking to turn pro?
You gotta be super humble and you've gotta rip and prove yourself. It's so important to have a good attitude.
Who is someone you've always wanted to skate with?
That's hard because I've skated with so many people I've wanted to skate with already. Just in the past year I got to skate with Reynolds, Gonz, Hosoi, and Cab. But I still want to skate with Mark "Gator" Rogowski but he's in jail so I don't see that happening.
Do you have a desire to go on Thrasher's King of The Road one of these years?
Yeah that would be sick! I'm down to do all that stuff. I'm working on a new part too. I'd really love to be a part of it all.
As you get older, how has your mindset towards skating changed?
Every time I get older I try to critique myself more and more with my style.
What has been your biggest accomplishment in the sport thus far?
Park Series World Champion in 2016 and back to back X Games Gold medals.
Winning back to back X-Games Skateboard Park gold medals was huge. What's next on the list of goals?
Next goal would have to be Park Series Champion in China.