Poke It To Me
By Darien Davies
Let's be honest: it's too hot to cook. It's pure insanity to even think about turning on the oven or grill when it's pushing 90-plus degrees outside. The good news is, you don't have to. Thankfully poke bowls have become a household name, and there's a few primo around- the-corner locations where you can get your fish fix. So get your chopsticks ready and enjoy a meal without the meat sweats.
SPOT: THE POKE COMPANY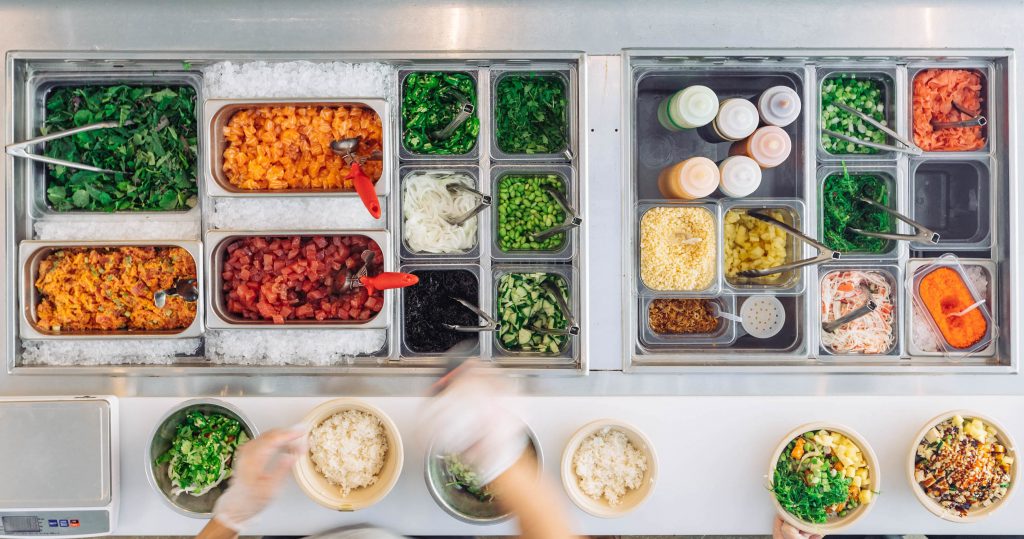 Location: 555 N. Federal Highway #13, Boca Raton, FL 33432
Why: If you like options, this poke palace is for you. The entire menu is at your fingertips because you get to build your own poke bowl to your exact desires. It's simple: pick a size, build your base (you can mix and match), pack on the protein, salivate, eat, repeat. The options are endless so plan to become a frequent poke person so you can try all the combinations. Maybe pair brown rice with spicy tuna, cucumber, sweet onion, edamame, The Company Sauce, scallions, tempura flakes, pickled ginger, avocado, seaweed salad and the kitchen sink. Well, scratch the last item, but you get the gist. If you don't feel like building your own bowl, order one of their signature offerings. The Heavy Squall is made with ahi tuna and salmon, edamame, Hijiki seaweed, The Company Sauce, scallions and sesame seeds. Or, if you want to ditch the fish, enjoy The Veggie Move, which is made with tofu, avocado, edamame, cucumber, The Company Sauce, scallions, sesame seeds and pickled ginger. Regardless of what you order, they promise that it's fast, fresh and Hawaiian, so surfs up and chopsticks up.
Price: $8.95 to $14.95, and extras starts at $1 each.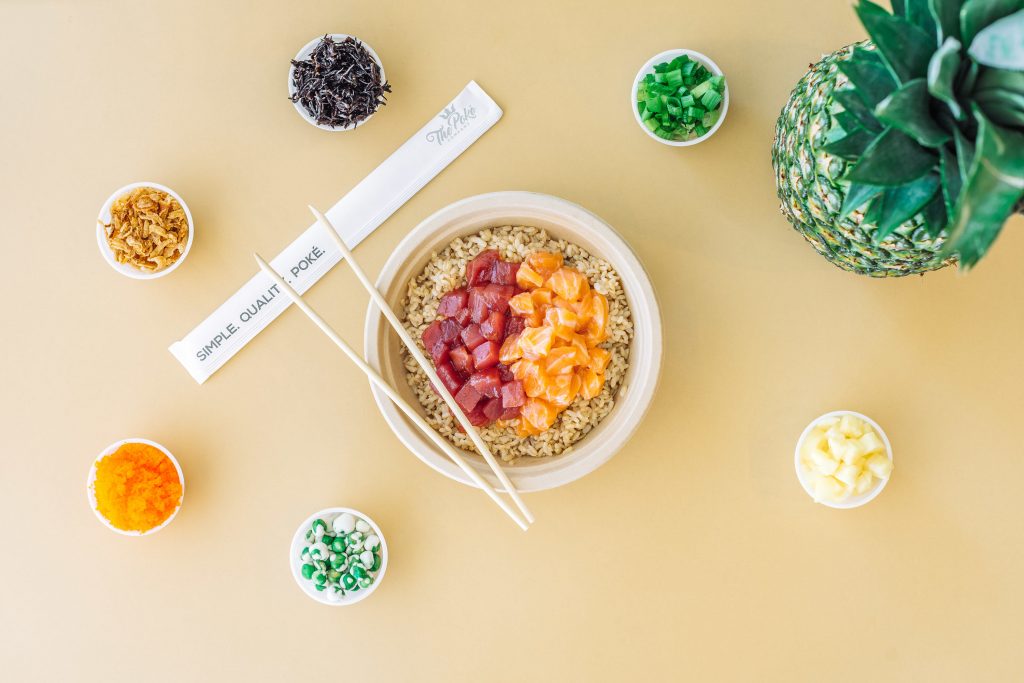 SPOT: PIPELINE POKE CO.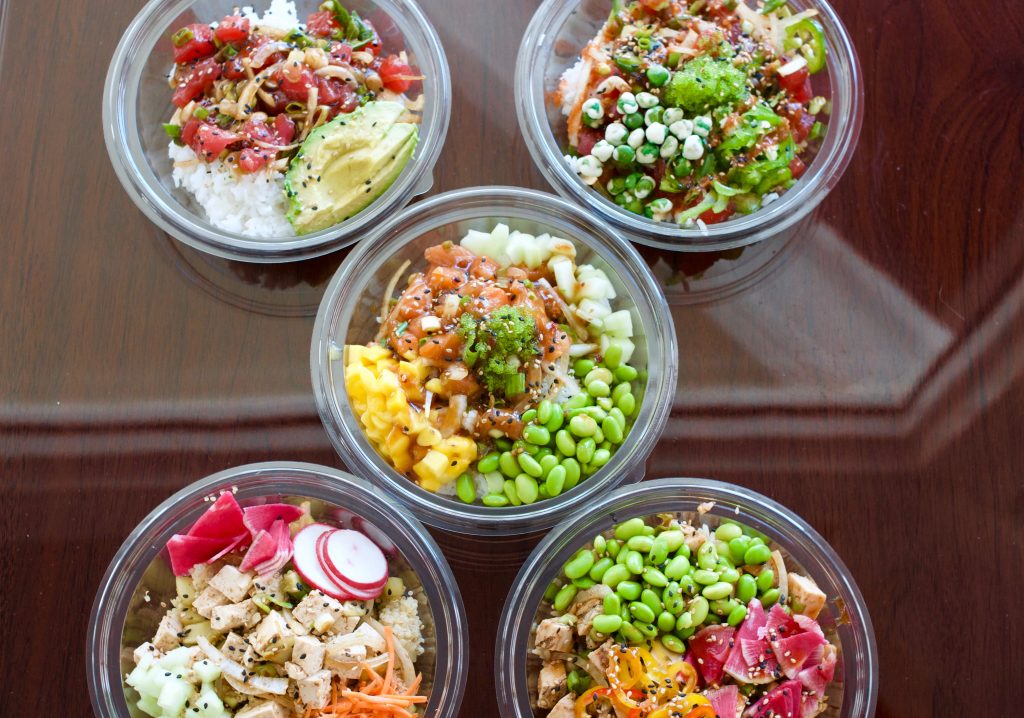 Location: 310 S. Dixie Highway, Suite 300, West Palm Beach, FL 33401
Why: Pipeline Poke Co. was born from a passion for seafood and a dream to serve real, fresh, quality Hawaiian cuisine to the WPB community. Their seafood is sustainably farmed with no hormones, antibiotics or chemicals, and you'll be able to notice the quality when you watch them make your bowl right in front of you. If you prefer to have them do the hard work for you (deciding), order one of their five signature bowls, such as the Banzai Bowl, which is made with ahi tuna, green and sweet onion, sesame, avocado, classic shoyu sauce, furikake seasoning and white rice. Or, for a little sweet heat, enjoy the Kohala Volcano Bowl and dig in to ahi tuna, green and sweet onion, jalapeno, sesame seeds, wasabi peas, lava sauce, sushi rice and tobiko. If you want to take your chance at creating the perfect combo, you and your stomach are more than invited. Proteins include not only the typical tuna and salmon, but you can also order escolar (white tuna) and poached shrimp, or grilled chicken or tofu if you're not feeling fishy. Pair this with rice, quinoa, mixed baby greens or kohlrabi noodles and you're well on your way to Flavor Town. Mix-ins include watermelon radish, pickled ginger, kimchi, carrot, mango, and more, and their unique sauces, which include cilantro lime crème, orange ginger, lava sauce, Pipeline house sauce, elevate it to amazing levels. Top it off with some shredded coconut, wonton strips or chili flakes, and you're all ready to enjoy one fat bowl of fun.
Price: Signature bowls range from $8.95 to $15.95, but you can build your own bowl starting at $8.95
SPOT: POINT BREAK POKE HOUSE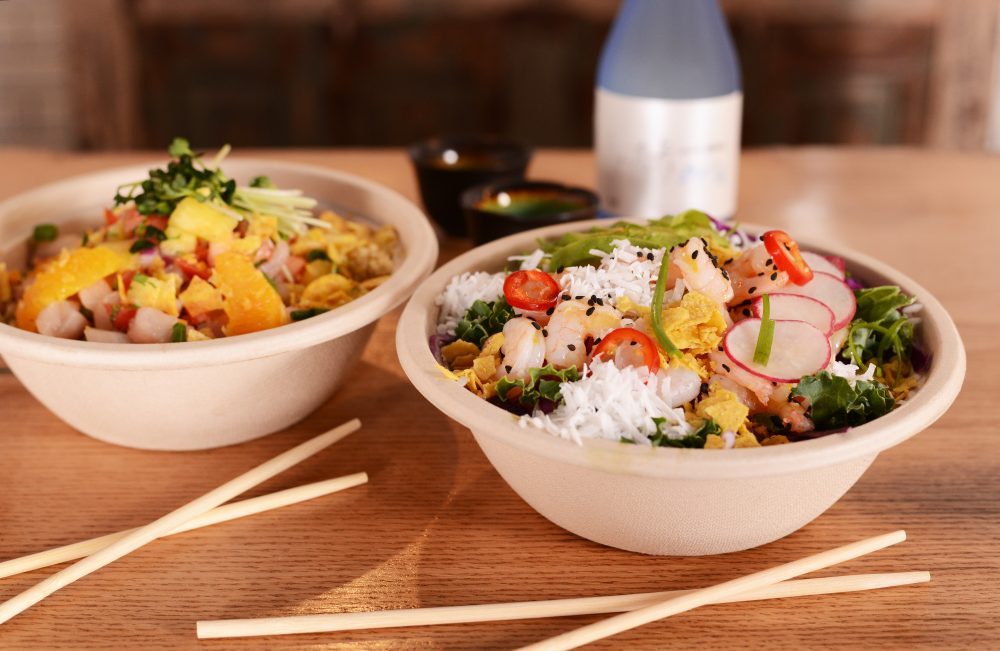 Location: 666 N. Federal Highway, Ft. Lauderdale, FL 33304
Why: They serve up options on options on options (and beer), so there's a myriad of poke-bilities. The bowls are inspired from famous surf beaches around the globe, so there's a nice mix of flavors and ingredients that totally transport your palate to some faraway island of deliciousness. If you're feeling a little West Coast, order the Venice Beach Cali bowl, made with salmon marinated in their sesame blend, white rice, salsa verde, avocado, Serrano chile, baby heirloom tomato, scallions, pickled ginger, seaweed salad, crispy lotus, cucumber, red onion and masago. Or, if you want to island hop, enjoy the Sunset Beach Hawaii bowl with tuna marinated in their sesame oil/sesame soy blend, white rice, red radish, Serrano chile, red onion, avocado, scallions, sesame seeds, pickled ginger and seaweed nori. If you're feeling like going rogue and making your own bowl, get ready to be delightfully overwhelmed because there's a laundry list of available menu items. If you dare, you can pick your base (rice, kale, black forbidden rice, etc.), protein (tuna, shrimp, salmon, etc.), the marinade (kimchi sauce, eel sauce, aji amarillo emulsion, etc.), toppings (purple cabbage, fresno peppers, seaweed, spiced salsa fresca, etc.), crispy options (lotus, rice pearls, wasabi peas, etc.), and toppings (garlic yuzu, chipotle mayo, sesame soy, etc.). Challenge accepted.
Price: Bowls range from $11.95 to $15.95, and add-ons start at $.50
SPOT: POKE LAB EATERY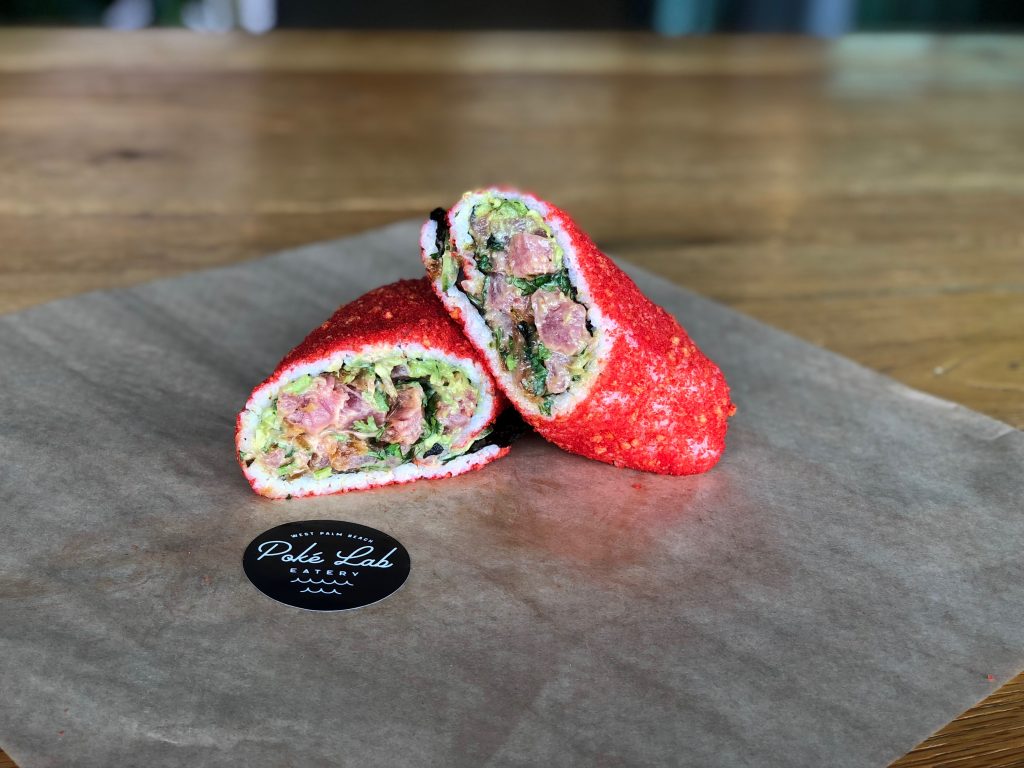 Location: 1401 Clare Ave., West Palm Beach, FL 33401 in Grandview Public Market
Why: You're able to watch your meal being made two feet from your drooling face, so you know the ingredients must be ultra fresh. The menu is limited but packs serious flavor, and you even have the option between enjoying a rice bowl or a pokeritto (poke burrito). If you want the tried-and-true poke experience, sink your teeth into The O.G., which is ahi tuna, green and sweet onion, seaweed salad, cucumber, sesame seeds, furikake and yuke sauce. For something a little feisty, order the Tropic Thunder, where yellowtail, mango, pineapple, cilantro, red onion, furikake, fried shallots and yuke sauce combine to make one fantastic flavor profile. If you want to go off the poke deep end, the Poke Fire Pokerrito is screaming your name. It's made with ahi tuna, jalapenos, cilantro, avocado, fried shallots, chili flakes, sesame oil, spicy aioli and Flamin' Hot Cheetos, and will give you a delicious kick in the mouth. Whatever your poke pleasure, order a delicious bowl, grab a seat outside in the shade, and enjoy all that is good in life, one bite at a time.
Price: Menu items range from $13 to $14, and you can create your own bowl for $12 or $15.
So poke hard my little fish lovers, and enjoy what summer tastes like one bowl at a time.