TOP LOCAL BUSINESSES THAT HAVE A FOOD TRUCK, ON THE SIDE
By Darien Davies
Let's face it, sometimes you just want to stuff your face without dealing with the restaurant fanfare. This is where food trucks come in. Even though the menu is limited and seating is up to you, food trucks are mini-restaurant gems that deliver flavor to you and park it right in your mouth. Thankfully there are a few local restaurants that welcomed the food truck hype and started their very own truck, backing up flavor right into your stomach.
STOP ONE
Tucker Duke's Lunchbox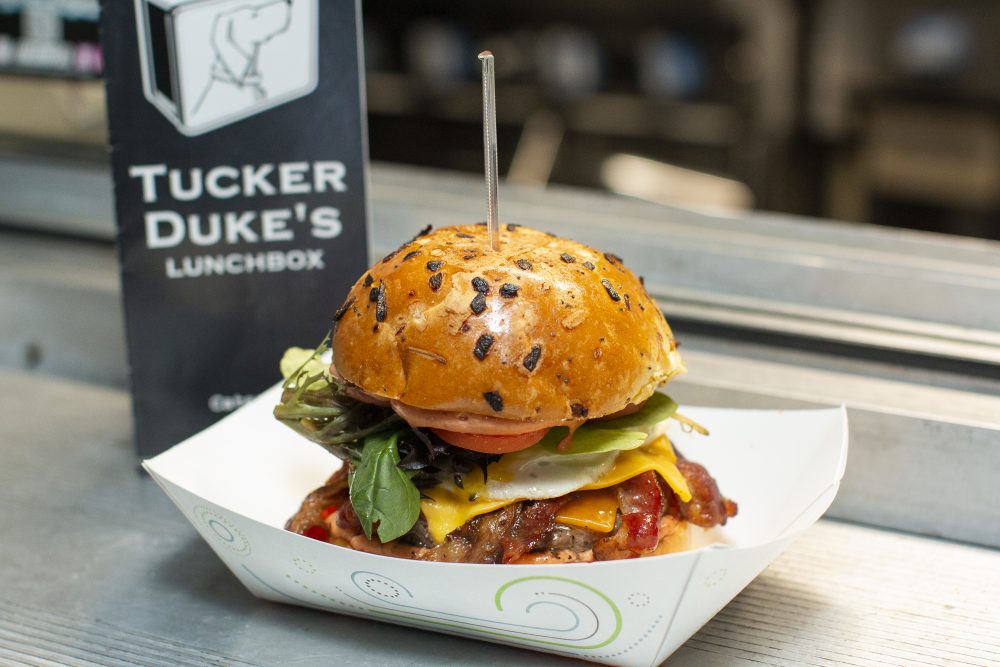 If you can't make it to Boca or Deerfield to check out Tucker Duke's, now you can taste some of their drool-worthy menu items from their food truck. They are mostly parked at different breweries in the area, which is perfect because what goes better with beer than a burger? (Nothing.)
You can, of course, expect to see their The Tucker Duke burger on the menu, which is piled high with house-made onion rings, American cheese, tucker sauce, spring mix lettuce and tomato ($12), and the Goldsworthy, the fried chicken tender sandwich with bacon, avocado ranch, spring mix lettuce and tomato ($10). Or, get a $3 pulled pork, veggie taco or TD Taco (beef, tucker sauce, crispy onions, salsa, sour cream and cheese) if you prefer a bun-less food option. If you want a snack, dive into the fried pickle spears ($7), loaded fries ($8) or the salt and pepper fries ($4). Whatever way you slice it, the Lunchbox has your cravings covered.
STOP TWO
Little Moir's Food Trailer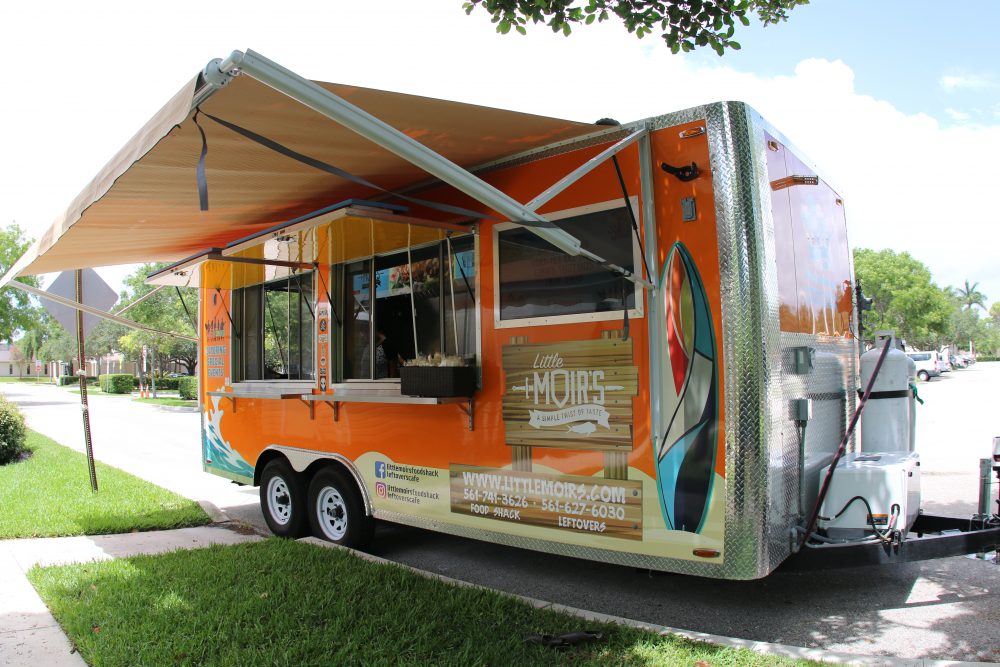 The best part about Leftovers Cafe and Little Moir's Food Shack is that you never know what you're going to get. The only thing that's certain is your meal will be delicious, and the food truck is no different. The menu is eclectic and ever-changing, and you can expect to enjoy dishes that feel like they came out of a full-blown kitchen. Options can include Sweet Potato Crusted Fish with greens, green beans, apples, grapes, key lime garlic dressing and samba aioli ($MP) or Fried Tuna Basil Roll with wasabi dipping sauce. Make sure to save room for dessert (or start with dessert, there are no rules), which, if you're lucky, will be any of their restaurant favorites like the Warm Mixed Berry Bread Pudding or Stoner's Delight. The name suggests leftover food, but the dishes are certainly more than anything you'll find in a Tupperware.
STOP THREE
Nomad Surf Juice & Coffee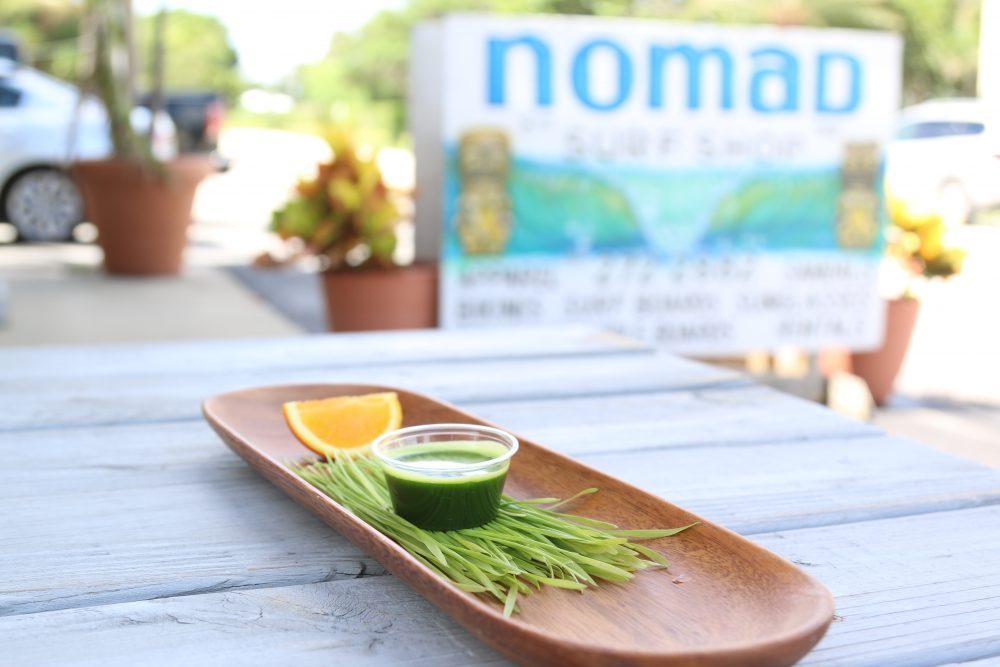 Nomad now isn't only known for their surfboards and apparel, but also their organic juice truck rolling out smoothies, açaí bowls, juices and coffee. Regardless if you're headed to, or back from, the beach and are in need of a healthy snack, or are just driving along A1A, this is a must stop. For less than $10, you can indulge in the Goji Goddess açaí bowl, made with goji berries, bananas, raspberries, strawberries, cacao, chia seeds and honey, which will leave you feeling seriously happy. Or, if you prefer the liquid diet, get a hot or cold brew coffee for $3, or their Pipeline Pear, Dawn Patrol or Vitamin Sea juices. The truck is most often parked in front of Nomad Surf Shop Wednesday to Sunday from 10 a.m. to 3 p.m. so perfect for a quick and healthy lunch or snack. Get some surf, get some juice, get some coffee, and return often.
STOP FOUR
Guanabanas Food Truck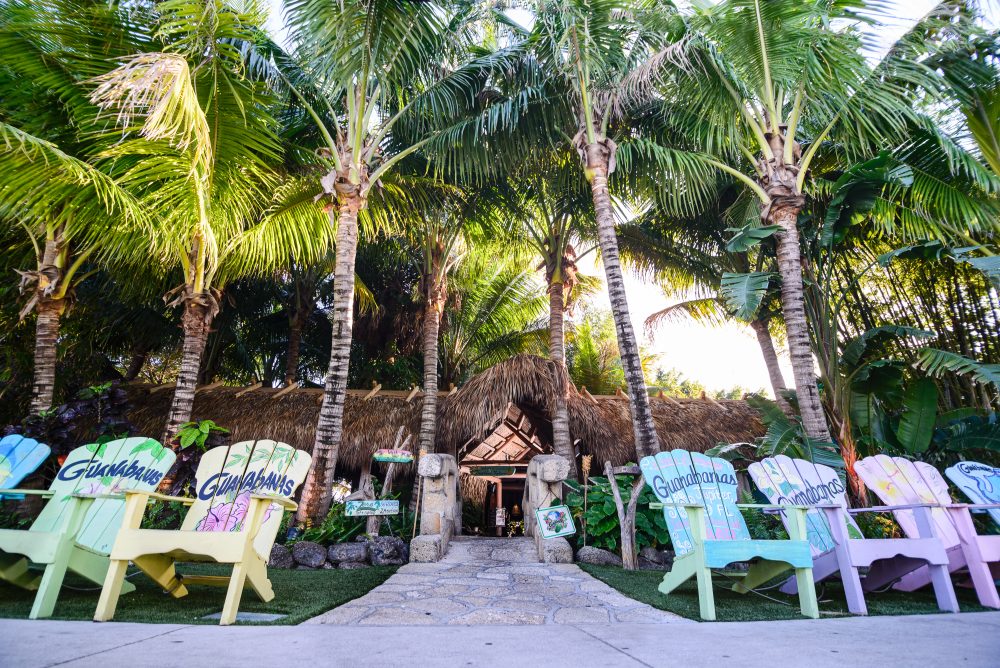 The open-air restaurant in Jupiter has taken their menu to the streets, offering Guanabana's cuisine to not only brewery-goers, but can also cater large or small events. The main constant is that they're always on the move, with a menu that changes based on what's in season, so you can always expect a new, culinary surprise. The menu is limited, but the flavor isn't, especially when it comes to their slow smoked sweet and spicy or hot wings, smoked fish dip, or Floridian Fritters, made with local shrimp and served with a sweet jalapeño mustard sauce. If you want to cater an event, they can create a menu specific to what you're looking for, and as if it came out of their brick-and-mortar kitchen. Their mission is to provide guests with a truly unique outdoor dining experience at their restaurant, which is exactly the same with their food truck. Putting their kitchen on wheels just means more options to enjoy their food, which is a total and delicious win for us.
Bring the dog, grab a beer, and enjoy eating al fresco, courtesy of your favorite local restaurants on wheels.