JaFleu Discovers The Power of Art Charity in South Florida
By Adam E. Smith @theadamesmith
Painters are naturally philanthropic without trying. They all release invaluable contributions to the creative sphere, but a limited kinship of unrelated artisans that push past defaulted altruism. Their mediums are more than just platforms for impassioned socio-political messaging. They are charitable vehicles for providing means and tread among different genres with varied intentions. Meeting one like the 28-year-old Haitian-American painter Jason "JaFleu" Fleurant is nothing short of a tenacious encounter. Whether in person or through his expansive body of pertinent work, the West Palm Beach painter's surreal expressionism has the uncanny ability to push past simple identifiers on and off the canvas.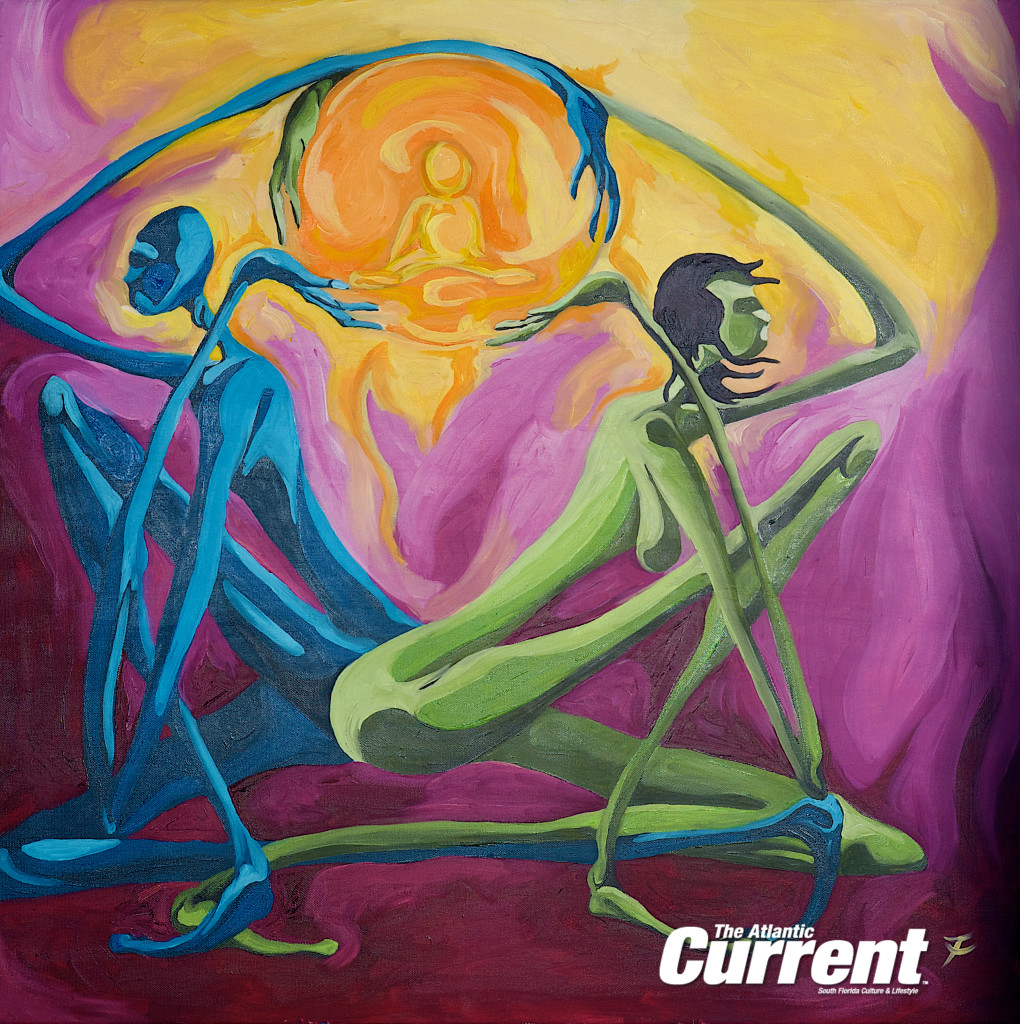 Fleurant's ability thrives in relaying how he perceives the world's simplicities. At least that is what can be gathered from his keen affinity for taking indistinguishable figures and conjoining them with moody abstractions of his reality. He purposefully erases expected points of reference in order to enhance the entirety of his intended vision. "I learned that instead of experiencing the piece as a whole, people are distracted by trying to recognize images like a face, so I intentionally will not include them on certain figures that I paint," Fleurant reveals.
The result of the selective anonymity is a contagiously intriguing style. The overt-JaFleu look translates well between broad themes like social injustice and personal fascinations in the hip-hop culture. "I am known for my long twisted figures, and stylistically that was a very natural process for me. Growing up, I saw Ernie Barnes' work when watching Good Times, and that technique built upon by Justin Bua and Frank Morrison stayed with me," says Fleurant. Directly juxtaposing this motif are his discernible portraits of fallen cultural icons like Tupac and Troy Davis that earnestly highlight racial strife represented by their narratives. "When I choose to focus on the face of a person it is because it tells the story on its own. I am recreating that moment in time and space with my own style. I want to capture the idealisms personified by them and remind people of their importance," he explains.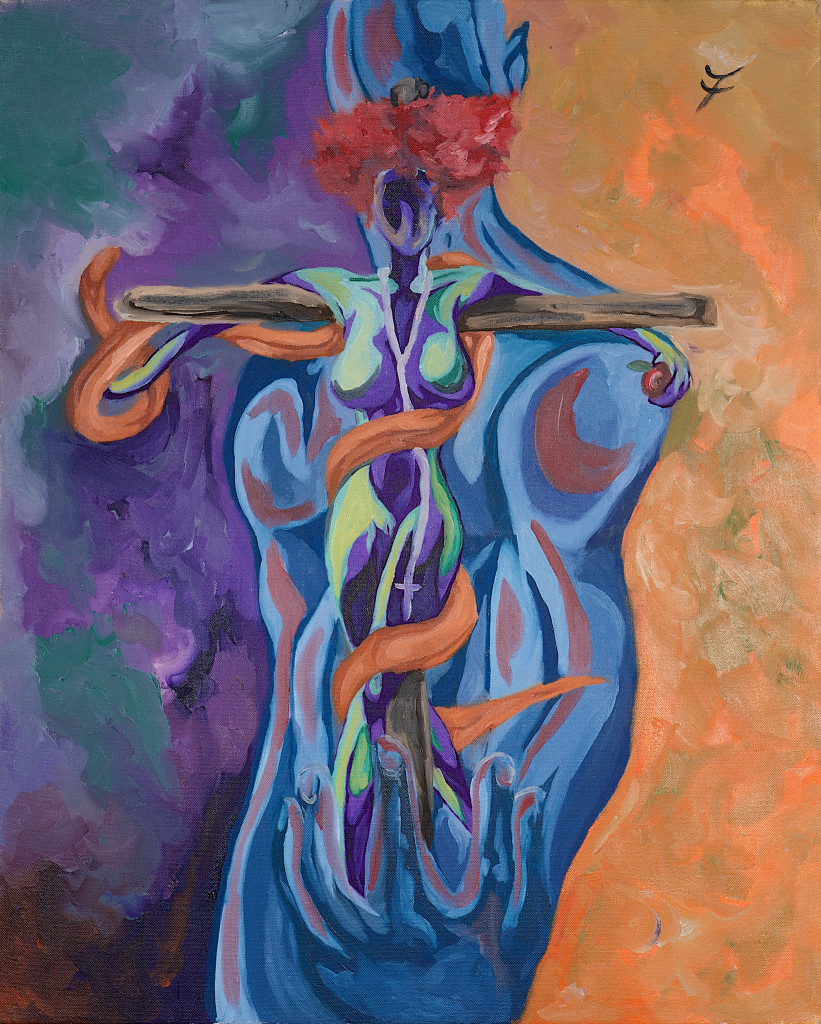 This approach has afforded Fleurant a considerable amount of success in South Florida and beyond, but it wasn't always this way for him. After giving up art during his freshmen year of high school, it was the tragic earthquake in Haiti that brought him back to painting in 2010. Inspired by emotions brought on by media footage surrounding the tragedy, he began sketching daily images from the news on copy paper. An organic progression from art pencils to cheap water colors and paint became an expressive therapy. Needed repetition inevitably birthed a transition to canvas and he dedicated his life to the craft.
With no formal training to claim, the last three years of his artistic output only tell half of the painter's progressive story. Aligning art with generosity lead to endeavors that aid orphan youth abroad via gallery collaborations with What About The Children In Haiti (WATCH).  "I did an exhibit called TheraFleu with the proceeds going directly to WATCH. We raised enough to purchase supplies for the orphanage that literally ran out of food the next day. It is moments like that which are deeply impactful as an artist," Fleurant recalls.
Domestically he also dreams up effective strategies to distribute his art in a unique method. "I started leaving pieces of art around town with just inspiring notes and my name attached. My hope was that whoever stumbled across it felt better at that moment, and they knew there was good in the world. I called it #PayItForwardArt hoping they would return the favor by doing something positive for a stranger," says Fleurant outlining the tactic. Over 50 #PayItForwardArt pieces have been put into circulation to date, and he does not see the movement stopping.
People took notice and a community started to build around his presence at Conflict Rhymes' ArtOfficially Dope events. Local galleries wanted to feature his collection, and collectors began to request orders from across the country. Art Takes Times Square had him displayed in front of thousands, and exhibits like Art of Justice in Maryland recently reached out to include him in honoring the 50th anniversary of the March on Washington.
Still deeply rooted in the local scene, ArtHive Magazine invited him to their first group art show at The Green Room in Fort Lauderdale. Also the African Disporia Exhibit at the Art Armory in West Palm Beach includes JaFleu pieces from September through November. When he does finally get away from the canvas, you can catch him at local hip-hop events from Palm Beach to Miami, usually chopping it up with emcees and showing support by donating his most recent work to a cause.
Humility and dedication to his craft remain the cornerstones of Fleurant's campaign to represent Florida's art scene. "I may not change the world, but I know I will impact the lives of those who see my art. And in the end that's my legacy."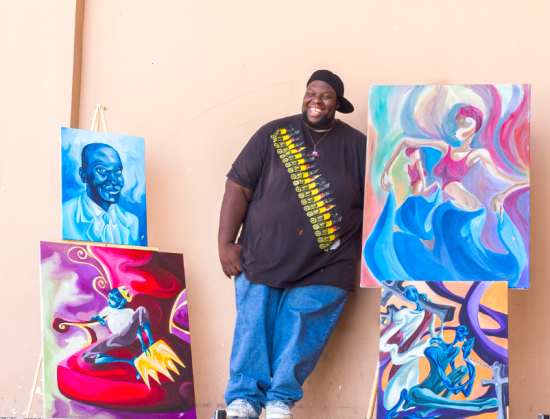 Jason Fleurant