Lake Park's Central Hub For All Things Craft Beer, Music and Art
By Susanna Arntz
Photos: Nathan Hamler
From a streetside glance or a stroll past, people see a cafe and bar setup through the large storefront windows. The name Brewhouse was cleverly appointed to the space to lend credence to its local beer and coffee drink selections. But the namesake doesn't stop there. Cofounder AJ Brockman explains with enthusiasm, "From the outside in, people may think it's just a coffeehouse or just a bar. But the people who take the time to come in know it's much more than that. It's about art and sharing ideas, first". So how did this gallery/cafe/bar/venue rise to success in less than a year and even expand at the tail end of its first year? It started with a vision, a willingness to gamble, and solid belief in what they were doing.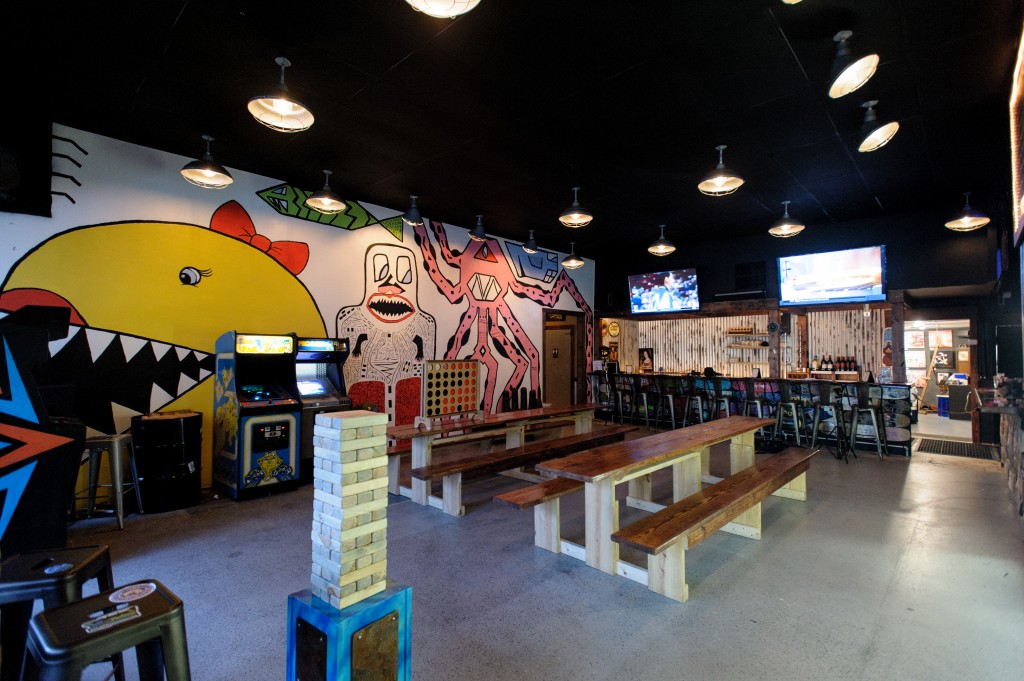 AJ Brockman has recognized and adapted to two things all his life. The first has been the experiences that come with having a neuromuscular disease that causes his muscles to weaken over time. He has been in a wheelchair all his life. The second, his love and passion for creativity and the arts. He explained, as his conditions worsened, he was determined to find a way to still create a lot which led him down the path of digital creation and graphic design. After getting REALLY good at what he did (his claim to fame is a 2008 family portrait for President Barack Obama – enough said), he found himself in a corporate grind that left him jaded. Looking to revitalize and reset, he ultimately quit agency life to pursue fine arts more closely.
AJ always wanted to have a gallery but knew it was difficult to pay for the gallery with art alone. The vision for Brewhouse Gallery was not to just to offer art + coffee + beer but rather be a gallery first and offer the rest to enhance the experience second. For South Florida, this was something new and different for sure. They found this space in Lake Park, FL for rent that was previously an adult daycare facility. When AJ got inside, he knew it was the right place. He explained, "it was definitely a gamble, but I had a vision here. I saw a place where we could grow and be unique that maybe wouldn't be the same fit if it was downtown Clematis or somewhere else."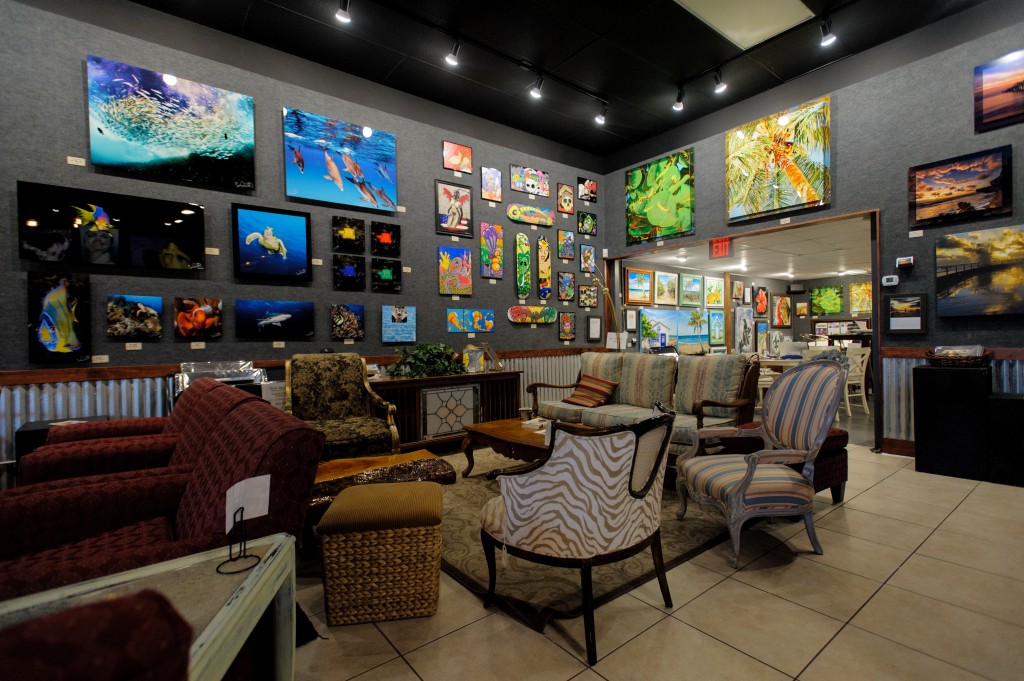 He created what Brewhouse Gallery is today to draw in the community, celebrate creativity, and spark conversations. Brewhouse Gallery is one of the few galleries to offer a flat-rate rental model which artists pay for monthly and get to take complete ownership of their space within the gallery. The collections change every 3-months ensuring "fresh paint" on the walls. The styles are eclectic and range from traditional South Florida oil paintings to comic book character art on skateboard decks.
Initially, the gallery promoted itself using a very grassroots approach through social media outlets, digital marketing tools, and events in order to drive traffic and gain visibility. Within a year, they were growing immensely and had great customer loyalty. In addition, they had already expanded into the space next door, a convenience store that had gone out of business. The landlord of the space is a big supporter of Brewhouse, and while AJ admits it was a huge undertaking, it was an offer they couldn't pass up.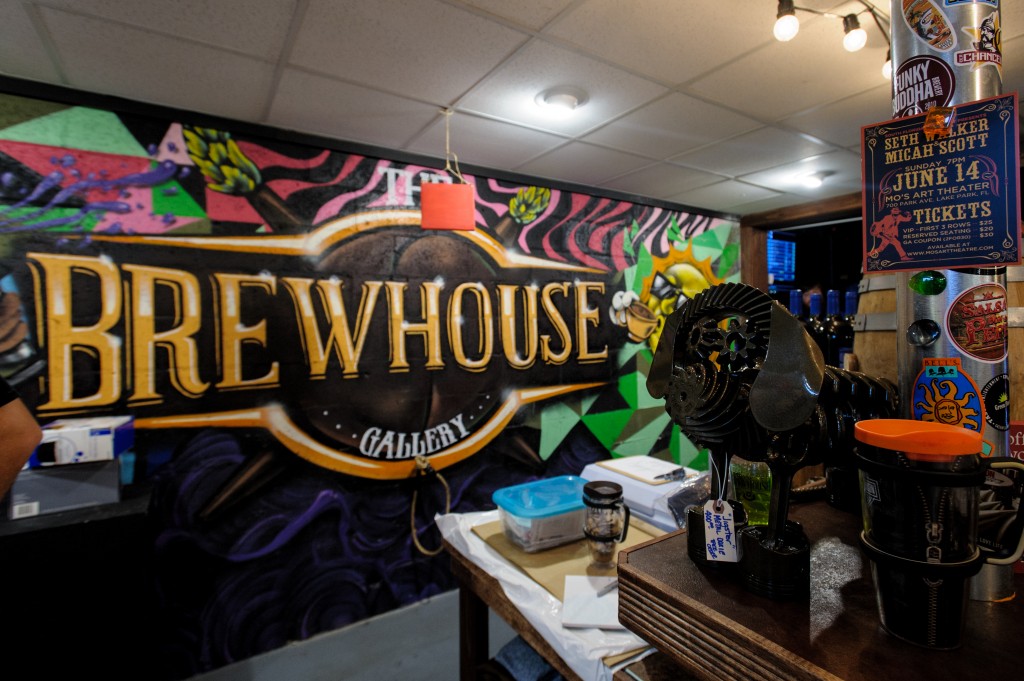 Depending on what you are in the mood for, Brewhouse Gallery has you covered. They proudly brew french press and espresso drinks in partnership with two local coffee roasters, Rabbit Roasting out of Riviera Beach and Oceana Coffee in nearby Tequesta. They also offer distinctive craft beer selections for notable local microbreweries including Twisted Trunk, Funky Buddha, and Due South.
If you want to drop in on any given night of the week, you'll find an original event happening – whether that's a poetry reading or a live music show. "Brewhouse didn't know it was going to be a music venue, but now it's one of the most well-respected in the area" AJ said with a smile.
They're also excited to share that they have expanded into a full kitchen and food menu very recently. Bar manager, Pepe Arenas, had shared with AJ his love for food and his family's background as some of the best in the meat industry back at home in Mexico. Pepe started cooking and sharing, again, with passion and enthusiasm mixed into everything. It was a real hit right away. To make sure he was doing everything the best that he could, he would Skype with his mother to learn some tricks to make everything just right. His favorite foods to share with people are his porks, red and green, and his avocado puree. In addition to serving up truly authentic Mexican handhelds, Pepe has shared delicious sangrias in flavors like cucumber lime mint, watermelon, guava, and green apple pomegranate. Pepe said, "In the beginning my mom didn't want to hand over the family recipes. You know how family is. But finally, she did and she said all I ask is that when you make these you do it with love, otherwise — it won't turn out right".
The future has no limits. AJ's goal is to revolutionize how art gallery models work. "Rather than a Starbucks on every corner, why not have a Brewhouse on every corner? It's possible" he said. Right now, he is working with the city of Lake Park to try to transform the Brewhouse neighborhood into an art district. He envisions a farm to table style restaurant on the corner and a funky, interesting thrift store patrons can browse through, maybe even a vintage toy shop. They are speaking about a mural wall on the building and a community garden, too. You can feel the enthusiasm, passion, and devotion in the energy of this space when you are on the inside. Its beauty carries on when you step outside again. More than just coffee and beer. More than art. This is truly a new way of looking at things.
Visit Brewhouse Gallery at 720 Park Ave in Lake Park
Follow them on Instagram @brewhousegallery and Facebook