Meet FAU Swim Captain Kelsey Witkay
By Sean Gordon
Photos by Alexis Paige
Kelsey Witkay is not only a senior at Florida Atlantic University (FAU) who is studying exercise science, but she is also the captain of the women's swim team. "I actually hated the pool until I was 6," said Witkay, which is not the story of origin you might expect when talking to a collegiate swimmer. "It was because I didn't have goggles. Once I figured that out it kind of stuck." Shortly after discovering goggles, Witkay joined her first team at age 7 and has been competitive in the water ever since. A self-proclaimed warm-blooded beach girl from the West Coast, Witkay decided a change of scenery for her college career would do her some good. "I remember thinking, if I don't leave California now, I probably never will," she said. So, she packed up and moved across the country to attend FAU.
She has built quite a resume for herself in the pool coming into her senior season, including recording numerous Top 10 finishes each of her past three seasons and being a part of the group that set the team freshmen record for the 400 Medley Relay. Witkay mainly competes in the 50-, 100-, and 200-meter freestyle events, with her crowning achievement coming last year at Conference. "I had never scored individually for the team before," Witkay said. "I switched my event from 100 Fly to 200 Freestyle and I was able to score for the first time ever at Conference."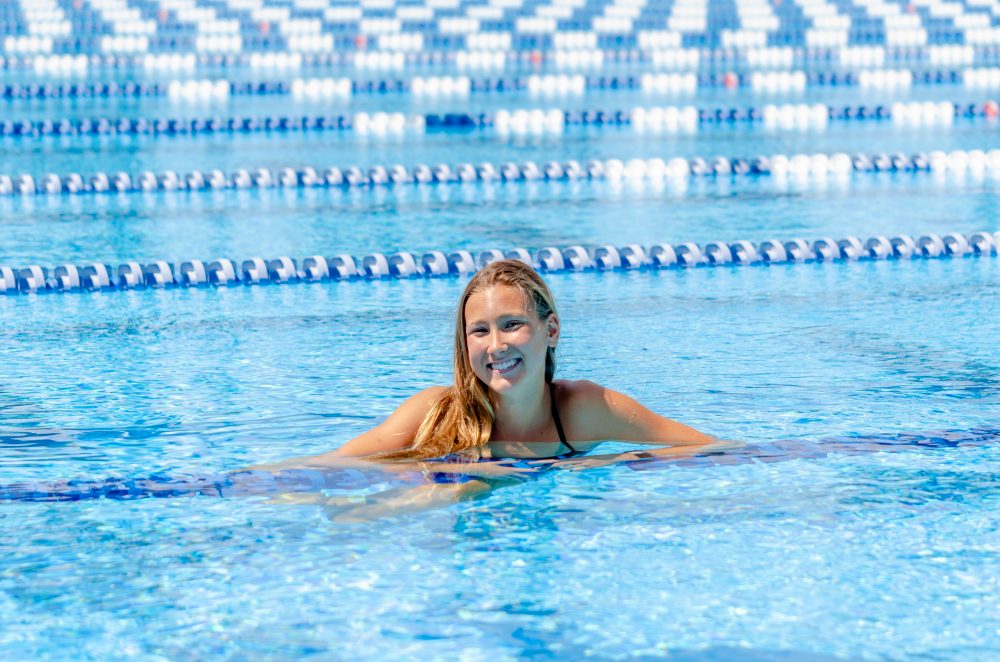 Witkay's accolades outside the pool may be even more impressive. She's been awarded the Conference USA Commissioner's Academic Medal and named to the Honor Roll her freshmen, sophomore, and junior years. Just recently she was given the honor of receiving the C-USA Spirit of Service Award, which is awarded to the student athlete who best embodies dedication to community service and academic standing.
She was nominated for the award by her peers after returning from a trip to Cape Town, South Africa as a part of the Student-Athletes Abroad program. She spent three weeks in South Africa volunteering in the marketing department with a nonprofit group called Project Playground, which is a charitable organization that uses recreation and sports to empower vulnerable children and youth in the area. During her stay, Witkay had more than 80 hours of community service, and she continued this mission by selling Project Playground bracelets back in Florida. She currently serves as an ambassador for Student-Athletes Abroad and spent another three weeks in Phuket, Thailand working with The Federation of British International Schools in Asia (FOBISIA). There she managed the FOBISIA Friendly Games, which brings athletes together for several days to compete in a variety of sports.
During her trips, Witkay was able to use her background in athletics to support some amazing groups, and, along the way, also became inspired to follow a new career path. Fueled by her work with Project Playground and the FOBISIA Friendly Games, she's decided to switch her focus and pursue sports marketing. "I really loved the creativity and freedom of being able to come up with new ideas every day," she said.
Witkay keeps a pretty busy schedule. Between practice, her ongoing community service, acting as President of the Student-Athlete Advisory Committee, and maintaining a full class schedule, it's amazing she's able to find time for it all. With one year left in her tenure at FAU, she has set some lofty goals for herself and her fellow student athletes. Her main goals are to not only help her team take home the coveted Owl Cup, which factors in the GPA, community service, and career development attendance for each athletic team on campus, but to also have the student athlete community reach 5,000 service hours. On top of all that, she and the Lady Owls hope to make a splash in Conference USA.
It seems Kelsey Witkay has come a long way from hating the pool, which is great news for anyone who knows her. She's helping to make a positive difference through service, one lap at a time, and the future is bright.