Must-visit spots for some of the best barbecue in the 561.
By Kayla Ziadie
Nothing screams "summer" like good ol' Southern barbecue. Ribs that fall off the bone, juicy chicken wings, scoops of baked beans, creamy potato salad and fresh coleslaw—need we say more?
But the one thing that separates basic barbecue from mindblowing barbecue is a simple—yet life-changing—technique: smoking it. If barbecue isn't smoked, does it even count? Many places don't smoke their meats, which is pretty barbaric and disappointing. So if you're on the hunt for Guy Fieri-worthy, straight-off-the-pit goodness, we've created your guide to quality Palm Beach County barbecue.
Troy's Bar-Be-Que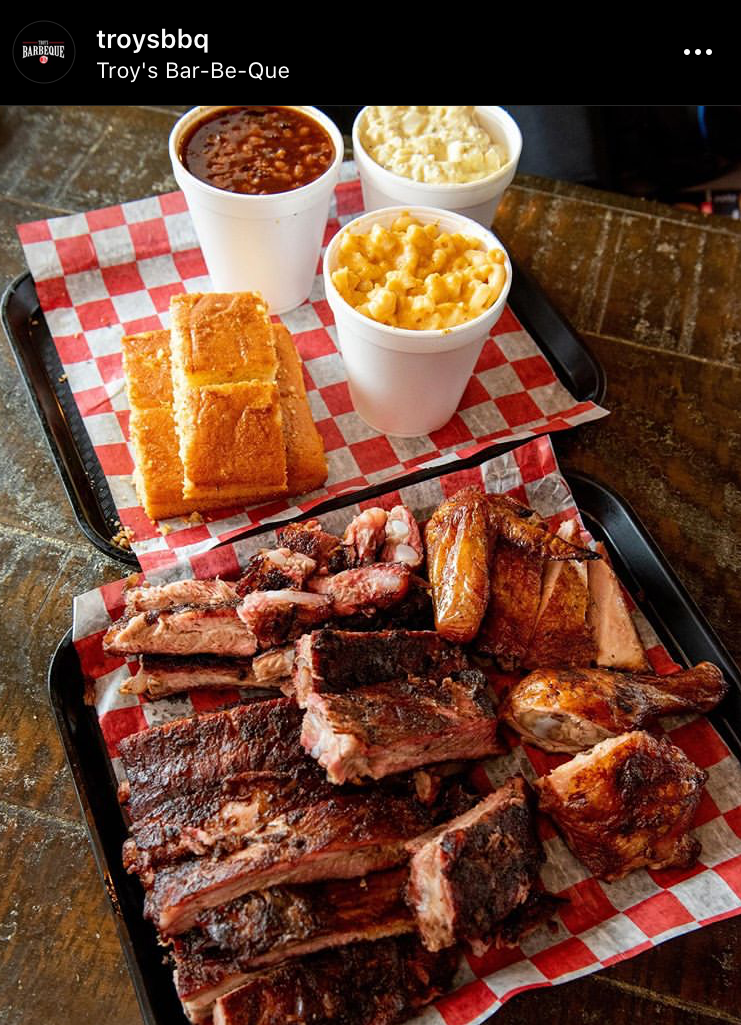 Troy's Bar-Be-Que is a family affair. Owner Anthony Barber learned everything he knows from his dad, Troy Davis, and took over the business after he retired. With two locations in Boca Raton and Boynton Beach, Barber takes his barbecue game seriously. Troy's uses three-and-a-half-down spareribs, a butcher's ideal size, and all ribs are cooked with both charcoal and oak in a smoker outside of the restaurant.
The website shares Davis' secret to his famous meats: "I cook with the hood down to keep the smoke in and keep the meat tender and falling off the bone." PSA: Tender and juicy are understatements.
The menu features meat-only meals, sandwiches, snack boxes, dinners and combo dinners, and various sides. All dinners, like the Rib Dinner and Brisket and Pulled Pork come with two sides and cornbread. Those wanting to whet their barbecue appetite with a smaller meal can order the perfectly sized snack box, either with rib tips, ribs or chicken, all served with fries. Sides range from French fries and baked beans to mac and cheese and candied yams.
Troy's Bar-Be-Cue, bbqtroys.com; @troysbbq
Boca Raton: 1198 N. Dixie Highway, Boca Raton; 561-609-2469
Boynton Beach: 1920 S. Federal Highway, Boynton Beach; 561- 740-1125 
Holy Hog Barbecue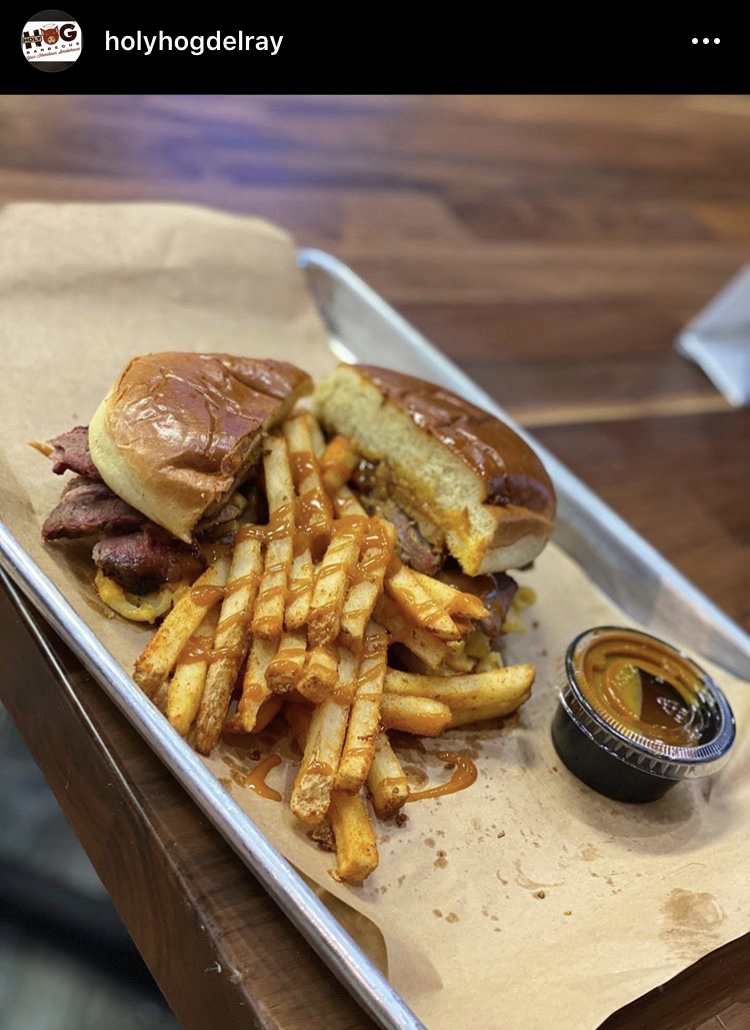 The newly opened Holy Hog in Delray Beach is already making its mark as a barbecue pit stop in Palm Beach County. With other locations scattered throughout the state, this is the chain's South Florida debut. Holy Hog's mission statement is "to bring you authentic smokehouse barbecue inspired by our passion for community," and it fulfills that promise with every aspect of its menu.
Its fresh-out-the-pit meats come with two sides but have limited availability, so don't diddle-daddle when making your way over. The candied Burnt Ends are effortlessly crispy; the St. Louis Pork Ribs are chock-full of flavor; and the smoked chicken is juicy all the way through. 
Can't pick just one? The Hog Sampler gives you a taste of Holy Hog's best, with chicken, pulled pork, ribs and sausage. If you like your meat between slabs of bread (the best of both worlds), Holy Hog's Hogwiches are where it's at. For a barbecue twist on South Florida's favorite sandwich, the BBQuban is as yummy as it is punny.
Holy Hog, 420 E. Linton Blvd. Ste, 800, Delray Beach; 561-894-8696; holyhogbbq.com; @holyhogbbq
Park Avenue BBQ Grille
Dry-rubbed and smoked fresh daily, it's easy to see why locals keep coming back for more at Park Avenue BBQ Grille. Fun fact: Troy's Bar-Be-Que's Boca location was home to Park Avenue several years ago. With seven locations throughout Palm Beach County and one in Stuart, barbecue in many different forms graces its menu. Southern treats on the appetizer list—like corn fritters and fried pickles—are the ideal pregame to any barbecue feast.
Meals come with garlic bread and two sides, and side options feature every barbecue must-have, such as mac and cheese, collard greens and mashed potatoes. Customer favorites are the Back Ribs in a half- or full-rack, the Pulled Pork Platter and BBQ Combos, which come with a half-rack of ribs and your choice of chicken, wings, pulled pork or brisket.
Park Avenue's list of sixteen sandwiches and burgers come with one side. Drool over the traditional barbeque pork sandwich route, or go all in with the Zac-N-Cheese, featuring pork, mac and cheese, American cheese and bacon. Non-meat eaters can enjoy their own fare, such as shrimp, fried catfish and clam strips, or a meatless Sloppy Joe and "Chicken Pretenders."
Park Avenue BBQ Grille, locations vary; pabbqgrille.com
Smoke BBQ Restaurant and Catering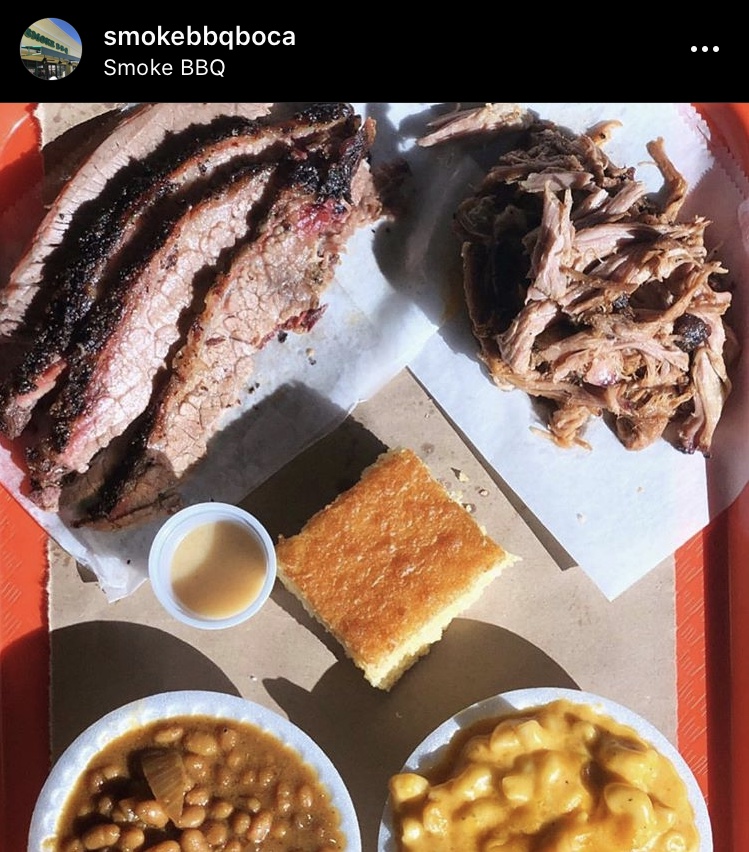 The name speaks for itself—Smoke smokes its barbecue daily at its Boca Raton and Fort Lauderdale locations. Smoke's pitmasters use natural Post Oakwood to smoke meats on custom Ole Hickory Pits for five to 16 hours. Smoke also promises to serve the highest quality of gluten-free meats available, with no antibiotics, steroids and no added hormones.
Perhaps the most popular dishes at Smoke are the slow-smoked, melt-in-your-mouth Beef Brisket and its beloved pastrami, brined for eight days in a special blend of pickling spices and curing salt. The Veggie Burger offers the same flavorful experience while being veg-friendly. Sides like the jalapeño-cilantro potato salad, yellowcake cornbread (with homemade cinnamon butter) and root beer baked beans are the unsung heroes of Smoke, perfectly rounding out every meal.
Smoke BBQ Restaurant and Catering, eatsmokebbq.com, @SmokeBBQFL
Boca Raton: 555 N. Federal Highway Unit 5, Boca Raton; 561-430-3348
Fort Lauderdale: 3351 NE 32nd St., Fort Lauderdale; 954-530-5334