Shaping Her Future, One Board at a Time
It's almost one of those stories of "who found whom?" or "who saved whom?" but this version involves the ocean, longboards and purpose.
Catherine Girard spent the beginning part of her life in Québec before moving to Florida at the age of 19, where she began a career in lifeguarding. Even though she spent time in the water as a competitive swimmer and felt comfortable in the water, this job was when her future changed, all thanks to the ocean.
"I didn't grow up near the ocean unfortunately. For me, it was a very mysterious and unknown place. I was scared but also fascinated," said Girard, 25. "Lifeguarding was everything I needed as a 19 year old. I got to discover what made me happy and found a place I felt I belonged: the ocean. I started surfing on the job and going out in whatever conditions to get better and build confidence."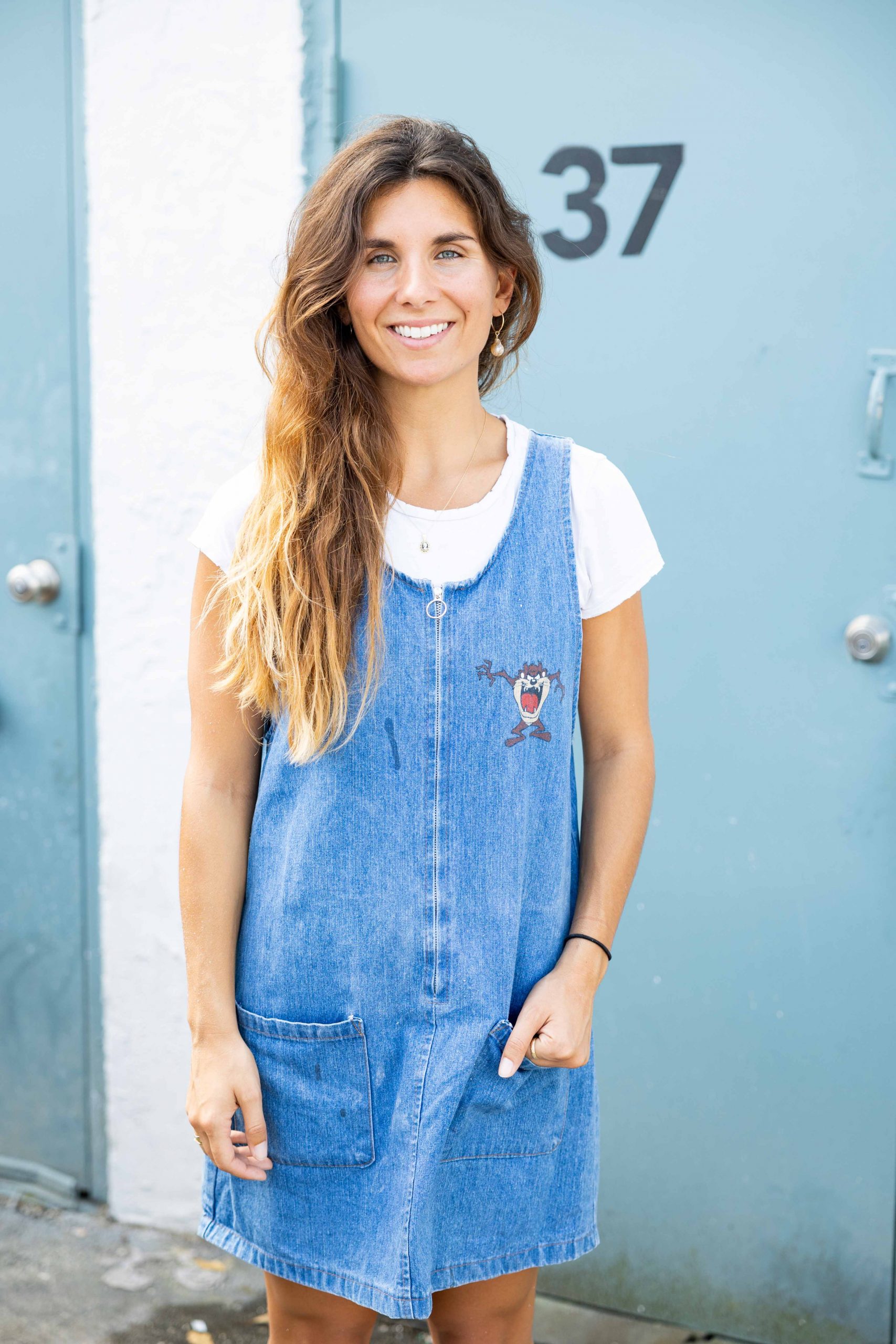 In an effort to surf more, she moved to California. However, she was still not finding the solace she needed in the ebb and flow, and felt lost again even though she was surfing more. Working at a coffee shop in Santa Barbara just to survive, and feeling like she wasn't going anywhere, it wasn't until one of her regulars started talking to her about surfing that the destiny lightbulb clicked.
"He told me he had been making boards from start to finish for more than 50 years. His name is Gregg Tally," said Girard, whose grandmother was instrumental in teaching her crafting, painting, using tools and techniques at a young age. "I thought that was so interesting. He offered to teach me. I made my first board in June 2020 and haven't looked back since. Thirty boards later, I can't wait to make my next one. I still can't believe I get to make surfboards from start to finish for people. It feels like I've paddled for a wave and been pushed by it ever since."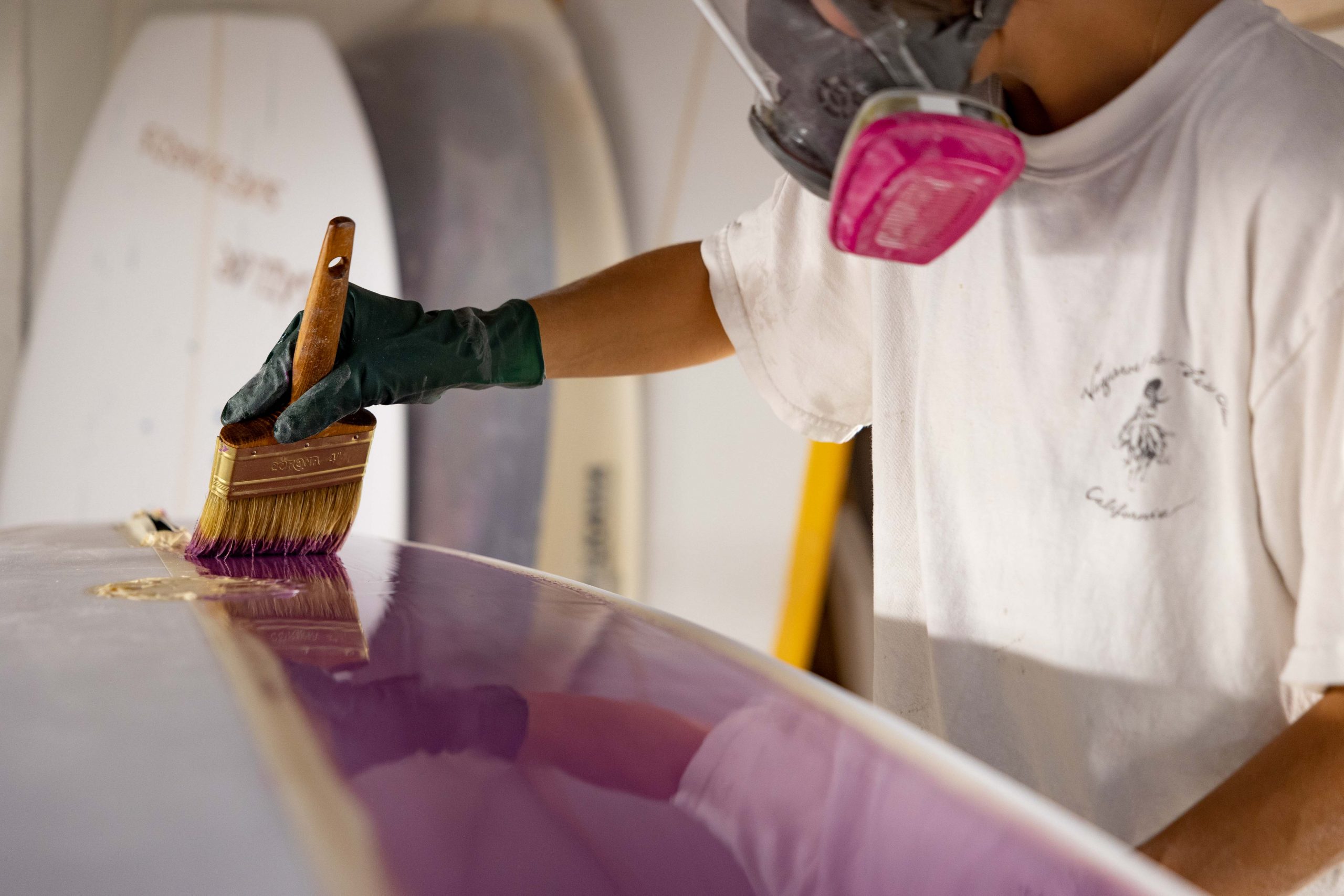 Her first board she shaped was a 9'4" noserider with a triple stringer. It had a square tail with two lavender resin panels on each side, and she drew a butterfly directly on the bottom of the foam with her signature.
"It's still one of my favorite boards to surf. It was super helpful to have Gregg's guidance. I honestly couldn't have made it without him," said Girard, who considers paddling out and surfing this first board, feeling the response of the shape through the water, as one of her most memorable moments. "It was a challenge to learn all the steps, technique and learn to use some power tools. He had all the equipment, materials and space to build boards. Gregg is a great teacher and friend. He was super patient and believed in me since the start of this journey."
But, the journey wasn't always smooth. Being a female starting fresh in a male-dominated industry took some guts, courage and keeping her eye on the horizon. She said she felt intimated at first, but eventually found a community of people who wanted to support her on her journey, which helped her to overcome the "imposter syndrome" she first experienced. Focusing on the prize always helps, too.
She was, and continues to be, attracted toward shaping boards because of the physical connection of making a board with her own hands, and also the infinite possibilities of design. Every board that she makes is 100% handmade from start to finish, and no two are the same. She's currently working out of her friend's shop in Boca Raton, since she didn't have a place of her own when she came back from California. Short term, she hopes to shape some more boards in California within the next couple months and get her own warehouse, and she hopes to be able to make boards full-time in the long term.
To custom craft her boards, which can take upwards of 40 hours depending on the complexity, she begins by asking customers what length of board or shape they'd like, as well as fin setup and any design or color ideas, and even what type of waves they're interested in surfing or any technical achievement they want to accomplish with the board.
"The first step is getting all the materials I need to make the board. I get a specific blank for different sizes and styles, draw my template on it and then I saw it out. Then, I can start planning until it is my desired thickness," said Girard, who personally likes to ride a traditional log, a square tail 9'4" noserider with a subtle concave and a 22.5" width, but who is always open to switching boards with people out in the water. "Secondly, I do the rails and clean up the planer lines. After I'm done shaping, I can lay some fiberglass cloth and laminate one side at a time. Next, I hot coat the board and then have to sand it all down to be able to put a gloss coat on. After I've applied the last coat I sand down the board to a sanded gloss coat finish. Lastly, the customer comes and picks up their brand new custom/handmade surfboard. I like every single part of the process. It gets more satisfying as I go."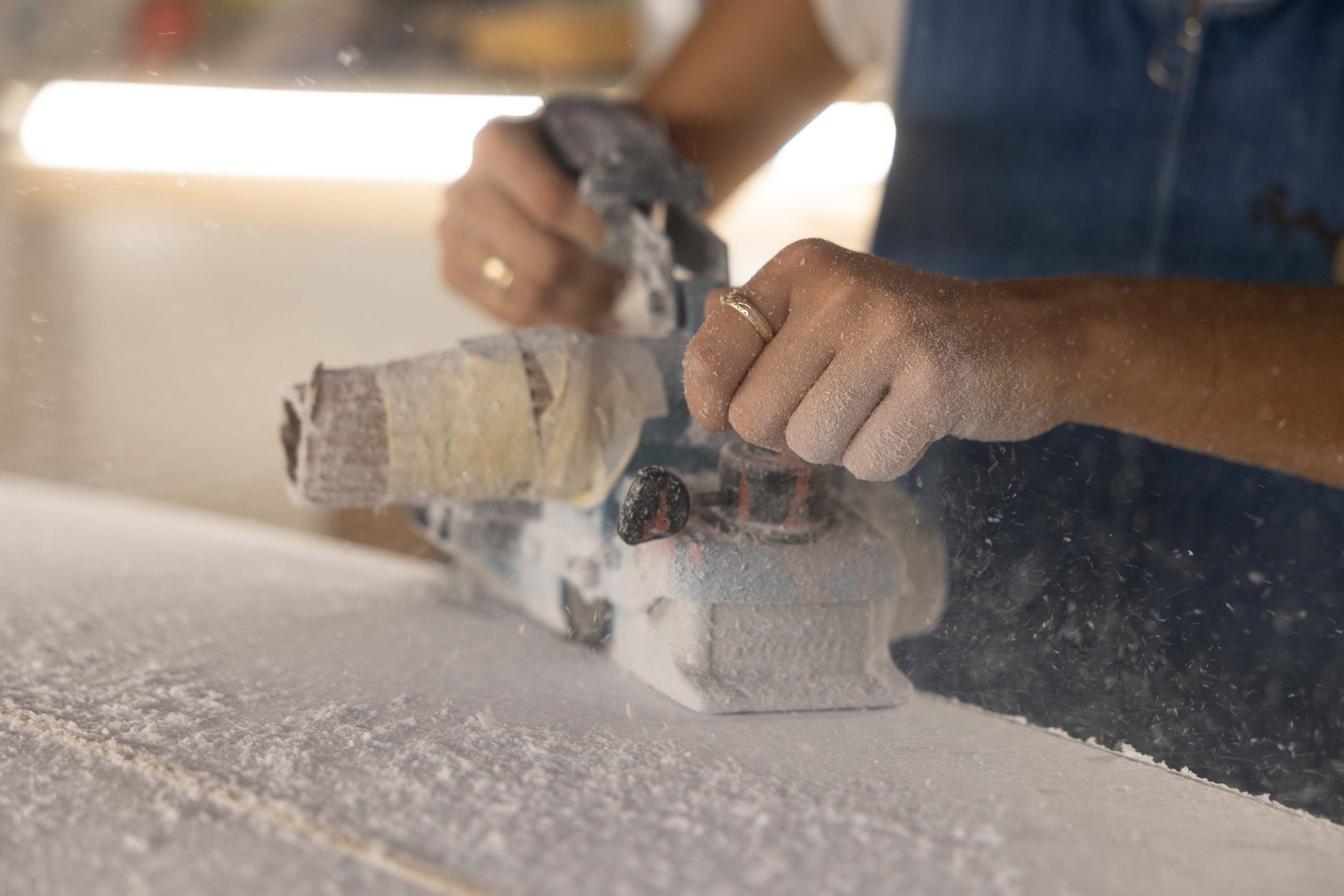 She gets a lot of inspiration from trying different boards, surf films and the surf community, as well as shapers like Gregg Tally, Rachel Lord, Fantastic Acid by Tristan Mausse, Ryan Lovelace, Melo Surfboards, Ryan Burch, Ricky Carroll, and many more.
For Girard, life connected to the ocean is twofold. She finds that the most fulfilling aspect of being a lifeguard is being of service to the people and to the ocean, and that the most rewarding aspect of designing and shaping a surfboard is that she gets to connect and meet amazing people. Not only that, but she likes that her clients also enjoy something that she's made from their inspiration, which makes them not only feel connected to the board and to the ocean, but that also brings them joy when they surf. After all, it's all about feeling good about what you're doing.
The most memorable board she made was one that her friend, Kate, custom ordered for her husband, who is one of Girard's best friends. She made the 7'5" rounded pin single fin in California with Gregg, saying that it turned out even better than she could have imagined. She flew with the board to Florida and surprised them early on Christmas Day, after not seeing them for two years. Another super memorable board was the one she made for a client named Mary, which not only created a beautiful board with one of Mary's collages as the design (placed by hand by Mary), but also a beautiful friendship.
So while the board may be the end result, it's all about the experience and the process. Just like Girard's life and career, she revels in shaping joy for herself and others on the water.
"I just love to watch people create their own dance on them and how certain styles of shapes are always gonna be around because they're timeless," said Girard, who plans to travel back to California to complete orders but hopes to have her home base in Florida where she can complete orders and travel when needed. "I hope to continue meeting and making boards for amazing people through the surf community. I want to be able to make a difference and support women to make them feel like they have a place in this industry as well."