Featuring Celis Run Club
By Jessica Tzikas
Photos by Alex Celis
If you are embarking on a new wellness journey or want to increase your activity level, it can be hard to figure out which workout is best for you. For many health aficionados, group classes like yoga or CrossFit are popular options, but here in South Florida, you don't need to be confined to an indoor space to sweat it out. In fact, with the sun shining all year round, running may just be the best exercise option for Floridians.
Running is a great workout as it not only keeps you healthy, it also builds stamina, confidence, and strength. But if the idea of setting off to run alone each morning doesn't inspire you, consider a running club. Alex Celis created Celis Run Club after a few of his friends expressed how they enjoyed running but hated doing it alone. The Club was meant to give them a space to sweat it out, get more active, and have fun. But more than just exercise, the Run Club also brings people together.
"For me, a run club is an extension of a team as I see a lot of the same people every week and we build a bond," Alex said. "We run together, we sweat together, and we are pushing each other every week to do better." Plus, when joining a run club, you are often pushed to go further and longer than you would when you run alone. Your fellow runners act as motivators and coaches, pushing you to become a better runner and a better version of yourself.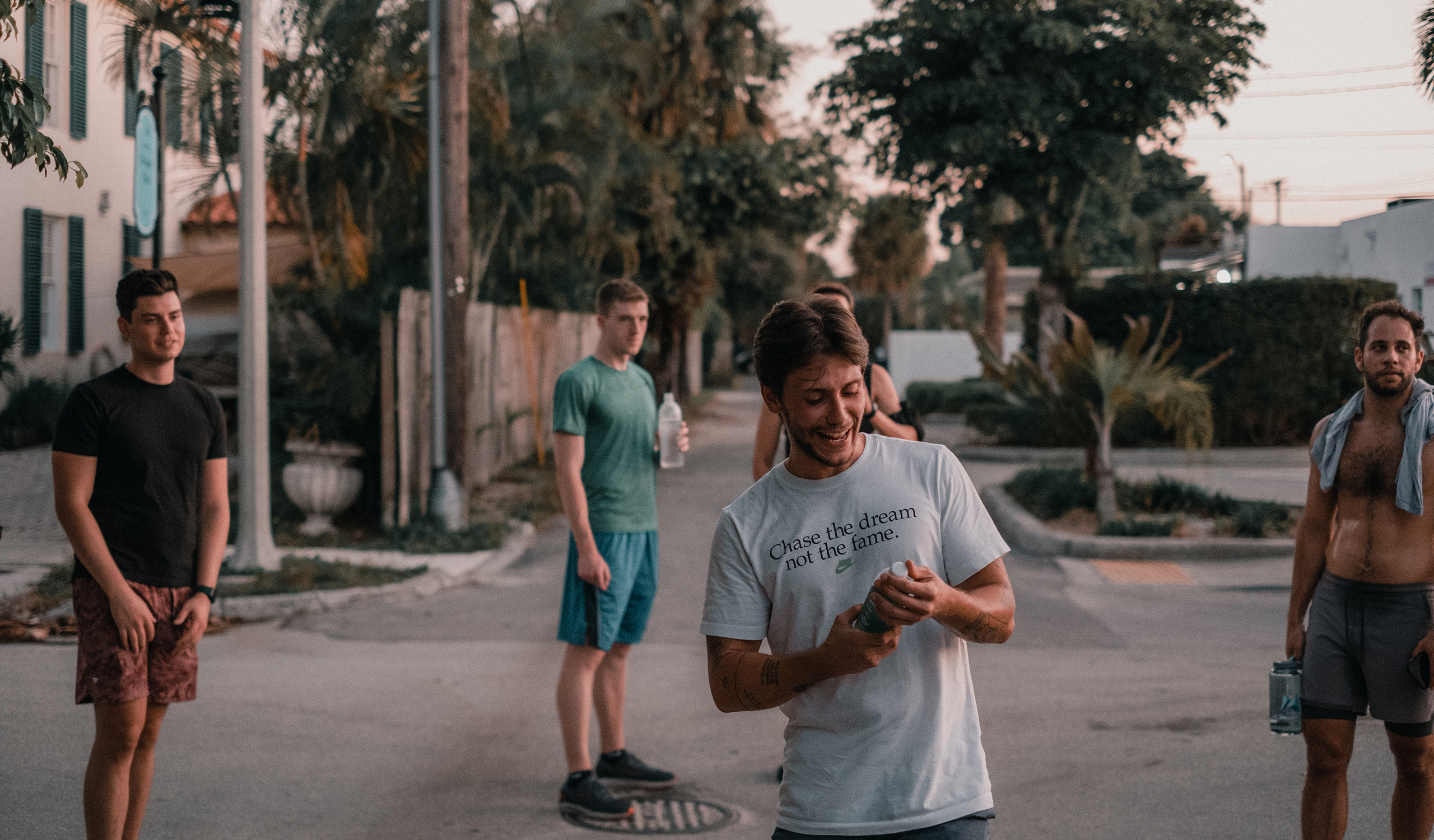 Today, Celis Market Run Club has upwards of 30 people in attendance each week, running together along the water or during South Florida's picturesque golden hour. And the bond continues long after the run is over. Alex and his club members often meet up for dinner after their workout, frequenting places like Tropical Smokehouse for BBQ or Cholo Soy Cocina for ceviche and empanadas, both in West Palm Beach.
To help you become a better runner, and learn to truly love it, it's important to mix things up. For Alex, his ultimate schedule is a run twice per week, leaving the other days for resistance training — focusing on the legs, mobility, and ankle strength — and rest days. You can also have fun with your clothing. Invest in a good pair of running shoes like the Hoka Mach 5 and get an outfit that you feel good in. A lined pair of leggings or shorts with a built-in pocket will keep your hands free without having to leave your essentials behind. Wearing a smartwatch or fitness tracker while you run is also a great way to help you get motivated. Seeing your progress in real time can be a great way to help you put those running shoes back on day after day.
If you are weary about getting started, Alex advises to "just start." "It doesn't even matter if you run, start with a brisk walk and slowly make your way up to running," he says. "You don't have to run 10 miles a day to consider yourself a runner. The most important thing is to put yourself out there and everything else will come naturally."