Dinner and a View? Say No More
by David Rolland
Every year around this time when a restaurant hostess asks if you'd like to eat outside, the answer is always, "Yes, please!" To help you manage the restaurant scene in an area well known for its top notch dining atmosphere, we've compiled a list of some of the best places for outdoor dining in Jupiter.
1000 NORTH
The outdoor seating area and bar has a view fit for any of its celebrity owners including professional golfer Ernie Els, and a player who needs no introduction, Michael Jordan. The waterfront location, where you're invited to arrive by boat or car, offers four unique dining areas, each with stunning views of the Jupiter Lighthouse and Intracoastal Waterway. The main dining room is lush and elegant. It is certainly a treat to dine in its opulence. The Tavern, the upstairs bar and lounge, is more intimate. It looks like how whiskey and cigars smell. The final dining area that is open to the public is The Terrace. This outdoor seating area is styled in the nautical, old-Florida style you'd expect. It features the full menu, just in a breezier location. Opened just a couple years ago, 1000 North has a diverse menu with items specially marked for people with dietary restrictions or that are more health conscious. But as with many of Jupiter's greatest restaurants with outdoor dining, seafood is the dish to get.
Item to try: "Street Corn" Caesar Salad topped Cotija cheese, cornbread
crumble, and charred corn relish is a unique twist on a classic. 
1000 N. U.S. Highway 1, Jupiter; (561) 570-1000
1000north.com
U-Tiki Beach
Alongside the marina of Jupiter Inlet stands this local favorite that not only boasts sixteen docks ready for hungry and thirsty boaters, but also a sandy beach with a view of the Jupiter Lighthouse. The beach area functions as a dining area with a lighter menu perfect for a quick sip or bite. You're also invited to indulge in their happy hour at the bar, held weekdays from 5 to 6 p.m., where you can drink in the sunset and enjoy half-off well liquor and house wine, $2 off premium liquors and wines, and $1 off all beers. The menu is expansive, specializing in seafood in all its variations from Caribbean bowls to sushi rolls. Make sure to order as a side the U-Tiki Potatoes. They're what you might expect if mashed potatoes and hash browns had a baby that was delivered in a cheesy crust.
Item to try: Sweet Potato Crusted Hogfish served with mango, sambal, and mixed greens gets raves. 
1095 N. Highway A1A, Jupiter; (561) 406-2210
utikibeach.comGuanabanas Island Restaurant & Bar
Dinner with a free show is the norm at Guanabanas. This waterfront tropical haven is a favorite for many, and it's easy to see why. Not only do you have front-row access to an inlet waterway just west of A1A, but there's plenty of tiki-style seating, hanging lights, palm trees and romantic pathways that will give you the feeling of being on vacation on some faraway island. It's a laid-back paradise right in your own backyard, which is something we can all enjoy right about now. Aside from Guanabanas' incredible menu and happy hour specials, its live music is the perfect addition. Local, regional and national artists grace Guanabanas' stage several days a week, and you can plan what artists to check out by visiting the restaurant's live music lineup.
Item to try: Floridian Fritters, the restaurant's sustainable take on the
conch fritter, served with a sweet jalapeño mustard sauce and is a great snack to get started with.
960 N. Highway A1A, Jupiter; (561) 747-8878
guanabanas.com
Dive Bar Restaurant
Dive Bar is a restaurant most known for it's killer sushi rolls — not exactly what the nomenclature suggests. The Asian-American restaurant began with an idea to provide a mouthwatering experience, as well as a way to educate patrons on the ecosystems surrounding the restaurant.  You can take time to check out their massive 2,000 gallon aquarium along with several smaller ones where you can spy on lobsters, sea horses, and even a shark. Or, take a walk on the docks where you might catch some sea life in person. It's a way to stretch out, relax and appreciate the beautiful waterfront as you ponder over which item on the menu will go over best in the beautiful outdoors.
Item to try: Oysters Rockefeller. These broiled fresh plump oysters
are stuffed with creamed spinach and topped with Swiss cheese.
318 S. U.S. Highway 1, Jupiter; (561) 747-4767
divebarrestaurant.com
Beacon and Topside at the Beacon
Beacon and Topside are the epitome of two birds and one stone. On the lower level is a swanky dining room complete with a full menu, and up the stairs you have a breezy rooftop bar with seating overlooking the river. Downstairs, at Beacon, you can grab a booth or a seat at the Chef's Counter and experience the culinary artistry firsthand. At Topside, you can choose from tropical cocktails, small bites and shareable plates in a Spanish tapas-style. You'll almost be hoping for a wait at Beacon just so you can snag a spot at Topside while you kill time. However, the Beacon does take reservations, so if you're more pragmatic, just arrive early to experience both or grab a night cap up top after dinner below. 
Item to try: Local Catch Crudo. Mango, carrot textures, raisins, red onion agrodolce, puffed bulgur, along with fresh fish will surely give you a taste of Jupiter.
1107 Lighthouse Promenade, Jupiter; (561) 532-3270
thebeaconjupiter.com
topsidejupiter.com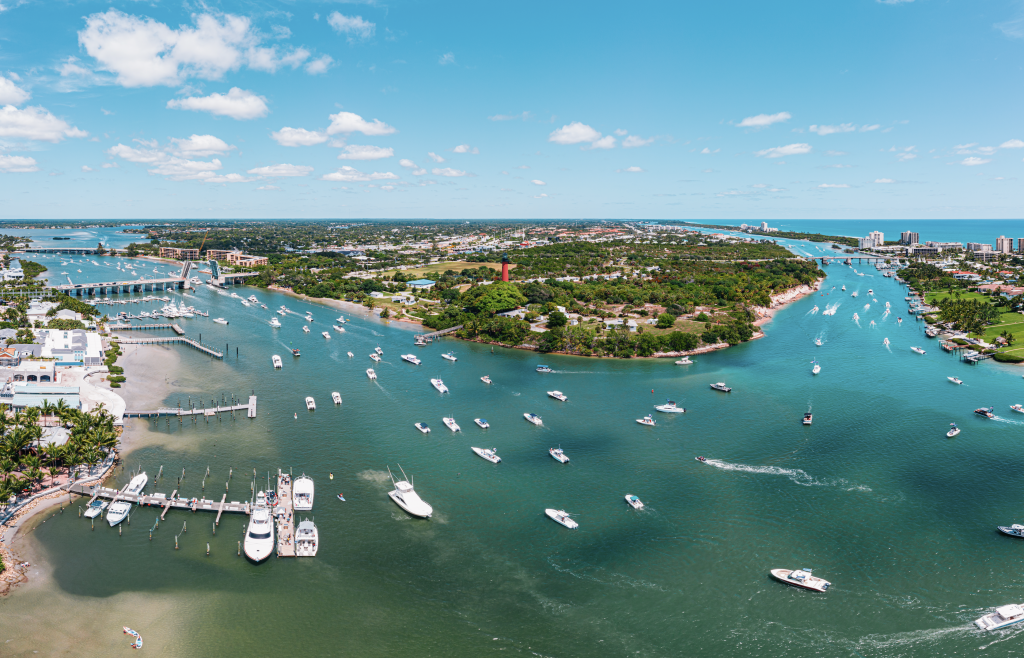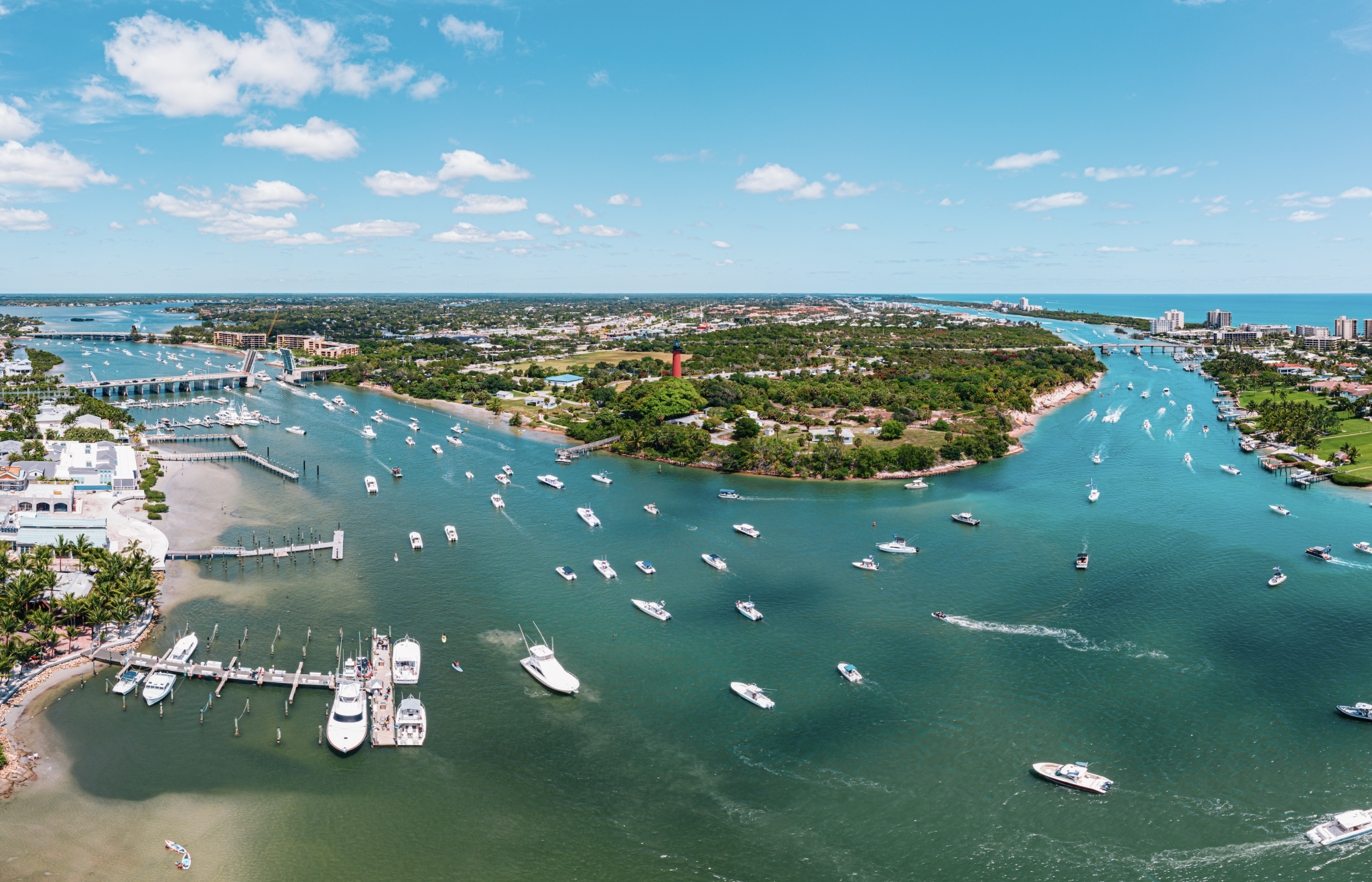 Lucky Shuck
This Gulf Coast-inspired spot, though located right next to Beacon, is a more laid back endeavor. They boast daily caught fish, fresh-shucked oysters, and more at their chilled Oyster Bar. If you can't quite stomach that distinct oyster texture, fear not. They have plenty of cooked seafood and plenty of dishes inspired by southern dining. We'd recommend stopping by during football season for their dedicated specials on beer, cocktails, and select appetizers. 
Item to try: Fresh catch of the day, prepared A La Marie Laveau with grilled asparagus, marinated crawfish and creole hollandaise.
1116 Love St, Jupiter, FL 33477; (561) 532-3331
luckyshuckjupiter.com

Jetty's Waterfront Restaurant
For more than 28 years, Jetty's has been a favorite outdoor hangout for those who want to take in views of the Jupiter Inlet Waterway and the crimson red Jupiter Lighthouse. They take advantage of their location by specializing in freshly caught seafood, but if you prefer turf to surf they also serve certified Angus steaks and ribs. If you want to eat before it gets dark, every night from 5 to 6 p.m. they offer an early bird special where you get your choice of more than a dozen entrees served with an appetizer and side dish for only $19.95.
Item to try: Oriental Chilean Sea Bass. Though the fish comes from halfway across the world, it is a popular favorite. It is grilled, basted and served with light soy sesame.
1075 N. Highway A1A, Jupiter, (561) 743-8166
jettysjupiter.com